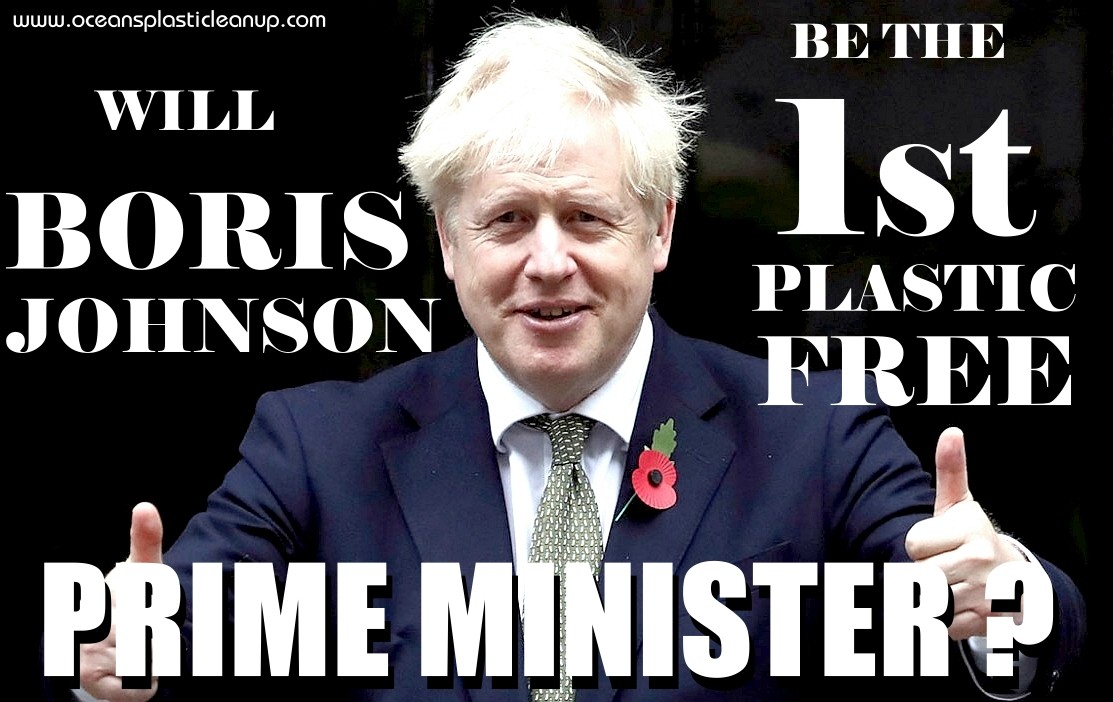 COP 26 - Will the PM be the first Plastic Free member of the G20? He's up against some stiff competition. President Joe Biden is also under pressure to do something to curb the rising tide of ocean litter that is killing marine life and poisoning the fish we are eating. In the lead up to COP26, in November 2021, we imagine that plastic and climate change will become linked, is the burning of waste that is producing carbon dioxide at accelerated levels - especially in developing nations.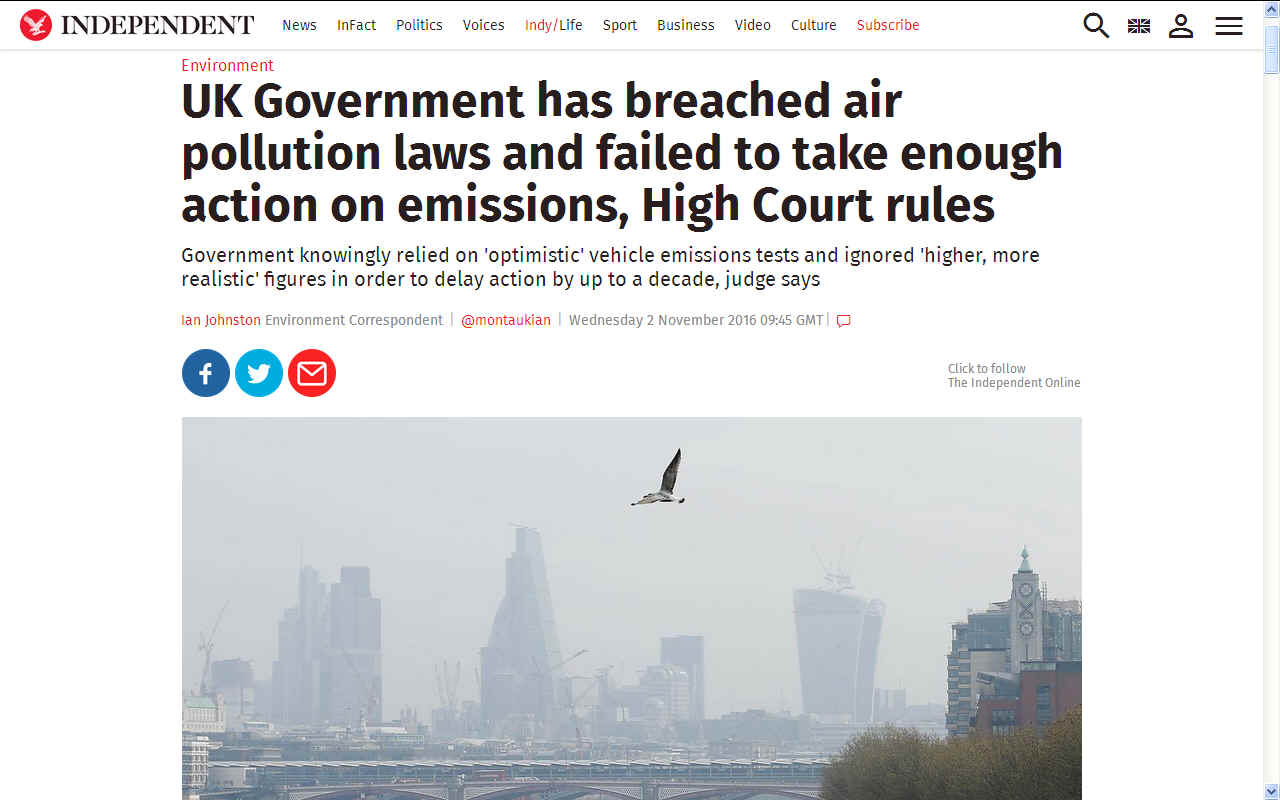 CONSERVATIVES - BREACHED AIR POLLUTION LAWS
The Conservatives are a political party that are happy for people to die from air pollution to allow ...
The Government knowingly relied on 'optimistic' vehicle emissions tests and ignored 'higher, more realistic' figures in order to delay action by up to a decade, judge says. The High Court has ruled against the Government over its failure to tackle illegal air pollution (November 2016).

Environmental legal group ClientEarth described the decision as a "damning indictment of ministers' inaction on killer air pollution".

Mr Justice Garnham decided the Environment Secretary had failed to take steps to bring the UK into compliance with the law "as soon as possible".

In an echo of the Volkswagen vehicle emissions scandal, the judge said ministers knew an overly optimistic model of pollution was being used, ClientEarth said in a statement.

ClientEarth's chief executive James Thornton said: "I am pleased the judge agrees with us that the Government could and should be doing more to deal with air pollution and protecting people's health. That's why we went to court.

"I challenge Theresa May to take immediate action now to deal with illegal levels of pollution and prevent tens of thousands of additional early deaths in the UK. The High Court has ruled that more urgent action must be taken. Britain is watching and waiting, Prime Minister."

According to Government estimates, some 40,000 people die prematurely in the UK as a result of air pollution.

In his judgment, Mr Justice Garnham said:

"It is apparent that Defra recognised that they were adopting an optimistic forecast as the foundation for their modelling," he wrote, saying this was used to justify putting off the creation of several low-emission zones in urban areas until 2020 or 2025.

But the judge pointed to a Cabinet briefing note from last year which said "emerging findings from real-world testing by independent experts ... suggest emissions for Euro 6 [a group of vehicles] are significantly higher than previously thought".

This, he said, was "remarkable". "It means that the Government is acknowledging that its plan is built around a forecast based on figures which 'emerging data' is underminin g and that if higher, more realistic, assumptions for emissions are made the number of zones which will not meet the [air pollution] limit value in 2020 increases substantially," Mr Justice Garnham said.

"It seems to me plain that by the time the plan was introduced the assumption underlying the Secretary of State's assessment of the extent of likely future non-compliance [with legal pollution limits] had already been shown to be markedly optimistic."

ClientEarth presented evidence which it said showed that George Osborne had illegally blocked stricter controls of air pollution when he was Chancellor on the grounds it would cost too much.

Mr Justice Garnham ruled the Environment Secretary "fell into error by adopting too optimistic a model for future emissions" and also by deciding to comply with the law only by 2020 – and 2025 in London.

He quashed the Government air quality plan, saying the Environment Secretary must "aim to achieve compliance by the soonest date possible".

This is the second time ClientEarth has won a court battle with the Government over air pollution. In 2015, the Supreme Court decided the Government was not doing enough to reduce pollution levels to within legal limits. Ministers were forced to draw up a new air quality plan, the one that has now again been ruled illegal.

Barbara Stoll, an air pollution campaigner at Greenpeace, said: "This judgment matters to every person breathing in the UK but it can only be called a victory when the levels of toxic air actually start to go down.

"Which means the Government needs to properly police the car industry who are still permitted to produce cars that emit up to 14 times over the legal limit.
The United Kingdom has many political parties, some of which are represented in the House of Commons and the House of Lords. Below are links to the websites of the political parties that were represented in the House of Commons after the 2015 General Election:
POTHOLE POLITICS - Pothole politics is the kind of short term, idiotic, patch-work thinking that isn't radical or gutsy, and doesn't take the political risks necessary to really accomplish anything properly. What you get is year after year of minor, ill-considered repairs, which make the road more patchy, rather than less. Why are our drivers' lives being put at such risk? We suffering from a funding shortfall that: "is the elephant in the room that none of the political parties are talking about", because the recommendations in reports on the subject would involve slashing numbers of local government posts.
Potholes are a common problem on roads: they get damaged in small areas as they get older and the road surface starts to degrade, and it annoys drivers because their cars' wheels go into these small, sudden holes when driving, which is uncomfortable and can damage tires/wheels/suspension, and cost money, or even be dangerous. It's especially bad if you have many of them on the same stretch of road.

The proper solution is to resurface the entire road. However, the common solution is to patch the holes one at a time, with whatever spare money is left at the end of the year, after all the big spending is done.
CONSERVATIVE MPS 2017-2018
Theresa May - Prime Mnister

MP for Maindenhead

Damian Green

MP for Ashford

Philip Hammond

MP Runnymede & Weybridge

Boris Johnson

MP Uxbridge & South Ruislip

Amber Rudd

MP Hastings & Rye

David Davis

MP Haltemprice & Howden

Gavin Williamson

MP South Staffordshire

Liam Fox

MP North Somerset

David Lidlington

MP for Aylesbury

Baroness Evans

MP Bowes Park Haringey

Jeremy Hunt

MP South West Surrey

Justine Greening

MP for Putney

Chris Grayling

MP Epsom & Ewell

Karen Bradley

MP Staffordshire Moorlands

Michael Gove

MP Surrey Heath

David Gauke

MP South West Hertfordshire

Sajid Javid

MP for Bromsgrove

James Brokenshire

MP Old Bexley & Sidcup

Alun Cairns

MP Vale of Glamorgan

David Mundell MP

Dumfriesshire Clydes & Tweeddale

Patrick McLoughlin

MP Derbyshire Dales

Greg Clark

MP Tunbridge Wells

Penny Mordaunt

MP Portsmouth North

Andrea Leadsom

MP South Northamptonshire

Jeremy Wright

MP Kenilworth & Southam

Liz Truss

MP South West Norfolk

Brandon Lewis

MP Great Yarmouth

MP

Nus Ghani

MP Wealden

Huw Merriman

MP Battle

Steve Double

MP St Austell & Newquay

Sarah Newton

MP Truro & Falmouth

Rebecca Pow

MP Taunton Deane

Jacob Rees-Mogg

MP Somerset

Gavin Williamson

MP Staffordshire

Caroline Ansell

MP Eastbourne

Alok Sharma

.

.

Sir Winston Churchill

Former Prime Minister

David Cameron

Former Prime Minister

Margaret Thatcher

Former Prime Minister
MP
SOCIAL DEMOCRATIC AND LABOUR PARTY
Social Democratic and Labour Party
Party

Politics

Leader

Conservative and Unionist Party

Centre-right

Theresa May

317

31

12

0

8

19

9,234

100,000

42.4

Labour Party

Centre-left

Jeremy Corbyn

262

23

29

N/A

12

20

6,470

575,000

40.0

Scottish National Party

Centre-left

Nicola Sturgeon

35

63

N/A

N/A

N/A

2

430

120,000

3.0

Liberal Democrats

Centre

Vince Cable

12

5

1

N/A

1

1

1,815

104,000

7.4

Democratic Unionist Party

Right-wing

Arlene Foster

10

N/A

N/A

28

N/A

1

104

N/A

0.9

Sinn Féin

Left-wing

Gerry Adams

7

N/A

N/A

27

N/A

1

105

N/A

0.7

Plaid Cymru - Party of Wales

Centre-left to left-wing

Leanne Wood

4

N/A

11

N/A

N/A

1

203

8,273

0.5

Green Party of England and Wales

Left-wing

Caroline Lucas and Jonathan Bartley

1

N/A

N/A

N/A

2

3

187

45,643

1.6
We are concerned with how the make up of the above parties and (reasonably) popular policies affects the Wealden district, because we are all brothers on two islands in the Atlantic Ocean and what we do or fail to do is likely to rebound on ourselves and our fellow man in other nations around the world. How we act today influences policies in other countries in our global community. It is not just about us and our patch despite BREXIT.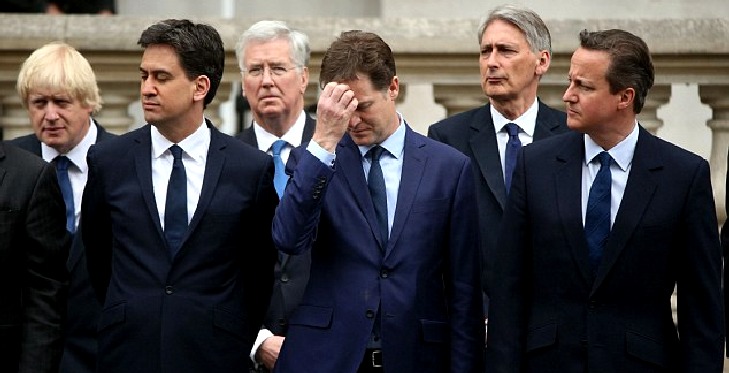 East Sussex has five District and Borough Councils, each with a border on the coast. From west to east they are:
There is also East Sussex County Council as the provider of services to the 5 East Sussex districts.
As near neighbours and with councils now sharing facilities and working together, these area of Sussex are included in our remit and an area where climate change and affordable housing are issues that need urgent attention. Where the coastline is a feature in every Council, Blue Growth is a food security issue, especially where this side of of our local economy is under-exploited.