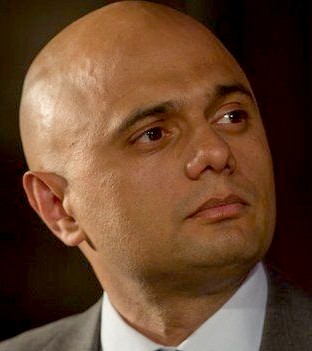 SAJID JAVID - MP for Bromsgrove


Sajid Javid retained his job as secretary of the department for communities and local government during the Cabinet re-shuffle by Prime Minister Theresa May. He held this position in 2014 before being appointed to business secretary a year later.
In 2021, Boris Johnson reshuffled his cabinet, appointing Mr Javid Health and Social Care Secretary. Yet another example of an MP getting a job he is not qualified for. Has Sajid got any medical or nursing qualifications?

A former managing director of Deutsche Bank, Mr Javid has been MP for Bromsgrove in Worcestershire since 2010. He stood on a "joint ticket" with Stephen Crabb for the leadership election, hoping to be chancellor if Mr Crabb had become PM.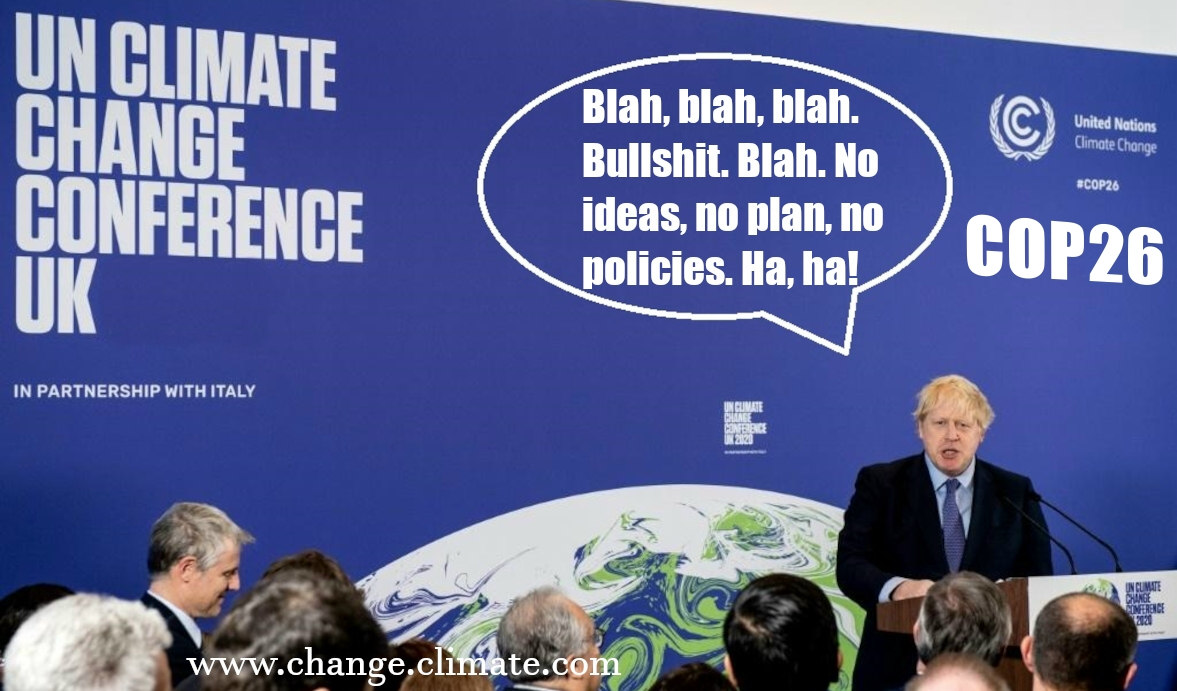 FOSSIL FOOLS - Geriatric politicians with 'climate-senile' policies will find in difficult to break away from their corrupt ways, as part time politicians with two jobs. Their main job being to find paid consultancy work, rather than craft policies and create statute that works to protect our voters from lung cancer, energy shortages and a lack of affordable (sustainable) housing.
The 'zerophobics' are the undertakers of the political world, sending millions of ordinary people to an early grave, while loading us with NHS, hospital and staff costs that would not be needed if we had clean air in our cities.
Basically, the longer you are in politics, the more likely you are to be exposed to bribes, from climate deniers, mostly fossil fuel and energy companies, looking to keep on pumping toxic fumes into the atmosphere, so they can keep making money. The political undertakers are working with them to keep hospitals stocked with cancer victims. They are blood sucking vampires, draining what little you had saved for your retirement.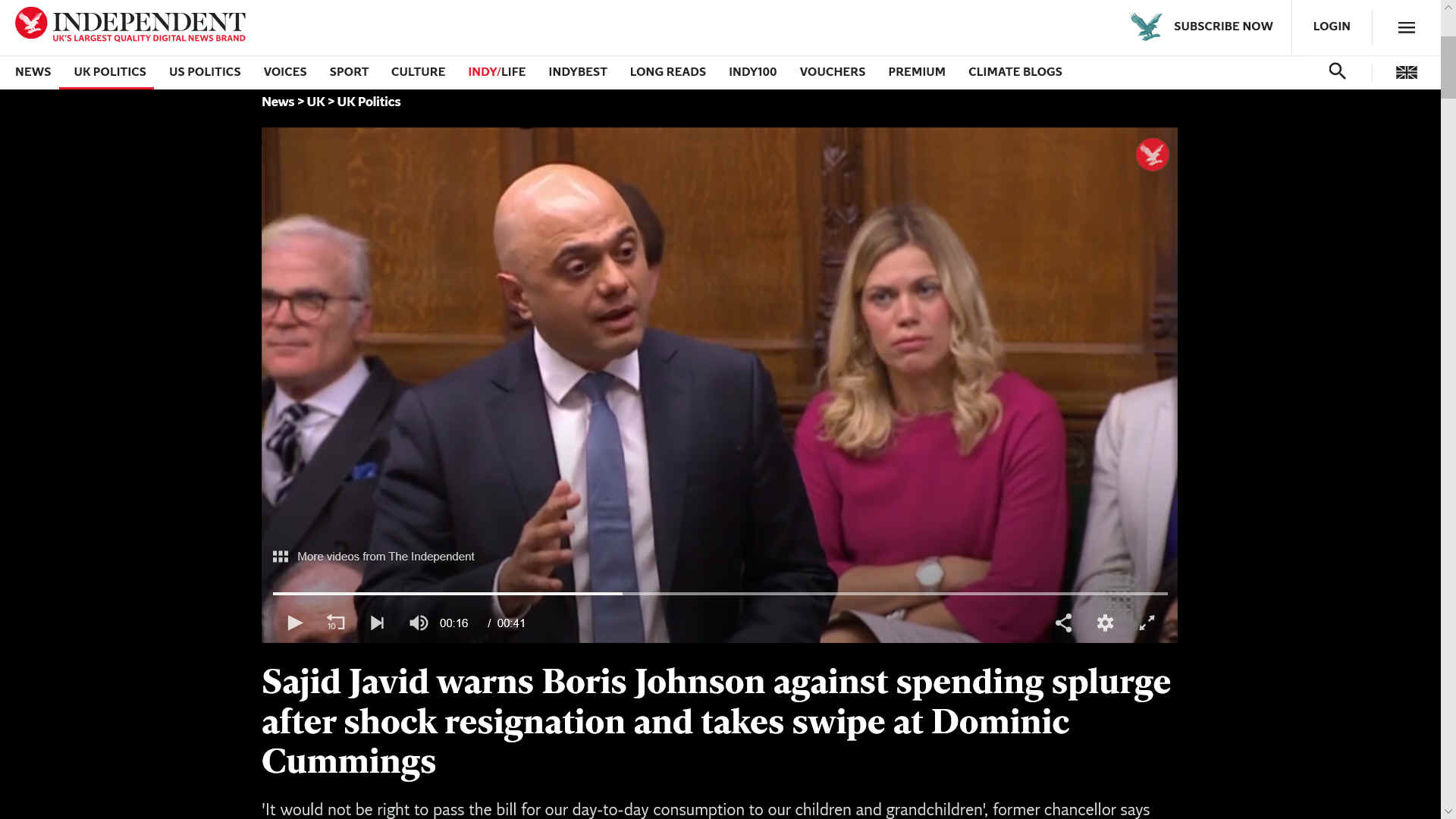 BALANCING THE BOOKS - Sajid Javid has warned Boris Johnson not to go on a spending splurge in next month's Budget, as he took a swipe at Dominic Cummings' role in his shock resignation. In a Commons statement, the former chancellor said the "critical" rules he drew up – to balance the budget and reduce debt – must not be abandoned, or taxes raised. He added that his successor, Rishi Sunack, was more than up to the task.
RESIGNATION AS CHANCELLOR, MARCH 3 2020 SKY NEWS - Sajid Javid explains shock resignation as chancellor as Boris Johnson watches on. Sajid Javid says the PM's conditions for him remaining in the role "would not have been in the national interest".

Sajid Javid has said his shock resignation as chancellor happened because Boris Johnson attached conditions to him remaining in the role that "would not have been in the national interest".
Mr Javid addressed his cabinet departure in a resignation statement to MPs in the Commons on Wednesday. He quit during the prime minister's reshuffle after Mr Johnson insisted he sack his aides and replace them with ones chosen by Downing Street.

A joint Number 10-Number 11 team was established in the hours after Mr Javid's resignation. His surprise departure was the culmination of weeks of reported tensions between him and Dominic Cummings, the PM's chief adviser. Mr Javid was replaced by Rishi Sunak, who was promoted from chief secretary to the Treasury.

As the PM watched, the chancellor told the Commons: "It has always been the case that advisers advise, ministers decide and ministers decide on their advisers.

"I couldn't see why the Treasury, with the vital role that it plays, should be the exception to that." Mr Javid said the chancellor of the day "has to be able to give candid advice so he is speaking truth to power".
He continued: "I believe that the arrangement proposed would significantly inhibit that and it would not have been in the national interest. "So while I was grateful for the continued trust of the prime minister in wanting to reappoint me, I am afraid that these were conditions that I could not accept in good conscience."

Mr Javid then made an apparent reference to Mr Cummings, telling MPs: "Now I don't intend to dwell further on all the details and the personalities... the comings and goings if you will." The remark prompted laughter in the chamber. He added: "I very much hope that the new chancellor will be given space to do his job without fear or favour. "And I know this Mr Speaker, that my right honourable friend for Richmond [Rishi Sunak] is more than capable of rising to the challenge."
Mr Javid, who has been MP for the Worcestershire seat of Bromsgrove since 2010, said his time as chancellor would not be his "last chapter" in public life. And ahead of the budget on 11 March, he warned against a raft of new borrowing to fund extra spending, describing fiscal rules contained in the Tory manifesto as "critical".
Mr Javid cautioned: "At a time when we need to do much to level up across generations it would not be right to pass the bill for our day-to-day consumption to our children and grandchildren." Despite his pointed references to the row that saw his time in Number 11 come to an end, Mr Javid said the PM has his "full confidence". He said: "We on these benches have a shot at achieving nothing less than wholesale renewal for our economy, our society, and for our country."

Mr Javid went on: "I know that this is a shared vision and I firmly believe that the prime minister has the tenacity, the energy and the skill to see it through. "I want to leave the House in no doubt that he has my full confidence, and the government my full support to get it done."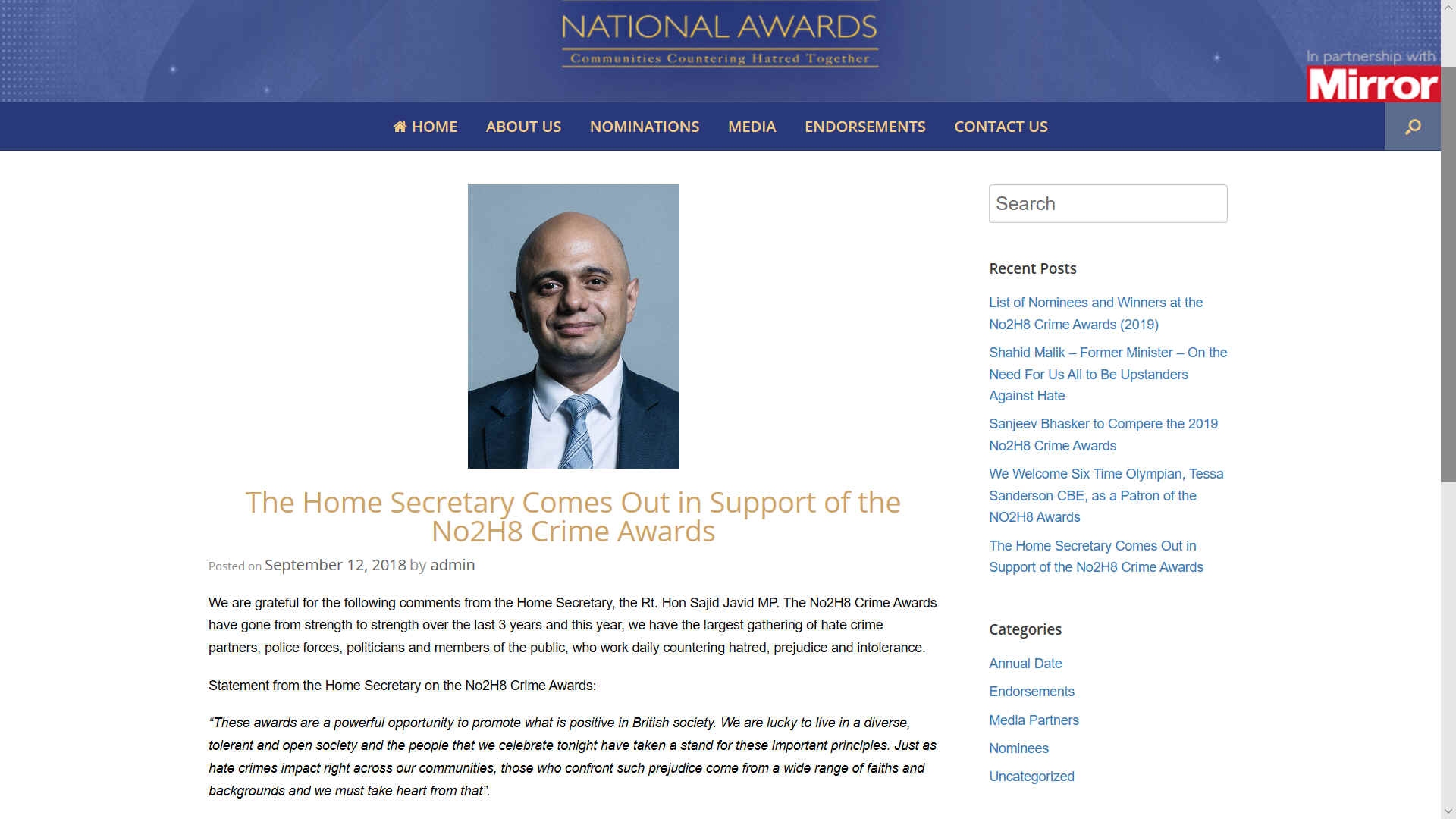 SEPTEMBER 12 2018 - We are grateful for the following comments from the Home Secretary, the Rt. Hon Sajid Javid MP. The No2H8 Crime Awards have gone from strength to strength over the last 3 years and this year, we have the largest gathering of hate crime partners, police forces, politicians and members of the public, who work daily countering hatred, prejudice and intolerance. Statement from the Home Secretary on the No2H8 Crime Awards:
"These awards are a powerful opportunity to promote what is positive in British society. We are lucky to live in a diverse, tolerant and open society and the people that we celebrate tonight have taken a stand for these important principles. Just as hate crimes impact right across our communities, those who confront such prejudice come from a wide range of faiths and backgrounds and we must take heart from that".
CONSERVATIVE MPS 2017-2018
Theresa May - Prime Minister

MP for Maidenhead

Damian Green

MP for Ashford

Philip Hammond

MP Runnymede & Weybridge

Boris Johnson

MP Uxbridge & South Ruislip

Amber Rudd

MP Hastings & Rye

David Davis

MP Haltemprice & Howden

Gavin Williamson

MP South Staffordshire

Liam Fox

MP North Somerset

David Lidlington

MP for Aylesbury

Baroness Evans

MP Bowes Park Haringey

Jeremy Hunt

MP South West Surrey

Justine Greening

MP for Putney

Chris Grayling

MP Epsom & Ewell

Karen Bradley

MP Staffordshire Moorlands

Michael Gove

MP Surrey Heath

David Gauke

MP South West Hertfordshire

Sajid Javid

MP for Bromsgrove

James Brokenshire

MP Old Bexley & Sidcup

Alun Cairns

MP Vale of Glamorgan

David Mundell MP

Dumfriesshire Clydes & Tweeddale

Patrick McLoughlin

MP Derbyshire Dales

Greg Clark

MP Tunbridge Wells

Penny Mordaunt

MP Portsmouth North

Andrea Leadsom

MP South Northamptonshire

Jeremy Wright

MP Kenilworth & Southam

Liz Truss

MP South West Norfolk

Brandon Lewis

MP Great Yarmouth

MP

Nus Ghani

MP Wealden

Huw Merriman

MP Battle

MP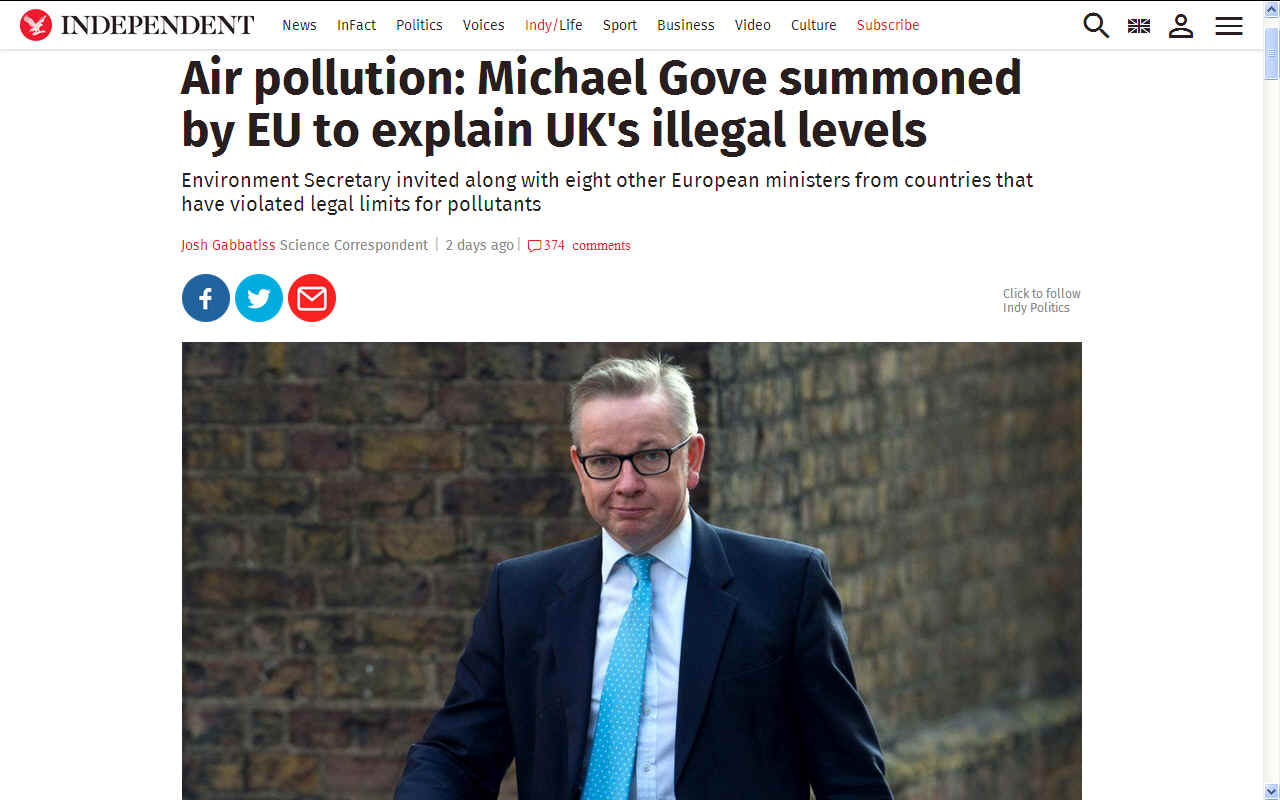 CONSERVATIVE CLIMATE - Michael Gove has been summoned to Brussels because of his party's failure to meet air pollution targets despite warnings about which the Prime Minister was aware of.
UK POLITICS

The United Kingdom has many political parties, some of which are represented in the House of Commons and the House of Lords. Below are links to the websites of the political parties that were represented in the House of Commons after the 2015 General Election:
CO-OPERATIVE PARTY
DEMOCRAT UNIONIST PARTY
PLAID CYMRU
SINN FEIN
SOCIAL DEMOCRATIC AND LABOUR PARTY
UK INDEPENDENCE PARTY
ULSTER UNIONIST PARTY
Social Democratic and Labour Party
We are concerned with how the make up of the above parties and (reasonably) popular policies may affect the Wealden district, because we are all brothers on two islands in the Atlantic Ocean and what we do or fail to do is likely to rebound on ourselves and our fellow man in other nations around the world. How we act today influences policies in other countries in our global community. It is not just about us and our patch.
East Sussex has five District and Borough Councils, each with a border on the coast. From west to east they are:
There is also East Sussex County Council as the provider of services to the 5 East Sussex districts.
As near neighbours and with councils now sharing facilities and working together, these area of Sussex are included in our remit and an area where climate change and affordable housing are issues that need urgent attention. Where the coastline is a feature in every Council, Blue Growth is a food security issue, especially where this side of of our local economy is under-exploited.