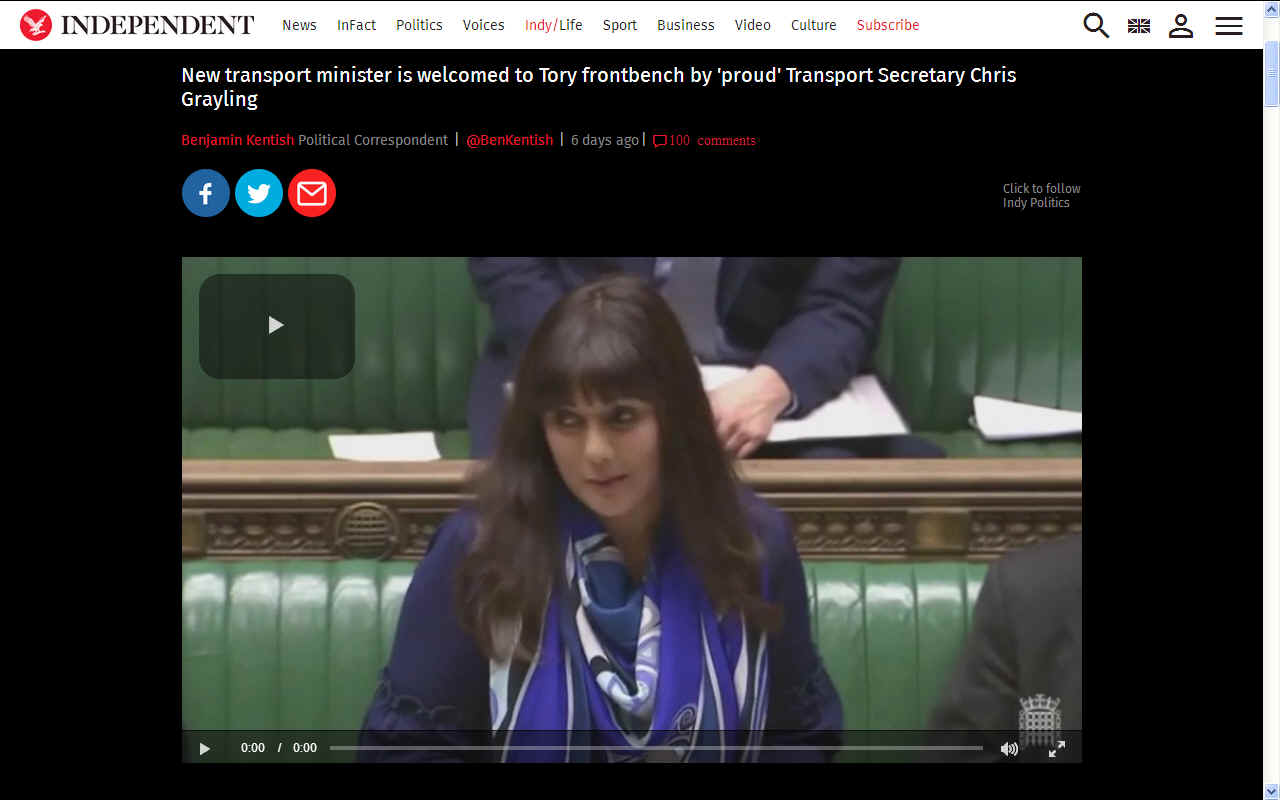 THE INDEPENDENT 18 JANUARY 2018

Nusrat Ghani has become the first female Muslim minister to speak at the House of Commons dispatch box.

The Conservative transport minister was cheered as she rose during transport questions to give an answer on disability access at train stations.

Chris Grayling, the Transport Secretary, welcomed Ms Ghani to the frontbench.

"I am proud to be from a party of opportunity," he said. "We are a party of opportunity that provided this country with its first woman Prime Minister.

"Today, we are the party that provides the first Muslim woman minister to speak from the Government dispatch box—my honourable friend the Member for Wealden. I congratulate her, and I am very proud to sit alongside her today."

Ms Ghani was promoted by Theresa May during last week's reshuffle and will also serve as an assistant government whip. She had previously been a parliamentary aide to Amber Rudd's Home Office team.

The MP said she was "delighted and honoured" at her promotion to the frontbench.

She said: "The roles are both exciting and challenging opportunities, and I am looking forward to getting started and making a difference.

"Transport is a subject on which I have campaigned passionately since being elected as the MP for Wealden. Alongside my ministerial duties, I will continue to be a strong voice for Wealden and deliver for my constituents."

Born in Kashmir, Ms Ghani previously worked for the charity Barnardo's and the BBC World Service. She has been MP for Wealden since 2010.

There have been several male Muslim government ministers, including the current London Mayor Sadiq Khan, but Ms Ghani is the first female Muslim to speak for the Government in the Commons. By Benjamin Kentish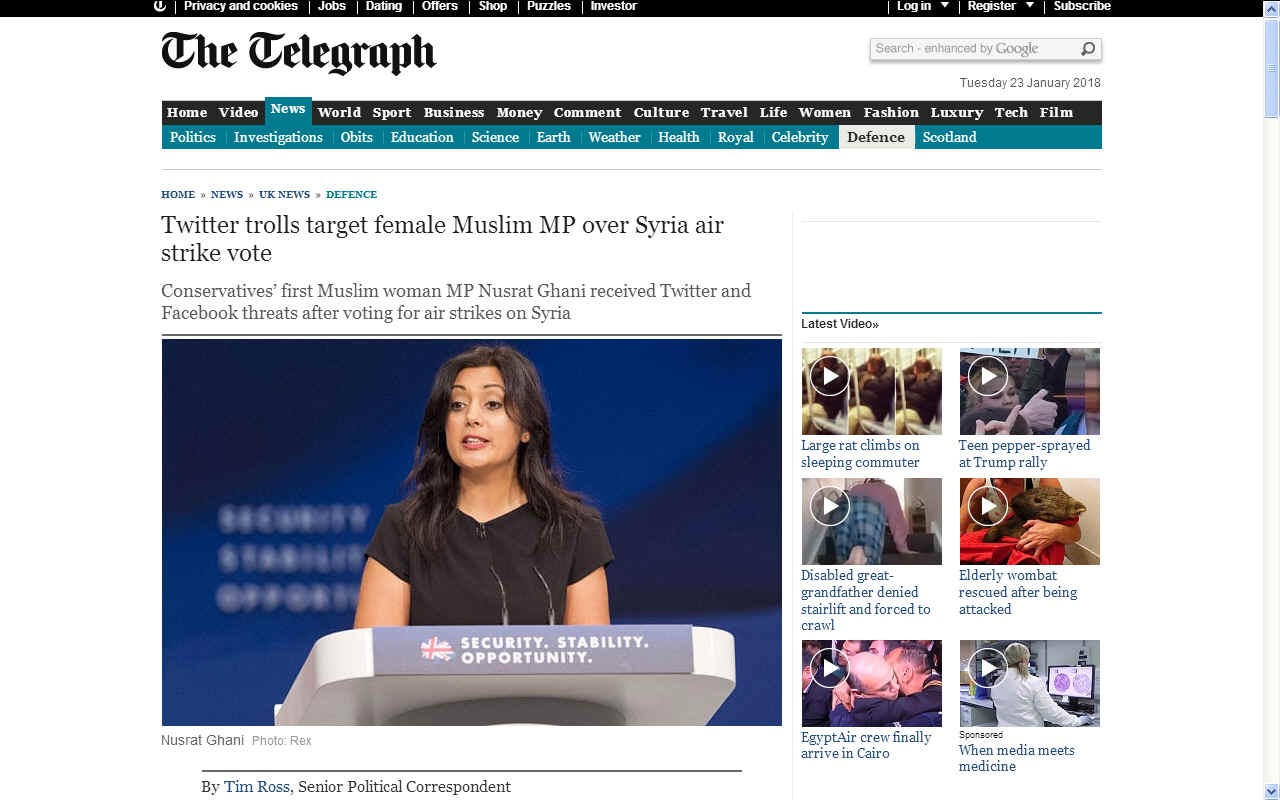 NUSRAT GHANI TWITTER TROLLS
THE TELEGRAPH 12 DECEMBER 2015

The Conservatives' first Muslim woman MP has been targeted with violent threats on Twitter and Facebook after voting for air strikes against the so-called Islamic State in Syria.

Nusrat Ghani, the MP for Wealden, East Sussex, dismissed as "idiots" the social media users who made threats via Facebook and Twitter and said she would continue doing her job, debating national security, and trying to represent and protect her constituents.

The abusive comments and threats were posted after the vote on air strikes on December 2, and have now been passed to the police who are examining the evidence to see whether any potential offences have been committed.

Ms Ghani is among a number of MP who received threats via social media websites after backing David Cameron's plan to extend military action against the so-called Islamic State in Iraq and the Levant (Isil) into Syria.

However, she told the Telegraph that Isil, which is also known as "Daesh", had to be stopped and that she would continue to back action against the terrorists who have killed thousands in their attacks.

"Daesh are slaughtering Muslims in the region and killing Muslims, Christians and others elsewhere – there have been thousands of deaths attributed to their terrorism activities," she said.

"One of the reasons I voted to extend air strikes from Iraq into Syria was to stop them from continuing the killing of Muslims and Yazidis and non-Muslims, the raping of women, beheading of hostages.

"They are a threat to the region and there will be no stability in the Middle East until Daesh are removed. They are a direct threat to us here and in Europe, regardless of what faith that you are," she said.

"There are passions on both sides of the argument and I completely understand that. And I understand the fear people have that we are engaging in something that's incredibly complex.

"I am happy to have this discussion with people. What I am not prepared to tolerate is anonymous threats of violence, of all sorts. That's not the way we work in a democratic country.

"My job is to represent my constituency, keep my constituency safe and help keep my country safe and I won't be deterred from that."

Ms Ghani said bombing was required as a way to take back territory that Isil had seized – because the jihadists' military success was a key factor in enabling them to recruit more people to their evil cause.

"Daesh are a sort of embryonic state and their power comes from taking territory. Their ideology is based on them having territory. To be able to challenge and remove Daesh, we have to be able to take back territory and one way of doing that is military strikes," she said.

"It's hard to have a debate on social media. It's very easy to go on social media and say things that are not appropriate."
By Tim Ross, Senior Political Correspondent
CONSERVATIVE MPS 2017-2018
Theresa May - Prime Mnister

MP for Maindenhead

Damian Green

MP for Ashford

Philip Hammond

MP Runnymede & Weybridge

Boris Johnson

MP Uxbridge & South Ruislip

Amber Rudd

MP Hastings & Rye

David Davis

MP Haltemprice & Howden

Gavin Williamson

MP South Staffordshire

Liam Fox

MP North Somerset

David Lidlington

MP for Aylesbury

Baroness Evans

MP Bowes Park Haringey

Jeremy Hunt

MP South West Surrey

Justine Greening

MP for Putney

Chris Grayling

MP Epsom & Ewell

Karen Bradley

MP Staffordshire Moorlands

Michael Gove

MP Surrey Heath

David Gauke

MP South West Hertfordshire

Sajid Javid

MP for Bromsgrove

James Brokenshire

MP Old Bexley & Sidcup

Alun Cairns

MP Vale of Glamorgan

David Mundell MP

Dumfriesshire Clydes & Tweeddale

Patrick McLoughlin

MP Derbyshire Dales

Greg Clark

MP Tunbridge Wells

Penny Mordaunt

MP Portsmouth North

Andrea Leadsom

MP South Northamptonshire

Jeremy Wright

MP Kenilworth & Southam

Liz Truss

MP South West Norfolk

Brandon Lewis

MP Great Yarmouth

MP

Nus Ghani

MP Wealden

Huw Merriman

MP Battle

Steve Double

MP St Austell & Newquay

Sarah Newton

MP Truro & Falmouth

Rebecca Pow

MP Taunton Deane

Jacob Rees-Mogg

MP Somerset

Nadine Dorries

MP

Gavin Williamson

MP Staffordshire

.

.

.

.

.

.

David Cameron

Former Prime Minister

Margaret Thatcher

Former Prime Minister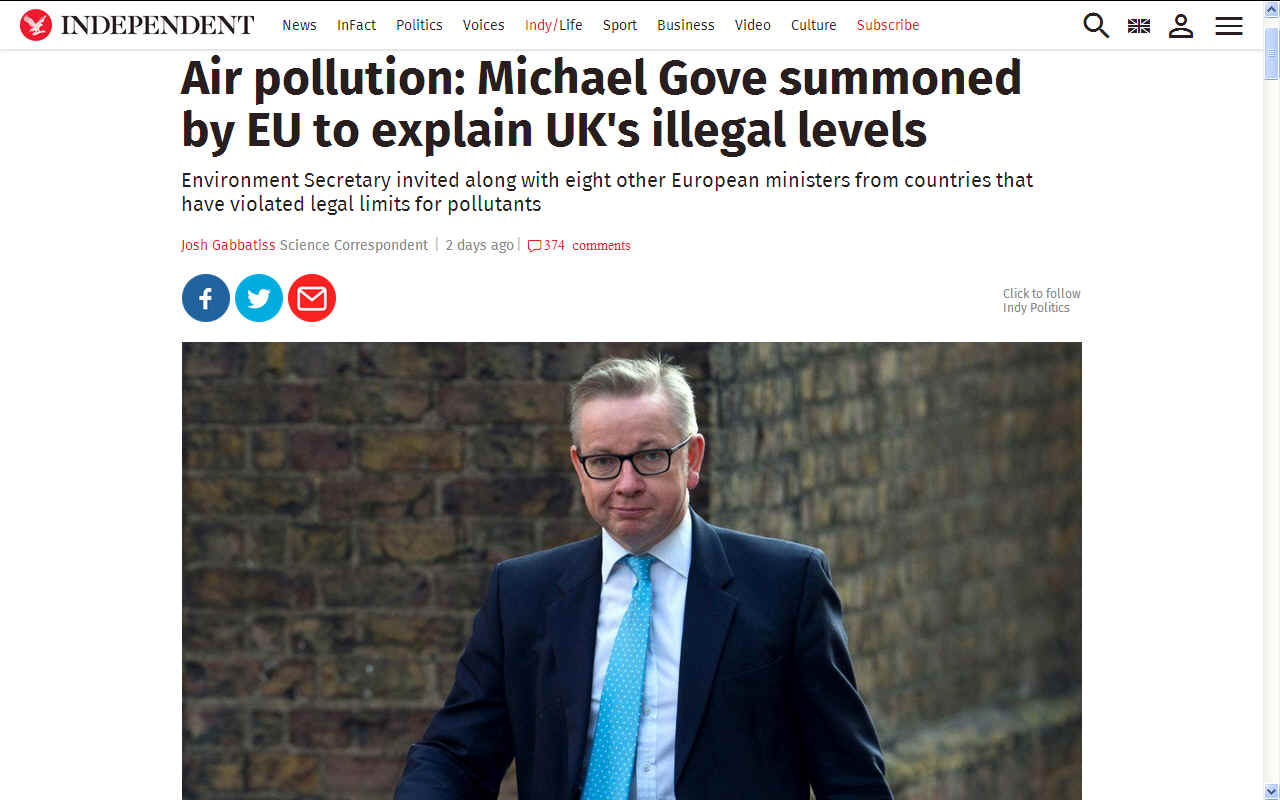 CONSERVATIVE CLIMATE - Michael Gove has been summoned to Brussels because of his party's failure to meet air pollution targets despite warnings about which the Prime Minister was aware of. The High Court has ruled that Britain is not doing enough to meet air quality obligations - making the politicians that are in power, including local councillors and planning officers: Climate Criminals.
UK POLITICS

The United Kingdom has many political parties, some of which are represented in the House of Commons and the House of Lords. Below are links to the websites of the political parties that were represented in the House of Commons after the 2015 General Election:
SOCIAL DEMOCRATIC AND LABOUR PARTY
Social Democratic and Labour Party
We are concerned with how the make up of the above parties and (reasonably) popular policies may affect the Wealden district, because we are all brothers on two islands in the Atlantic Ocean and what we do or fail to do is likely to rebound on ourselves and our fellow man in other nations around the world. How we act today influences policies in other countries in our global community. It is not just about us and our patch.
SUCCESSION - Nusrat Ghani succeeded Charles Hendry, the MP who married a heiress and retired to a stately home that can only be described as a climate change nightmare. The Member before Hendry was Sir Geoffrey Johnson-Smith, an MP who was confronted with planning complaints of a serious nature, but failed to investigate at all - despite the fact that he was a journalist before becoming a member of parliament. One complaint was to do with the unlawful demolition of the Bushy Wood animal sanctuary. Another to do with an officer procuring planning consents for his Masonic father in law; a prominent local builder - an interesting case that is now the subject of further investigations concerning Ian Kay and Bernard Best of Tyrian Lodge, Eastbourne.
All of this is before Ms Ghani's time, but she is the MP for Wealden and should then be aware of such things before she becomes an unwitting accomplice or stooge. She should also be aware that Sussex Police enjoyed a cozy relationship with Wealden DC and for this reason it appears that this force did not investigate the allegations of 12 petitioners - not even opening a file - then presenting nothing to the CPS for them to be able to even consider a prosecution. The crowning glory being the supply of Sussex Police blank headed notepaper to Derek Holness (or his colleagues) so that Wealden's officers could write their own letter of exoneration. When in fact there had been no investigation. the Wealden Action Group challenge(d) Sussex Police to provide a Crime Number and details of any file opened. Sussex Police could not provide a crime number, because none was recorded.
We hope that Emma Brice is also aware of this where impropriety in councils is more prolific than you'd imagine - especially concerning declaring interests at planning meetings, or rather, neglecting to declare them, or even knowing that others in a chamber should not be speaking and saying nothing. A failure to investigate a crime is itself a crime. it follows that perhaps there should be an investigation as to why the Sussex Police failed to open a file on 12 allegations of malfeasance in public office. Malfeasance is where misfeasance is covered up or is part of a chain of multiple wrongs.
East Sussex has five District and Borough Councils, each with a border on the coast. From west to east they are:
There is also East Sussex County Council as the provider of services to the 5 East Sussex districts.
As near neighbours and with councils now sharing facilities and working together, these area of Sussex are included in our remit and an area where climate change and affordable housing are issues that need urgent attention. Where the coastline is a feature in every Council, Blue Growth is a food security issue, especially where this side of of our local economy is under-exploited.