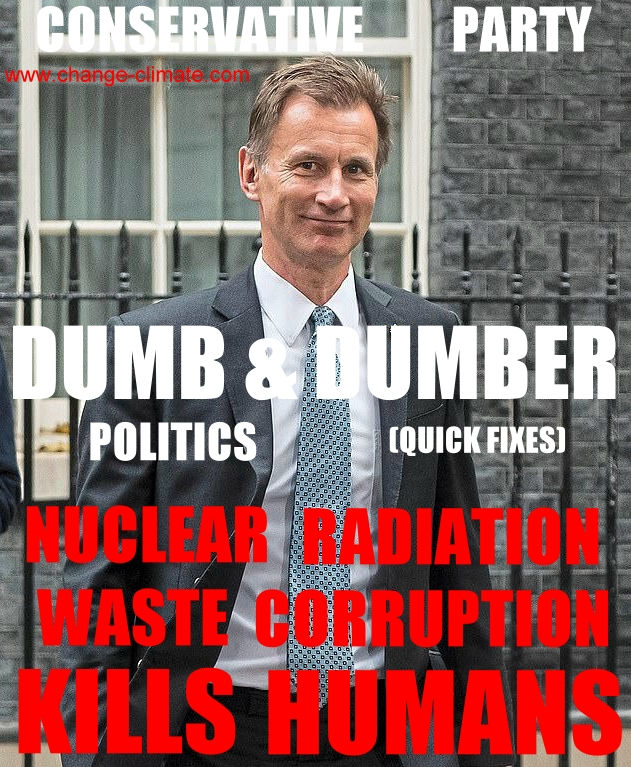 JEREMY HUNT - Mr uninformed, or simply nuclear dumb? This reminds us of PG&E, and Erin Brokovich, where the energy company was telling locals that carcinogenic chromium was good for them. But secretly knew they were killing them, and watched while cancer consumed many residents. We hear that Johnson and Hunt are being considered as the new leads in a remake of Dumb & Dumber. The bottom line is that politicians are not elected to feather their nests, but to represent the wishes and needs of the people. They are tasked with, and required by law to provide an effective administration. We are waiting for one that does - and it's not going to be the Tories anytime before the year 2050. So, don't hold your breath, and should you live that long.


Jeremy Hunt appears to us to be either deliberately seeking to dupe the British public, or is woefully under-informed as to the dangers of long term pollution from deactivation of nuclear power plants. We don't know which it is. What do you think? Another possible explanation is that he has been got at by nuclear spin doctors working for those standing to profit from polluting the planet, more concerned about fattening their wallets, than the inmates on the camps they are exterminating.
Then there is the small matter of him being desperate when it comes to trying to dig the Tories out of the financial hole they have dug for themselves. We would have thought that any intelligent politician would know that the long term consequences of using uranium in reactors on British soil, will inevitably lead to massive cleanup costs to the taxpayer, and radiation leaks. Which are of course dangerous to all life on earth - including humans. Maybe, Jeremy's brain is already irradiated, influencing his decisions which seem decidedly unsound of mind.
If there is any truth in the wonderful Pinocchio story, he'll have to watch out, because his nose may begin to grow with every speech given in Parliament. Or, at least, wouldn't that be amusing to see all those ever expanding beaks. With perhaps, Boris, having such a long snout, that he'd need to be counterbalanced with a handsome log to remain vertical.
Who in their right mind would tell Parliament that nuclear fission is a clean process, and claim it is green. That is French thinking (Electricite De France), mainly because their politics is steeped in misdirection. And that is because they are making a lot of money selling tainted energy supplies to the Brits, supported by apparently ever more senile politicians, conveniently losing their memories, and using telescopes for blind eyes, as they grope in desperation for any straws - so long as those straws bring external investors to our shores.
Keir Starmer seems to have more of a handle, with wind and solar energy. But, more importantly, giving struggling British families a nationalised generating company, that does not dole out dollops of cash in dividends borne of suffering to rich investors. But serves the public, in terms of United Nations' sustainability development goal: SDG 7.

UK TO FINALLY HARNESS FULL POWER OF GREEN ENERGY WITH NEW GREAT BRITISH NUCLEAR SCHEME

Jeremy Hunt has confirmed nuclear power will be classed as "environmentally sustainable" in a bid to boost investment in the energy sector. The Chancellor said today he would launch "Great British Nuclear" to bring down costs.

The Chancellor told MPs in the Commons: "To encourage the private sector investment into our nuclear programme, I today confirm that, subject to consultation, nuclear power will be classed as 'environmentally sustainable' in our green taxonomy, giving it access to the same investment incentives as renewable energy. Alongside that will come more public investment."

Announcing two further commitments to deliver the Government's nuclear ambitions, he added: "Firstly, following representations from our energetic Energy Security Secretary, I am announcing the launch of Great British Nuclear which will bring down costs and provide opportunities across the nuclear supply chain to help provide up to one quarter of our electricity by 2050.

"And secondly, I am launching the first competition for small modular reactors. It will be completed by the end of this year and if demonstrated to be viable we will co-fund this exciting new technology."

Chancellor Jeremy Hunt opened his statement on the budget today saying the UK economy will not enter a technical recession this year. He said the British economy is "on the right track", something which is "proving the doubters wrong". Mr Hunt said the UK economy will meet the PM's priorities to halve inflation, reduce debt and get the economy growing.

Mr Hunt said he would take both short and long term measures to reduce the costs of energy for businesses.

He said: "I will extend the Climate Change Agreement scheme for two years to allow eligible businesses £600million of tax relief on energy efficiency measures. But the long-term solution is not subsidy, but security.

"That means investing in domestic sources of energy that fall outside Putin or any autocrat's control. We are world leaders in renewable energy so today I want to develop another plank of our green economy, Carbon Capture Usage and Storage (CCUS)."

He added: "I am allocating up to £20billion of support for the early development of CCUS, starting with projects from our East Coast to Merseyside to North Wales - paving the way for CCUS everywhere across the UK as we approach 2050.

"This will support up to 50,000 jobs, attract private sector investment and help capture 20-30 million tonnes of CO2 per year by 2030."

Ami McCarthy, Greenpeace UK's Political Campaigner, said Mr Hunt's "misguided Budget" shows the "stranglehold" fossil fuel and nuclear lobbies have on the Government.

She asked: "Why else would it take such a dangerous gamble on unproven technologies?

"Squandering taxpayers' money on nuclear reactors that don't even exist yet and fanciful carbon capture is irresponsible, and does nothing to reduce our emissions now.

"Committing to £20billion over 20 years is frankly pathetic compared to the green growth investments being made in the US, EU and China.

"The Government must instead prioritise renewables, invest in a smarter grid, and insulate people's homes at the scale we need to keep us warm, save money on bills, and bring down carbon emissions."

Andy Stirling, Professor of Science and Technology Policy at the Science Policy Research Unit at the University of Sussex, told Express.co.uk: "Amid the complete eclipse of nuclear power by renewables, the position being taken by the UK Government is now growing so eccentrically flawed as to become a major investment-threatening risk in its own right.

"To characterise nuclear as 'cheap' is to completely forego credibility. This is even more so, if promises are relied on around a new generation of military-derived 'small modular reactors' that are currently undeveloped, untested, unlicensed, unpiloted, unsited and unbuilt.

"The National Infrastructure Commission confirms that renewables and storage offer much more affordable, effective and rapid zero carbon alternatives than even the most attractive nuclear options. The track record of nuclear and renewables accentuate this picture.

"By attaching such a strong priority to nuclear power, the UK Government is not only jeopardising economic, secure clean energy. With other nations prioritising renewables more strongly, the UK thereby continues to forego the full domestic employment and industrial benefits of unique UK renewable resources."

Meanwhile, motoring groups welcomed Mr Hunt's decision to extend the 5p per litre cut in fuel duty.

The Chancellor confirmed in his Budget that the reduction introduced in March last year will be kept for another 12 months and fuel duty will not increase in line with inflation.

Mr Hunt said this will save the average driver £100 over the next 12 months.

Government figures show the average cost of a litre of petrol and diesel at UK forecourts is around £1.47 and £1.67 respectively.

Prices reached record highs of £1.92 for petrol and £1.99 for diesel in July last year, largely due to Russia's invasion of Ukraine leading to an increase in the cost of oil.

AA head of roads policy Jack Cousens said: "We are pleased the Chancellor has listened to the AA and frozen fuel duty.

"Not only will this save drivers heavy duty pain at the pump, but it will help keep the price of goods and services down as they are mainly transported by road."

RAC head of roads policy Nicholas Lyes said: "We welcome the Government's decision to keep the 5p fuel duty cut in place for another 12 months.

"The cut has given drivers some much-needed relief in what has been the most torrid year ever at the pumps, with price records being broken even after duty was cut. Given the importance of driving for consumers and businesses, duty should be kept low to help fight inflation."

Mr Hunt's decision means fuel duty will remain 52.95p per litre for petrol and duty. Before last year's cut, it had been frozen at 57.95p since March 2011.

VAT is charged at 20 percent on top of the total price. RAC Foundation analysis shows tax makes up around half of pump prices.

Among other key announcements at the budget, Mr Hunt said that the economy will avoid recession this year.

He said the economy would avoid a technical recession, although the Office for Budget Responsibility (OBR) still forecast a contraction of 0.2 percent this year, a significant improvement on the -1.4 percent predicted in November. [Try buying a bag of sugar in March 2023, up from £0.65 pence, to £0.99 pence, in all supermarkets - meaning the official figures are somewhat more than massaged. Given that sugar is a virtual agricultural currency, meaning that food price inflation is running at 52%. We'd call that rampant - very much like in post 1st World War Germany - a situation that swept Adolf Hitler to power.]

The OBR also upgraded its growth forecast for 2024 from 1.3 percent to 1.8 percent, but downgraded predictions for the following years to 2.5 percent in 2025, 2.1 percent in 2026 and 1.9 percent in 2027.

As part of a package aimed at helping with the cost of living, the Chancellor said the energy price guarantee, which caps average household bills at £2,500, will be extended at its current level from April to June.

It had been due to rise to £3,000 in April and the cost of scrapping the planned 20 percent increase will amount to about £3bn.

Taking advantage of tax flexibility since leaving the European Union, a "Brexit pubs guarantee" will see duty on draught products up to 11p lower than in supermarkets.

The OBR forecasts inflation in the UK will fall from 10.7 percent in the final quarter of last year to 2.9 percent by the end of 2023, partly due to the impact of the cost-cutting measures.

Opening his Budget statement, Mr Hunt told MPs: "In the face of enormous challenges, I report today on a British economy which is proving the doubters wrong." By Jon King and Ollie Corfe
ARTICLES 9 AND 10
These are our views, based on years of dealings with a largely Conservative controlled Wealden District Council, and a police force that refuses to investigate corruption, but rather is an accessory to planning crime, and other more serious failings, including the stitch up of a whistleblower, who wants to reveal long term fraud.
Now, obviously, Jeremy had little to do with that. But his party and the politics of the Nation that have been forged over many years, has done nothing to create a just society, rather turning the electorate into financial slaves, to pay for the cock-ups of successive negligent governments. As the new Chancellor, this is now his territory, difficult or not. He should face facts and let King Charles III, the present head of state, know how badly his party have performed in the past, making us bankrupt to all intents, and unable to Pay the Piper. So, not painting a true picture of the state of the nation, by reference to the National Debt.
Jeremy and his boss, Rishi, might like to consider a Written Constitution, to restore justice to the common people. Get rid of another drain on the British public, and force the Windsor's to pay inheritance taxes, like the rest of us. All part of a tune up of the rotten system many are protesting about, as it is at present.

CONSERVATIVE MPS 2017-2018
Theresa May - Prime Mnister

MP for Maindenhead

Damian Green

MP for Ashford

Philip Hammond

MP Runnymede & Weybridge

Boris Johnson

MP Uxbridge & South Ruislip

Amber Rudd

MP Hastings & Rye

David Davis

MP Haltemprice & Howden

Gavin Williamson

MP South Staffordshire

Liam Fox

MP North Somerset

David Lidlington

MP for Aylesbury

Baroness Evans

MP Bowes Park Haringey

Jeremy Hunt

MP South West Surrey

Justine Greening

MP for Putney

Chris Grayling

MP Epsom & Ewell

Karen Bradley

MP Staffordshire Moorlands

Michael Gove

MP Surrey Heath

David Gauke

MP South West Hertfordshire

Sajid Javid

MP for Bromsgrove

James Brokenshire

MP Old Bexley & Sidcup

Alun Cairns

MP Vale of Glamorgan

David Mundell MP

Dumfriesshire Clydes & Tweeddale

Patrick McLoughlin

MP Derbyshire Dales

Greg Clark

MP Tunbridge Wells

Penny Mordaunt

MP Portsmouth North

Andrea Leadsom

MP South Northamptonshire

Jeremy Wright

MP Kenilworth & Southam

Liz Truss

MP South West Norfolk

Brandon Lewis

MP Great Yarmouth

MP

Nus Ghani

MP Wealden

Huw Merriman

MP Battle

MP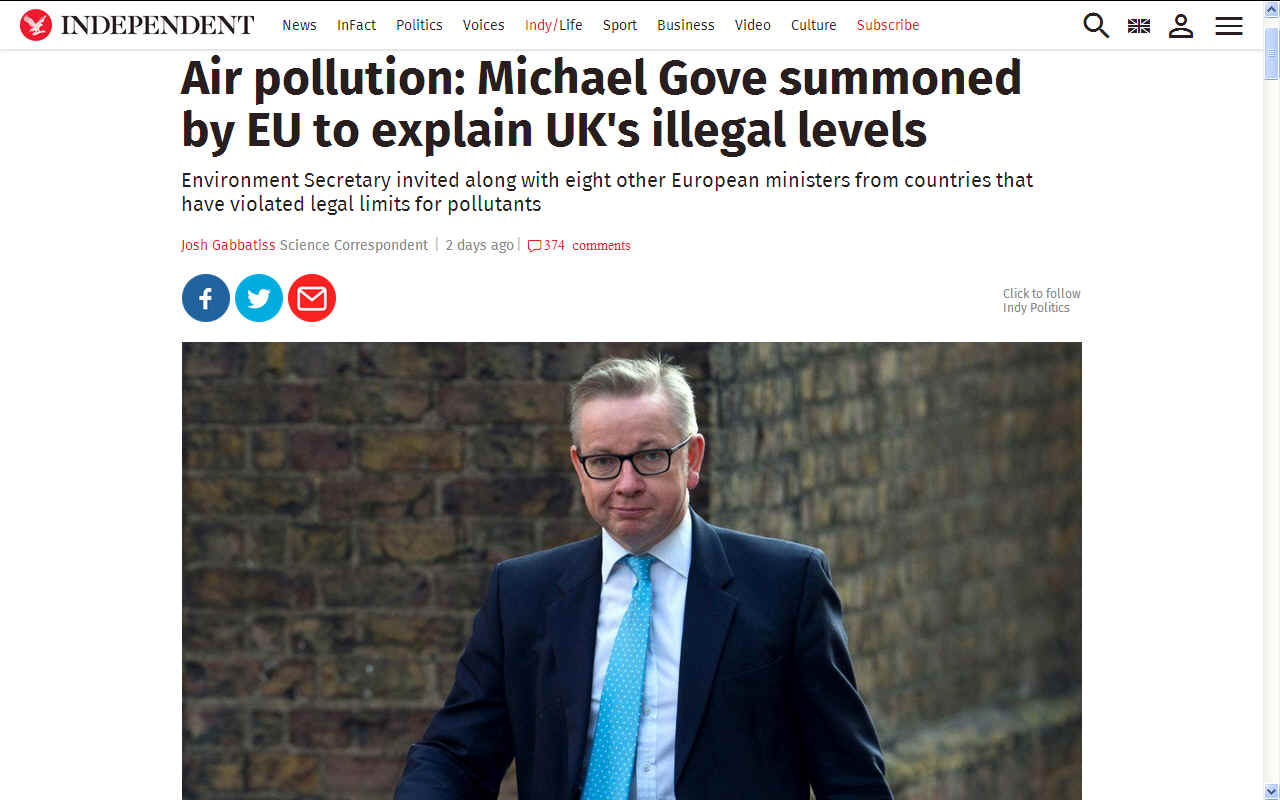 CONSERVATIVE CLIMATE - Michael Gove has been summoned to Brussels because of his party's failure to meet air pollution targets despite warnings about which the Prime Minister was aware of.
UK POLITICS

The United Kingdom has many political parties, some of which are represented in the House of Commons and the House of Lords. Below are links to the websites of the political parties that were represented in the House of Commons after the 2015 General Election:
CO-OPERATIVE PARTY
DEMOCRAT UNIONIST PARTY
PLAID CYMRU
SINN FEIN
SOCIAL DEMOCRATIC AND LABOUR PARTY
UK INDEPENDENCE PARTY
ULSTER UNIONIST PARTY
Social Democratic and Labour Party
We are concerned with how the make up of the above parties and (reasonably) popular policies may affect the Wealden district, because we are all brothers on two islands in the Atlantic Ocean and what we do or fail to do is likely to rebound on ourselves and our fellow man in other nations around the world. How we act today influences policies in other countries in our global community. It is not just about us and our patch.
East Sussex has five District and Borough Councils, each with a border on the coast. From west to east they are:
There is also East Sussex County Council as the provider of services to the 5 East Sussex districts.
As near neighbours and with councils now sharing facilities and working together, these area of Sussex are included in our remit and an area where climate change and affordable housing are issues that need urgent attention. Where the coastline is a feature in every Council, Blue Growth is a food security issue, especially where this side of of our local economy is under-exploited.