Transitioning to a low-carbon, environmentally and socially sustainable economy can become a strong driver of job creation, job upgrading, social justice, not too mention poverty eradication if properly managed with the full engagement of governments, workers, and employers' organizations. This is why it is so important that local politicians are informed about the possibilities - where they (understandably) may be frightened of change.
Many countries around the world are designing and implementing low emission development strategies (LEDS). These strategies seek to achieve social, economic and environmental development goals while reducing long-term greenhouse gas emissions and increasing resilience to climate change impacts.

Globally implemented low-carbon economies are therefore proposed by those having drawn this conclusion, as a means to avoid catastrophic climate change, and as a precursor to the more advanced, zero-carbon economy.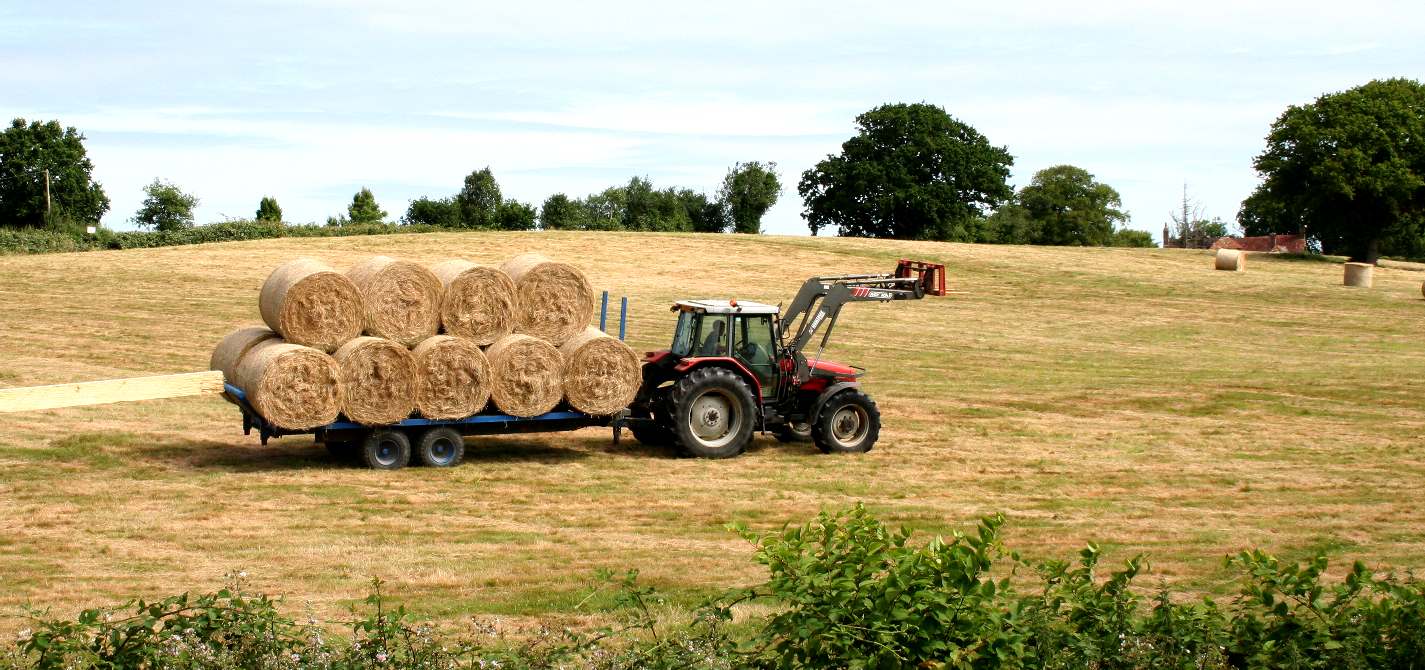 FARMING - The backbone of any society is the production of food to feed the population, though these days much of what we eat is imported from other producers, such as fish farmed in Asia. We can no longer find enough fish locally having exhausted our fisheries. Agriculture is also changing where we have drained the soil for so long with artificial fertilizers that yields will fall, meaning a shift to obtaining protein from the sea - but unfortunately we are disposing of around 8 millions tons of plastic in our seas - poisoning marine life that we need to keep us nourished. Food security is therefore high on the United Nations agenda via the Food and Agriculture Organization.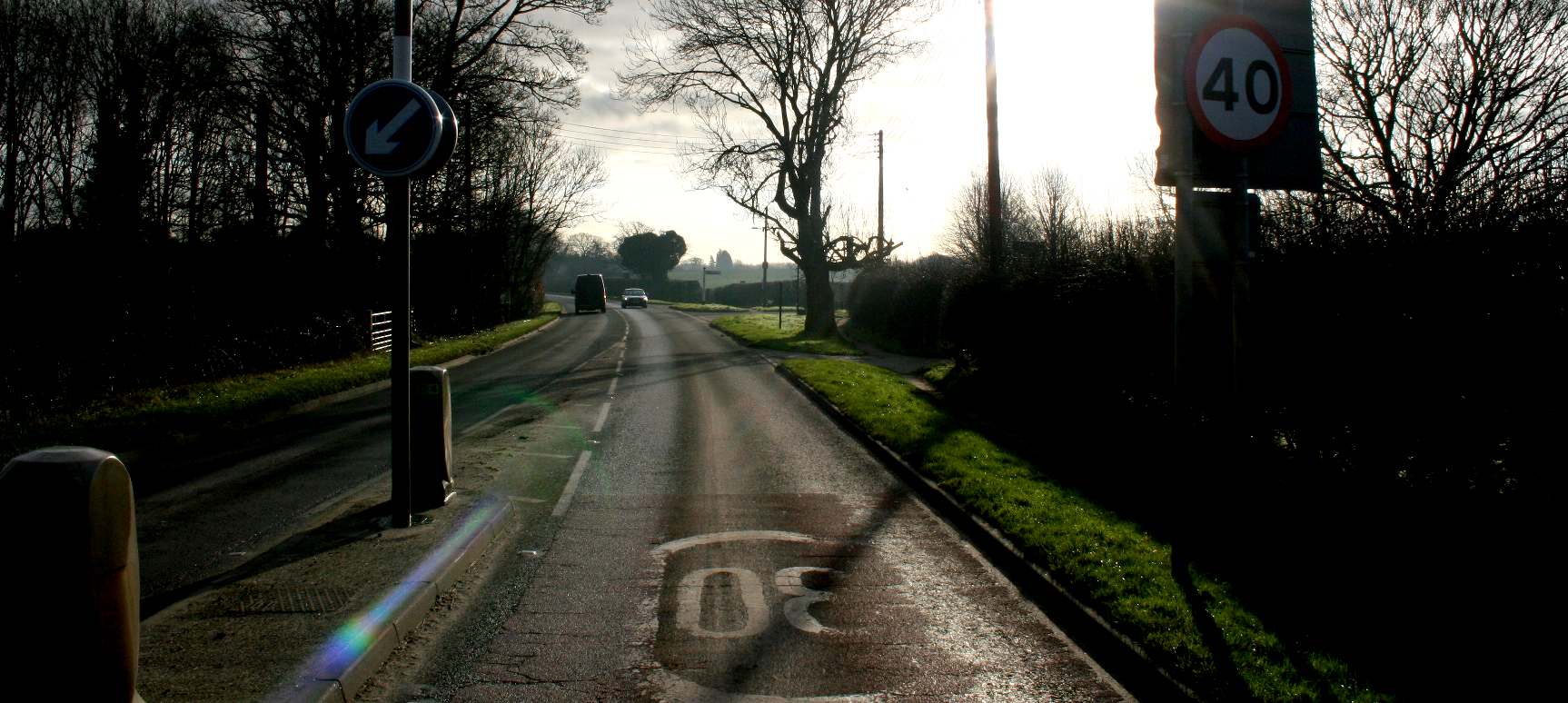 UK MAP - A typical country road that is strewn with potholes and repair craters that soak up energy from cars. Wealden District and East Sussex County Councils are not providing charging points for electric vehicles to help make them more popular with motorists. Councils represent the log-jam that is keeping our air quality so poor that Europe has serious concerns - enough to summon Michael Gove to explain Conservative inadequacies.
ABOUT THE CLIMATE CHANGE TRUST
Our aim is to help officials to work towards a Circular Economy. We are politically neutral, we just want to see policies and action plans put in place that will make the UK strong again, energy self-sufficient and with housing that is genuinely affordable for the next generation to create a safe Circular Economy with food security also featuring in the mix.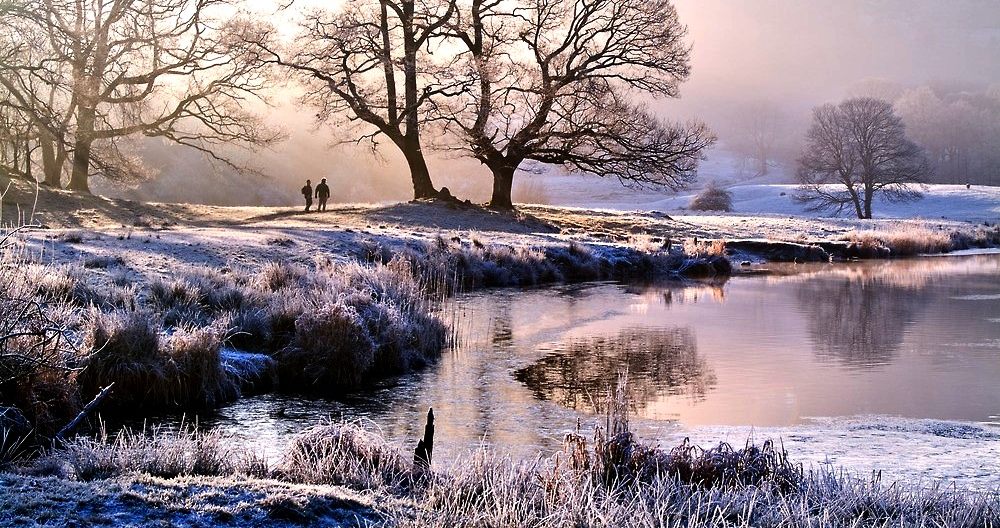 FROSTY MORNING - A frosty morning like this could be the start of an energy crisis and a cold future for transport and homes in the UK if we do not start to take climate change seriously.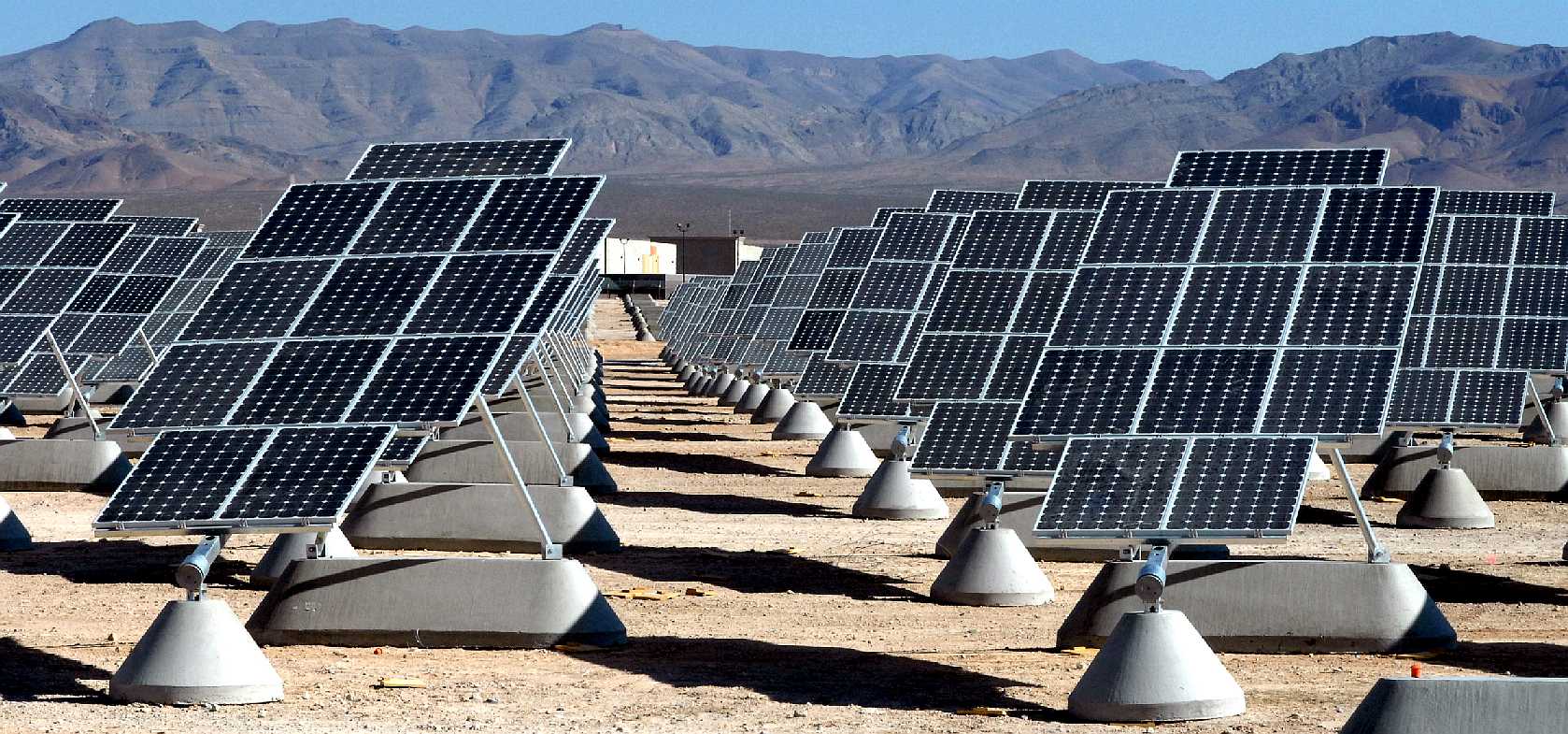 FARMING - The Nellis Solar Power Plant is a 14-megawatt (MW) photovoltaic power station located within Nellis Air Force Base in Clark County, Nevada, northeast of Las Vegas. The power plant was inaugurated in a ceremony on December 17, 2007, with Nevada Governor Jim Gibbons activating its full operation. On average, it has since generated 32 gigawatt-hours of electricity annually and supplied more than 25% of the power used at the base.

Occupying 140 acres (57 ha) of land leased from the Air Force at the northeastern corner of the base, this ground-mounted solar system employs an advanced sun tracking system, designed and deployed by SunPower. The system contains approximately 70,000 solar panels, and the peak power generation capacity of the plant is approximately 13 MWAC. This means the ratio of average to peak output, or capacity factor, of this plant is around 22%.
LINKS
ACIDIFICATION - OCEANS
AGRICULTURE - FARMING FOR OUR FUTURE
ANTHROPOCENE - GEOLOGICAL EPOCH
BERLIN, 6TH CLIMATE CHANGE CONFERENCE
BIO FUELS - FROM CROPS & OCEAN FLORA
CALIFORNIA AIR RESOURCES BOARD - CARB
CHANGE - THE HARDEST THING OF ALL
CIRCULAR ECONOMY - RESTRAINT
CLIMATE CHANGE - ACT 2006 CLIMATE CHANGE & SUSTAINABLE ENERGY
- ACTS 2008, TARGET AMENDMENTS 2050 ORDER
- THE FACTS
COAL - FOSSIL FUEL
CONFERENCES OF THE PARTIES - UNITED NATIONS COP
CONSULTANCY - LOW COST EV INFRASTRUCTURE ACCELERATION
DESERTIFICATION - SOIL DEGRADATION TURNING AGRICULTURAL LAND TO DESERTS
- COP 1, COP 2, COP 3, COP 4, COP 5, COP 6, COP 7, COP 8
- COP 9, COP 10, COP 11, COP 12, COP 13, COP 14
DIESEL - FOSSIL FUEL FOR TRUCKS, TRACTORS AND FISHING BOATS
ECONOMICS - CIRCULAR
ELECTIONS - LOCAL UK 2019
ELECTRIC VEHICLES - ECONOMICS
ELIZABETH SWANN - CHALLENGER WORLD RECORD CIRCUMNAVIGATION - SPECIFICATIONS - SUNSHINE ROUTE
ENERGY SECURITY - EUROPEAN THREATS - SHORT TERM - LONG TERM - FUTURE WORLD ENERGY, ABU DHABI 2020
EVENTS -
EXTINCTION REBELLION - ROGER HALLUM NOT GUILTY MAY 2019
FOSSIL FUELS - COAL, NATURAL GAS & OIL
FUSION - HYDROGEN ATOMIC ENERGY
G20 - GROUP OF TWENTY MOST POLLUTING COUNTRIES
GEOTHERMAL - HEAT ENERGY
GRETA THUNBERG - SWEDISH ACTIVIST
HORIZON 2020 - DECARBONISING LONG DISTANCE SHIPPING, (CALL OPENS) SEPTEMBER 2019
- MANUAL FOR PARTICIPANTS, MANAGEMENT GUIDANCE
- SMART GREEN TRANSPORT BRIEFING BROKERAGE EVENT, 7 OCTOBER 2019 (CARS)
- UK H2020 NATIONAL POINTS OF CONTACT
HOUSING - SUSTAINABLE BUILDINGS
HUMANITARIAN AID - MOBILE POWER FOR REFUGEE RELIEF
IMO - INTERNATIONAL MARITIME ORGANIZATION
IPCC - INTERGOVERNMENTAL PANEL ON CLIMATE CHANGE (UNITED NATIONS)
KEROSENE - AVIATION FUEL
METHANE -
MOBILE RENEWABLE ENERGY - FOR THIRD WORLD COUNTRIES AND EMERGENCIES
OZONE -
PLANETSOLAR - IMMO STROEHER, RAPHAEL DOMJAN
POLICIES - THAT PROMOTE GLOBAL WARMING
- THAT REDUCE GLOBAL WARMING
POLITICS - LOCAL POLITICS & POWER CORRUPTION
POPULATION - WORLD GROWTH
PROTESTS -
RANGE ANXIETY - FEAR OF EV'S WHERE NO SERVICE INFRASTRUCTURE EXISTS
RENEWABLE ENERGY - 100+ COMPANIES A - Z INDEX
ROGER HALLAM - EXTINCTION REBELLION
SECURITY - ENERGY - SHORT TERM - LONG TERM
SLAVERY - FINANCIAL & GLOBAL WARMING
SOLAR POWER - PHOTOVOLTAIC AND HEAT CONCENTRATORS
TRANSPORT - FROM COAL TO PETROL TO EV'S
TRUST - CLIMATE CHANGE
TU DELFT - SOLAR BOAT OFFSHORE RACE @ MONACO JULY 2019
UNITED NATIONS - CONVENTION TO COMBAT DESERTIFICATION
- CONFERENCES OF THE PARTIES COPS
- GENERAL ASSEMBLY SEPTEMBER 2019
- ACTION PORTFOLIOS TO REDUCE GREENHOUSE GASES - FINANCE, ENERGY, INDUSTRY, NATURE, CITIES
- ADAPTATION , MITIGATION, YOUTH, POLITICS
WAVE & TIDAL - POWER GENERATION
WIND POWER - TURBINES & WINDMILLS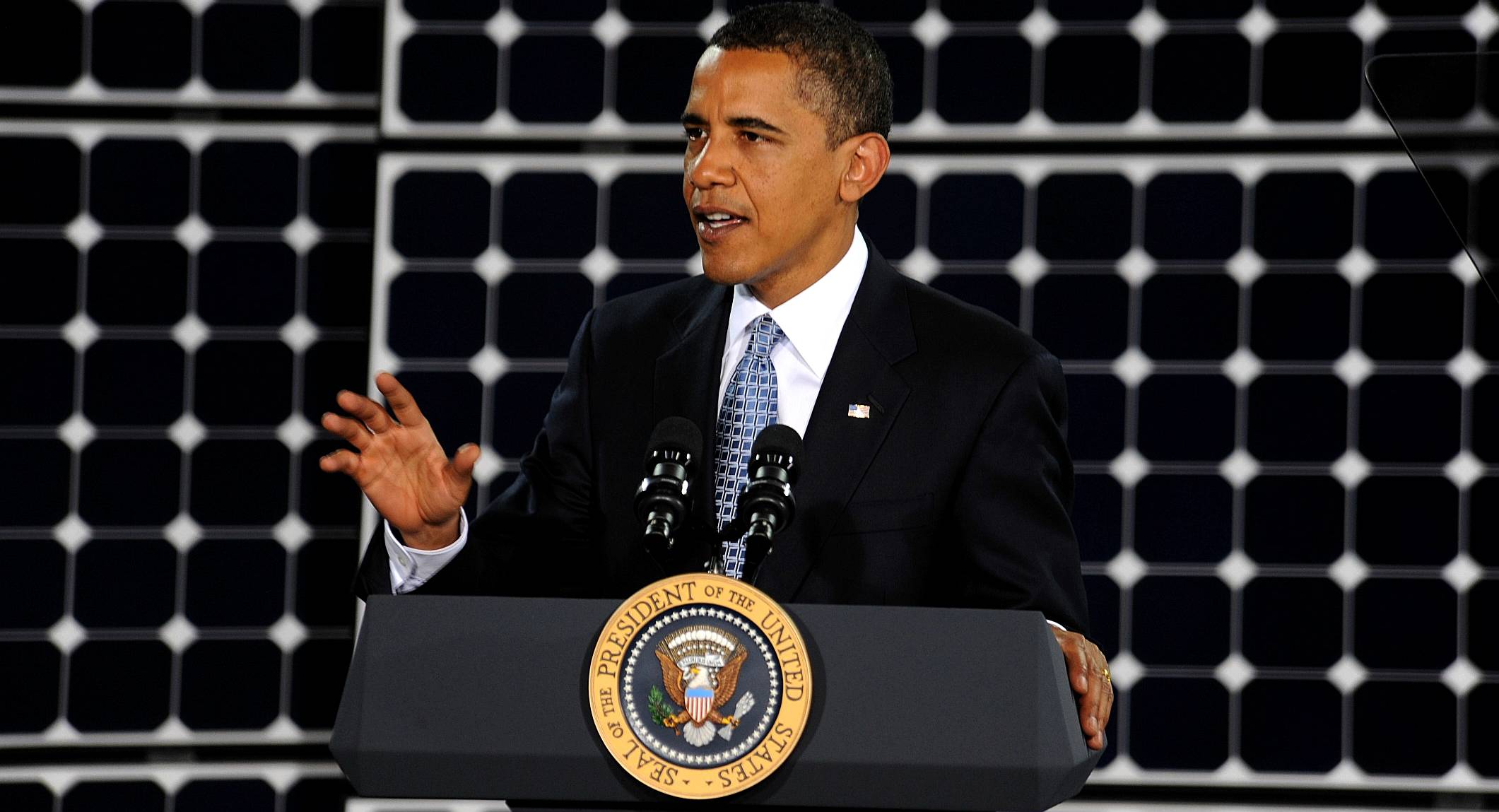 MR OCEAN - Barack Obama was a source on inspiration not only in speaking about environmental problems and how to deal with, but also in putting those words into practice. That President Trump appears confused as to what the US had committed to may truly put the drive to clean up our act into a mini nose dive. We live in hope that somebody in that administration will realize that there are financial gains, and where Donald is money driven, that such revelations might get the de-railed carriages back on the tracks.