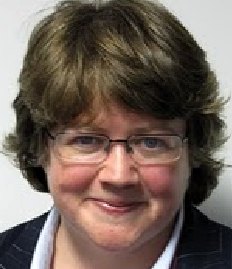 THERESE COFFEY - Has been the Member of Parliament for Suffolk Coastal since 2010. Thérèse is the Minister for the Environment having previously served as Deputy Leader of the House, Government Whip and Parliamentary Private Secretary to Michael Fallon. On entering Parliament, she was first a member of the Culture, Olympics, Media and Sports Committee. She is a member of Boris Johnson's Cabinet.
PRESS RELEASE - Published 17 July 2018 - From: Department for Environment, Food & Rural Affairs and Thérèse Coffey MP

Commonwealth countries unite to tackle ocean plastic pollution. Countries across the Commonwealth meet to discuss next steps in tackling plastic entering the marine environment.
Four more countries have signed up to UK and Vanuatu-led efforts to tackle ocean plastic, announced Environment Minister Thérèse Coffey today as she hosted the first meeting of the Commonwealth Clean Oceans Alliance (CCOA).

The Alliance, which was announced by the Prime Minister during the Commonwealth Heads of Government Meeting in London (16-18 April), aims to unite countries around the Commonwealth so they can work together to turn the tide on plastic entering the marine environment. It sees each country pledging to take action – be this by a ban on microbeads, a commitment to cutting down on single use plastic bags, or other steps to eliminate avoidable plastic waste.

Three months on, Australia, Fiji, Kenya and St Lucia have now formally joined the Alliance and will sit alongside New Zealand, Sri Lanka and Ghana to create a nine-strong coalition in the fight against plastic pollution.

Representatives from 25 Commonwealth countries, including Tanzania and Nigeria who have not formally signed up to the Alliance, met in London today to share the ambitions and expertise they have and reiterate their commitment to healthy oceans.

The meeting was chaired by Environment Minister Thérèse Coffey where she highlighted the UK's global leadership on ocean conservation and updated on action taken under our 25 Year Environment Plan.

Environment Minister Thérèse Coffey is quoted as saying:

Marine plastics pollution is one of the greatest environmental challenges facing the world today, requiring a truly global approach to developing a solution.

By joining together the expertise and ambitions of the Commonwealth countries, we can make huge strides towards eliminating all single use plastic from our oceans. I thoroughly enjoyed hearing from other countries on how they are approaching this challenge, and look forward to seeing what difference we can make together.

Minster Coffey also outlined the assistance available from the UK to support Commonwealth countries through the £61.4million Commonwealth Oceans Plastic Package, as announced by the Prime Minister at the Commonwealth Heads of Government Meeting in London earlier this year.

Included in the package is a £25million Marine Plastics Research and Innovation Framework, to help researchers approach the scourge of marine plastic waste from a scientific, technical, economic and social perspective.

More details were also revealed about the Global Plastics Action Partnership, a Defra-funded £2.4million project linked to CCOA to tackle global plastic pollution in rivers, deltas and oceans. Three initial projects will be launched as part of the public-private project in hotspots around the world; in Southeast Asia, West Africa and a Small Island Developing State.

The UK Government continues to lead the way in tackling plastic, with one of the world's strongest bans on microbeads introduced last month and 9 billion fewer bags distributed thanks to the 5p plastic bag charge. Environment Secretary Michael Gove has also outlined ambitious plans to end the sale of plastic straws, stirrers and cotton buds and introduce a deposit return scheme, subject to consultation.
ABOUT THERESE
Biography

Thérèse Coffey was appointed Parliamentary Under Secretary of State at the Department for Environment, Food and Rural Affairs on 17 July 2016. She was elected the Conservative MP for Suffolk Coastal in May 2010.
Education

Thérèse graduated from University College London (UCL) with a PhD in chemistry.
Political Career

Thérèse Coffey served as Deputy Leader of the House of Commons from May 2015 until July 2016.

Thérèse served on the Culture, Media and Sport Committee until she was appointed Parliamentary Private Secretary to Michael Fallon, Minister for Business and Energy.

Thérèse has campaigned on stopping the A14 toll, improving NHS experience for patients and better broadband.
Career outside politics

Thérèse worked for the international company Mars. When Thérèse qualified as a chartered management accountant, she became Finance Director for a UK subsidiary of Mars. She has also worked at the BBC.
Personal life

Thérèse enjoys watching football, gardening and music, especially Muse. She is a CAMRA (Campaign for Real Ale) member.
6 JULY 2018

Therese has welcomed the publication of the Government's White Paper on the future of Britain's fisheries policy.

Today the Government has set out its plans to promote a more competitive, profitable and sustainable fishing industry across the whole of the UK, setting a gold standard for sustainable fishing around the world.

Therese said: "One of the benefits of leaving the EU is having a fisheries policy that will boost our fishing industry. for the first time in 40 years access to UK waters will be under our control and for the benefit of British fishermen, especially the under 10 fishing fleet along the Suffolk coast. I am sure this will be highly welcomed and I encourage local fishermen to give their views by September 10th.

"We are committed to working closely with our partners to manage shared stocks in a sustainable way and share fishing opportunities."

Therese added: "We will continue to work closely with other nations on ensuring fishing has a sustainable and profitable future.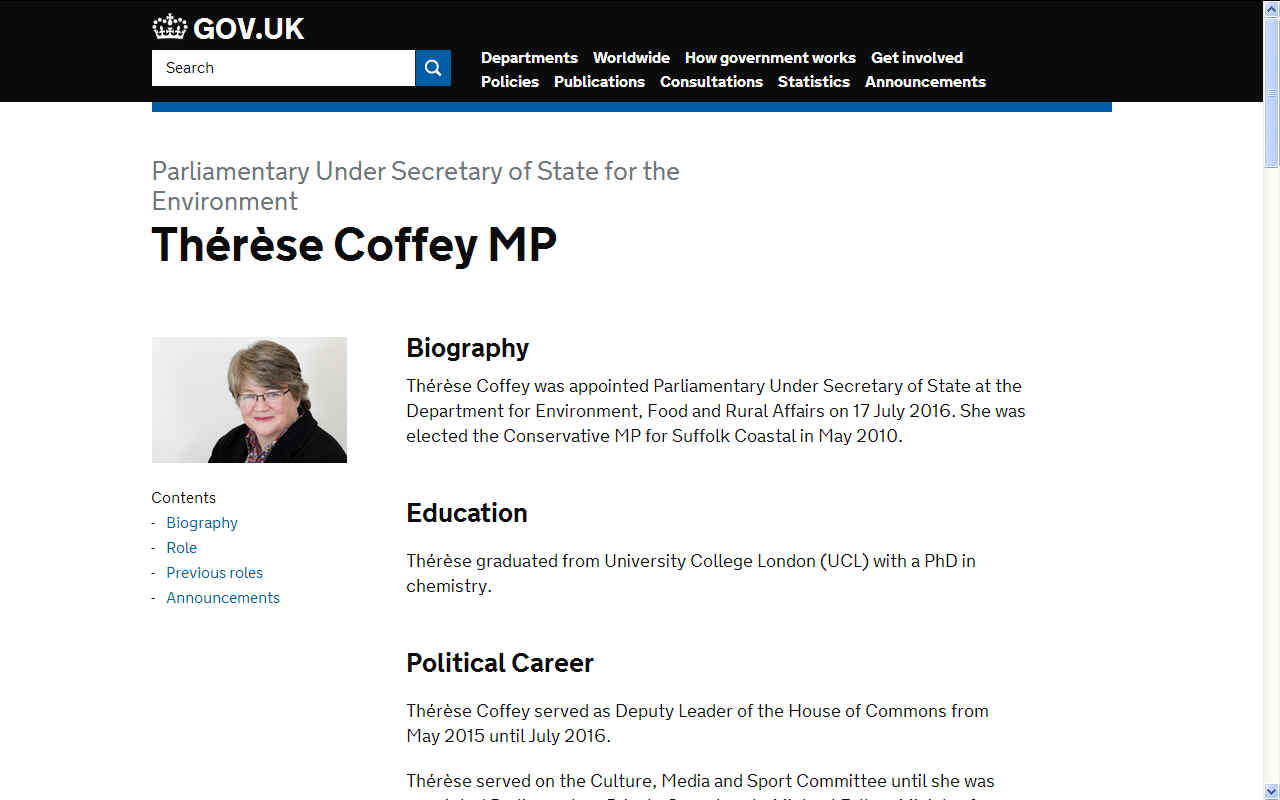 BIOGRAPHY - Thérèse Coffey was appointed Parliamentary Under Secretary of State at the Department for Environment, Food and Rural Affairs on 17 July 2016. She was elected the Conservative MP for Suffolk Coastal in May 2010.
CABINET MPS -MARCH 2020
Chancellor Exchequer

Priti Patel

Home Secretary

Dominic Raab

Foreign Secretary

Michael Gove

Chancellor D. Lancaster

Ben Wallace

Defence Secretary

Matt Hancock

Health & Social Care

Liz Truss

International Trade

Gavin Williamson

Education

Oliver Dowden

Culture

Alok Sharma

MP Reading West

Robert Jenrick

Housing, Local Gov.

Therese Coffey

Work & Pensions

Robert Buckland

Justice

Anne-Marie Trevelyan

International Dev.

Transport

George Eustice

Environment

Brandon Lewis

Northern Ireland

Alister Jack

Scottish Sec. State

Simon Hart

Welsh Sec. State

Baroness Evans

Leader Lords

Amanda Milling

Party Chairman

Jacob Rees-Mogg

Leader Commons

Mark Spencer

Chief Whip

Suella Braverman

Attorney General

Stephen Barclay

Treasury Sec.
CONSERVATIVE MPS 2017-2018
Theresa May - Prime Mnister

MP for Maindenhead

Damian Green

MP for Ashford

Philip Hammond

MP Runnymede & Weybridge

Boris Johnson

MP Uxbridge & South Ruislip

Amber Rudd

MP Hastings & Rye

David Davis

MP Haltemprice & Howden

Gavin Williamson

MP South Staffordshire

Liam Fox

MP North Somerset

David Lidlington

MP for Aylesbury

Baroness Evans

MP Bowes Park Haringey

Jeremy Hunt

MP South West Surrey

Justine Greening

MP for Putney

Chris Grayling

MP Epsom & Ewell

Karen Bradley

MP Staffordshire Moorlands

Michael Gove

MP Surrey Heath

David Gauke

MP South West Hertfordshire

Sajid Javid

MP for Bromsgrove

James Brokenshire

MP Old Bexley & Sidcup

Alun Cairns

MP Vale of Glamorgan

David Mundell MP

Dumfriesshire Clydes & Tweeddale

Patrick McLoughlin

MP Derbyshire Dales

Greg Clark

MP Tunbridge Wells

Penny Mordaunt

MP Portsmouth North

Andrea Leadsom

MP South Northamptonshire

Jeremy Wright

MP Kenilworth & Southam

Liz Truss

MP South West Norfolk

Brandon Lewis

MP Great Yarmouth

MP

Nus Ghani

MP Wealden

Huw Merriman

MP Battle

Steve Double

MP St Austell & Newquay

Sarah Newton

MP Truro & Falmouth

Rebecca Pow

MP Taunton Deane

Jacob Rees-Mogg

MP Somerset

Nadine Dorries

MP

Gavin Williamson

MP Staffordshire

Thérèse Coffey

MP Suffolk Coastal

.

.

.

.

David Cameron

Former Prime Minister

Margaret Thatcher

Former Prime Minister
MP
The EU provides funding to its member states, guidance and support in return for compliance with rules that are made democratically by the European Parliament in Brussels.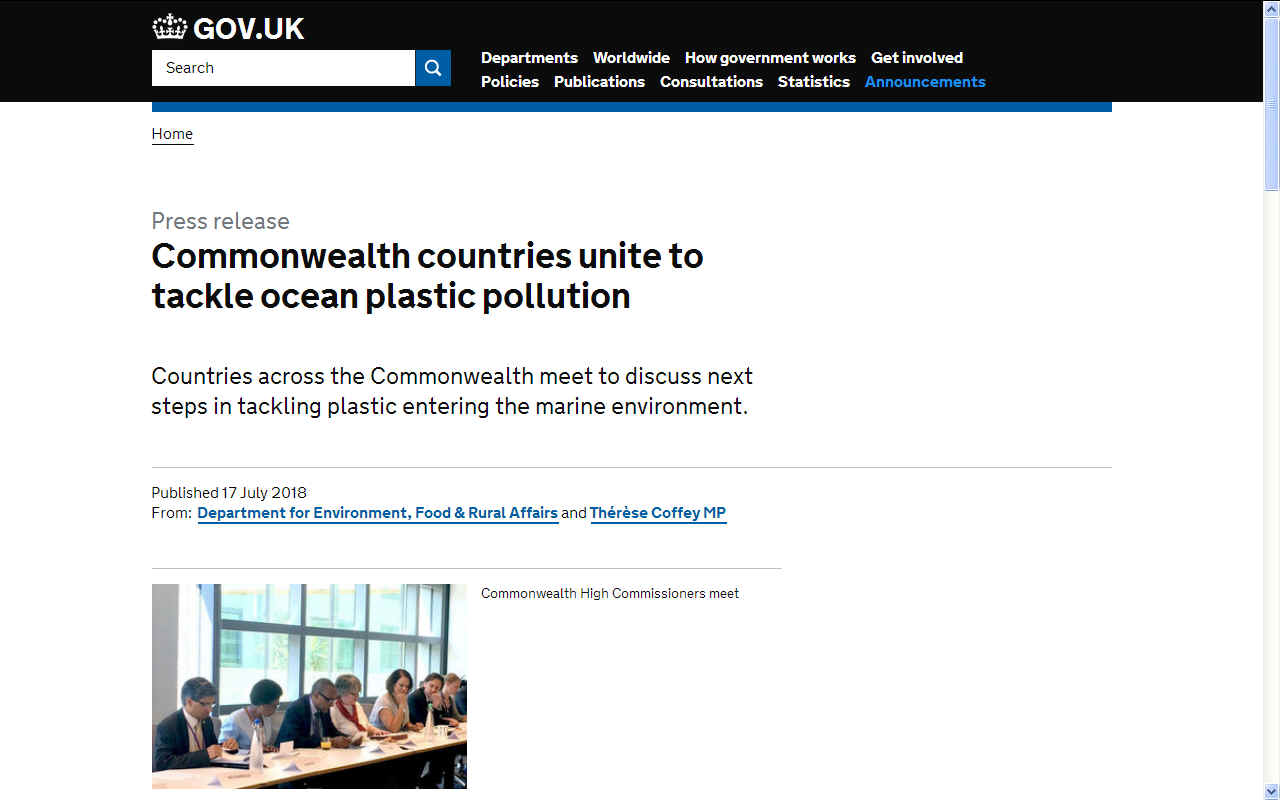 PLASTICS INNOVATION: TOWARDS ZERO WASTE
UK businesses can apply for a share of up to £4 million to develop new solutions to reduce persistent plastics entering our environment.

Competition opens: Monday 18 June 2018
Competition closes: Wednesday 8 August 2018 12:00pm

This competition is now closed.
Who can apply

To be eligible for funding you must:

be a UK based business, academic organisation, charity, public sector organisation or research and technology organisation (RTO)

* carry out your project work in the UK
* intend to exploit the results from or in the UK

The lead organisation must claim funding through this competition. If the project is collaborative, at least one other organisation in the consortium must also claim funding.

All projects must involve an SME. Only an SME can lead projects with costs below £100,000.

Any one business or RTO may lead on one application and collaborate in a further 2 applications. If a business is not leading an application, they can be a collaborator in up to 3 applications.

If an RTO is:

* the lead on an application they must have 2 business collaborators (one SME, and one other business of any size)
* not the lead on any application, they can be a collaborator in any number of applications

Academics cannot lead on an application but can be a collaborator in any number of applications.

Projects may include partners that don't receive any funding (for example, non-UK businesses). Their costs will count towards the total project costs but they will not count as collaborators.

If you applied to a previous competition as the lead or sole company and were awarded funding by Innovate UK, but did not make a substantial effort to exploit that award, we will award no more funding to you, in this or any other competition. You will not be able to contest our decision. We will:

* assess your efforts in the previous competition against your exploitation plan for that project
* review the monitoring officers' reports and any other relevant sources for evidence
* document our decision, which will be made by 3 team members
* communicate our decision to you in writing
Funding

We have allocated up to £4 million to fund innovation projects in this competition.

Projects with costs:

* under £100,000 can be single or collaborative but must be led by an SME
* £100,000 or more must be collaborative and involve an SME

The research organisations collaborating as part of a consortium may share up to 30% of the total eligible project costs. If your consortium contains more than one research organisation, this maximum will be shared between them.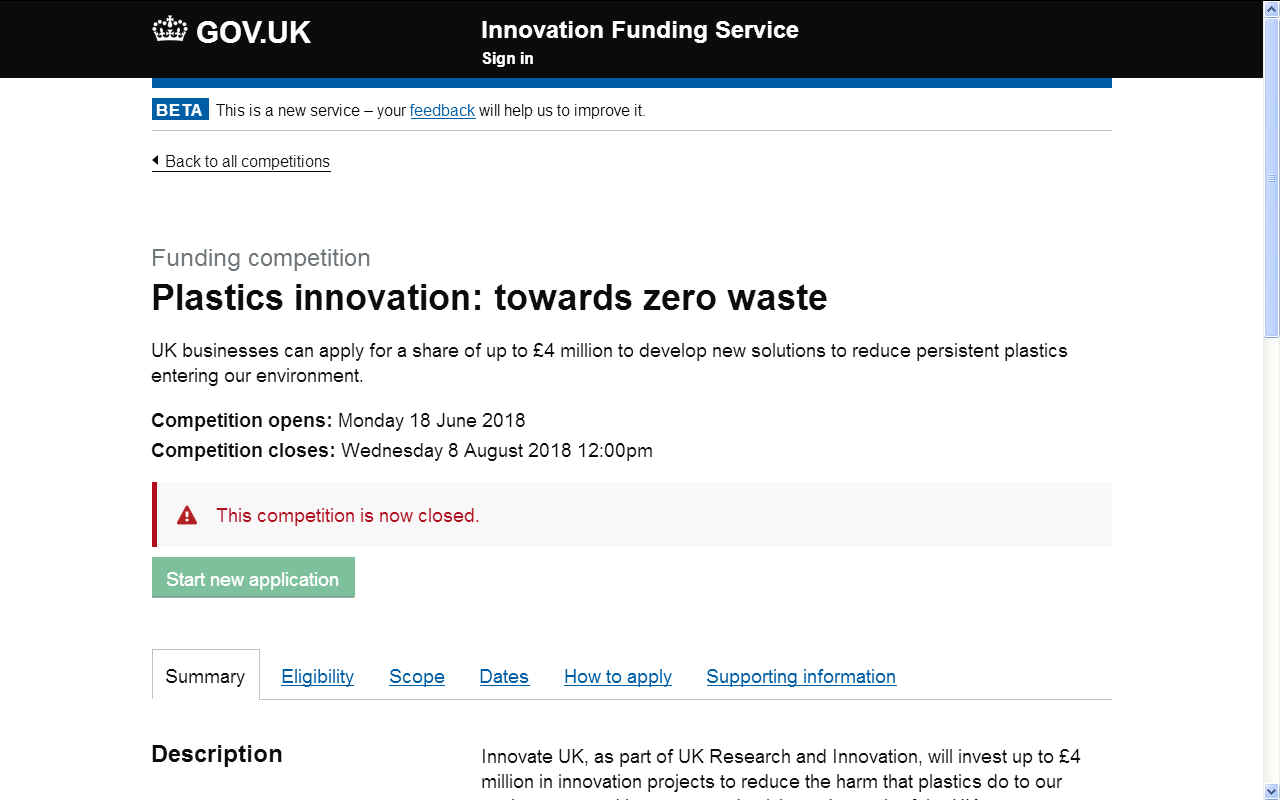 CONTACT THERESE

Parliament: House of Commons, London, SW1A 0AA,

Call: 0207 219 7164
E-mail: therese.coffey.mp@parliament.uk

Emails sent to Dr Coffey as a DEFRA Minister (and not from constituents) will not be processed.
For DEFRA, email Dr Coffey via defra.helpline@defra.gsi.gov.uk
UK POLITICS

The United Kingdom has many political parties, some of which are represented in the House of Commons and the House of Lords. Below are links to the websites of the political parties that were represented in the House of Commons after the 2015 General Election:
SOCIAL DEMOCRATIC AND LABOUR PARTY
Social Democratic and Labour Party
We are concerned with how the make up of the above parties and (reasonably) popular policies may affect the Wealden district, because we are all brothers on two islands in the Atlantic Ocean and what we do or fail to do is likely to rebound on ourselves and our fellow man in other nations around the world. How we act today influences policies in other countries in our global community. It is not just about us and our patch.
East Sussex has five District and Borough Councils, each with a border on the coast. From west to east they are:
There is also East Sussex County Council as the provider of services to the 5 East Sussex districts.
As near neighbours and with councils now sharing facilities and working together, these area of Sussex are included in our remit and an area where climate change and affordable housing are issues that need urgent attention. Where the coastline is a feature in every Council, Blue Growth is a food security issue, especially where this side of of our local economy is under-exploited.