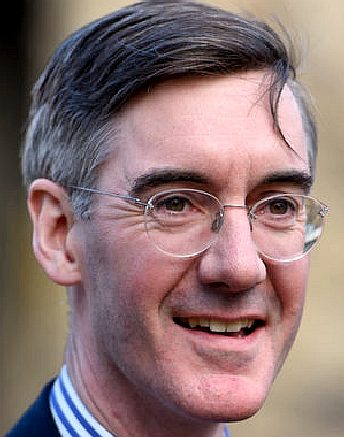 Jacob Rees-Mogg - MP Somerset
DAILY MAIL 5 FEBRUARY 2018

Jacob Rees-Mogg dismissed the prospect of becoming Prime Minister today - saying he has too many children to do the job.

The MP, who has become a darling of the Tory grassroots for his old-fashioned style and traditional right-wing views, said taking charge of No10 would be 'very difficult' because he is a 'family man'.

The comments came as the politician backed Theresa May to stay in the top job - but admitted she does not look like she is enjoying it.

Mr Rees-Mogg has become the bookies' favourite to succeed Mrs May as Conservative leader.

But answering questions from postgraduate journalism diploma students at the Press Association offices in central London, he said he did not want to be PM.

'I think want is very much the wrong word,' he said.

'If you look at Mrs May, it seems to be quite clear she does it because it's her duty to do it, I don't get the impression that it's a lot of fun for her - it's hard work.

'I've got six children, it would be very, very difficult as a family man so want is not the right word, I'm very happy as a backbencher and what I do want is Mrs May to stay Prime Minister.'

Mr Rees-Mogg is a devout catholic. Last summer he announced the arrival of his sixth child with wife Helena - named Sixtus Dominic Boniface Christopher.

The other children's full names are Alfred Wulfric Leyson Pius, Thomas Wentworth Somerset Dunstan, Peter Theodore Alphege, Anselm Charles Fitzwilliam and Mary Anne Charlotte Emma Rees-Mogg.

Despite having so many children, Mr Rees-Mogg has previously revealed that he has never changed a nappy.

Those duties are apparently shouldered by a nanny who has worked for the Rees-Mogg family for more than five decades.

Despite Mr Rees-Mogg's endorsement of the PM, he did not completely rule out standing as leader in the future.

He also criticised the Tories' election campaign, which last June left the party without a House of Commons majority.

'We should have a more optimistic vision, what we had to say at the last election was so gloomy,' he said.

'It was that we will manage things better than the other side will, but it is going to be really nasty, we're going to make you sell your house if you're elderly and if you're young we're not going to talk to you at all.

'That doesn't work, it was a bad idea.

'Where I think Jeremy Corbyn is doing well is in showing a vision for what he believes in and I think Conservatives have to do this.'

Mr Rees-Mogg also praised the 'bravery' of I'm A Celebrity winner Georgia 'Toff' Toffolo for publicly backing the Tories, and said it was important for the party to show it has young and famous supporters.

'It's very important the Conservative Party can show that it's got followers from a variety of areas,' the MP said.

'We broadly expect that retired field marshals will be Conservative but we need to show that young people, celebrities, people that can win I'm A Celebrity Get Me Out of Here, also have a connection with the Conservative Party, that they see why it's attractive.

'And I think her role is important in showing that there are some young Conservative as well and she's brave in putting her head above the parapet because very few celebrities are willing to say they are Conservative.'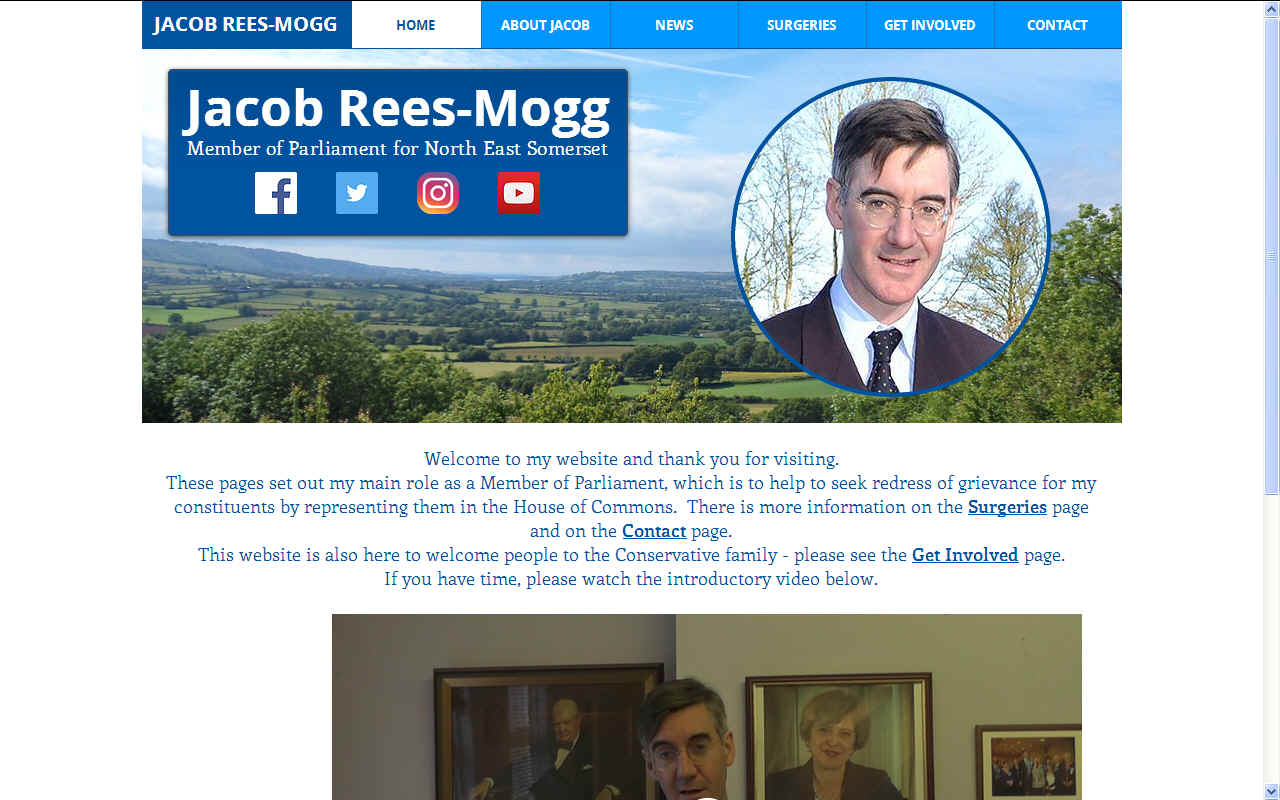 WKIPEDIA
Jacob William Rees-Mogg (born 24 May 1969) is a British Conservative politician, who was first elected as the Member of Parliament for North East Somerset at the 2010 general election.
He was appointed Leader of the Commons under Boris Johnson's cabinet in 2019.

Rees-Mogg was born in Hammersmith, London, and was educated at the Dragon School and Eton College. He studied History at Trinity College, Oxford, and was president of the Oxford University Conservative Association. He worked in the City of London for Lloyd George Management before setting up his own company, Somerset Capital Management.

After several unsuccessful attempts to become an MP, he was elected to Parliament to represent North East Somerset in 2010. He has been dubbed the "Honourable Member for the 18th century" for his upper-class mannerisms and accent as well as his traditionalist views. Rees-Mogg is a parliamentary figure noted for his humorous speeches and use of the filibuster.

A staunch Eurosceptic who once called for the Conservatives to form a political pact with the UK Independence Party, Rees-Mogg is one of the Conservatives' most rebellious MPs and a prominent supporter of the pro-Brexit pressure group Leave Means Leave. As a practising Roman Catholic, Rees-Mogg opposed same-sex marriage on the basis that on such matters he took his whip from the teachings of the Roman Catholic Church, not the Whip's Office.

In January 2018 Rees-Mogg was elected as chairman of the European Research Group, a pressure group within the Conservative Party.
CONTACT JACOB
Jacob Rees-Mogg, M.P.
House of Commons
London, SW1A 0AA.

Tel: 020 7219 7118
Email: jacob.reesmogg.mp@parliament.uk

CABINET MPS -MARCH 2020
Chancellor Exchequer

Priti Patel

Home Secretary

Dominic Raab

Foreign Secretary

Michael Gove

Chancellor D. Lancaster

Ben Wallace

Defence Secretary

Matt Hancock

Health & Social Care

Liz Truss

International Trade

Gavin Williamson

Education

Oliver Dowden

Culture

Alok Sharma

MP Reading West

Robert Jenrick

Housing, Local Gov.

Therese Coffey

Work & Pensions

Robert Buckland

Justice

Anne-Marie Trevelyan

International Dev.

Transport

George Eustice

Environment

Brandon Lewis

Northern Ireland

Alister Jack

Scottish Sec. State

Simon Hart

Welsh Sec. State

Baroness Evans

Leader Lords

Amanda Milling

Party Chairman

Jacob Rees-Mogg

Leader Commons

Mark Spencer

Chief Whip

Suella Braverman

Attorney General

Stephen Barclay

Treasury Sec.
CONSERVATIVE MPS 2017-2018
Theresa May - Prime Mnister

MP for Maindenhead

Damian Green

MP for Ashford

Philip Hammond

MP Runnymede & Weybridge

Boris Johnson

MP Uxbridge & South Ruislip

Amber Rudd

MP Hastings & Rye

David Davis

MP Haltemprice & Howden

Gavin Williamson

MP South Staffordshire

Liam Fox

MP North Somerset

David Lidlington

MP for Aylesbury

Baroness Evans

MP Bowes Park Haringey

Jeremy Hunt

MP South West Surrey

Justine Greening

MP for Putney

Chris Grayling

MP Epsom & Ewell

Karen Bradley

MP Staffordshire Moorlands

Michael Gove

MP Surrey Heath

David Gauke

MP South West Hertfordshire

Sajid Javid

MP for Bromsgrove

James Brokenshire

MP Old Bexley & Sidcup

Alun Cairns

MP Vale of Glamorgan

David Mundell MP

Dumfriesshire Clydes & Tweeddale

Patrick McLoughlin

MP Derbyshire Dales

Greg Clark

MP Tunbridge Wells

Penny Mordaunt

MP Portsmouth North

Andrea Leadsom

MP South Northamptonshire

Jeremy Wright

MP Kenilworth & Southam

Liz Truss

MP South West Norfolk

Brandon Lewis

MP Great Yarmouth

MP

Nus Ghani

MP Wealden

Huw Merriman

MP Battle

Steve Double

MP St Austell & Newquay

Sarah Newton

MP Truro & Falmouth

Rebecca Pow

MP Taunton Deane

Jacob Rees-Mogg

MP Somerset

.

.

.

.

.

.

.

.

.

.

David Cameron

Former Prime Minister

Margaret Thatcher

Former Prime Minister
MP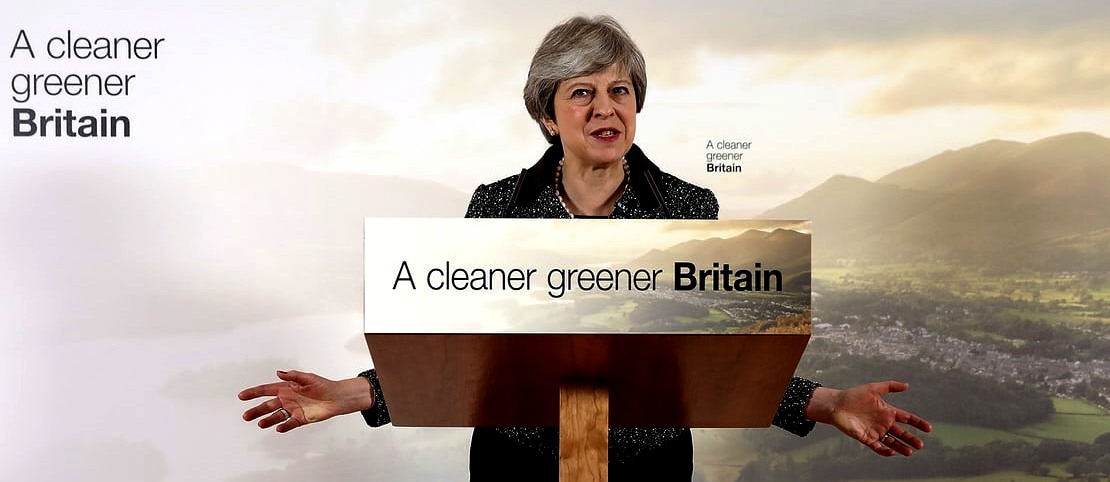 THE GUARDIAN THURSDAY 11 JANUARY 2018 - Theresa May has said her government is serious about improving the environment after pressure groups gave a lukewarm response to a 25-year green plan, praising its ambition but warning that it lacked sufficient proposals for immediate action. May's proposals were also criticised by Jeremy Corbyn, who said her pledge to stop all avoidable plastic waste by 2042 was "far too long" to take action. What that could mean is that they want to appease the electorate and pass the problem onto the next generation - but - the whole point of taking action now is to try and stop the fish that we eat, eating the plastic in Marine Litter.
UK POLITICS

The United Kingdom has many political parties, some of which are represented in the House of Commons and the House of Lords. Below are links to the websites of the political parties that were represented in the House of Commons after the 2015 General Election:
SOCIAL DEMOCRATIC AND LABOUR PARTY