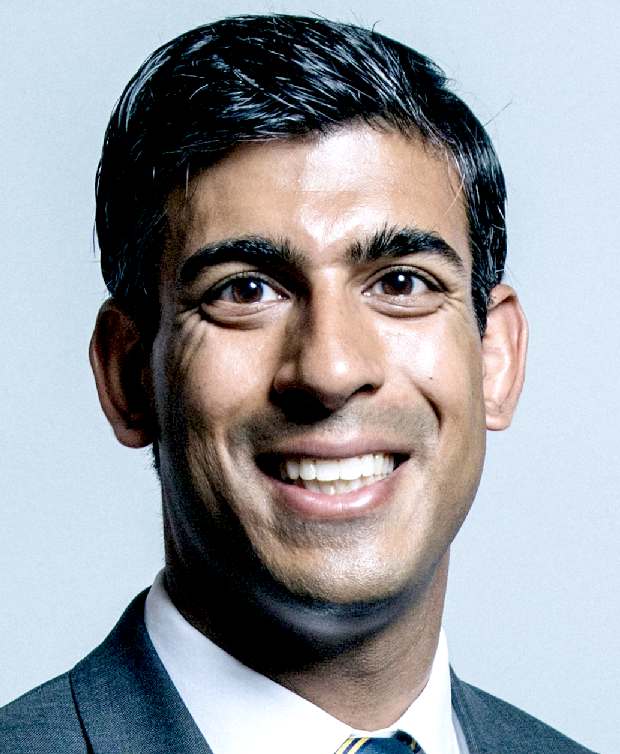 Rishi Sunak - UK Policies adrift from global warming? Damn right!

Rishi Sunak is now steering the leaky ship Britannia on a new course, trying to avert global catastrophe, while at the same time dealing with the remnants of government over spending and borrowing over many years.
Just about all nations, especially the G20 members, have been burning fossil fuels and super heating their economies and the planet, in their rush to growth, when they should have been looking to stabilize the economy, with food security, energy self sufficiency, affordable homes for young families, and a zero emission transport system.
Instead of that, fat bankers and private landlords (non productive workers) have been creaming off the backs of honest productive workers. Conservative policy is still to build more executive housing, raising the cost of living, and perpetuating the renting society. Wealden District Council is one such local administration, struggling to provide services, with the Planning Inspectorate steadfastly refusing to accept that we are in the middle of a climate crisis. Granting consents in the brick-rush, that people cannot afford to buy. Only rent. Despite the United Nations sustainability development goals.
Statute has to change. The Planning Inspectorate has to refuse permission for new build houses, that are not energy self sufficient, and do not have EV charging facilities, in preparation for the 2030-35 bans on diesel and petrol vehicles.
In our view all permissions granted since 2015, that are not affordable and/or sustainable, should be voided. Since, the councils and/or Inspectorate, had failed to properly consider the climate implications. Those consents did not include a climate change analysis, or cost of living assessment rating.
Jeremy Hunt has a huge task ahead if he is to dig his Conservative party out of the shit? But we wish him all the best, and hope he can begin the steep descent to a Circular Economy.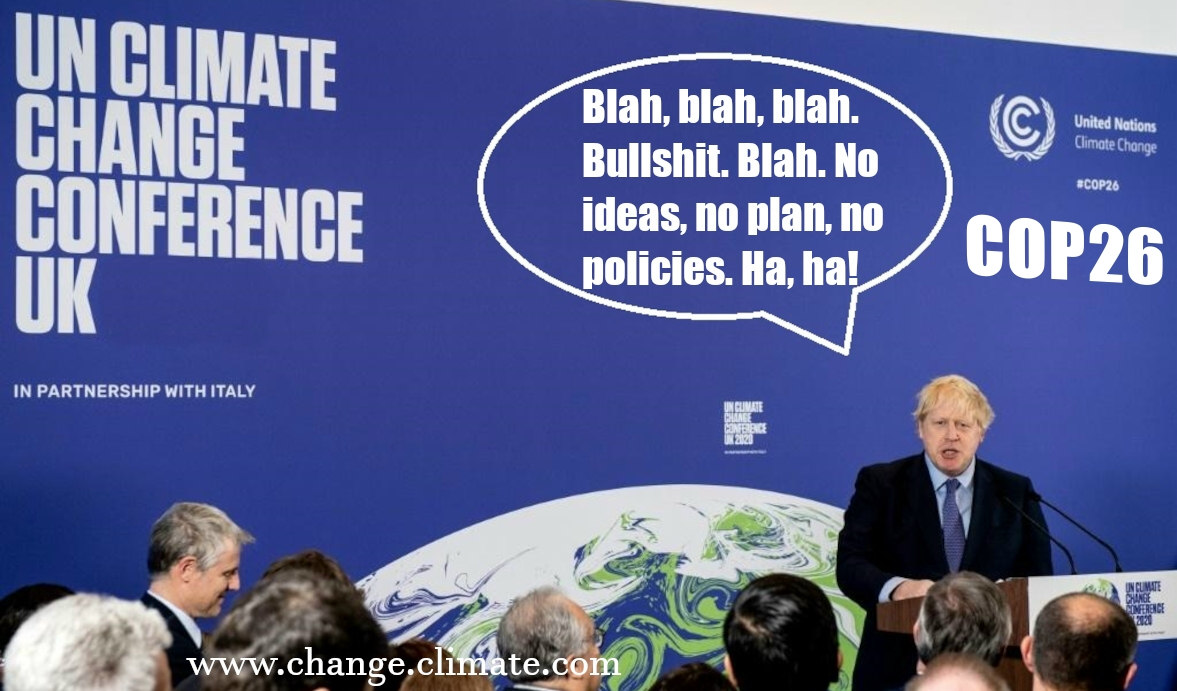 FOSSIL FOOLS - Geriatric politicians with 'climate-senile' policies will find in difficult to break away from their corrupt ways, as part time politicians with two jobs. Their main job being to find paid consultancy work, rather than craft policies and create statute that works to protect our voters from lung cancer, energy shortages and a lack of affordable (sustainable) housing.
The 'zerophobics' are the undertakers of the political world, sending millions of ordinary people to an early grave, while loading us with NHS, hospital and staff costs that would not be needed if we had clean air in our cities.
Basically, the longer you are in politics, the more likely you are to be exposed to bribes, from climate deniers, mostly fossil fuel and energy companies, looking to keep on pumping toxic fumes into the atmosphere, so they can keep making money. The political undertakers are working with them to keep hospitals stocked with cancer victims, adding to the £Trillions we owe as part of the national debt. Under Boris and Rishi Sunack, pensioner's saving have halved in real terms. They are blood sucking vampires, draining what little you had saved for your retirement.

UNITED NATIONS CLIMATE REPORT 2022

In its annual state of the climate report, the United Nations' weather agency said that sea level rise in the past decade was double what it was in the 1990s and since January 2020 has jumped at a higher rate than that. Since the decade began, seas are rising at 5 millimeters a year (.2 inches) compared to 2.1 millimeters (.08 inches) in the 1990s.

The data on sea level and average temperatures are nothing compared to how climate change has hit people in extreme weather. The report highlights the summer's incredible flood in Pakistan that killed more than 1,700 people and displaced 7.9 million, a crippling four-year drought in East Africa that has more than 18 million hungry, the Yangtze River drying to its lowest level in August, and record heat-waves broiling people in Europe and China.

"This latest report from the World Meteorological Organization reads like a lab report for a critically ill patient, but in this case the patient is Earth," said climate scientist Jennifer Francis of the Woodwell Climate Research Center in Cape Cod, who wasn't part of the report.

Levels of heat-trapping carbon dioxide, methane and nitrous oxide all reached record high levels, with potent methane increasing at a record pace, the report said.

That means more than just warming temperatures on land. Ice, both Greenland's ice sheet and the world's glaciers, are shrinking precipitously, the report said. For the 26th year in a row, Greenland lost ice when all types of ice are factored in. The volume of glacier snow in Switzerland dropped by more than one-third from 2001 to 2022, the report said.

But 90% of the heat trapped on Earth goes into the ocean and the upper 2000 meters (6561 feet) of the ocean is getting warmer faster. The rate of warming the last 15 years is 67% faster than since 1971, the report said.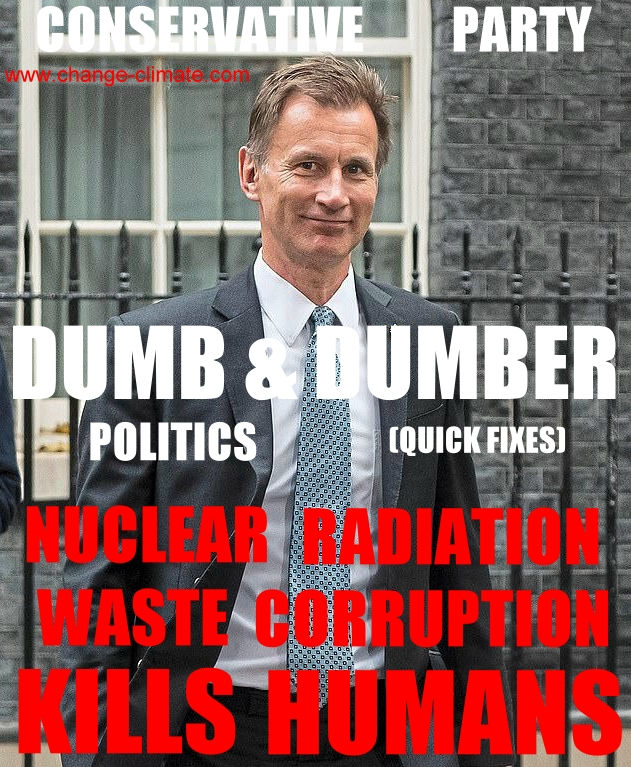 JEREMY HUNT - Mr uninformed, or simply nuclear dumb? This reminds us of PG&E, and Erin Brokovich, where the energy company was telling locals that carcinogenic chromium was good for them. But secretly knew they were killing them, and watched while cancer consumed many residents. We hear that Johnson and Hunt are being considered as the new leads in a remake of Dumb & Dumber. The bottom line is that politicians are not elected to feather their nests, but to represent the wishes and needs of the people. They are tasked with, and required by law to provide an effective administration. We are waiting for one that does - and it's not going to be the Tories anytime before the year 2050. So, don't hold your breath, and should you live that long.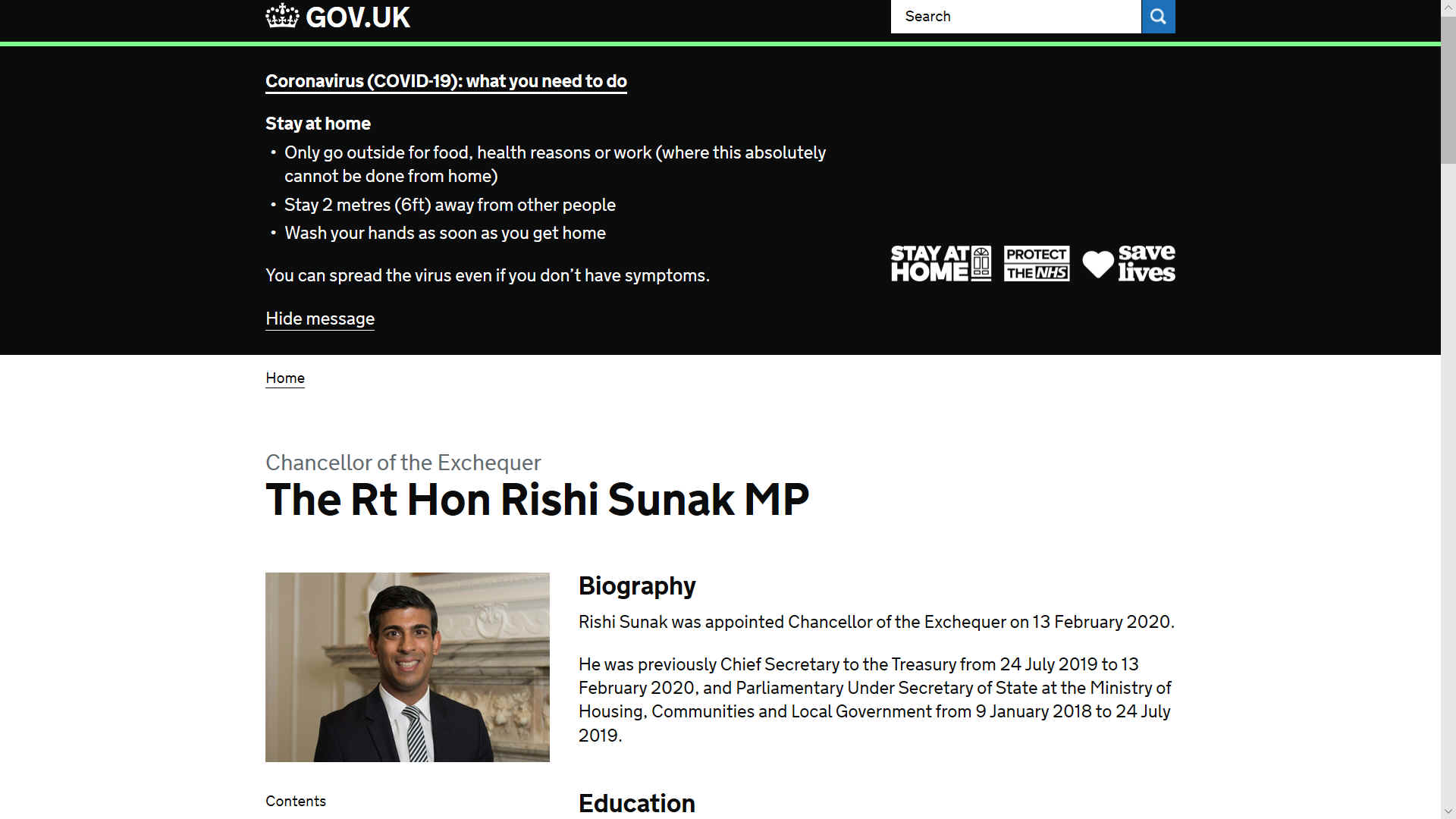 BBC NEWS 6 NOVEMBER 2022 - COP27: RISHI SUNAK URGES WORLD TO MOVE FASTER ON RENEWABLES

Prime Minister Rishi Sunak is set to urge world leaders at COP27 to move "further and faster" in transitioning to renewable energy.

Mr Sunak will travel to Egypt on Sunday for the UN climate summit after U-turning on a decision not to go.

In his address on Monday, he will say Russia's invasion of Ukraine "reinforced" the importance of ending dependence on fossil fuels.

COP27 follows a year of climate-related disasters and record temperatures.

The prime minister will also tell leaders gathered in Sharm el-Sheikh not to "backslide" on commitments made at last year's COP26 summit in Glasgow intended to prevent global temperature rises to 1.5C above pre-industrial levels.

But Petteri Taalas, secretary general of the World Meteorological Organisation (WMO), has warned that the 1.5C target is "barely within reach".

His comment comes as the UN's weather and climate body released a report showing that the rate at which sea levels are rising has doubled since 1993.

UN Secretary General Antonio Guterres has described the report as a "chronicle of climate chaos" and urged governments at COP27 to answer the planet's "distress signal" with "ambitious, credible climate action".

Mr Sunak will meet French President Emmanuel Macron at the summit this week and the topic of migrants crossing the Channel in small boats will likely be raised.

- The big issues facing Egypt's COP27 climate summit
- Where does Rishi Sunak stand on climate change?
- Is the UK on track to meet its climate targets?
- A really simple guide to climate change

In a statement before his departure, Mr Sunak said: "When the world came together in Glasgow last year, nations agreed an historic roadmap for preventing catastrophic global warming. It is more important than ever that we deliver on those pledges.

"Fighting climate change is not just a moral good - it is fundamental to our future prosperity and security.

"Russia's invasion of Ukraine and contemptible manipulation of energy prices has only reinforced the importance of ending our dependence on fossil fuels.

"We need to move further and faster to transition to renewable energy, and I will ensure the UK is at the forefront of this global movement as a clean energy superpower."

It comes after the prime minister backtracked on attending the summit earlier this week.

Mr Sunak had originally stated he would not travel to Egypt, arguing that his priority was to plug a £50bn hole in the public finances ahead of Chancellor Jeremy Hunt's autumn statement on 17 November.

Labour's Ed Miliband said the prime minister "dithered" about attending the climate summit, adding that: "Britain needs to be in the climate leadership business."

Speaking on the BBC's Sunday with Laura Kuenssberg, the shadow climate change secretary said it was now "cheaper to save the planet than to destroy it".

"We're in the midst of an energy crisis," he said, adding that renewable energy sources were now much cheaper than fossil fuels.

Mr Miliband insisted that switching to renewables was "the opportunity of the future" and that this was the "message we should be taking to COP".

Mr Sunak's initial decision not to attend the summit was widely criticised by climate campaigners, opposition parties and COP26 President and colleague Alok Sharma.

Cabinet minister Oliver Dowden has defended the prime minister, saying he was "committed" to environmental issues.

Mr Dowden told Laura Kuenssberg that, when Mr Sunak came to power, his first priority was the economic crisis but that he had worked on the Autumn Statement "to make sure he can go to this summit".

Mr Dowden was also questioned about host country Egypt's human rights record, including its detention of British Egyptian national Alaa Abd El-Fattah, an activist who has been in jail for nine years and is on a hunger strike. [The UK also has a poor HR record, with planning injustices ongoing and wrongful conviction issues, where the UK has no Right of Appeal.]

Asked if the prime minister would raise Abdel Fattah's case while at the summit, the cabinet minister said: "I'm sure he will raise it at appropriate forums".

Labour's Mr Miliband said it was a "very serous issue" and that he would "make sure to raise it with the Egyptians while I'm there".

The prime minister has sent a letter to Abdel Fattah's family pledging that the activist's case is "a priority for the British government both as a human rights defender and as a British national".

However, speaking on Sky News, Abdel Fattah's sister Sanaa Seif said she was concerned No 10's engagement with the Egyptian president Abdel Fattah El-Sisi would come too late.

Speaking of her worry that her brother could die while the climate summit was happening, she urged the British government to be "responsible for getting us proof of life".

WHY THE LATEST UN CLIMATE CONFERENCE MATTERS

The government has faced criticism for approving new oil and gas licences in the North Sea despite the International Energy Agency saying there can be no more new fossil fuel exploration if the 1.5C target is to be met.

Mr Sunak is expected to chair a meeting of world leaders to drive progress on the pledge signed by 100 countries at Glasgow to halt and reverse deforestation and damaging land use by 2030.

The leader of the Liberal Democrats, Sir Ed Davey, said he did not think the climate summit this week would be a success.

"I don't think there's been the leadership either from our country or frankly from other countries," he told Laura Kuenssberg.

Meanwhile the King, who made an address at COP26 last year and is known for his passionate interest in environmental issues, will not be attending the summit after Buckingham Palace agreed with former Prime Minister Liz Truss he would not attend.

Although Downing Street suggested this week they may have come to a different view if Mr Sunak had been installed in No 10 earlier.

The latest round of UN climate talks takes place amid a backdrop of increasingly devastating extreme weather around the globe, and an energy and cost-of-living crisis driven by President Vladimir Putin's invasion of Ukraine.

The COP27 agenda will highlight calls to reduce emissions, help countries deal with climate change, and secure technical support and funding for developing countries.

The UN has also warned that based on countries' latest climate action plans, there is currently no credible pathway to meet the 1.5C goal intended to avoid the worst impacts of global warming.

Rich countries are further falling short in providing finance to help developing nations adapt to climate change, according to the UN.

This year floods in Pakistan left millions homeless and saw the hottest summer on record in Europe.
https://www.bbc.co.uk/news/uk-63527460
https://www.bbc.co.uk/news/uk-63527460
CABINET MPS -MARCH 2020
Chancellor Exchequer

Priti Patel

Home Secretary

Dominic Raab

Foreign Secretary

Michael Gove

Chancellor D. Lancaster

Ben Wallace

Defence Secretary

Matt Hancock

Health & Social Care

Liz Truss

International Trade

Gavin Williamson

Education

Oliver Dowden

Culture

Alok Sharma

MP Reading West

Robert Jenrick

Housing, Local Gov.

Therese Coffey

Work & Pensions

Robert Buckland

Justice

Anne-Marie Trevelyan

International Dev.

Transport

George Eustice

Environment

Brandon Lewis

Northern Ireland

Alister Jack

Scottish Sec. State

Simon Hart

Welsh Sec. State

Baroness Evans

Leader Lords

Amanda Milling

Party Chairman

Jacob Rees-Mogg

Leader Commons

Mark Spencer

Chief Whip

Suella Braverman

Attorney General

Stephen Barclay

Treasury Sec.
CONSERVATIVE MPS 2017-2020
Boris Johnson - Prime Minister

MP Uxbridge & South Ruislip

MP for Richmond, Yorkshire

MP Welwyn Hatfield

Philip Hammond

MP Runnymede & Weybridge

Alok Sharma

MP Reading West

Damian Green

MP for Ashford

Gavin Williamson

MP South Staffordshire

Liam Fox

MP North Somerset

David Lidlington

MP for Aylesbury

Baroness Evans

MP Bowes Park Haringey

Jeremy Hunt

MP South West Surrey

Justine Greening

MP for Putney

Chris Grayling

MP Epsom & Ewell

Karen Bradley

MP Staffordshire Moorlands

Michael Gove

MP Surrey Heath

David Gauke

MP South West Hertfordshire

Sajid Javid

MP for Bromsgrove

James Brokenshire

MP Old Bexley & Sidcup

Alun Cairns

MP Vale of Glamorgan

David Mundell MP

Dumfriesshire Clydes & Tweeddale

Patrick McLoughlin

MP Derbyshire Dales

Greg Clark

MP Tunbridge Wells

Penny Mordaunt

MP Portsmouth North

Andrea Leadsom

MP South Northamptonshire

Jeremy Wright

MP Kenilworth & Southam

Liz Truss

MP South West Norfolk

Brandon Lewis

MP Great Yarmouth

MP

Nus Ghani

MP Wealden

Huw Merriman

MP Battle

Steve Double

MP St Austell & Newquay

Sarah Newton

MP Truro & Falmouth

Rebecca Pow

MP Taunton Deane

Jacob Rees-Mogg

MP Somerset

Gavin Williamson

MP Staffordshire

Thérèse Coffey

MP Suffolk Coastal

Caroline Ansell

MP Eastbourne

.

David Davis

MP Haltemprice & Howden

Claire Perry

MP for Devizes

Amber Rudd

MP Hastings & Rye

.

Theresa May - former PM

MP for Maindenhead

David Cameron

Former Prime Minister

John Major

Former Prime Minister

Margaret Thatcher

Former Prime Minister
UK POLITICS

The United Kingdom has many political parties, some of which are represented in the House of Commons and the House of Lords. Below are links to the websites of the political parties that were represented in the House of Commons after the 2015 General Election:
CO-OPERATIVE PARTY
DEMOCRAT UNIONIST PARTY
PLAID CYMRU
SINN FEIN
SOCIAL DEMOCRATIC AND LABOUR PARTY
UK INDEPENDENCE PARTY
ULSTER UNIONIST PARTY
Social Democratic and Labour Party
SIX (SUGGESTED) STEPS TOWARD A COOLER PLANET
1. TRANSPORT: Phase out polluting vehicles. Governments aim to end the sale of new petrol, and diesel vehicles by 2040 but have no infrastructure plan to support such ambition. Marine transport can be carbon neutral. Zero carbon shipping is gaining ground with offshore solar boat racers reaching 35knots (Delft University @ Monaco 2019). The first solar powered circumnavigation record was set in 2012 by PlanetSolar. That record could be halved by another contender on the drawing board.
2. RENEWABLES: Renewable energy should replace carbon-based fuels (coal, oil and gas) in our electricity, heating and transport. We are well on the way to that with solar and wind power now price competitive to fossil fuels.
3. HOUSING: On site micro or macro generation is the best option, starting with new build homes that are affordable and built of wood for improved insulation and carbon lock. New units might not need planning consents if energy self-sufficient, or very nearly so. Planning consents should be struck for genuinely affordable/sustainable housing and self builds where cost is below £50,000. See letter to Nus Ghani July 2019.
4. AGRICULTURE: We need trees to absorb carbon emissions from a growing population, flying, and to build new homes. Reducing food waste and promoting less energy intensive eating habits such as no meat Mondays.
5. INDUSTRY: Factories should be aiming for solar heating and onsite renewable energy generation. This could be done simply by making it a 106 type (mitigation) condition of new builds that they include solar heating and photovoltaic panels. Too many units were built in the last 3 years without climate friendly features, such as EV charging points.
6. POLITICS: - National governing bodies need to adopt rules to eliminate administrative wastages, restrain local authority empire building, scale down spending on war machines, educate the public and support sustainable social policies that mesh with other cultures transparently. Ban kleptocratic policies. Open your doors to transparency and a new era of honest politics. Local authorities are famous for finding the loopholes to keep on doing favours for mates. Simply close those loopholes with binding statute. Any gray areas should be made black and white in writing. Even then councils will break the law, so introduce a task force to prosecute offending local authorities..
LINKS & REFERENCE
https://
CLIMATE CHANGE COP HISTORY
| | |
| --- | --- |
| 1995 COP 1, BERLIN, GERMANY | 2008 COP 14/CMP 4, POZNAN, POLAND |
| 1996 COP 2, GENEVA, SWITZERLAND | 2009 COP 15/CMP 5, COPENHAGEN, DENMARK |
| 1997 COP 3, KYOTO, JAPAN | 2010 COP 16/CMP 6, CANCUN, MEXICO |
| 1998 COP 4, BUENOS AIRES, ARGENTINA | 2011 COP 17/CMP 7, DURBAN, SOUTH AFRICA |
| 1999 COP 5, BONN, GERMANY | 2012 COP 18/CMP 8, DOHA, QATAR |
| 2000:COP 6, THE HAGUE, NETHERLANDS | 2013 COP 19/CMP 9, WARSAW, POLAND |
| 2001 COP 7, MARRAKECH, MOROCCO | 2014 COP 20/CMP 10, LIMA, PERU |
| 2002 COP 8, NEW DELHI, INDIA | 2015 COP 21/CMP 11, Paris, France |
| 2003 COP 9, MILAN, ITALY | 2016 COP 22/CMP 12/CMA 1, Marrakech, Morocco |
| 2004 COP 10, BUENOS AIRES, ARGENTINA | 2017 COP 23/CMP 13/CMA 2, Bonn, Germany |
| 2005 COP 11/CMP 1, MONTREAL, CANADA | 2018 COP 24/CMP 14/CMA -, Katowice, Poland |
| 2006 COP 12/CMP 2, NAIROBI, KENYA | 2019 COP 25/CMP 15/CMA -, Santiago, Chile |
| 2007 COP 13/CMP 3, BALI, INDONESIA | |
DESERTIFICATION COP HISTORY
| | |
| --- | --- |
| COP 1: Rome, Italy, 29 Sept to 10 Oct 1997 | COP 9: Buenos Aires, Argentina, 21 Sept to 2 Oct 2009 |
| COP 2: Dakar (Senegal), 30 Nov to 11 Dec 1998 | COP 10: Changwon (South Korea), 10 to 20 Oct 2011 |
| COP 3: Recife (Brazil), 15 to 26 Nov 1999 | COP 11: Windhoek (Namibia), 16 to 27 Sept 2013 |
| COP 4: Bonn (Germany), 11 to 22 Dec 2000 | COP 12: Ankara (Turkey), 12 to 23 Oct 2015 |
| COP 5: Geneva (Switzerland), 1 to 12 Oct 2001 | COP 13: Ordos City (China), 6 to 16 Sept 2017 |
| COP 6: Havana (Cuba), 25 August to 5 Sept 2003 | COP 14: New Delhi (India), 2 to 13 Sept 2019 |
| COP 7: Nairobi (Kenya), 17 to 28 Oct 2005 | COP 15: 2020 |
| COP 8: Madrid, Spain, 3 to 14 Sept 2007 | COP 16: 2021 |
BIODIVERSITY COP HISTORY
| | |
| --- | --- |
| COP 1: 1994 Nassau, Bahamas, Nov & Dec | COP 8: 2006 Curitiba, Brazil, 8 Mar |
| COP 2: 1995 Jakarta, Indonesia, Nov | COP 9: 2008 Bonn, Germany, May |
| COP 3: 1996 Buenos Aires, Argentina, Nov | COP 10: 2010 Nagoya, Japan, Oct |
| COP 4: 1998 Bratislava, Slovakia, May | COP 11: 2012 Hyderabad, India |
| EXCOP: 1999 Cartagena, Colombia, Feb | COP 12: 2014 Pyeongchang, Republic of Korea, Oct |
| COP 5: 2000 Nairobi, Kenya, May | COP 13: 2016 Cancun, Mexico, 2 to 17 Dec |
| COP 6: 2002 The Hague, Netherlands, April | COP 14: 2018 Sharm El-Sheikh, Egypt, 17 to 29 Nov |
| COP 7: 2004 Kuala Lumpur, Malaysia, Feb | COP 15: 2020 Kunming, Yunnan, China |
UN CLIMATE ACTION PORTFOLIOS
1. Finance
2. Energy Transition
3. Industry Transition
4. Nature-Based Solutions
5. Cities and Local Action
6. Resilience and Adaptation
7. Mitigation Strategy
8. Youth Engagement & Public Mobilization
9. Social and Political Drivers