CLAIRE PERRY


THE INDEPENDENT JUNE 11 2019 - Britain has 30 years to cut emissions – after Brexit we must lead the world on climate change
What is the cost to our health and environment if we do not avert the breakdown of our climate, and with it the ecosystems that support the way of life of billions around the world?

By 2050 the UK will have ended its contribution to climate change completely. Read that back. It's an almost unbelievable sentence to write and encapsulates one of the most ambitious and significant climate targets set by any major economy in the world.

Since the Climate Change Act passed with cross-party support in 2008, the UK has led the G20 in cutting emissions while growing the economy. And it is that duality – that carbon abatement can go hand in hand with growing prosperity, innovation and improved quality of life – that underpins our incredibly ambitious response to the alarming realities of our changing climate.

This issue is one that unites all corners of the country and sectors of society. In recent months and weeks we have seen a huge and growing interest in how we tackle one of the greatest threats of our time, with Greta Thunberg, Sir David Attenborough and businesses such as John Lewis and Coca-Cola all having their say on the urgency of legislating for zero emissions. The message has been clear: the government has to set the direction so that we can all take immediate and decisive action to avoid the catastrophic effects of conducting unparalleled chemical experiments with our atmosphere – on which life on Earth depends.

As our advisers, the Committee on Climate Change, have recognised, we are setting ourselves an incredibly challenging mission. Reaching a net-zero target will be felt across the economy: how we work, play, and travel. Net zero means the UK will need to slash emissions from all sectors, it will transform old industries and build new ones. Any emissions not eliminated will need to be offset with schemes to remove carbon dioxide from the atmosphere, such as by planting trees, restoring wetlands or introducing cost-effective carbon capture technologies.
It will require concerted, focused action across government. We already have the policy framework in place – independent analysis shows that no other major economy has done more than the UK to reduce carbon emissions since the year 2000 – and Conservative-led governments have overseen the investment of more than £92bn in clean energy since 2010. Thanks to our policies we have seen coal use on the grid tumble from more than 40 per cent in 2012 to our first coal-free fortnight last month.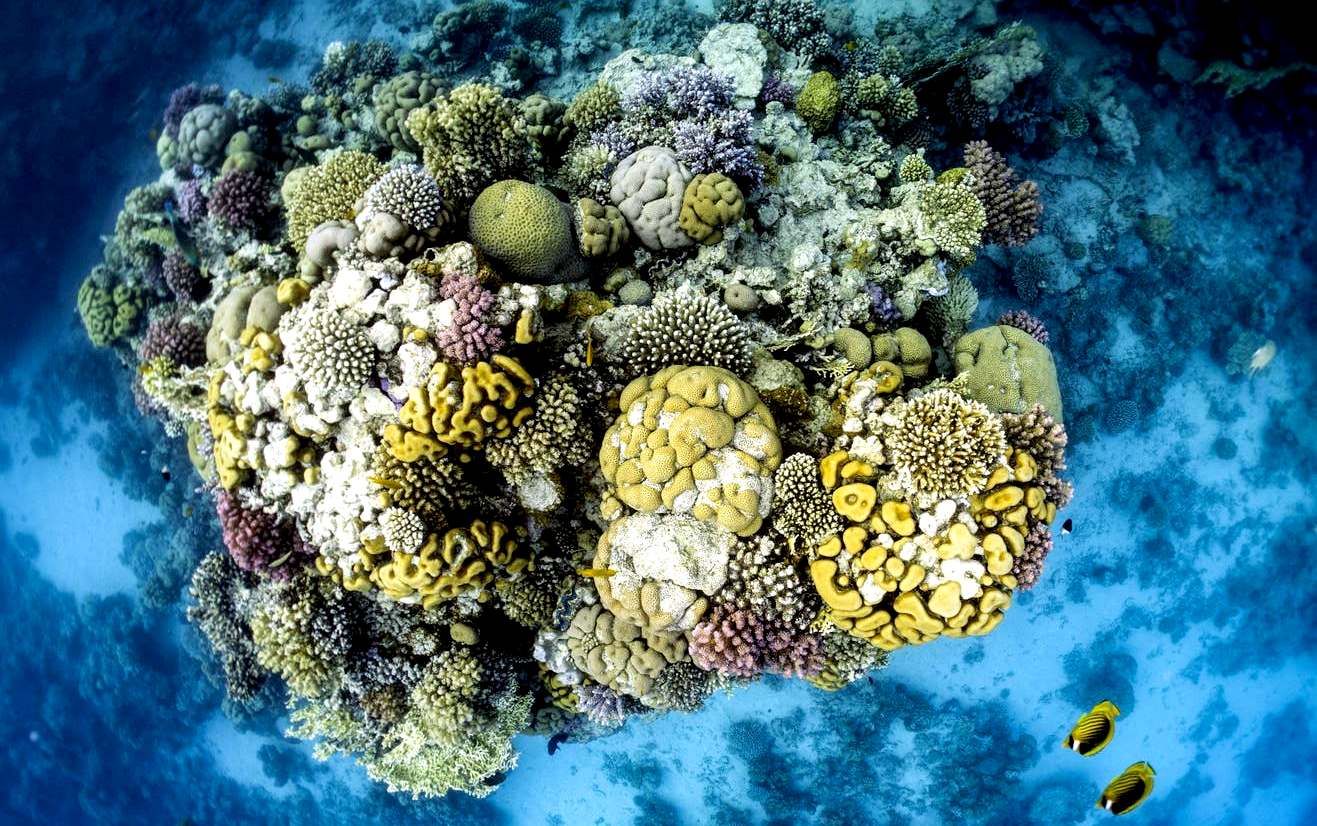 Over the next three decades, petrol-guzzling cars will be overtaken by zero-emission electric vehicles, our advanced manufacturing sectors will have deployed innovative technology to store harmful emissions back in the ground, and almost all of our power will come from the sun, wind and other low-carbon sources. This all represents huge opportunity for communities across the UK, catalysed by the record levels of research and development. This government is set to spend more than £3bn on green innovation by 2021, powering almost 400,000 new green collar jobs across the UK.
But we must ensure this ambitious transition doesn't have losers as well as winners – and government will have a clear role in ensuring a just transition for those working in changing sectors, and that costs are borne by those most able to pay.
Today's move, in legislating for net zero, shows here in the UK we are unafraid to lead the world in tackling the most important challenge of our times. No one says this will be easy and of course there will be costs. But what is the cost to our health and environment if we do not avert the breakdown of our climate, and with it the ecosystems that support the way of life of billions around the world?
FORMER PRESIDENT COP 26 - We thought we were in good hands with Claire Perry at the head of the table, doing her best to push for change. We were saddened to learn of the political agendas that saw her come a cropper, presumably the UK fearing we might commit to too much. Big thanks to Claire for all she has done.
Climate experts estimate the benefits, including health and environmental, could almost fully offset the costs of moving to a net-zero emissions economy – and that doesn't account for the huge economic opportunity of leading the global shift to greener, cleaner economy which is at the heart of the UK's modern industrial strategy. Already more than 120 business leaders have written to the prime minister saying that setting a net-zero target is the right thing to do, for business and for a brighter and more prosperous future.
Just a few years ago, my ambition to end our country's contribution to climate change entirely within a few decades – from a country that started a coal-fired industrial revolution – would have been dismissed as impossible dreaming. But today we are putting that aim into law. For those who say the UK is a carbon minnow in terms of emissions next to China, India, or the US, I'd remind them that we have historically been among the biggest emitters of CO2 in the atmosphere today. By demonstrating the huge post-Brexit economic opportunity of taking climate action today we can capture early mover advantages for our own benefit and show other nations that tackling carbon emissions is an economic and environmental win-win
We are becoming the country to copy when it comes to clean growth. Legislating today and by bidding to host the all-important 2020 United Nations climate talks in the UK, we can demonstrate our commitment and our willingness to work with all international partners to cut climate emissions. With this position as a global leader in the fight against global warming we can be bold, ambitious and creative to protect our green and pleasant land for future generations and also help preserve the precious planet that we all call home. There is no Planet B.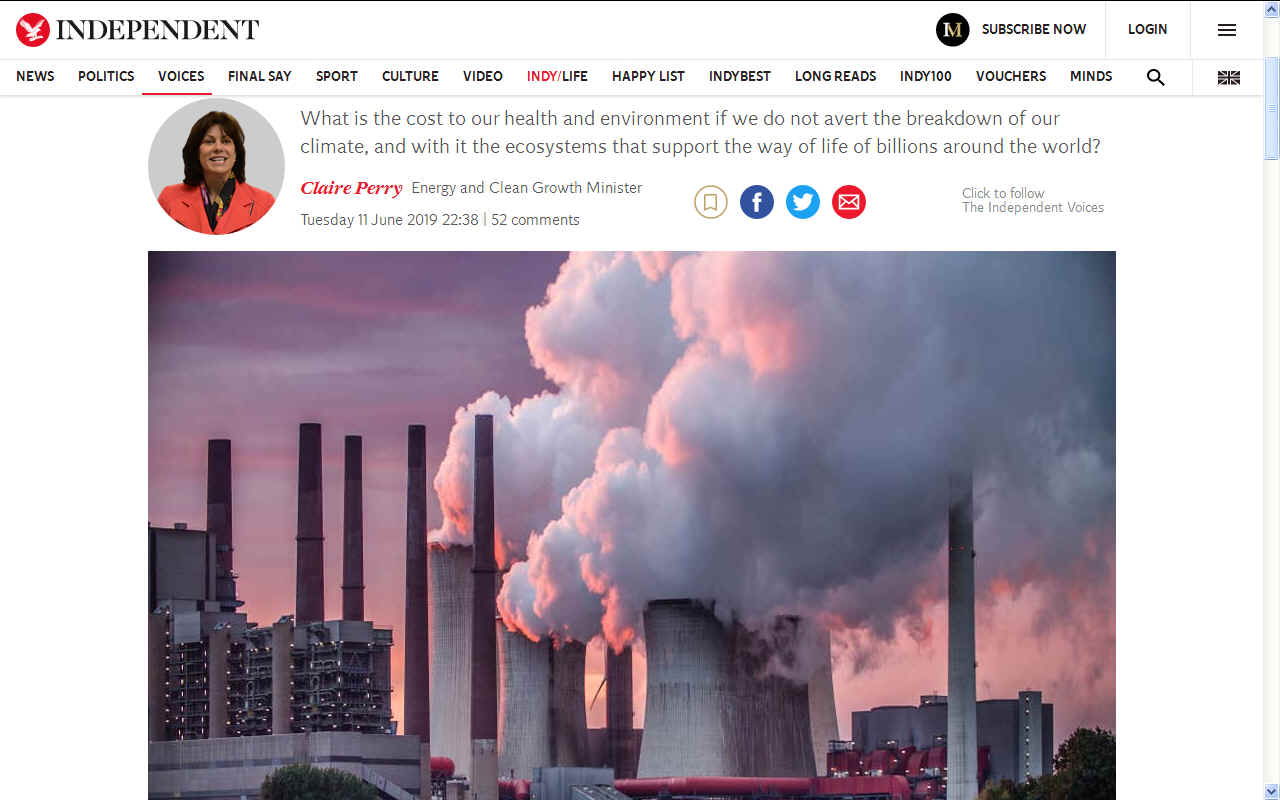 TRANSPORT
As the former Transport Under Secretary for the Conservative Party, Claire Perry will be looking for climate change friendly ways of improving road stocks from existing assets such that air quality is improved and vehicles of the future may be serviced. If only our own MP, Nus Ghani was doing the same, perhaps with the backing of Ann Newton, Johanna Howell and Susan Stedman. Wealden seems to have forgotten that car ownership per household in the South-East is higher than other areas of the country.
Claire is already urging councils to take advantage of Government grants to boost EV infrastructure by writing to all councils urging them to take advantage of a Government EV infrastructure grant. Nice one Mrs Perry.
According to the Huffington Post, Tory minister Claire Perry threw her weight behind a brewing backbench rebellion against giving Scotland more powers in the event of a No vote in the independence referendum.

The revolt is highly awkward for Prime Minister David Cameron, who had promised to protect the Barnett Formula, which sees Scots get £1,300 a year more per head than the English in public spending, as part of further powers for Scotland if voters choose to stay part of the United Kingdom.

Perry said that pledge issued by the main three Westminster parties to maintain current level of funding for Scotland and devolve local taxes is "hardly equitable" to those in England. We agree, it was blatant bribery and not in keeping with the concept of election based on policies.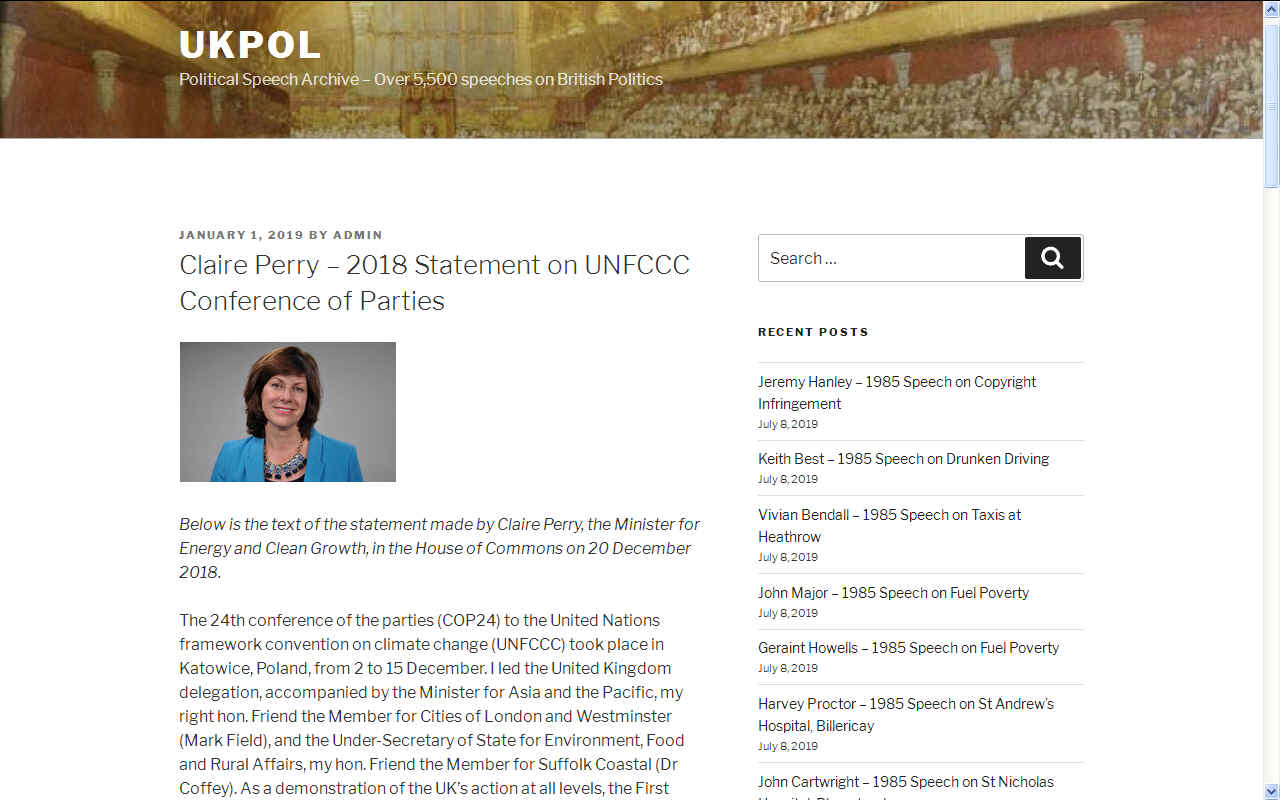 STATEMENT 20 DECEMBER 2018 - UNFCCC
"The 24th conference of the parties (COP24) to the United Nations framework convention on climate change (UNFCCC) took place in Katowice, Poland, from 2 to 15 December. I led the United Kingdom delegation, accompanied by the Minister for Asia and the Pacific, my right hon. Friend the Member for Cities of London and Westminster (Mark Field), and the Under-Secretary of State for Environment, Food and Rural Affairs, my hon. Friend the Member for Suffolk Coastal (Dr Coffey). As a demonstration of the UK's action at all levels, the First Minister of Scotland and the Scottish Cabinet Secretary for the Environment also attended, as well as the Deputy Premier of the Government of the British Virgin Islands, representing the UK overseas territories.

The UK's priorities for COP24 were to accelerate the global political momentum to combat climate change by i) securing a rulebook that would enable the historic Paris agreement to be effectively implemented: and ii) engaging in a constructive dialogue on ambition (the "Talanoa dialogue") that would generate confidence and enhance action. In doing so, we were also determined to promote the UK's global climate leadership.

COP24 was an important moment, representing the culmination of three years of negotiations and following shortly after the publication of a landmark scientific report from the Intergovernmental Panel on Climate Change that highlighted the severe consequences of failing to limit global warming to 1.5°C above pre-industrial levels.

In the negotiations we succeeded in securing our main objectives by delivering an operational rulebook to drive genuine climate action, creating a level playing field, while allowing for flexibility and support for those countries that need it, in light of capacity. Inevitably there is still work to be done, particularly on carbon markets, but the overall picture is of a rulebook that enables the Paris agreement to be taken forward in practice, marking a move from negotiation to implementation.

The UK championed the latest climate science during COP. We played a central role in the progressive alliance of countries striving for a legal outcome that coupled robust rules with a call for more ambitious climate action—both through supporting the High Ambition Coalition's Stepping Up Climate Ambition statement and through regularly convening the Cartagena dialogue of progressive countries.

Outside the negotiations, the UK had a visible presence at COP. We celebrated one year of the powering past coal alliance (PPCA) that was launched last year. The ​UK pavilion had over 50 events showcasing UK international support, domestic action, and low carbon expertise. We also made new domestic commitments, including the announcements of a clean growth grand challenge mission to establish one net-zero carbon industrial cluster by 2040 and at least one low carbon cluster by 2030. To kick-start this mission we will invest up to £170 million to develop and deploy low carbon technologies and enable infrastructure in one or more clusters, and we will also provide up to £66 million to develop new technologies and establish innovation centres to support the transformation of our foundation industries.

The UK reaffirmed our commitment to supporting climate action, highlighting recent announcements including an additional £100 million of UK climate finance for the renewable energy performance platform (REPP) to support 40 renewable energy projects in sub-Saharan Africa, as well as £106 million for green construction and £60 million to build capacity to drive clean growth and emissions reductions in key developing countries.

We were also pleased to support Poland as COP presidency in their role, both through constructive engagement on negotiations and also in their three political declarations. The Prime Minister, my right hon. Friend the Member for Maidenhead (Mrs May), signed the declaration on "just transition", promoting efforts to ensure no workers or communities are left behind in the transition towards a low carbon future. The UK co-developed Poland's declaration on e-mobility (building on our successful zero emission vehicle summit in Birmingham in September), and we also supported their declaration on forestry.

We now turn our attention to 2019 and beyond, including the UN Secretary General's climate summit next September, which will be a vital step as countries look to raise their ambition ahead of 2020. COP26 in 2020 will be a pivotal moment to encourage and take stock of global ambition and prepare the ground for further action. It is for that reason that the UK expressed interest in hosting COP26, continuing to show our global leadership in climate action. However, we note the interest of other countries and will engage with them on this matter. Our priority is to ensure that the conference of the parties is a success."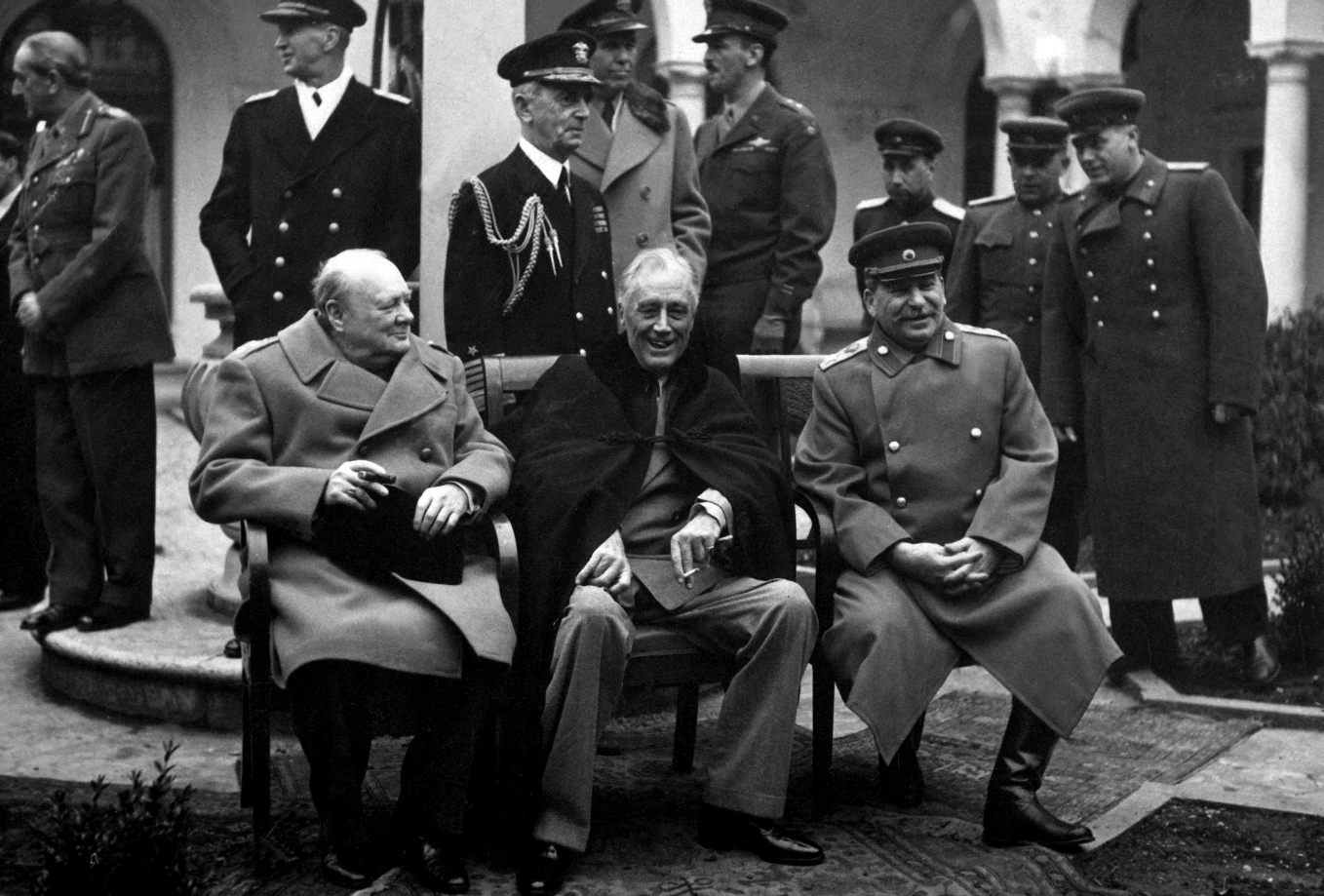 THE BIG THREE - Sir Winston, Theodore Roosevelt Jr. and Joseph Stalin at Yalta before Roosevelt passed. We must go forward, not backward - and learn from our mistakes - as Planet Earth United. There is no Planet B and there is no Ocean B. We have reached the limits of exploiting Earth, calling for a phased reduction of output, until equilibrium is reached.
The challenge is to get all the Parties to agree what that the level of sustainability is, or might realistically be for their country as part of the international jigsaw puzzle. This is the fabled Circular Economy that we should all be aiming for.
CLIMATE ECONOMICS - CLIMATE CHANGE TRUST'S VIEW
It's all about the money for most UN Members, apart from China, Russia and the USA (CHRUSA). In the case of the latter, it is about the money, but it is also about military agendas. Military power is about money from economic success.
Hence, for CHRUSA the remaining UN Members may wish to consider adopting rules that penalize countries that are not on target for a zero carbon economy. There are several ways of doing this and CHRUSA may surprise us all and change their ways once enlightened, but it is wise to be prepared:
"Speak softly, but carry a big stick" - Sir Winston Churchill
The famous quote from one of Britain's best known Prime Ministers was saying have a big army and powerful chums to back you up. Today, thermonuclear war based on First Strike capability is madness that even CHRUSA is unlikely to contemplate with so much to live for, except for climate change extinction now looming as the most compelling international threat to the survival of the human species. Forget World War Three, the big stick being nuclear weapons, concentrate on what is actually killing us and making a stick out of failure to care for your fellow man as a duty.
There is the alternative view that in eliminating their enemies, the land they acquire can be exploited for themselves with so many fewer mouths to feed from the thermonuclear annihilation. But Chernobyl is an example of why that scenario would not work.
Should any Member Nation not accept the scientific fact that the planet is warming, they might suffer Free Trade restrictions on a sliding scale linked to greenhouse gas emissions, or other financial penalty in loans not being repayable. So resetting the clocks.
Though this may affect around 193 UN Members in the short term, i.e. those who rely on cheap imports of iron, electrical goods, solar panels and batteries (as examples), it will teach the unified UN Members to rely on themselves for these goods, but most especially when it comes to energy imports.
If energy imports are no longer needed with binding targets for renewables, compliant Members might manufacture their own goods with cheap solar and wind energy. The oil gobblers will price themselves out of the market - and that goes for transport, where the reduced cost of moving goods using EVs and getting to and from work will be a market game changer.
Recycling should be a big thing to make use of materials we have already paid for. Steel and aluminium have no limit on life when recycled, except the energy cost of processing: re-melting and reforming. Energy can be extracted from waste, though this is not suggested where it involves combustion. The big deal is renewable energy for Energy Security.
The one remaining snag is food production, where the UK is weak and import reliant. Even more of a problem is food security from reducing arable land and reducing fish harvests from acid oceans, pollution and over-fishing - all such issues being interrelated.
These unrehearsed opinions are based on common sense, subject to change as fresh evidence arises and simply comment. There is no point the Trust developing political strategies where their aims have no political agenda. The Trust only wishes to draw attention to climate change and food security as being more of a problem than some of the Parties might admit with a view to securing equilibrium for all of the Parties.
Growth is (or should be) a thing of the past, the new challenge is conservation. Making the most of what you have, without harming your neighbours. (NOTE: For the avoidance of doubt, these are not the views or opinions of Claire Perry)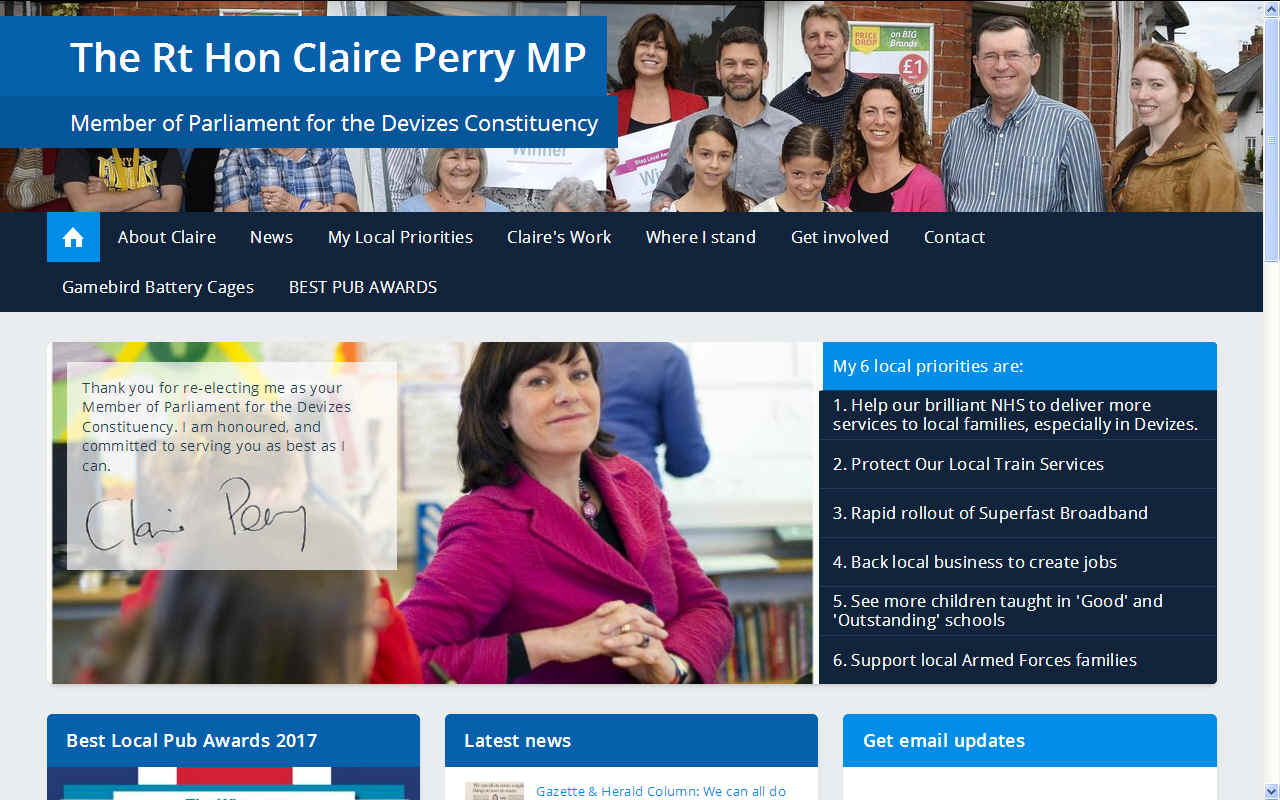 Biography

Claire Perry was appointed Minister of State at the Department for Business, Energy and Industrial Strategy on 12 June 2017. She was elected Conservative MP for Devizes in 2010.

Education

Claire was educated at Nailsea Comprehensive School, Oxford University, and Harvard Business School where she received a MBA.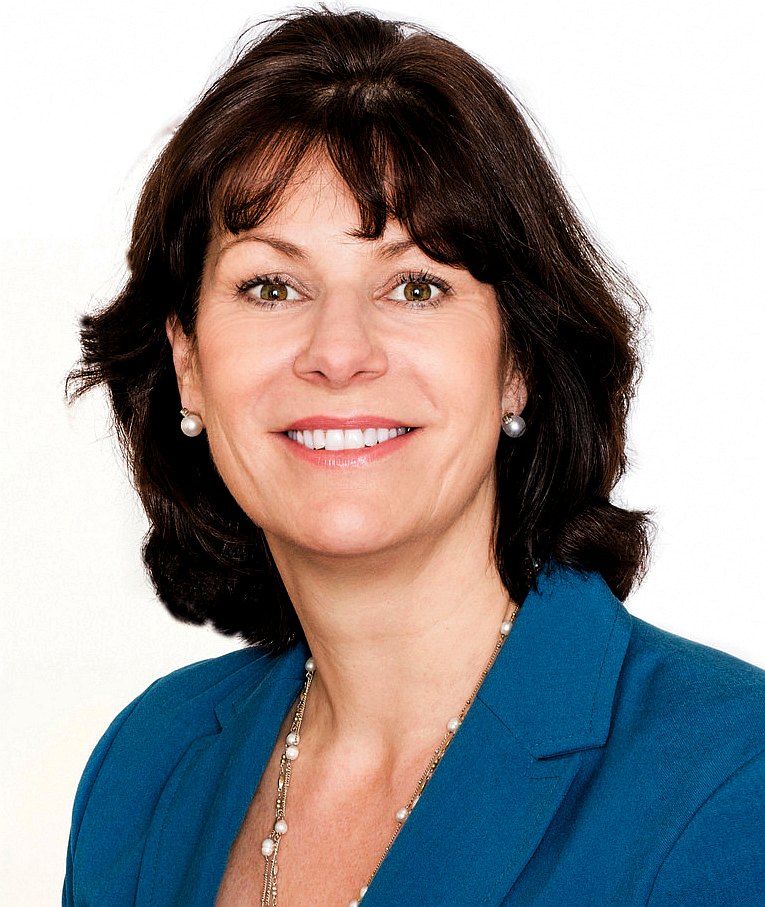 Political career

In 2007 Claire worked an adviser to George Osborne before being elected as the MP for the Devizes constituency in central Wiltshire in May 2010. Highlights of her political career include:

- Member of the Justice Select Committee from 2010 to 2011
- Parliamentary Private Secretary to the Secretary of State for Defence, from 2011 to 2013
- Special Advisor to the Prime Minister on preventing the sexualisation and commercialisation of children

Government Whip in 2013 and in 2014

Parliamentary Under Secretary of State for Transport from 2014 to 2016

Career outside politics

Claire worked for Bank of America, McKinsey and Company, and Credit Suisse before starting her own small business offering online financial advice to women.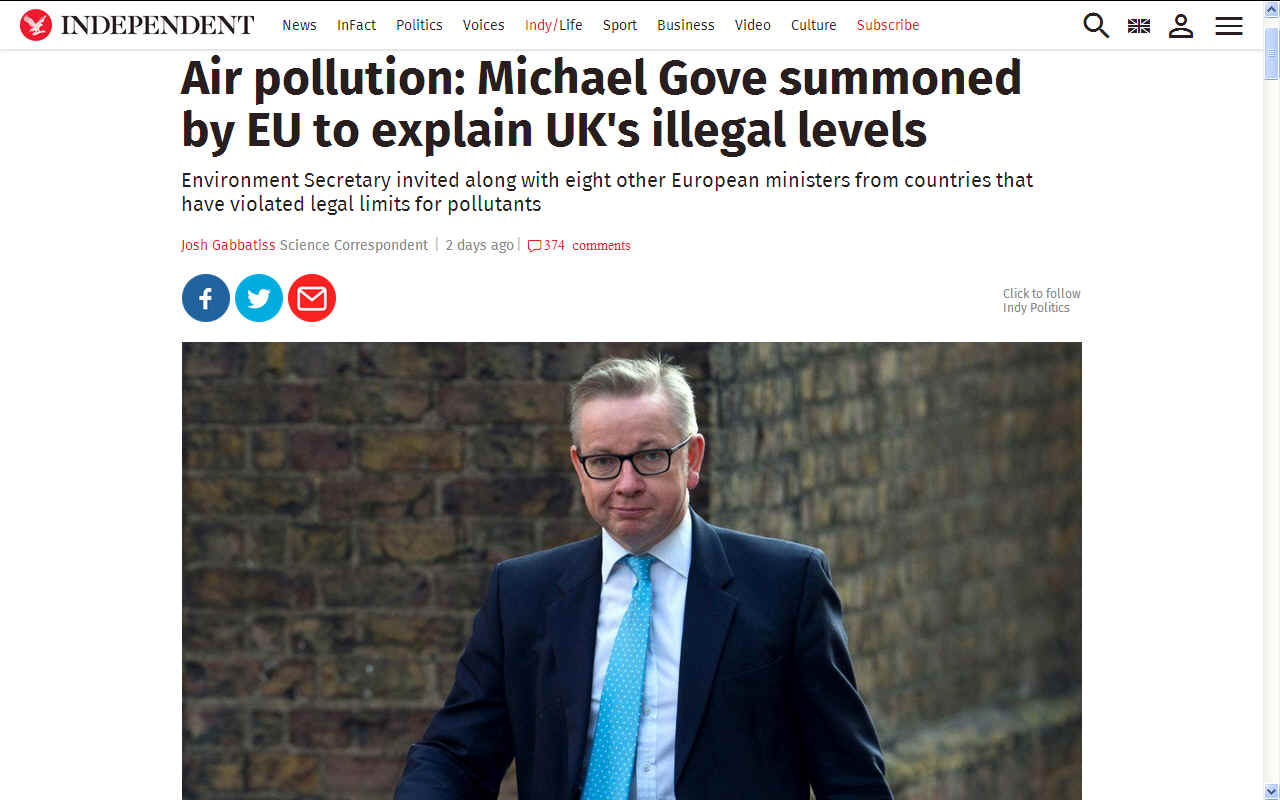 CONSERVATIVE CLIMATE - Michael Gove has been summoned to Brussels because of his party's failure to meet air pollution targets despite warnings about which the Prime Minister was aware of.
UK POLITICS

The United Kingdom has many political parties, some of which are represented in the House of Commons and the House of Lords. Below are links to the websites of the political parties that were represented in the House of Commons after the 2015 General Election:
CO-OPERATIVE PARTY
DEMOCRAT UNIONIST PARTY
PLAID CYMRU
SINN FEIN
SOCIAL DEMOCRATIC AND LABOUR PARTY
UK INDEPENDENCE PARTY
ULSTER UNIONIST PARTY
Social Democratic and Labour Party
We are concerned with how the make up of the above parties and (reasonably) popular policies may affect the Wealden district, because we are all brothers on two islands in the Atlantic Ocean and what we do or fail to do is likely to rebound on ourselves and our fellow man in other nations around the world. How we act today influences policies in other countries in our global community. It is not just about us and our patch.
East Sussex has five District and Borough Councils, each with a border on the coast. From west to east they are:
There is also East Sussex County Council as the provider of services to the 5 East Sussex districts.
As near neighbours and with councils now sharing facilities and working together, these area of Sussex are included in our remit and an area where climate change and affordable housing are issues that need urgent attention. Where the coastline is a feature in every Council, Blue Growth is a food security issue, especially where this side of of our local economy is under-exploited.
SIX (SUGGESTED) STEPS TOWARD A COOLER PLANET
1. TRANSPORT: Phase out polluting vehicles. Governments aim to end the sale of new petrol, and diesel vehicles by 2040 but have no infrastructure plan to support such ambition. Marine transport can be carbon neutral. Zero carbon shipping is gaining ground with offshore solar boat racers reaching 35knots (Delft University @ Monaco 2019). The first solar powered circumnavigation record was set in 2012 by PlanetSolar. That record could be halved by another contender on the drawing board.
2. RENEWABLES: Renewable energy should replace carbon-based fuels (coal, oil and gas) in our electricity, heating and transport. We are well on the way to that with solar and wind power now price competitive to fossil fuels.
3. HOUSING: On site micro or macro generation is the best option, starting with new build homes that are affordable and built of wood for improved insulation and carbon lock. New units might not need planning consents if energy self-sufficient, or very nearly so. Planning consents should be struck for genuinely affordable/sustainable housing and self builds where cost is below £50,000. See letter to Nus Ghani July 2019.
4. AGRICULTURE: We need trees to absorb carbon emissions from a growing population, flying, and to build new homes. Reducing food waste and promoting less energy intensive eating habits such as no meat Mondays.
5. INDUSTRY: Factories should be aiming for solar heating and onsite renewable energy generation. This could be done simply by making it a 106 type (mitigation) condition of new builds that they include solar heating and photovoltaic panels. Too many units were built in the last 3 years without climate friendly features, such as EV charging points.
6. POLITICS: - National governing bodies need to adopt rules to eliminate administrative wastages, restrain local authority empire building, scale down spending on war machines, educate the public and support sustainable social policies that mesh with other cultures transparently. Ban kleptocratic policies. Open your doors to transparency and a new era of honest politics. Local authorities are famous for finding the loopholes to keep on doing favours for mates. Simply close those loopholes with binding statute. Any gray areas should be made black and white in writing. Even then councils will break the law, so introduce a task force to prosecute offending local authorities..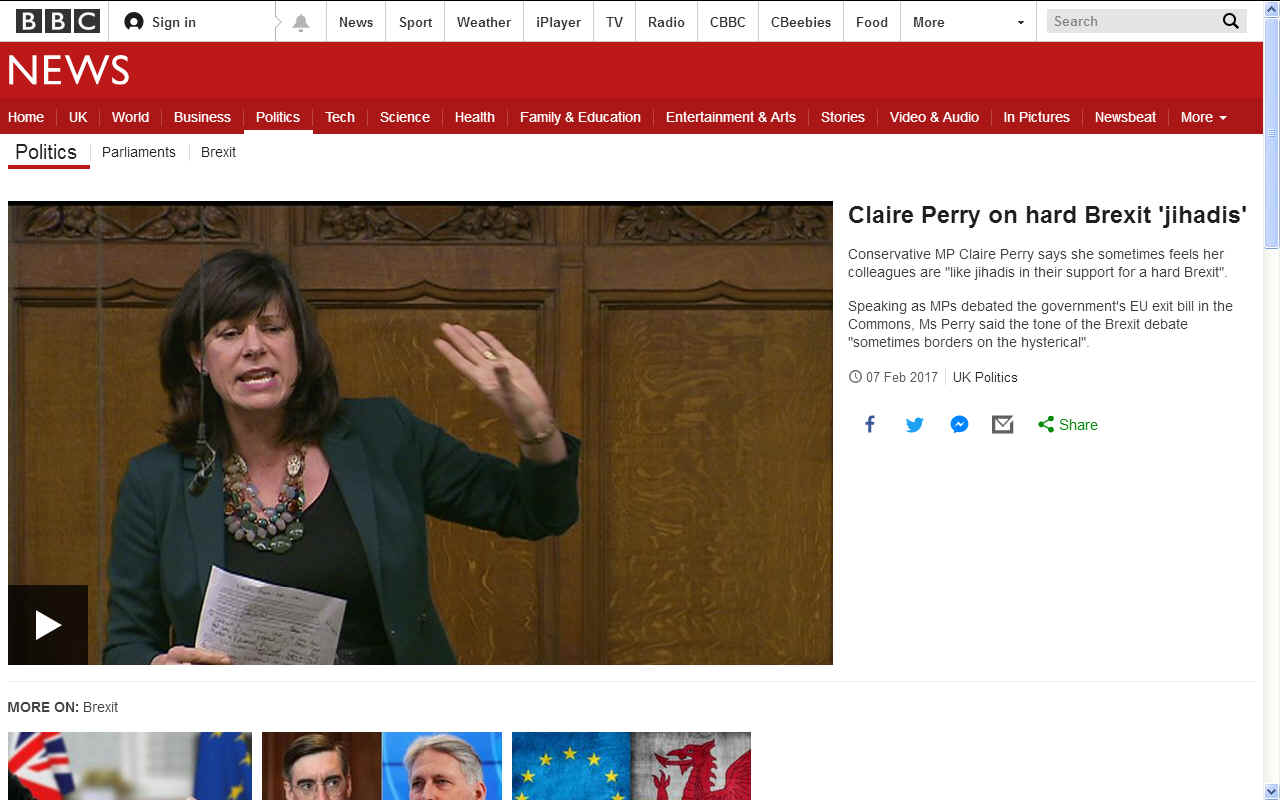 LINKS & REFERENCE
https://www.independent.co.uk/voices/brexit-climate-change-eu-global-warming-uk-g20-a8954316.html
http://www.ukpol.co.uk/claire-perry-2018-statement-on-unfccc-conference-of-parties/
https://www.claireperry.org.uk/
http://www.bbc.co.uk/news/av/uk-politics-38901675/claire-perry-on-hard-brexit-jihadis
http://www.huffingtonpost.co.uk/2014/09/18/scottish-independence-claire-perry_n_5840928.html
https://www.gov.uk/government/people/claire-perry
https://en.wikipedia.org/wiki/Claire_Perry
CLIMATE CHANGE COP HISTORY
| | |
| --- | --- |
| 1995 COP 1, BERLIN, GERMANY | 2008 COP 14/CMP 4, POZNAN, POLAND |
| 1996 COP 2, GENEVA, SWITZERLAND | 2009 COP 15/CMP 5, COPENHAGEN, DENMARK |
| 1997 COP 3, KYOTO, JAPAN | 2010 COP 16/CMP 6, CANCUN, MEXICO |
| 1998 COP 4, BUENOS AIRES, ARGENTINA | 2011 COP 17/CMP 7, DURBAN, SOUTH AFRICA |
| 1999 COP 5, BONN, GERMANY | 2012 COP 18/CMP 8, DOHA, QATAR |
| 2000:COP 6, THE HAGUE, NETHERLANDS | 2013 COP 19/CMP 9, WARSAW, POLAND |
| 2001 COP 7, MARRAKECH, MOROCCO | 2014 COP 20/CMP 10, LIMA, PERU |
| 2002 COP 8, NEW DELHI, INDIA | 2015 COP 21/CMP 11, Paris, France |
| 2003 COP 9, MILAN, ITALY | 2016 COP 22/CMP 12/CMA 1, Marrakech, Morocco |
| 2004 COP 10, BUENOS AIRES, ARGENTINA | 2017 COP 23/CMP 13/CMA 2, Bonn, Germany |
| 2005 COP 11/CMP 1, MONTREAL, CANADA | 2018 COP 24/CMP 14/CMA 3, Katowice, Poland |
| 2006 COP 12/CMP 2, NAIROBI, KENYA | 2019 COP 25/CMP 15/CMA 4, Santiago, Chile |
| 2007 COP 13/CMP 3, BALI, INDONESIA | 2020 COP 26/CMP 16/CMA 5, to be announced |
DESERTIFICATION COP HISTORY
| | |
| --- | --- |
| COP 1: Rome, Italy, 29 Sept to 10 Oct 1997 | COP 9: Buenos Aires, Argentina, 21 Sept to 2 Oct 2009 |
| COP 2: Dakar (Senegal), 30 Nov to 11 Dec 1998 | COP 10: Changwon (South Korea), 10 to 20 Oct 2011 |
| COP 3: Recife (Brazil), 15 to 26 Nov 1999 | COP 11: Windhoek (Namibia), 16 to 27 Sept 2013 |
| COP 4: Bonn (Germany), 11 to 22 Dec 2000 | COP 12: Ankara (Turkey), 12 to 23 Oct 2015 |
| COP 5: Geneva (Switzerland), 1 to 12 Oct 2001 | COP 13: Ordos City (China), 6 to 16 Sept 2017 |
| COP 6: Havana (Cuba), 25 August to 5 Sept 2003 | COP 14: New Delhi (India), 2 to 13 Sept 2019 |
| COP 7: Nairobi (Kenya), 17 to 28 Oct 2005 | COP 15: 2020 |
| COP 8: Madrid, Spain, 3 to 14 Sept 2007 | COP 16: 2021 |
BIODIVERSITY COP HISTORY
| | |
| --- | --- |
| COP 1: 1994 Nassau, Bahamas, Nov & Dec | COP 8: 2006 Curitiba, Brazil, 8 Mar |
| COP 2: 1995 Jakarta, Indonesia, Nov | COP 9: 2008 Bonn, Germany, May |
| COP 3: 1996 Buenos Aires, Argentina, Nov | COP 10: 2010 Nagoya, Japan, Oct |
| COP 4: 1998 Bratislava, Slovakia, May | COP 11: 2012 Hyderabad, India |
| EXCOP: 1999 Cartagena, Colombia, Feb | COP 12: 2014 Pyeongchang, Republic of Korea, Oct |
| COP 5: 2000 Nairobi, Kenya, May | COP 13: 2016 Cancun, Mexico, 2 to 17 Dec |
| COP 6: 2002 The Hague, Netherlands, April | COP 14: 2018 Sharm El-Sheikh, Egypt, 17 to 29 Nov |
| COP 7: 2004 Kuala Lumpur, Malaysia, Feb | COP 15: 2020 Kunming, Yunnan, China |
UN CLIMATE ACTION PORTFOLIOS
1. Finance
2. Energy Transition
3. Industry Transition
4. Nature-Based Solutions
5. Cities and Local Action
6. Resilience and Adaptation
7. Mitigation Strategy
8. Youth Engagement & Public Mobilization
9. Social and Political Drivers