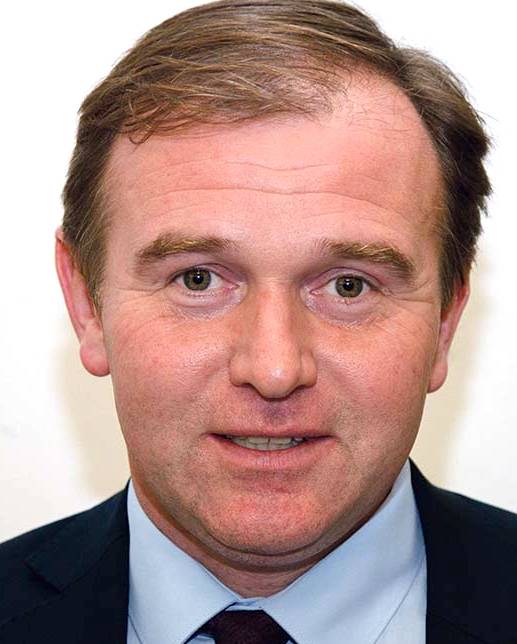 GEORGE EUSTICE


George Eustice is a Cabinet member and Environment Minister in Boris Johnson's administration of the United Kingdom.
On Thursday 13th February, George Eustice, Member of Parliament for Camborne, Redruth and Hayle was appointed Secretary of State for the Department of Environment, Food and Rural Affairs. In Bojo's September 2021 re-shuffle, he remained environment secretary.
George commented:
"I am honoured to have been asked by the Prime Minister to join his Cabinet as Secretary of State for the Environment. I am passionate about environmental and animal welfare issues and have been working on future plans for agriculture and fishing for the last few years. As we leave the EU, we will chart a new course and have an opportunity to do even more for our environment and for rural and coastal communities. I am relishing the challenge ahead."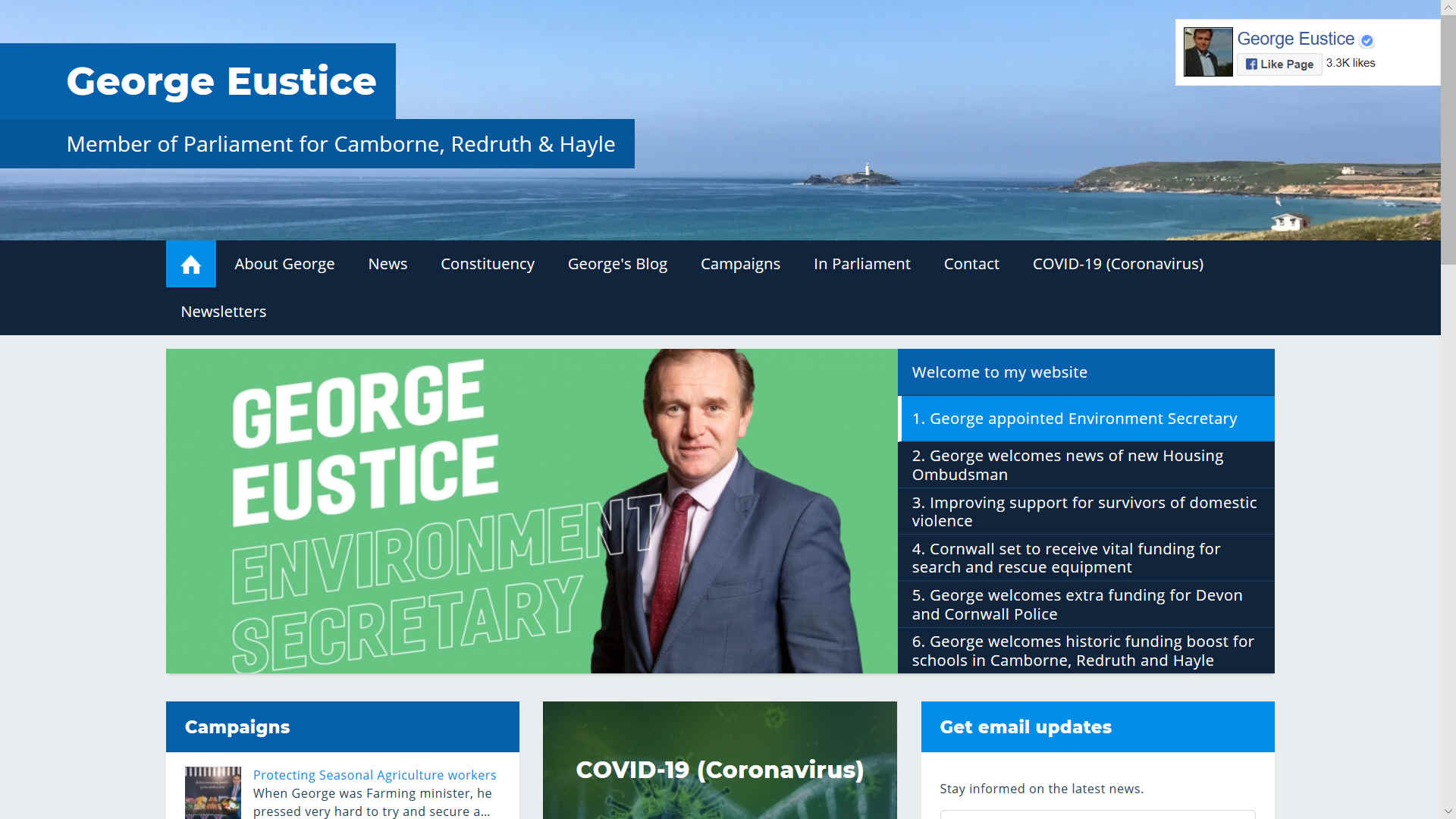 CARBON CAPTURE

The Conservative government is spending at around £800m establishing two or more carbon capture and storage clusters by 2030 to "store millions of tons of carbon dioxide that would otherwise be released into the atmosphere". These clusters, he said, would create up to 6,000 high-skilled, high-wage jobs in areas such as Teesside, Humberside, Merseyside or St Fergus in Scotland.
ROADS

The Chancellor announced an investment of £27 billion in Britain's roads, which includes the second round of Major Road Network and Large Local Major schemes proceeding to the next stage of development, plus a £2.5 billion fund to repair Britain's potholes, aiming to fill 50 million potholes and resurfacing roads over the next five years.
The government is investing £4.2 billion in the transport networks of eight city regions across England from 2022-23. Funding will be delivered through five-year, consolidated transport settlements.
It will provide £83 million of funding for local road maintenance in the South East through the Potholes Fund in 2020-21.
Thursday, 27 February 2020 - Building the right homes for Cornwall

I have always believed it is important to help young families fulfill the ambition of owning their own home. Over time, owning an asset like your own home gives you some financial security and allows you to set down roots. Twenty years ago it was possible to get relatively affordable mortgages for 95 percent of the value of a property and this meant that people who were working could generally save a five percent deposit. However, after the banking crisis in 2008 things went into reverse. Banks and mortgage companies now expect a much higher deposit than was the case twenty years ago, typically 25 percent which means that it's much harder for young families to purchase their first home.
A few years ago the government introduced a new "Help to Buy" scheme where government would help to underwrite the deposit in order to ensure normal families who work hard but don't have large incomes or even large savings, could be supported to purchase their first home. The scheme was available on certain new build properties and it has been a success with some good examples across Camborne, Redruth and Hayle.
Building on this success, the Government this week announced further details on the new Help to Buy scheme that will run from 2021 to 2023. The scheme will be targeted and continue to help more people onto the property ladder including regional property price caps based on average first time buyer prices. Such caps will take average first time buyer prices for the region and add a further 50% to ensure there is good availability of the scheme. This is a positive step forward and demonstrates the Government's commitment to building at least one million new homes over the course of this parliament.
There is no doubt that nationally we have a housing shortage. A combination of population growth and issues like family breakdown means that many families are struggling to find a home that delivers their needs. In Cornwall, the issue is exacerbated in some areas by second homeowners. So, as well as helping first time buyers purchase their first home through schemes like Help to Buy, we do also need to build more homes.
However, the homes that we do build should be built to the highest quality. Every year, I have a number of constituents contact my office citing defects to their newly built home that they have just moved into. No one should expect to purchase a poor-quality home or receive poor customer service, but far too many do. That's why this week the Government announced that it will be establishing a New Homes Ombudsman to protect the rights of homebuyers, holding developers to account when things go wrong, and including legislation to require all developers of new build homes to belong to this Ombudsman. Not only will this ensure a constant access to redress for all buyers of new build homes, it will also help to drive up standards across the country.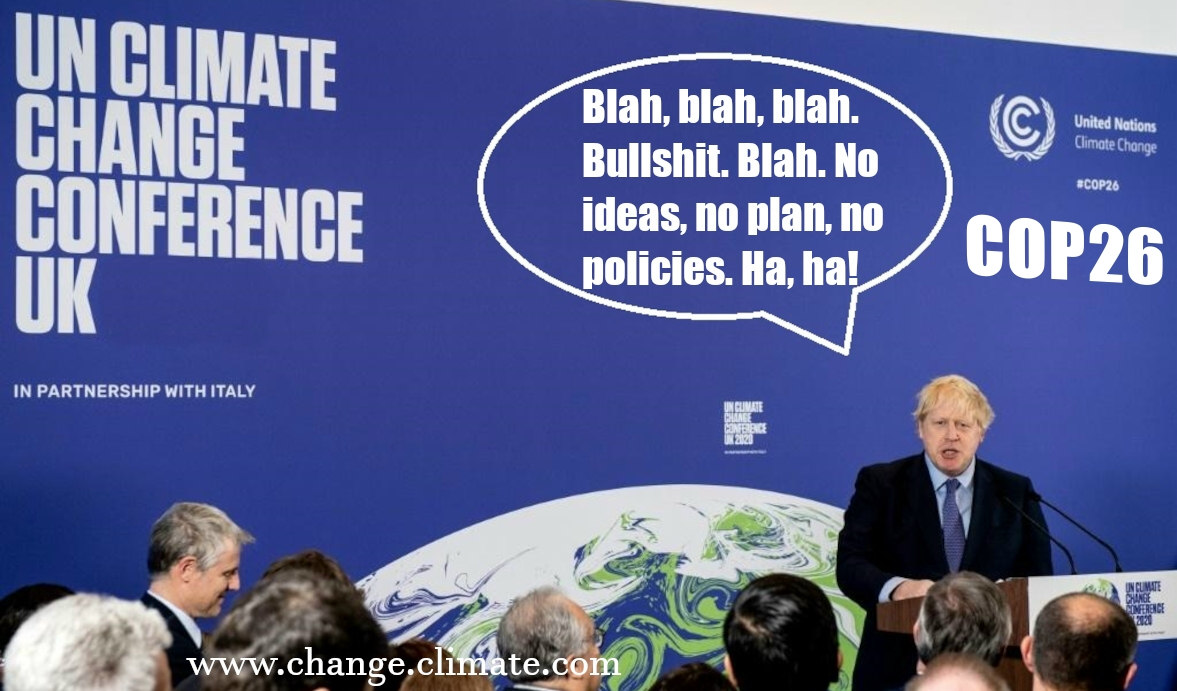 FOSSIL FOOLS - Geriatric politicians with 'climate-senile' policies will find in difficult to break away from their corrupt ways, as part time politicians with two jobs. Their main job being to find paid consultancy work, rather than craft policies and create statute that works to protect our voters from lung cancer, energy shortages and a lack of affordable (sustainable) housing.
The 'zerophobics' are the undertakers of the political world, sending millions of ordinary people to an early grave, while loading us with NHS, hospital and staff costs that would not be needed if we had clean air in our cities.
Basically, the longer you are in politics, the more likely you are to be exposed to bribes, from climate deniers, mostly fossil fuel and energy companies, looking to keep on pumping toxic fumes into the atmosphere, so they can keep making money. The political undertakers are working with them to keep hospitals stocked with cancer victims. They are blood sucking vampires, draining what little you had saved for your retirement.
Thursday, 13 February 2020 - Investing in local transport

In a peninsula like Cornwall, there will always be challenges to building a resilient public transport structure. However, some good progress has been made in the last few years. We have invested to improve our railways and there is now a regular half hourly service running through Cornwall which has led to a significant increase in passenger numbers.
However, for most people in Cornwall, it is the local service that matters most and the key to making things work better is to try to integrate or join up the bus network with the rail network more effectively than we have done in the past. This will allow rail and bus timetables to work in tandem to give people more frequent options to get from one destination to another.
I have long pressed for a regular and routine 30-minute local train service through Cornwall with buses then providing onward connections over shorter rural routes to our villages and this is now starting to come together. By joining up commercial routes of buses and trains with smaller, local, shuttle buses travelling shorter distances, you start to get the makings of something that could really work, and you could build more confidence in the public transport network.
Following the General Election result, there are now however some really interesting and important things happening in line with the Government's commitment to levelling up our towns and ensuring that regions like Cornwall outside of London receive improved connectivity. Earlier in the autumn, I wrote about the plans to introduce Britain's first Superbus network here in Cornwall. The network was part of the government's plans to reverse the impacts of dwindling services in local towns and drive forward a bus revolution that will improve access for everyone.
The pioneering investment would direct investment towards more frequent public transport in the countryside, introducing new apps that will improve the information available to commuters whilst also ensuring that the bus fleets will be cleaner, greener and more environmentally friendly.
Earlier this week the Government further committed to improving bus and cycle links announcing a significant £5 billion package of funding to drive forward the reforms needed. The new funding, delivered over the next five years, will see the introduction of more regular and faster bus services while providing cycle routes with a major boost - funding more than 250 miles of new cycleways and introducing at least 4,000 new Zero Emission Buses.
Creating an integrated public transport system for Cornwall is an important step forward in ensuring that our local communities are supported. Investments like those announced this week and earlier in the autumn will help to improve the affordability of transport for local people, improving our regional links and ensuring that we have a more environmentally friendly transport service.

Charles George Eustice (born 28 September 1971) is a British Conservative Party politician and former public relations executive. He has been the Member of Parliament (MP) for Camborne and Redruth since the 2010 general election. As part of Prime Minister Boris Johnson's February 2020 cabinet reshuffle, he was made Environment Secretary, succeeding Theresa Villiers.

In October 2013, as part of Prime Minister David Cameron's Cabinet reshuffle, Eustice was appointed Parliamentary Under-Secretary of State for Agriculture, Fisheries and Food. On 11 May 2015 he was promoted to Minister of State within the same department. He resigned from this position on 28 February 2019, but was reappointed by Boris Johnson on 25 July 2019.

THE ENVIRONMENT AND ENERGY

A plastic packaging tax will come into force from April 2022 to incentivise the use of recycled plastic in packaging and help tackle the scourge of plastic in the natural environment.

Rob Morgan, investment analyst at Charles Stanley Direct, says: "The Chancellor's new plastic packaging tax is a step in the right direction towards encouraging people to alter their day-to-day behaviour towards socially responsible investing. Government intervention is key, as demonstrated by the plastic bag campaign where more than half (56%) say they are aware of it, and 15% say they have subsequently changed their behaviour as result."

Fuel subsidies for off-road vehicles or "red diesel" will be scrapped for most sectors in two years' time.

Communities affected by this winter's flooding will receive £120 million in emergency funding, plus £200 million for flood resilience.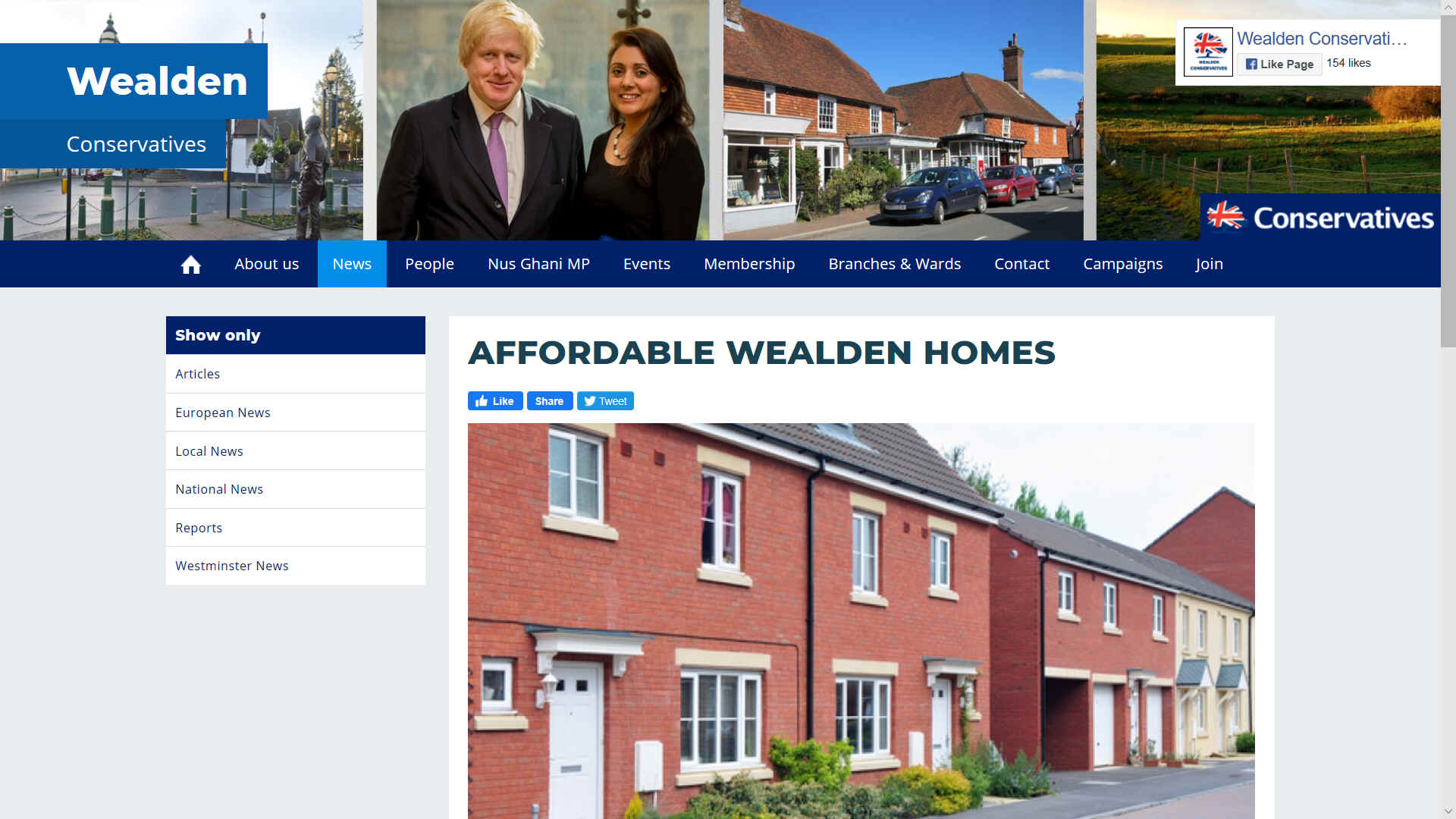 WHAT IS AFFORDABLE - The Conservative Party's idea of affordable is not in keeping with the real meaning, it is more a spin to make it appear as if they are working for genuine sustainability. Flatpacks made of timber cost a fraction of the price of a brick built unit, lock up carbon and reduce energy bills. When Margaret Thatcher allowed councils to sell off their housing stocks as a quick-fix to boosting their income, she failed to make sure that they built new social housing.
In fact Wealden have not built any number of genuinely affordable homes, and increasingly encroach on neighbouring council's infrastructure without settling up. We would like to know where all the money collected on the basis of a Community Infrastructure Levy (CIL) is going? Is it another slush fund that is being used to promote the interests of the upper echelon of executives looking to retire with enhanced benefits?
AFFORDABLE HOMES
The Government is investing a further £9.5 billion in the Affordable Homes Programme which in total will allocate £12.2 billion of grant funding from 2021-22 to support the creation of affordable homes across England.
In the UK thousands of houses have been built after the floodgates were opened to unsustainable development in the countryside, meaning that fat-cat landlords gained more of a foothold, not less - so promoting financial slavery. The idea was to blackmail developers into building 30% of the new stock as affordable. It never happened because there were no too many loopholes for kleptocratic councils to make a fast buck - never mind the climate emergency they were helping to fuel in building expensive houses devoid of solar panels, water heaters and charging points, etc.
The Nolan Report was supposed to change council practices to outlaw cozy positions of trust being abused. That did not work. Greg Clark made an effort to secure land for affordable housing with the 2012 National Planning Policy Document. But that did not work either. The fact is that young families cannot get on the housing ladder at genuinely affordable prices because land is not being compulsorily purchased, or otherwise earmarked for affordable housing (only). The definition of affordable is that an ordinary working man might purchase such a unit on his wage.
As an example of councils behaving badly, Wealden have proven themselves to be one of the most corrupt councils over many years, leading to a Petition in 1997, where the police did not investigate the misuse of authority. The situation remains largely unchanged, where some of the old staff are still in residence, clearly passing on their bad habits, infecting newcomers. Lord Nolan QC was wasting his time suggesting routine flushing of the system, though Boris Johnson has seen the light in suggesting examinations of competence, where clearly many civil servants in positions of trust, have strayed from what they should be doing in the interests of what is good for them.
Tom Slingsby, chief executive of property developer Southern Grove, says: "Only sufficient provision of affordable homes in the right areas can prevent the sort of social inconsistencies that appear when high property prices put key areas of UK cities off limits to younger workers and their families. We know from conversations we have constantly with housing associations that the appetite is there to keep building through economic cycles and this fund will ensure that will happen."
The Conservative Cabinet says that there will be almost £1.1 billion allocated from the Housing Infrastructure Fund to build nearly 70,000 new homes in high demand areas across the UK.
A new £400 million Brownfield Housing Fund aims to create more homes on brown-field land in areas such as the West Midlands.
CONTACT GEORGE

Constituency Office:
13 Commercial Street
Camborne, TR14 8JZ
Tel: 01209 713 355
Email: camborneredruthconservatives@googlemail.com

Westminster Office
House of Commons
London, SW1A 0AA
Tel: 020 7219 7032
Email: george.eustice.mp@parliament.uk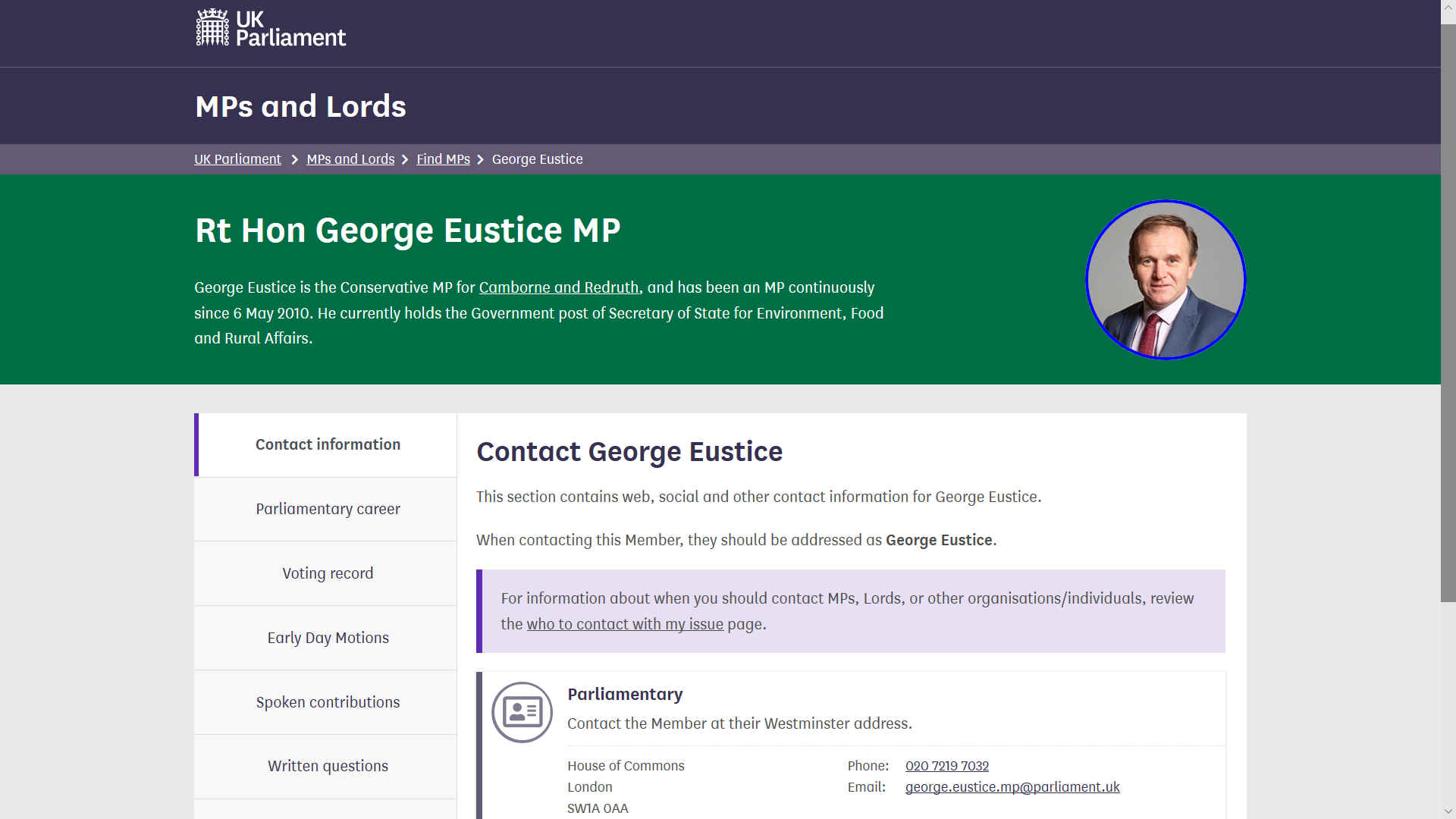 PRESSING ISSUES
We are particularly concerned with climate change, transport and affordable housing as issues that need urgent attention. Where the coastline is a feature of the United Kingdom, Blue Growth is a food security issue, especially where this side of of our local economy is under-exploited and at the same time under threat. There is no Planet B.
CABINET MPS -MARCH 2020
Chancellor Exchequer

Priti Patel

Home Secretary

Dominic Raab

Foreign Secretary

Michael Gove

Chancellor D. Lancaster

Ben Wallace

Defence Secretary

Matt Hancock

Health & Social Care

Liz Truss

International Trade

Gavin Williamson

Education

Oliver Dowden

Culture

Alok Sharma

MP Reading West

Robert Jenrick

Housing, Local Gov.

Therese Coffey

Work & Pensions

Robert Buckland

Justice

Anne-Marie Trevelyan

International Dev.

Transport

George Eustice

Environment

Brandon Lewis

Northern Ireland

Alister Jack

Scottish Sec. State

Simon Hart

Welsh Sec. State

Baroness Evans

Leader Lords

Amanda Milling

Party Chairman

Jacob Rees-Mogg

Leader Commons

Mark Spencer

Chief Whip

Suella Braverman

Attorney General

Stephen Barclay

Treasury Sec.
CONSERVATIVE MPS 2017-2020
Boris Johnson - Prime Minister

MP Uxbridge & South Ruislip

MP for Richmond, Yorkshire

MP Welwyn Hatfield

Philip Hammond

MP Runnymede & Weybridge

Alok Sharma

MP Reading West

Damian Green

MP for Ashford

Gavin Williamson

MP South Staffordshire

Liam Fox

MP North Somerset

David Lidlington

MP for Aylesbury

Baroness Evans

MP Bowes Park Haringey

Jeremy Hunt

MP South West Surrey

Justine Greening

MP for Putney

Chris Grayling

MP Epsom & Ewell

Karen Bradley

MP Staffordshire Moorlands

Michael Gove

MP Surrey Heath

David Gauke

MP South West Hertfordshire

Sajid Javid

MP for Bromsgrove

James Brokenshire

MP Old Bexley & Sidcup

Alun Cairns

MP Vale of Glamorgan

David Mundell MP

Dumfriesshire Clydes & Tweeddale

Patrick McLoughlin

MP Derbyshire Dales

Greg Clark

MP Tunbridge Wells

Penny Mordaunt

MP Portsmouth North

Andrea Leadsom

MP South Northamptonshire

Jeremy Wright

MP Kenilworth & Southam

Liz Truss

MP South West Norfolk

Brandon Lewis

MP Great Yarmouth

MP

Nus Ghani

MP Wealden

Huw Merriman

MP Battle

Steve Double

MP St Austell & Newquay

Sarah Newton

MP Truro & Falmouth

Rebecca Pow

MP Taunton Deane

Jacob Rees-Mogg

MP Somerset

Gavin Williamson

MP Staffordshire

Thérèse Coffey

MP Suffolk Coastal

Caroline Ansell

MP Eastbourne

.

David Davis

MP Haltemprice & Howden

Claire Perry

MP for Devizes

Amber Rudd

MP Hastings & Rye

.

Theresa May - former PM

MP for Maindenhead

David Cameron

Former Prime Minister

John Major

Former Prime Minister

Margaret Thatcher

Former Prime Minister
UK POLITICS

The United Kingdom has many political parties, some of which are represented in the House of Commons and the House of Lords. Below are links to the websites of the political parties that were represented in the House of Commons after the 2015 General Election:
CO-OPERATIVE PARTY
DEMOCRAT UNIONIST PARTY
PLAID CYMRU
SINN FEIN
SOCIAL DEMOCRATIC AND LABOUR PARTY
UK INDEPENDENCE PARTY
ULSTER UNIONIST PARTY
Social Democratic and Labour Party
SIX (SUGGESTED) STEPS TOWARD A COOLER PLANET
1. TRANSPORT: Phase out polluting vehicles. Governments aim to end the sale of new petrol, and diesel vehicles by 2040 but have no infrastructure plan to support such ambition. Marine transport can be carbon neutral. Zero carbon shipping is gaining ground with offshore solar boat racers reaching 35knots (Delft University @ Monaco 2019). The first solar powered circumnavigation record was set in 2012 by PlanetSolar. That record could be halved by another contender on the drawing board.
2. RENEWABLES: Renewable energy should replace carbon-based fuels (coal, oil and gas) in our electricity, heating and transport. We are well on the way to that with solar and wind power now price competitive to fossil fuels.
3. HOUSING: On site micro or macro generation is the best option, starting with new build homes that are affordable and built of wood for improved insulation and carbon lock. New units might not need planning consents if energy self-sufficient, or very nearly so. Planning consents should be struck for genuinely affordable/sustainable housing and self builds where cost is below £50,000. See letter to Nus Ghani July 2019.
4. AGRICULTURE: We need trees to absorb carbon emissions from a growing population, flying, and to build new homes. Reducing food waste and promoting less energy intensive eating habits such as no meat Mondays.
5. INDUSTRY: Factories should be aiming for solar heating and onsite renewable energy generation. This could be done simply by making it a 106 type (mitigation) condition of new builds that they include solar heating and photovoltaic panels. Too many units were built in the last 3 years without climate friendly features, such as EV charging points.
6. POLITICS: - National governing bodies need to adopt rules to eliminate administrative wastages, restrain local authority empire building, scale down spending on war machines, educate the public and support sustainable social policies that mesh with other cultures transparently. Ban kleptocratic policies. Open your doors to transparency and a new era of honest politics. Local authorities are famous for finding the loopholes to keep on doing favours for mates. Simply close those loopholes with binding statute. Any gray areas should be made black and white in writing. Even then councils will break the law, so introduce a task force to prosecute offending local authorities..
LINKS & REFERENCE
https://en.wikipedia.org/wiki/George_Eustice
https://www.georgeeustice.org.uk/
https://www.moneywise.co.uk/news/2020-03-11/budget-2020-ps600-billion-boost-britains-infrastructure
CLIMATE CHANGE COP HISTORY
| | |
| --- | --- |
| 1995 COP 1, BERLIN, GERMANY | 2008 COP 14/CMP 4, POZNAN, POLAND |
| 1996 COP 2, GENEVA, SWITZERLAND | 2009 COP 15/CMP 5, COPENHAGEN, DENMARK |
| 1997 COP 3, KYOTO, JAPAN | 2010 COP 16/CMP 6, CANCUN, MEXICO |
| 1998 COP 4, BUENOS AIRES, ARGENTINA | 2011 COP 17/CMP 7, DURBAN, SOUTH AFRICA |
| 1999 COP 5, BONN, GERMANY | 2012 COP 18/CMP 8, DOHA, QATAR |
| 2000:COP 6, THE HAGUE, NETHERLANDS | 2013 COP 19/CMP 9, WARSAW, POLAND |
| 2001 COP 7, MARRAKECH, MOROCCO | 2014 COP 20/CMP 10, LIMA, PERU |
| 2002 COP 8, NEW DELHI, INDIA | 2015 COP 21/CMP 11, Paris, France |
| 2003 COP 9, MILAN, ITALY | 2016 COP 22/CMP 12/CMA 1, Marrakech, Morocco |
| 2004 COP 10, BUENOS AIRES, ARGENTINA | 2017 COP 23/CMP 13/CMA 2, Bonn, Germany |
| 2005 COP 11/CMP 1, MONTREAL, CANADA | 2018 COP 24/CMP 14/CMA -, Katowice, Poland |
| 2006 COP 12/CMP 2, NAIROBI, KENYA | 2019 COP 25/CMP 15/CMA -, Madrid, Spain |
| 2007 COP 13/CMP 3, BALI, INDONESIA | |
DESERTIFICATION COP HISTORY
| | |
| --- | --- |
| COP 1: Rome, Italy, 29 Sept to 10 Oct 1997 | COP 9: Buenos Aires, Argentina, 21 Sept to 2 Oct 2009 |
| COP 2: Dakar (Senegal), 30 Nov to 11 Dec 1998 | COP 10: Changwon (South Korea), 10 to 20 Oct 2011 |
| COP 3: Recife (Brazil), 15 to 26 Nov 1999 | COP 11: Windhoek (Namibia), 16 to 27 Sept 2013 |
| COP 4: Bonn (Germany), 11 to 22 Dec 2000 | COP 12: Ankara (Turkey), 12 to 23 Oct 2015 |
| COP 5: Geneva (Switzerland), 1 to 12 Oct 2001 | COP 13: Ordos City (China), 6 to 16 Sept 2017 |
| COP 6: Havana (Cuba), 25 August to 5 Sept 2003 | COP 14: New Delhi (India), 2 to 13 Sept 2019 |
| COP 7: Nairobi (Kenya), 17 to 28 Oct 2005 | COP 15: 2020 |
| COP 8: Madrid, Spain, 3 to 14 Sept 2007 | COP 16: 2021 |
BIODIVERSITY COP HISTORY
| | |
| --- | --- |
| COP 1: 1994 Nassau, Bahamas, Nov & Dec | COP 8: 2006 Curitiba, Brazil, 8 Mar |
| COP 2: 1995 Jakarta, Indonesia, Nov | COP 9: 2008 Bonn, Germany, May |
| COP 3: 1996 Buenos Aires, Argentina, Nov | COP 10: 2010 Nagoya, Japan, Oct |
| COP 4: 1998 Bratislava, Slovakia, May | COP 11: 2012 Hyderabad, India |
| EXCOP: 1999 Cartagena, Colombia, Feb | COP 12: 2014 Pyeongchang, Republic of Korea, Oct |
| COP 5: 2000 Nairobi, Kenya, May | COP 13: 2016 Cancun, Mexico, 2 to 17 Dec |
| COP 6: 2002 The Hague, Netherlands, April | COP 14: 2018 Sharm El-Sheikh, Egypt, 17 to 29 Nov |
| COP 7: 2004 Kuala Lumpur, Malaysia, Feb | COP 15: 2020 Kunming, Yunnan, China |
UN CLIMATE ACTION PORTFOLIOS
1. Finance
2. Energy Transition
3. Industry Transition
4. Nature-Based Solutions
5. Cities and Local Action
6. Resilience and Adaptation
7. Mitigation Strategy
8. Youth Engagement & Public Mobilization
9. Social and Political Drivers