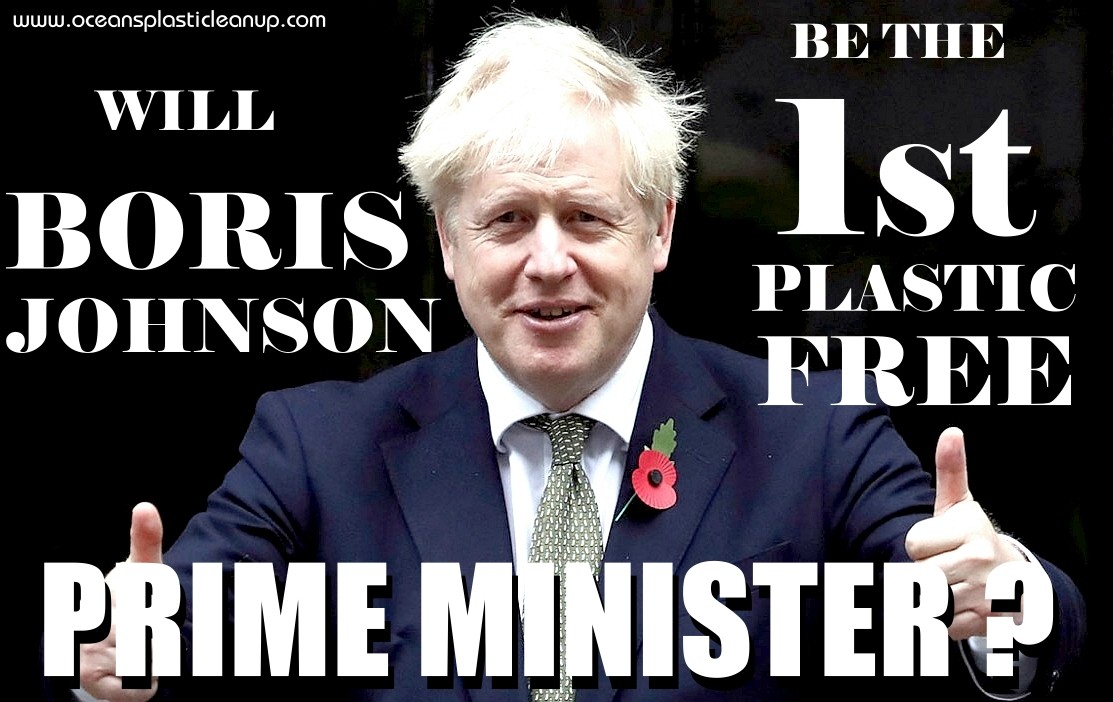 COP 26 - Will the PM be the first Plastic Free member of the G20 to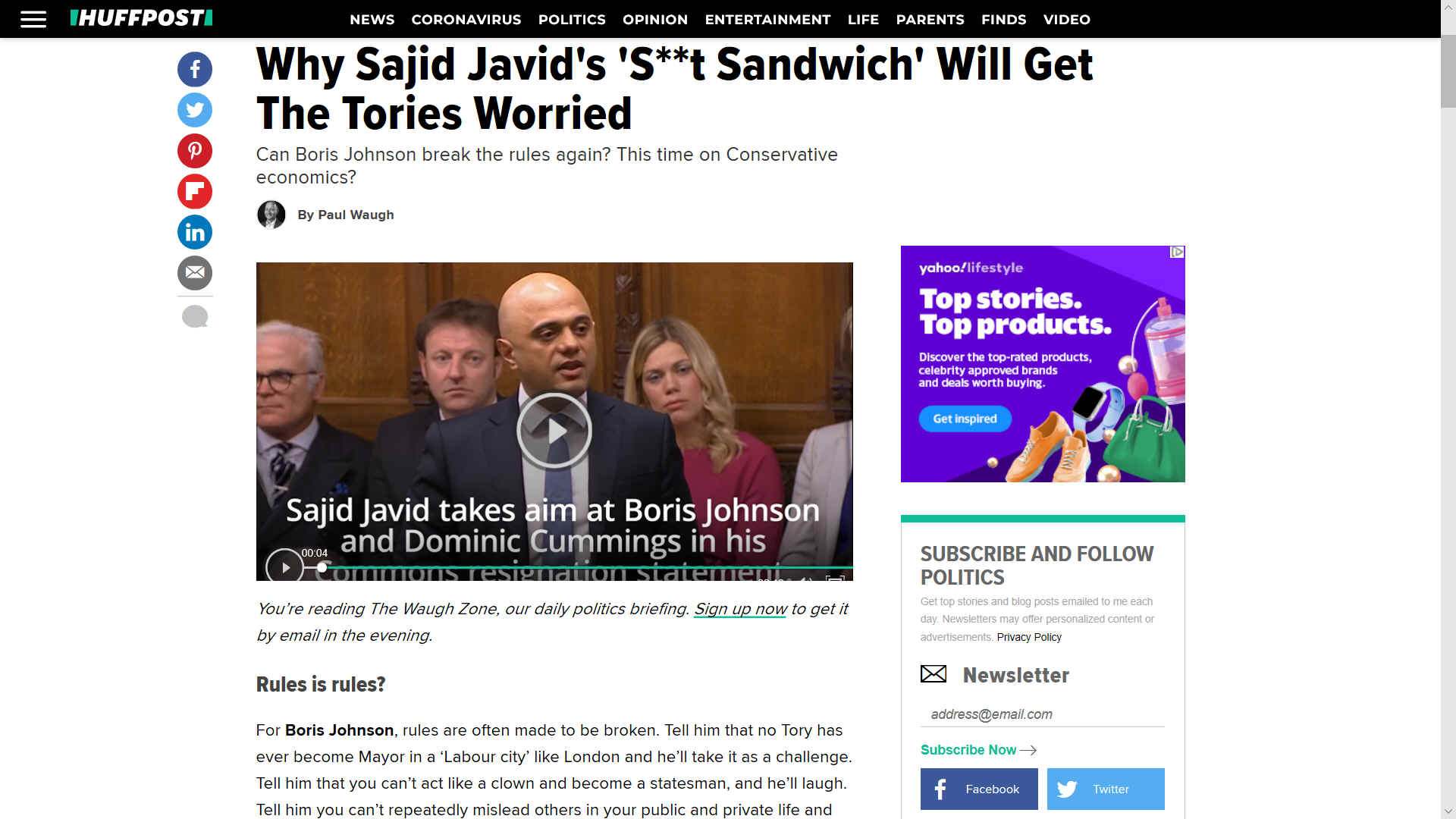 BOJO SACKS SAJID JAVID - Not an actual sacking, but placing conditions that made a resignation the honourable thing to do.
For Boris Johnson, rules are often made to be broken. Tell him that no Tory has ever become Mayor in a 'Labour city' like London and he'll take it as a challenge. Tell him that you can't act like a clown and become a statesman, and he'll laugh. Tell him you can't repeatedly mislead others in your public and private life and he'll scoff. Tell him the Conservatives will never win working class seats like Blyth and Leigh and he'll read you a list of election results.

Javid was in many ways pitch-perfect in his warning to Johnson. Making the independence of the Treasury, (and notably the OBR), an issue of protecting 'institutions' was a smart move. Saying that "Conservatives especially believe that no particular person, or even a Government, has a monopoly on the best ideas" was equally shrewd. And his lines about speaking 'truth to power' and putting 'the national interest' first marked him out as the new heavyweight on the backbenches.

Javid was also canny enough to deliver his warning in the form of a shit sandwich. Opening with some self-deprecating remarks about 'the circle of life' and closing with praise for the PM's 'one-nation' politics allowed him to get across the difficult middle section - where he acidly observed the dangers of abandoning public trust in the public finances. His spinners were also clever in managing down expectations beforehand to suggest he would be nothing but loyal and supportive.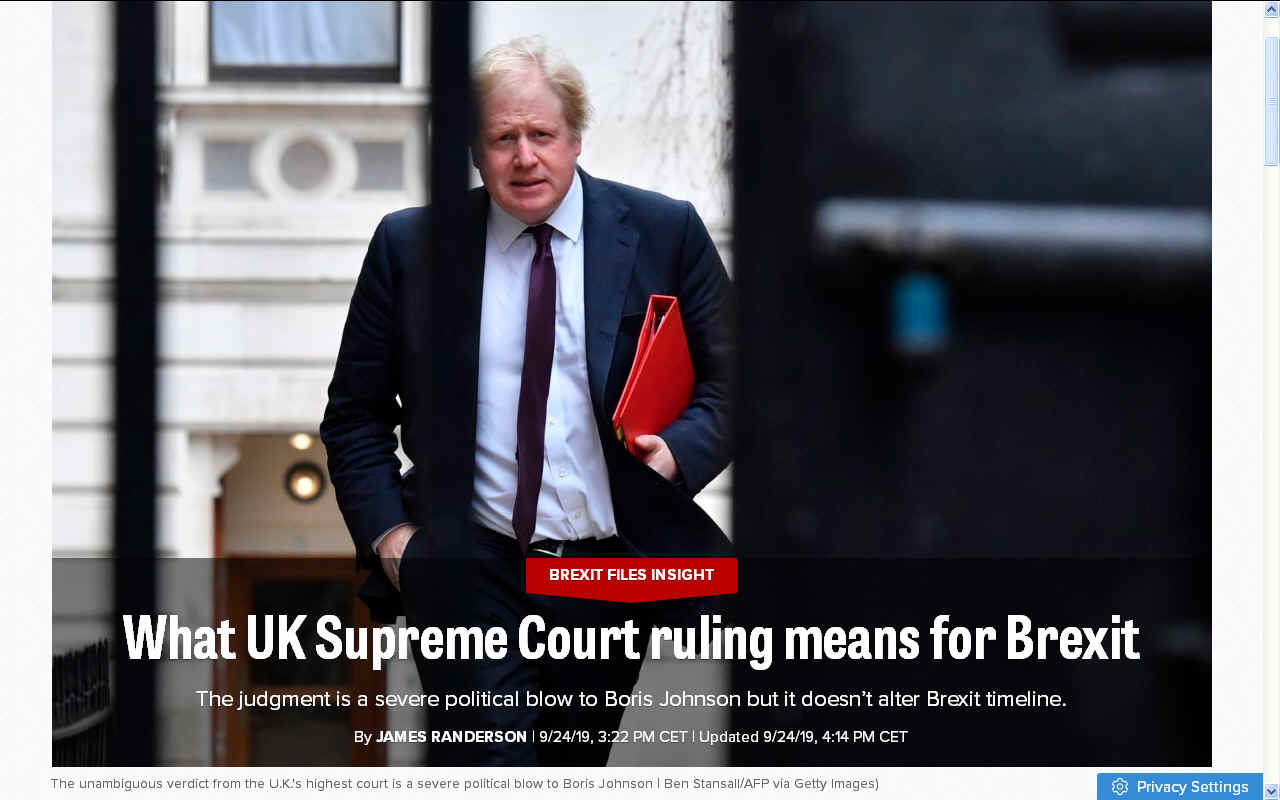 BORIS JOHNSON - Prime Minister in between a rock and a hard place, seeks refuge at number 10 Downing Street as he schemes on how to silence his political pundits.
SUPREME COURT RULING 24 SEPTEMBER 2019
Lady Hale, who has been President of the Supreme Court since September 2017, delivered a quietly devastating judgment that ripped the government's reasoning to shreds.

"The decision to advise Her Majesty to prorogue parliament was unlawful because it had the effect of frustrating or preventing the ability of parliament to carry out its constitutional functions without reasonable justification," she said.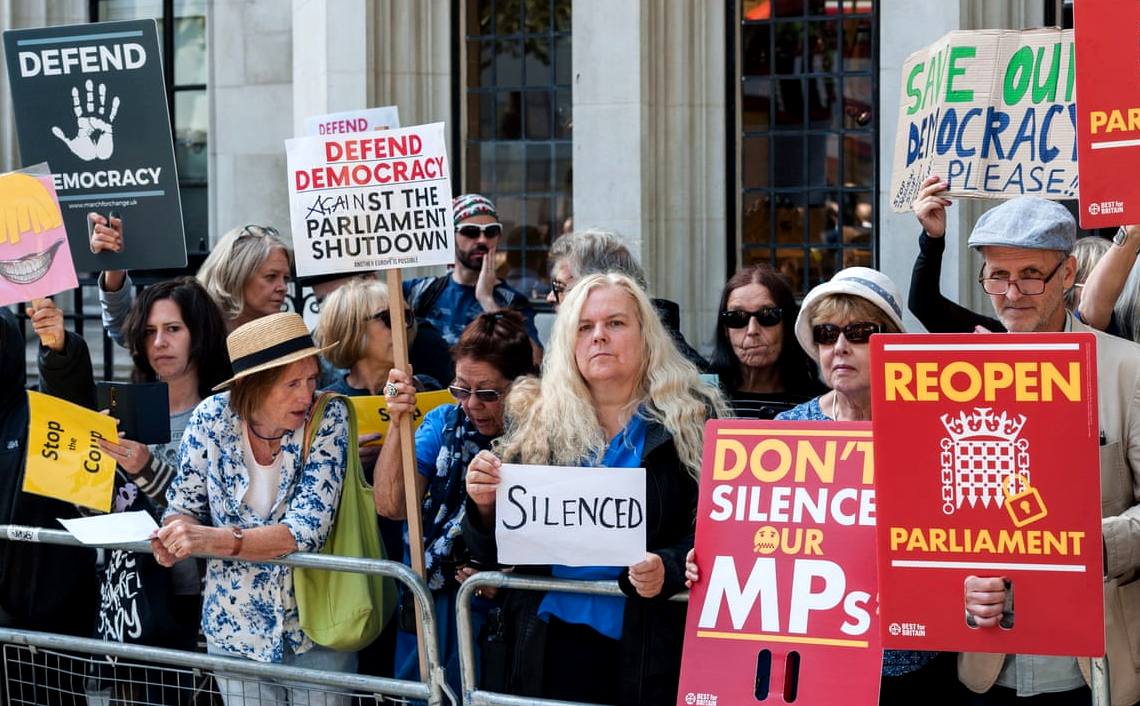 The Justices clearly held that the limit of power had been exceeded. Parliament had been sought to be suspended for five weeks in a critical period for the UK running up to the current 31 October Brexit deadline. The Government had simply failed to advance any evidence to justify a prorogation of that length at such a crucial time. It was therefore inevitable that as a matter of law, the attempted suspension would be ruled unlawful and void. The Court said that the order issued to suspend Parliament was legally like "a blank piece of paper".

Those who say that the Supreme Court entered the realm of politics should pay close attention to the reasoning of the Court which is plainly to the contrary. As the Justices noted, what they have done is to apply common tools of legal analysis to place a limit on the discretion of the Prime Minister in a way which protects, rather than undermines, the separation of powers in our constitution among Parliament, government and the Courts. The decision has inevitably led to calls for the UK to have a written constitution - and on that we agree wholeheartedly.
YOU WOULDN'T LIKE ME ANGRY - "I don't care what those doddering fools have decided, I'm right and they are wrong. I'm very reasonable and just the bloke to lead the country my way. We can't have a little thing like democracy stand in the way."
The 11 Justices of the UK Supreme Court have unanimously decided that Parliament was not actually suspended. This is because the advice of the Prime Minister to the Queen was unlawful and the advice and the steps which followed were of no legal effect. In finding as they did, the Justices upheld the earlier ruling by three appeal judges in the Court of Session in Edinburgh.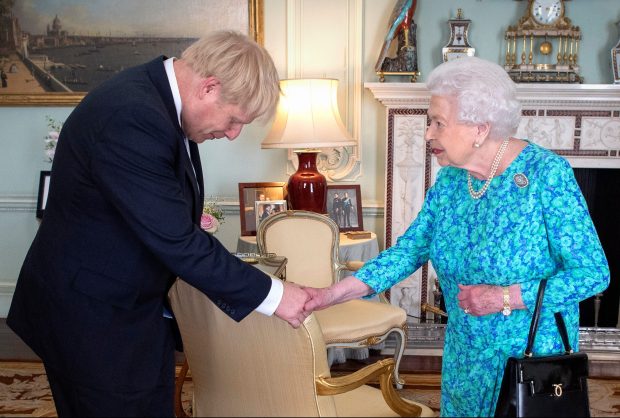 OH DEAR BORIS - "Yes Maam, I slipped up big time. Can we pretend it was all a misunderstanding or will I really have to go?" "Well, you have been a bit of a boob, but the people seem to like you Bojo, so stay and try not to muck too many things up."
CONTACT BORIS

Boris Johnson MP for Uxbridge and South Ruislip
36 Harefield Road
Uxbridge, Middlesex
UB8 1PH
The Prime Minister
10 Downing Street
London, SW1A 2AA
The Prime Minister
House of Commons
London, SW1A 0AA
Email: boris.johnson.mp@parliament.uk
CONSERVATIVE MPS 2017-2018
Theresa May - Prime Mnister

MP for Maindenhead

Damian Green

MP for Ashford

Philip Hammond

MP Runnymede & Weybridge

Boris Johnson

MP Uxbridge & South Ruislip

Amber Rudd

MP Hastings & Rye

David Davis

MP Haltemprice & Howden

Gavin Williamson

MP South Staffordshire

Liam Fox

MP North Somerset

David Lidlington

MP for Aylesbury

Baroness Evans

MP Bowes Park Haringey

Jeremy Hunt

MP South West Surrey

Justine Greening

MP for Putney

Chris Grayling

MP Epsom & Ewell

Karen Bradley

MP Staffordshire Moorlands

Michael Gove

MP Surrey Heath

David Gauke

MP South West Hertfordshire

Sajid Javid

MP for Bromsgrove

James Brokenshire

MP Old Bexley & Sidcup

Alun Cairns

MP Vale of Glamorgan

David Mundell MP

Dumfriesshire Clydes & Tweeddale

Patrick McLoughlin

MP Derbyshire Dales

Greg Clark

MP Tunbridge Wells

Penny Mordaunt

MP Portsmouth North

Andrea Leadsom

MP South Northamptonshire

Jeremy Wright

MP Kenilworth & Southam

Liz Truss

MP South West Norfolk

Brandon Lewis

MP Great Yarmouth

MP

Nus Ghani

MP Wealden

Huw Merriman

MP Battle

MP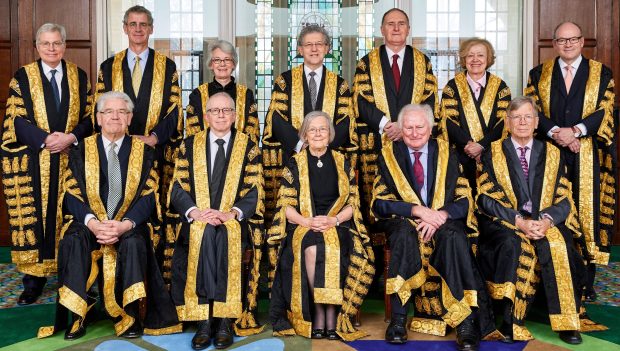 LADY HALE: Brenda Hale, 74, is President of the Supreme Court. She previously backed an ECHR ruling over votes for prisoners. In July ex-Guardian editor Alan Rusbridger, now Principal of Lady Margaret Hall, Oxford, announced Lady Hale would be joining Gary Lineker as a "visiting fellow".
LADY BLACK: Jill Black, 65, became the second female Supreme Court justice in 2017. In 2016 she ruled against a woman wanting a bigger divorce settlement seven years after her marriage ended. She said: "This court is not here to provide a top-up for every foreign divorce."
LORD HODGE: Patrick Hodge, 66, joined the court in 2013. He previously served as an intellectual property judge in Scotland. In June 2016 his son George, a committed Remainer, branded the Leave campaign "one of the most disgraceful spectacles in modern British political history".
LORD LLOYD-JONES: David Lloyd-Jones, 67, is a fluent Welsh speaker. He spent much of his time as a barrister practising EU and public law, then became a High Court judge in 2005. He was appointed to the Supreme Court in 2017, becoming the first Welsh person to be made a justice.
LADY ARDEN: Mary Arden, 72, is an "ad hoc" British judge at the European Court of Human Rights. She was named one of the "50 most powerful women in Britain" by the left-wing Guardian newspaper in 1997. A member of the Permanent Court of Arbitration in The Hague.
LORD SALES: Philip Sales, 57, became the government's go-to barrister for civil cases when he was aged just 35. But in 2009 there was outrage when he charged taxpayers £3.3million over six years. He was dubbed the "Treasury Devil". Joined the Supreme Court in January.
LORD KITCHEN: David Kitchin, 64, was appointed to the Supreme Court in October last year. Became a QC in 1994 before being appointed a Deputy High Court judge in 2001. Rose to Court of Appeal justice in 2011. Made his name as an intellectual property specialist.
LORD WILSON: Nicholas Wilson, 74, spent 26 years as an expert in family law, serving as a Family Court judge at the High Court. He was one of two Supreme Court judges who ruled against a decision by five fellow justices in favour of releasing Prince Charles' "black spider" letters to ministers.
LORD REED: Robert Reed, 63, was a judge at the European Court of Human Rights in the 1990s. In 1999 he was on the ECHR panel that ruled the killers of James Bulger did not get a fair trial. In 2004 he sparked fury after sentencing a paedophile who raped a baby to just five years' jail.
LORD KERR: Brian Kerr, 71, served as an "ad hoc" judge at the ECHR in 2001. In 2014 he, backed the Human Rights Act. He said: "Citizens of the UK are as much Europeans as anybody else and are entitled to cast a jealous eye on the rights of their brethren in the rest of Europe."
LORD CARNWATH: Robert Carnwath, 74, was Attorney General to Prince Charles, advising him just as his marriage to Princess Diana rumbled. He founded the EU Forum of Judges for the Environment. He sits on the advisory board of the King's College London Centre of European Law.
UK POLITICS

The United Kingdom has many political parties, some of which are represented in the House of Commons and the House of Lords. Below are links to the websites of the political parties that were represented in the House of Commons after the 2015 General Election:
CO-OPERATIVE PARTY
DEMOCRAT UNIONIST PARTY
PLAID CYMRU
SINN FEIN
SOCIAL DEMOCRATIC AND LABOUR PARTY
ULSTER UNIONIST PARTY
Social Democratic and Labour Party
We are concerned with how the make up of the above parties and (reasonably) popular policies may affect the Wealden district, because we are all brothers on two islands in the Atlantic Ocean and what we do or fail to do is likely to rebound on ourselves and our fellow man in other nations around the world. How we act today influences policies in other countries in our global community. It is not just about us and our patch.
East Sussex has five District and Borough Councils, each with a border on the coast. From west to east they are:
There is also East Sussex County Council as the provider of services to the 5 East Sussex districts.
As near neighbours and with councils now sharing facilities and working together, these area of Sussex are included in our remit and an area where climate change and affordable housing are issues that need urgent attention. Where the coastline is a feature in every Council, Blue Growth is a food security issue, especially where this side of of our local economy is under-exploited.