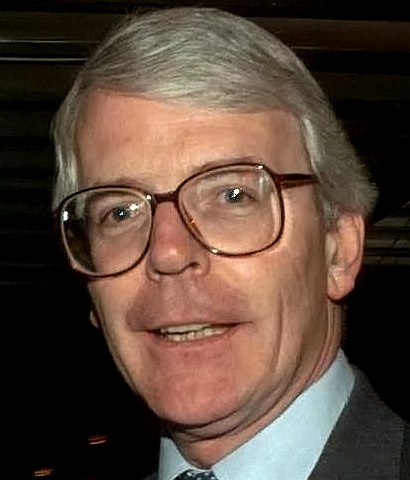 John Major - Former Prime Minister
John Major's mild-mannered style and moderate political stance contrasted with that of Thatcher, and made him theoretically well-placed to act as a conciliatory and relatively uncontroversial leader of his party. In spite of this, conflict raged within the parliamentary Conservative Party, particularly over the extent of Britain's integration with the European Union. Major never succeeded in reconciling the "Euro-rebels" among his MPs to his European policy, who although relatively few in number, wielded great influence because of his small majority and their wider following among Conservative activists and voters. Episodes such as the Maastricht Rebellion led by Bill Cash and Margaret Thatcher inflicted serious political damage on him and his government. The additional bitterness on the right wing of the Conservative Party at the manner in which Margaret Thatcher had been defenestrated did not make Major's task any easier. A series of scandals among leading Conservative MPs also did Major and his government no favours. His task became even more difficult after the well-received election of Tony Blair as Labour leader in July 1994.

Major defended his government in his memoirs, focusing particularly on how under him the British economy had recovered from the recession of 1990–1992. He wrote that, "During my premiership interest rates fell from 14% to 6%; unemployment was at 1.75 million when I took office, and at 1.6 million and falling upon my departure; and the government's annual borrowing rose from £0.5 billion to nearly £46 billion at its peak before falling to £1 billion". Ken Clarke stated in 2016 that Major's reputation looked better as time went by, in the same way that Tony Blair's legacy appeared to be in decline.

The former Labour MP Tony Banks said of Major in 1994 that, "He was a fairly competent Chairman of Housing on Lambeth Council. Every time he gets up now I keep thinking, 'What on earth is Councillor Major doing?' I can't believe he's here and sometimes I think he can't either." Paddy Ashdown, the Leader of the Liberal Democrats during Major's term of office, once described him in the House of Commons as a "decent and honourable man". Few observers doubted that he was an honest man, or that he made sincere and sometimes successful attempts to improve life in Britain and to unite his deeply divided party. He was also perceived as a weak and ineffectual figure, and his approval ratings for most of his time in office were low, particularly after "Black Wednesday" in September 1992. Conversely on occasions he attracted criticism for pursuing schemes favoured by the right of his party, notably the privatisation of British Rail.
EDWINA CURRY AFFAIR
Major's low profile following his exit from parliament was disrupted by Edwina Currie's revelation in September 2002 that, prior to his promotion to the Cabinet, he had had a four-year extramarital affair with her. Commentators were quick to refer to Major's previous "Back to Basics" platform to throw charges of hypocrisy, and an obituary of Tony Newton in The Daily Telegraph claimed that if Newton had not kept the affair a closely guarded secret "it is highly unlikely that Major would have become prime minister".
In 1993, Major had also sued two magazines, New Statesman and Society and Scallywag, as well as their distributors, for reporting rumours of an affair with a caterer, even though at least one of the magazines had said that the rumours were false. Both considered legal action to recover their costs when the affair with Currie was revealed.
In a press statement, Major said that he was "ashamed" by the affair and that his wife had forgiven him. In response, Currie said "he wasn't ashamed of it at the time and he wanted it to continue."
SINCE 2005

In February 2005, it was reported that Major and Norman Lamont delayed the release of papers on Black Wednesday under the Freedom of Information Act. Major denied doing so, saying that he had not heard of the request until the scheduled release date and had merely asked to look at the papers himself. He told BBC News that he and Lamont had been the victims of "whispering voices" to the press. He later publicly approved the release of the papers.

Major has become an active after-dinner speaker. He earns over £25,000 per engagement for his "insights and his own opinions" according to his agency.

In December 2006, Major led calls for an independent inquiry into Tony Blair's decision to invade Iraq, following revelations made by Carne Ross, a former British senior diplomat, that contradict Blair's case for the invasion. He was touted as a possible Conservative candidate for the Mayor of London elections in 2008, but turned down an offer from Conservative leader David Cameron. A spokesperson for Major said "his political career is behind him".

In 2010, Major became a key loyalist to the Cameron–Clegg coalition, and stated that he hoped for a "liberal conservative" alliance beyond 2015, and criticised Ed Miliband and Labour for "party games" rather than helping in the national interest.

In February 2012, Major became chairman of the Queen Elizabeth Diamond Jubilee Trust. The trust was formed as part of the Diamond Jubilee of Elizabeth II, and is intended to support charitable organisations and projects across the Commonwealth of Nations, focusing on areas such as cures for diseases and the promotion of culture and education. Later on in 2012, John Major became President of influential centre-right think tank the Bow Group.

He is currently a president of the Chatham House think tank and advises Credit Suisse.

John Major has come out in favour of a second referendum over Brexit. Major stated that the leave campaign put out a "fantasy case" during the 2016 referendum. He also said that to describe a second vote as undemocratic was "a rather curious proposition" and he could see no "intellectual argument" against redoing the ballot. Major fears Brexit will make the UK poorer and border problems in Ireland could endanger peace there.
CONSERVATIVE SLEAZE
At the 1993 Conservative Party Conference, Major began the "Back to Basics" campaign, which he intended to also be about a wide variety of issues including the economy, education and policing, but which was interpreted by many (including Conservative cabinet ministers) purely in the context of returning to the moral and family values that they associated with the Conservative Party.

Instead of being well received, "Back to Basics" instead became synonymous with scandal, often exposed in lurid and embarrassing detail by tabloid newspapers such as The Sun. In 1992, David Mellor, a cabinet minister, had been exposed as having an extramarital affair and for accepting hospitality from the daughter of a leading member of the Palestine Liberation Organization. The wife of Lord Caithness committed suicide amongst rumours of the peer committing adultery. Stephen Milligan was found dead having apparently auto-asphyxiated whilst performing a solitary sex act (his Eastleigh seat was lost in what was to be an ongoing stream of heavy by-election defeats). David Ashby was "outed" by his wife after sleeping with men. A string of other Conservative MPs, including Alan Amos, Tim Yeo, and Michael Brown, were involved in sexual scandals.

Other debilitating scandals included "Arms to Iraq" – the ongoing inquiry into how government ministers including Alan Clark (also involved in an unrelated scandal involving the revelation of his affair with the wife and both daughters of a South African judge) had encouraged businesses to supply arms to Iraq during the Iran-Iraq War of the 1980s, in breach of the official arms embargo, and how senior ministers had, on legal advice, attempted to withhold evidence of this official connivance when directors of Matrix Churchill were put on trial for breaking the embargo.

Another scandal was "Cash for Questions", in which first Graham Riddick, and David Tredinnick accepted money to ask questions in the House of Commons in a newspaper "sting", and later Tim Smith and Neil Hamilton were found to have received money from Mohamed Al-Fayed, also to ask questions in the House. Later, David Willetts resigned as Paymaster General after he was accused of rigging evidence to do with Cash for Questions.

Defence Minister Jonathan Aitken was accused by the ITV investigative journalism series World in Action and The Guardian newspaper of secretly doing deals with leading Saudi princes. He denied all accusations and promised to wield the "sword of truth" in libel proceedings which he brought against The Guardian and the producers of World in Action Granada Television. At an early stage in the trial, it became apparent that he had lied under oath, and he was subsequently (after the Major government had fallen from power) convicted of perjury and sentenced to a term of imprisonment.

Major attempted to draw some of the sting from the financial scandals by setting up public inquiries – the Nolan Report into standards expected in public life, and the Scott Report into the Arms to Iraq Scandal.

Although Tim Smith stepped down from the House of Commons at the 1997 general election, both Neil Hamilton and Jonathan Aitken sought re-election for their seats, and were both defeated, in Hamilton's case by the former BBC Reporter Martin Bell, who stood as an anti-sleaze candidate, both the Labour and Liberal Democrat candidates withdrawing in his favour, amidst further publicity unfavourable to the Conservatives.

Major later commented in his memoirs on the "routine" with which he would be telephoned over the weekend to be warned of the latest embarrassing story due to break. He wrote that he took a stern line against financial impropriety, but was angered at the way in which a host of scandals, many of them petty sexual misdemeanours by a small number of MPs, were exploited by the press and Opposition for political advantage. He also conceded that the issue "fed the public belief that the Conservative(s) ... had been in government too long, and had got into bad habits" and quoted Labour's claim in 1997: "Nothing better encapsulates what people think of this government. Sleaze will be one of the things which brings this government down."
.. - ...
CONSERVATIVE MPS 2017-2018
Theresa May - Prime Mnister

MP for Maindenhead

Damian Green

MP for Ashford

Philip Hammond

MP Runnymede & Weybridge

Boris Johnson

MP Uxbridge & South Ruislip

Amber Rudd

MP Hastings & Rye

David Davis

MP Haltemprice & Howden

Gavin Williamson

MP South Staffordshire

Liam Fox

MP North Somerset

David Lidlington

MP for Aylesbury

Baroness Evans

MP Bowes Park Haringey

Jeremy Hunt

MP South West Surrey

Justine Greening

MP for Putney

Chris Grayling

MP Epsom & Ewell

Karen Bradley

MP Staffordshire Moorlands

Michael Gove

MP Surrey Heath

David Gauke

MP South West Hertfordshire

Sajid Javid

MP for Bromsgrove

James Brokenshire

MP Old Bexley & Sidcup

Alun Cairns

MP Vale of Glamorgan

David Mundell MP

Dumfriesshire Clydes & Tweeddale

Patrick McLoughlin

MP Derbyshire Dales

Greg Clark

MP Tunbridge Wells

Penny Mordaunt

MP Portsmouth North

Andrea Leadsom

MP South Northamptonshire

Jeremy Wright

MP Kenilworth & Southam

Liz Truss

MP South West Norfolk

Brandon Lewis

MP Great Yarmouth

MP

Nus Ghani

MP Wealden

Huw Merriman

MP Battle

Steve Double

MP St Austell & Newquay

Sarah Newton

MP Truro & Falmouth

Rebecca Pow

MP Taunton Deane

.

.

Margaret Thatcher

Former Prime Minister

John Major

Former Prime Minister

David Cameron

Former Prime Minister
UK POLITICS

The United Kingdom has many political parties, some of which are represented in the House of Commons and the House of Lords. Below are links to the websites of the political parties that were represented in the House of Commons after the 2015 General Election:
SOCIAL DEMOCRATIC AND LABOUR PARTY