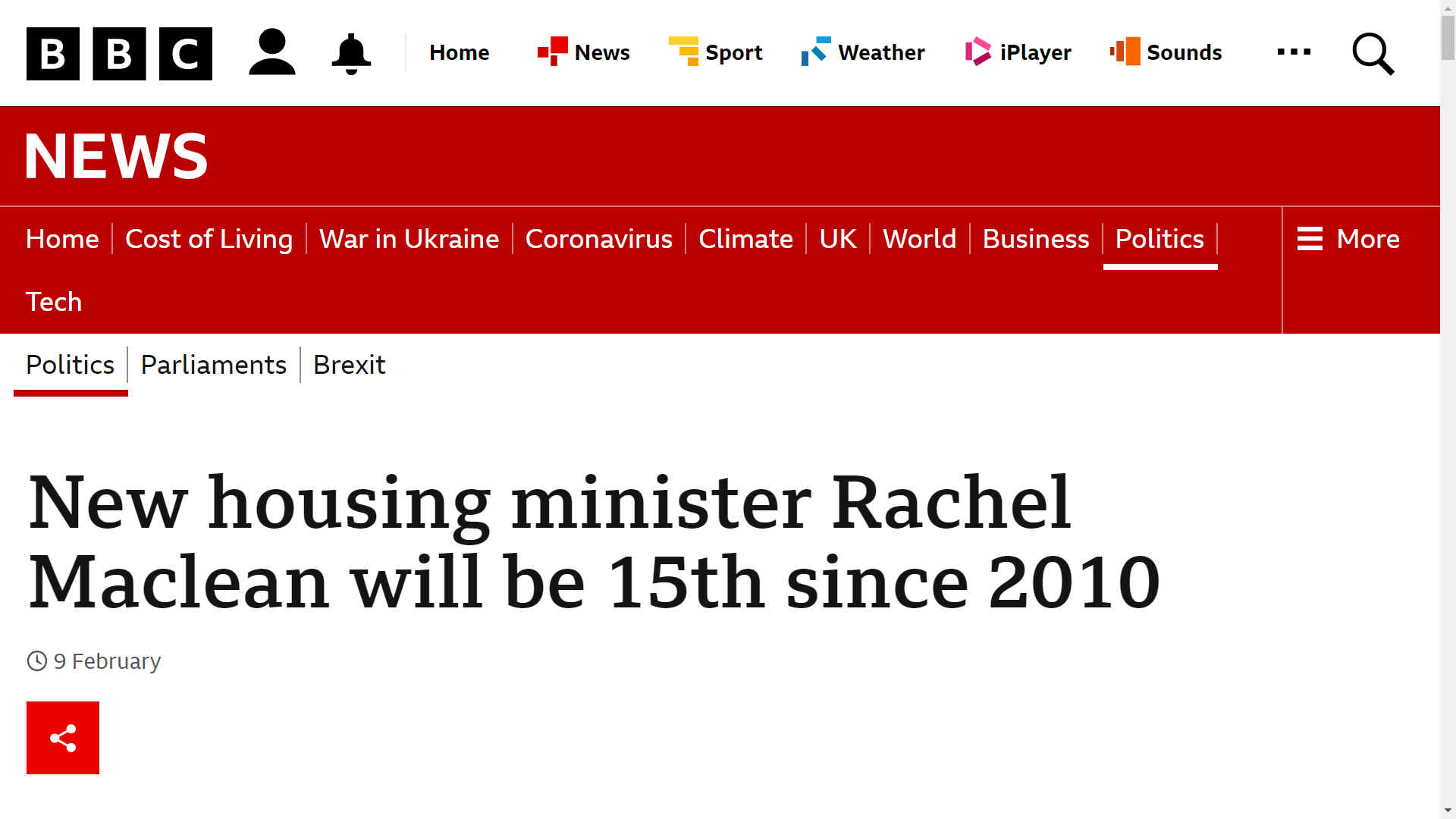 Rachel Maclean was appointed Minister of State at the Department for Levelling Up, Housing and Communities on 7 February 2023, as part of the Conservative musical chairs shuffling of posts. The latest scapegoat was previously Minister of State at Ministry of Justice between 7 September and 28 October 2022. And that kind of speaks for itself, since in the UK there is no right of appeal in most criminal cases, a violation of Articles 6 and 14. With judges bribed by the honours system to filter out inconvenient cases of injustice, to cover up police and council corruption. Local councils like Wealden work with the police they fund via rates taxes to silence critics. Including framing the innocent, protesting against unsustainable 'pothole' policies and corruption.

Ms Macllean was Parliamentary Under Secretary of State at the Home Office between 17 September 2021 and 6 July 2022, and Parliamentary Under Secretary of State at the Department for Transport between 14 February 2020 and 16 September 2021, so fairly and squarely in the frame to answer for the state of Britain's roads. The aptly named Pothole Politics, that has made many British roads dangerous and unfit for purpose. While taxes rise, but not for use to make needed repairs, but to pay higher salaries and enhanced pensions to incompetent civil servants.

She was elected Conservative MP for Redditch in 2017.
COUNCIL CALLS FOR MEETING WITH NEW MINISTER TO KEEP PRESSURE ON HOUSING TARGETS - 16 FEBRUARY 2023

A meeting with the government's new Housing and Planning minister is being sought by Wealden District Council to continue lobbying against the high number of homes the authority is required to provide.

The council has consistently lobbied the government for the last few years to reduce its nationally set housing targets and called for a change in planning policy – with leader Councillor Ann Newton expressing the council's concerns during several meetings with government ministers, facilitated by Wealden MP Nus Ghani.

A letter from the outgoing Housing and Planning minister Liz Fraser MP said she had noted Councillor Newton's concerns relating to identifying a five-year housing land supply, and appreciated how important the matters are to Wealden District Council about the timescale for implementing changes to the standard method for calculating local housing need and the proposed changes to the planning system.

In December last year, the government said it had listened to all councils' concerns and was looking to adjust housing targets and remove the five year housing land supply requirements.

The proposals would also see the council given greater powers to deter unjustified speculative applications during the production of its Local Plan.

Councillor Newton now wants to meet the new Housing and Planning minister Rachel Maclean MP to keep the pressure up. Ms Ghani has offered to set up an in person meeting at Westminster between the two politicians.

Councillor Newton said, "We remain committed to making the case that Wealden cannot deliver the unrealistic housing targets that government has required for so long and welcome the proposed changes, which we hope will enable us to protect the natural beauty and character of our district and meet our climate change requirements.

"I look forward to meeting the new minister to reiterate our concerns and thanks Ms Ghani for facilitating meetings so we can have our voice heard."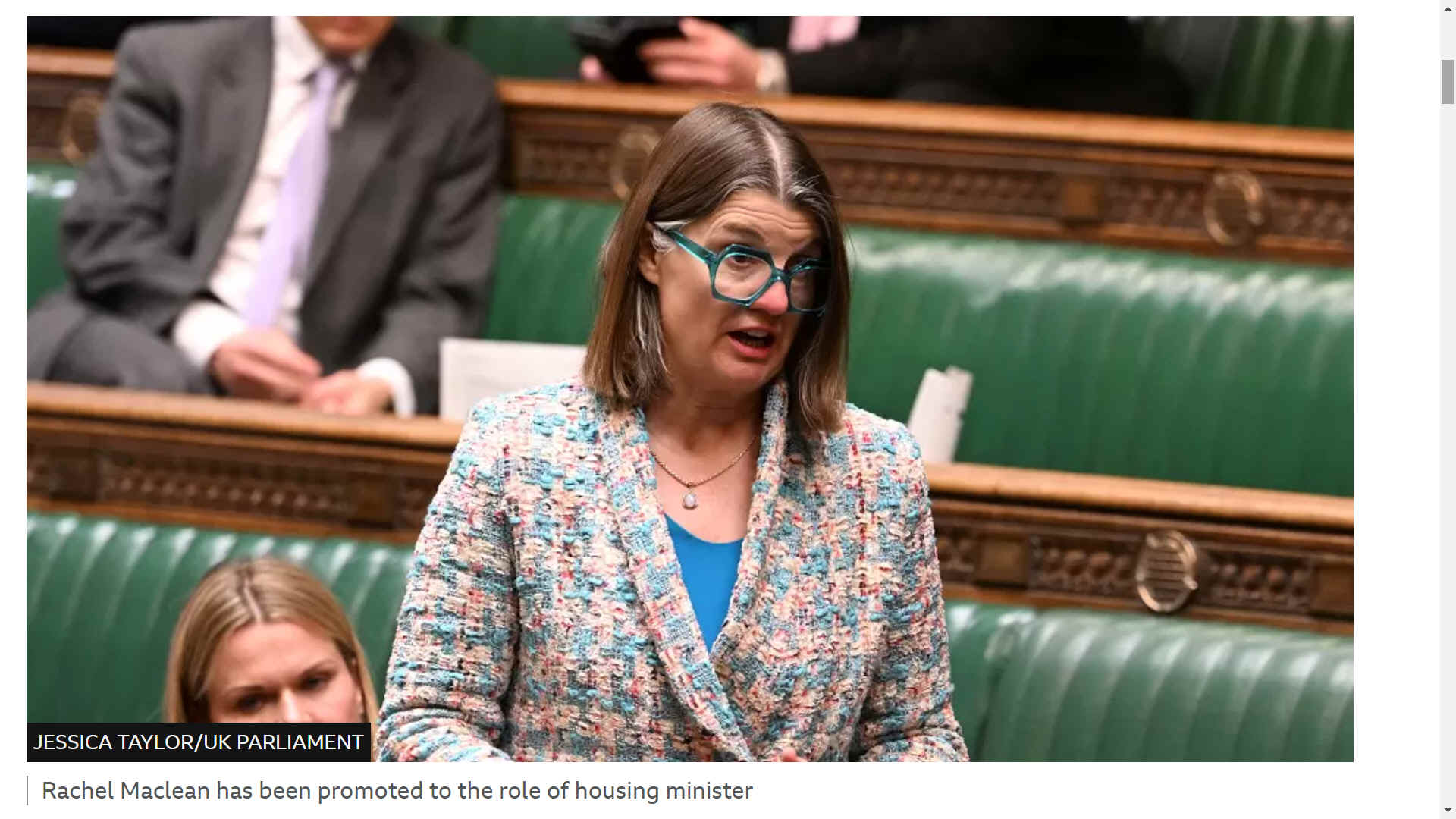 BBC NEWS 9 FEBRUARY 2023 NEW HOUSING MINISTER RACHEL MACLEAN WILL BE 15TH SINCE 2010

Rachel Maclean has been named as the new housing minister - the 15th since the Tories came to power and the sixth to hold the post in the past 12 months.

Housing is not alone in seeing a rapid turnover of ministers, partly as a result of the UK changing leaders twice since last summer.

But campaigners are hoping Ms Maclean will last longer in the job than most of her predecessors.

She will play a key role in attempting to solve the UK's housing crisis.

The Redditch MP replaces Lucy Frazer, who was promoted to culture media and sport secretary after just three months in the housing job, in Rishi Sunak's mini reshuffle.

TV presenter Kirstie Allsopp - a former government adviser on housing - messaged Ms Maclean suggesting that, since she was the sixth housing minister in a year, there was no point meeting her to discuss these issues.

Grant Shapps holds the record as the longest serving housing minister since the Conservatives came to power, in coalition with the Lib Dems, in 2010.

Ms Allsopp - best known for Channel 4 show Location, Location, Location - was his adviser in opposition and then in the early years of David Cameron's coalition government.

Labour's shadow levelling-up secretary, Lisa Nandy said the high turnover "would be funny if it wasn't so serious".

"How can we have any hope of solving a housing crisis? This is no way to run a serious government," she said.


'TO MUCH'

Mr Shapps, the newly-appointed energy secretary, held the housing brief when the Conservatives were in opposition and served in the role for two years and four months when they entered government.

Samuel Hughes, head of housing at the Centre for Policy Studies, a free market think tank, said: "We have had many good housing ministers in recent years, but there can be too much of a good thing.

"Choosing one excellent housing minister and then sticking with them would help a lot in delivering the sustained and systematic reform we need.

"Without those reforms, the housing shortage will continue to worsen, destroying the dream of homeownership for a generation of young people."


'IMPORTANT ROLE'

As Levelling Up secretary, Michael Gove is in overall charge of housing policy - and delivering on the government's pledge to create more new homes.

But, argues Polly Neate, chief executive of housing charity Shelter, the rapid turnover of junior housing ministers matters because "housing should be the top priority for this government".

The government "won't resolve the cost of living crisis without resolving the cost of housing crisis", she adds.

"It is always the secretary of state that calls the shots but junior ministers have a really important role in making things happen and in backing up promises with delivery - and getting stuck into the root causes."

The housing minister is particularly important because they are responsible for social housing, says Ms Neate, which Shelter sees as the key to solving the crisis that has seen a rapid rise in people living in temporary accommodation in recent years.

"We need somebody that shares Michael Gove's belief that we don't have enough social homes," says Ms Neate.

Ms Maclean, who has had junior ministerial jobs in the justice department and Home Office, since becoming an MP in 2017, has yet to comment in detail on her new role.

She said on Twitter: "Delighted to be appointed as Minister in @luhc. Looking forward to a new challenge, tackling one of the defining issues the government faces. I start now!"

Other government departments have seen a high turnover since 2010, with 12 prisons minister over that time and 10 immigration ministers. There have only been five schools ministers, however, with Nick Gibb occupying the role on three separate occasions.

The Institute for Government (IfG), which aims to improve the way the UK is run, says "constant ministerial turnover" is damaging.
[You are telling us, but they have to change the moment they cannot answer a question honestly, or get caught out with fingers in pies. There are a whole raft of reasons why they are forced to leave. This one is plain and simple, there is n affordable housing. Conservative housing policies, stemming from Maggie Thatcher's (Poll Tax Queen) sell off of social housing, has made generations of renters into financial slaves. Which is most of the time with the Government. It is up to King Charles to appoint an administration that is up to the task. Before him, his mother Queen Elizabeth, failed miserably, falling for Boris Johnson's lies about proroguing Parliament, proven to be more of his trademark bullshit.]

"The [new] minister has to get used to their new policy responsibilities, and the civil servants they work with have to adapt to their particular priorities and preferred ways of working," said an IfG spokesman.

"Housing in particular has seen a huge amount of turnover in recent years, which will have had an inevitable effect on how the relevant departments have been able to deliver policy."

A government spokesperson said: "We are absolutely committed to making sure the housing market works for everyone.

"Increasing the number of genuinely affordable homes is central to our levelling up mission and since 2010 we have delivered over 620,000 affordable homes in England, including over 160,000 for social rent.

"The Levelling Up and Regeneration Bill will give communities power to bring forward the right homes in the right places and we're taking tough action against social housing landlords providing a poor service and have set our proposed rental reforms that will ensure a fair deal for renters."
[Why not ban all house building, except for social. It is that simple. But then, the Tories are in it for the money, bankrolled by their rich housing developer chums.]


HOUSING MINISTERS SINCE 2010

Grant Shapps (2 years and 4 months)
Mark Prisk (1 year and 1 month)
Kris Hopkins (9 months)
Brandon Lewis (2 years)
Gavin Barwell (11 months)
Alok Sharma (7 months)
Dominic Raab (6 months)
Kit Malthouse (1 year)
Esther McVey (7 months)
Chris Pincher (2 years)
Stuart Andrew (5 months)
Marcus Jones (2 months)
Lee Rowley (7 weeks)
Lucy Frazer (3 months)
Rachel Maclean (how long?)


[Try buying a bag of sugar in March 2023, up from £0.65 pence, to £0.99 pence, in all supermarkets - meaning the official figures are somewhat more than massaged. Given that sugar is a virtual agricultural currency, meaning that food price inflation is running at 52%. We'd call that "rampant inflation" - very much like in post 1st World War Germany - a situation that swept Adolf Hitler to power.]

ARTICLES 9 AND 10
These are our views, based on years of dealings with a largely Conservative controlled Wealden District Council, and a police force that (criminally) refuses to investigate corruption, but rather is an accessory to planning crime, and other more serious failings, including the stitch up of a whistleblower, who wants to reveal long term fraud. Hence, a conspiracy to pervert the course of justice.
Now, obviously, Rachel had little to do with that directly. But her party and the politics of the Nation that have been forged over many years, has done nothing to create a just society, rather turning the electorate into financial slaves, to pay for their cock-ups of successive negligent governments. As the new Housing Minister, this is now her territory, difficult or not. She should face facts and let King Charles III, the present head of state, know how badly her party have performed in the past, making us bankrupt to all intents, and unable to Pay the Piper. So, not painting a true picture of the state of the nation, by reference to the National Debt.
Rachel and her boss, Rishi, might like to consider a Written Constitution, to restore justice to the common people. Get rid of another drain on the British public, and force the Windsor's to pay inheritance taxes, like the rest of us. All part of a tune up of the rotten system many are protesting about, as it is at present. Based as it was on slavery stemming from the days of the British Empire - that the Tories simply cannot let go of.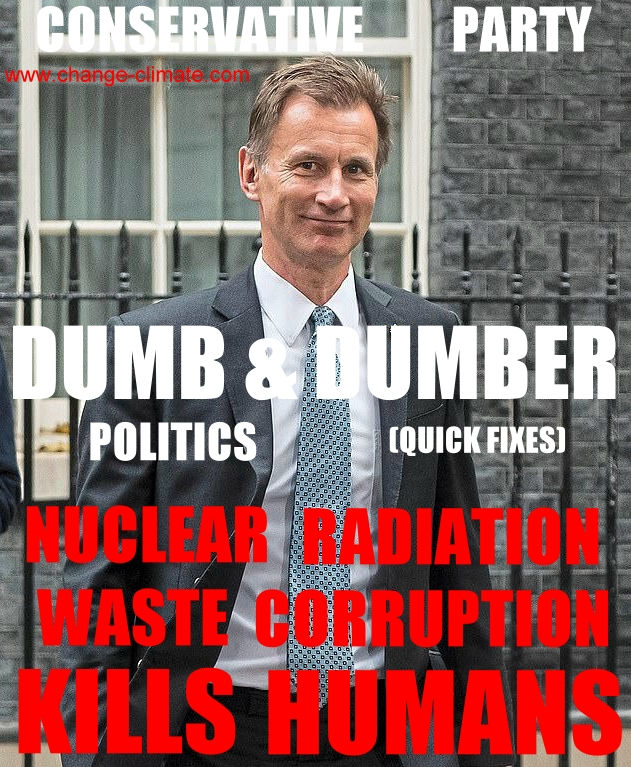 JEREMY HUNT - Mr uninformed, or simply nuclear dumb? This reminds us of PG&E, and Erin Brokovich, where the energy company was telling locals that carcinogenic chromium was good for them. But secretly knew they were killing them, and watched while cancer consumed many residents. We hear that Johnson and Hunt are being considered as the new leads in a remake of Dumb & Dumber. The bottom line is that politicians are not elected to feather their nests, but to represent the wishes and needs of the people. They are tasked with, and required by law to provide an effective administration. We are waiting for one that does - and it's not going to be the Tories anytime before the year 2050. So, don't hold your breath, and should you live that long.
CONSERVATIVE MPS 2017-2018
Theresa May - Prime Mnister

MP for Maindenhead

Damian Green

MP for Ashford

Philip Hammond

MP Runnymede & Weybridge

Boris Johnson

MP Uxbridge & South Ruislip

Amber Rudd

MP Hastings & Rye

David Davis

MP Haltemprice & Howden

Gavin Williamson

MP South Staffordshire

Liam Fox

MP North Somerset

David Lidlington

MP for Aylesbury

Baroness Evans

MP Bowes Park Haringey

Jeremy Hunt

MP South West Surrey

Justine Greening

MP for Putney

Chris Grayling

MP Epsom & Ewell

Karen Bradley

MP Staffordshire Moorlands

Michael Gove

MP Surrey Heath

David Gauke

MP South West Hertfordshire

Sajid Javid

MP for Bromsgrove

James Brokenshire

MP Old Bexley & Sidcup

Alun Cairns

MP Vale of Glamorgan

David Mundell MP

Dumfriesshire Clydes & Tweeddale

Patrick McLoughlin

MP Derbyshire Dales

Greg Clark

MP Tunbridge Wells

Penny Mordaunt

MP Portsmouth North

Andrea Leadsom

MP South Northamptonshire

Jeremy Wright

MP Kenilworth & Southam

Liz Truss

MP South West Norfolk

Brandon Lewis

MP Great Yarmouth

MP

Nus Ghani

MP Wealden

Huw Merriman

MP Battle

MP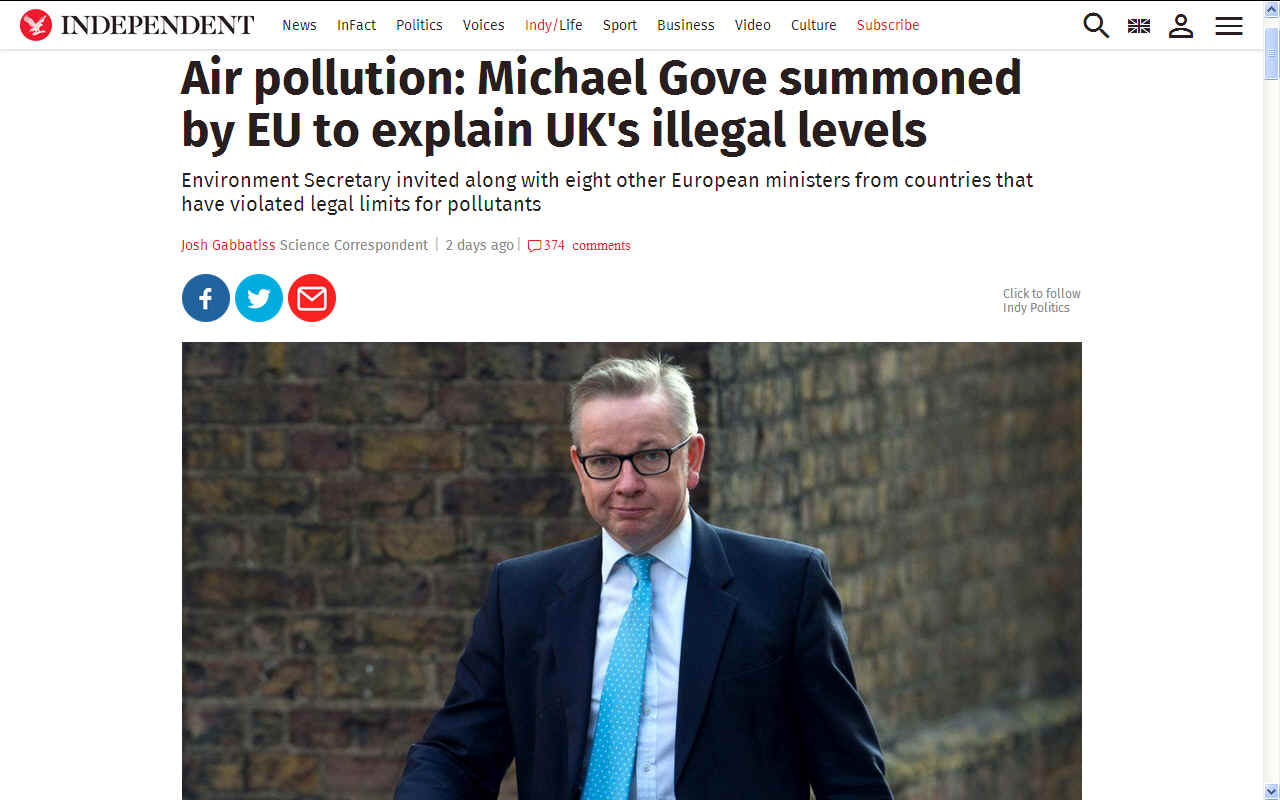 CONSERVATIVE CLIMATE - Michael Gove was summoned to Brussels because of his party's failure to meet air pollution targets despite warnings about which the Prime Minister was aware of. No wonder the Conservatives under David Cameron and Theresa May wanted to Brexit.
UK POLITICS

The United Kingdom has many political parties, some of which are represented in the House of Commons and the House of Lords. Below are links to the websites of the political parties that were represented in the House of Commons after the 2015 General Election:
CO-OPERATIVE PARTY
DEMOCRAT UNIONIST PARTY
PLAID CYMRU
SINN FEIN
SOCIAL DEMOCRATIC AND LABOUR PARTY
UK INDEPENDENCE PARTY
ULSTER UNIONIST PARTY
Social Democratic and Labour Party
We are concerned with how the make up of the above parties and (reasonably) popular policies may affect the Wealden district, because we are all brothers on two islands in the Atlantic Ocean and what we do or fail to do is likely to rebound on ourselves and our fellow man in other nations around the world. How we act today influences policies in other countries in our global community. It is not just about us and our patch.
East Sussex has five District and Borough Councils, each with a border on the coast. From west to east they are:
There is also East Sussex County Council as the provider of services to the 5 East Sussex districts.
As near neighbours and with councils now sharing facilities and working together, these area of Sussex are included in our remit and an area where climate change and affordable housing are issues that need urgent attention. Where the coastline is a feature in every Council, Blue Growth is a food security issue, especially where this side of of our local economy is under-exploited.