NOW WHERE IS THAT PAPERWORK? - I had it here somewhere. But seem to have mislaid it. Not to worry, I'm the Tory party chairman, so HMRC will be very understanding. It' just an oversight. Those nasty press people have blown this out of all proportion. How dare they ask me questions.
Tarred with the same brush? Nadhim Zahawi was investigated for tax evasion and found that he owed the Inland Revenue significant sums. This begs the question as to selection by Boris Johnson, who is thought to have had sex parties at No 10, during Covid 19 lockdown, apart from lying to the Queen about proroguing Parliament.
Then there are the other Tories who have broken the rules, codes of conduct and, of course, the conflicts of interest - in accepting consultancy fees - then promoting the interests of the companies concerned.
Are there any honest Conservatives? Let us have the numbers. How many are dishonest?
The simple answer is they don't want you to know. But we say, let's tag their bank accounts, known and undeclared. Let's tag their properties. Those owned by themselves in name, and those put in other names. We should follow the money, just the same as we track terrorists and drug money laundering operations. There is not a lot of difference. Corruption is corruption. Immoral earnings are immoral.
It's difficult to kick the habit, since the British Empire, was founded on slavery - endorsed by our Kings and Queens. The most dishonest and unholy of professions. Stemming from the colonies and colonization of the Commonwealth Nations. And, for some reason, Commonwealth countries seem to like having been exploited. Whipped, starved and worked to death, to keep the fortunate few in luxury. Those at the top, keeping tight control via Gongs: The honours list. Really? Yes, that is how it is done. Reward those slavers who tow the party line. Appoint an overseer, and knight him for whipping the slaves harder.
Sail to Africa, and kidnap innocent natives. Transport them to the Caribbean and American South as cargo, and then work them to death on cotton and sugar plantations.
Modern slavery is of course financial. Keep those poor buggers at the bottom of the ladder, in rags. Working to pay unreasonable rents, taxed to the hilt and under the thumb. Should anyone be fool enough to challenge the system, frame them up, lock them up, destroy their lives to send fear into the less brave - who mumble - but bow down to an unfair taxation system and corrupt criminal justice system, that is anything but just. It is a tool to quash dissent. Lock up protestors. Frame the more persistent.
And, lets not forget high priced energy, and food prices. The present system is warming the planet, and is unsustainable. Everyone should toil for a living. Nobody should whip other humans, mentally or physically and live off their backs in comfort in houses with gold wallpaper, paid for by Lords, with or for titles. The proof of all of this is the UK's National Debt, standing at £2.4 Trillion pounds. The Conservatives, and probably Labour (next up for a bash) simply do not know how to run the country. Except to borrow more to pay for their mistakes. Making you pay for their mistakes. The more they borrow, the more they have to tax you, to repay what should never have been borrowed in the first place.
And all of that is to get them through their stay at No 10., passing the buck onto the next leach. The Queen, must have known what was going on, and now, King Charles must face facts. The United Kingdom is sinking fast, as a Democratic Monarchy. Perhaps then, it is time for a written constitution. Perhaps Harry has a point. With a written constitution, we might set rules by which politicians are not allowed to lie to get themselves elected into the juiciest job of all, when it comes to bribes and backhanders.
Politicians should not be allowed to borrow to make up for their ineptitude. We need to elect an administration based on ability, not who you went to school with. The honours system must be abolished, along with Masonic influence in police forces, the CPS and Courts. Judges, should not be allowed to belong to secret societies. Italy banned them, for the very same reason.
The system is corrupt. Bought and paid for by those with connections, and money.
Bring back the right to a fair hearing, and reinstate the right to appeal. No more single judges that can be bribed with honours. We need effective remedies. The lack of which, is sinking our country.
Queen Elizabeth (RIP), was patron of the Masons. A secret society, that serves to benefit members, against members of the public less well connected.
THE TELEGRAPH
Mr Zahawi was dismissed as Conservative Party chairman by the Prime Minister in the wake of an investigation by Sir Laurie Magnus, the ethics adviser, who found he committed a "serious breach of the Ministerial Code".

He came under fire after it emerged that he settled an estimated £4.8 million bill with HMRC during his time as chancellor last summer, a sum believed to include a penalty to the taxman.

Mr Zahawi criticised The Independent newspaper in his letter to Mr Sunak after the digital tabloid ran the headline "The noose tightens" earlier in the week amid calls for his resignation from fellow Conservative MPs.

After reflecting on his work as the vaccines minister and a former chancellor of the duchy of Lancaster, he wrote: "I am concerned, however, about the conduct from some of the fourth estate in recent weeks.

"In a week when a Member of Parliament was physically assaulted, I fail to see how one headline on this issue 'The Noose Tightens' reflects legitimate scrutiny of public officials. I am sorry to my family for the toll this has taken on them."

The Independent first broke the news that Mr Zahawi was being investigated by HMRC and the National Crime Agency during his bid to succeed Boris Johnson [Bullshit Bojo] as Conservative leader last July.

At the time, Mr Zahawi referred to the coverage as "inaccurate, unfair" and said in a statement: "It's very sad that such smears should be circulated and sadder still that they have been published."

But this was given short shrift by Sir Laurie, who wrote in his own letter to Mr Sunak: "I consider that an individual subject to the HMRC process faced by Mr Zahawi should have understood that they were under investigation by HMRC and that this was a serious matter."

Geordie Greig, the former editor of the Daily Mail, this month took over as the editor-in-chief at the newspaper, which has run a series of negative headlines about Conservative politicians – and in particular Mr Johnson – in the ensuing weeks.

Mr Zahawi's letter to Mr Sunak contained no apology for the breach of the code or direct reference to the row around his taxes, which his allies insist are now up to date.

The Independent defended its coverage of the row in an editorial on Monday, and said the now-former Tory chairman's criticisms of its coverage were "egregious".

"Most egregiously, Mr Zahawi had a swipe at the press," the paper's leader column said.

"Yet were it not for the constant pressure of press attention, none of Mr Zahawi's serious breaches of the ministerial code would ever have come to light…

"Let us not forget, either, that he was being investigated by HMRC, Mr Zahawi dismissed the report as "smears" and threatened to sue both the journalists and tax expert Dan Neidle, just for their audacity in telling the truth about him."
THE INDEPENDENT 20 JANUARY 2023 - REVEALED: NADHIM ZAHAWI'S LEGAL THREAT TO THE INDEPENDENT TO STOP TAX REVELATIONS

The Conservative Party chairman Nadhim Zahawi tried to stop The Independent exposing that he was being investigated over his tax affairs by threatening to sue if we published.

Mr Zahawi, who was chancellor at the time, repeatedly said he had paid "all due taxes" and would take legal action if we reported that he had been investigated.

The Independent ignored his threats and published two reports, detailing how Mr Zahawi had faced inquiries from the Serious Fraud Office, the National Crime Agency and HMRC.

Mr Zahawi did not sue or complain to this newspaper – and has now reportedly paid a penalty of more than £1m to HMRC in a settlement worth almost £5m in total.

In an extraordinary exchange before The Independent broke the story that he was being investigated last July, Mr Zahawi repeatedly threatened legal action:

• When asked about the NCA inquiry, he responded: "One hundred per cent I will take legal action."

• When questioned about the HMRC probe, he responded: "I will take legal action."

• When pressed for an answer, he responded: "I have responded to you. I repeat I will take legal action."

The Independent first reported that Inland Revenue experts were investigating Mr Zahawi's tax affairs on 6 July after a secret inquiry by the NCA in 2020.

That inquiry was codenamed "Operation Catalufa" – after a species of ray-finned fish, orange in colour found in deep waters in the Pacific known as Popeye Catalufa. The NCA inquiry was said to involve its International Corruption Unit.

Whitehall officials were told Mr Zahawi had not been informed because investigators were "trawling for information". The NCA inquiry did not lead to action against Mr Zahawi.

On 9 July, The Independent reported officers from the Serious Fraud Office had investigated his financial affairs. The investigation had been passed to HMRC – controlled by the Treasury for which Mr Zahawi, as chancellor, was responsible. A Whitehall source said the tax investigation was "unresolved" at that time.

Then-prime minister Boris Johnson and home secretary Priti Patel and the Cabinet Office had all been informed.

Since the recent report that Mr Zahawi has agreed to pay millions to HMRC, he has been in hiding and refused to answer questions about the matter.

Last July, when we published our two stories, The Independent asked Mr Zahawi detailed questions.

In view of his refusal to respond following the recent reports, and amid growing pressure on him to do so from Labour and others, The Independent has decided to publish in full its correspondence with Mr Zahawi before our report on 9 July.

Asked now by The Independent to explain why he had said he would take legal action before our reports last July, Mr Zahawi did not respond.

THE INDEPENDENT 6 JULY 2022

The Independent:

Mr Zahawi, we have had it confirmed that your finances were investigated by NCA going back to 2019 (and are informed) they raised this matter with senior Whitehall figures.

Can you respond?

Can you give details?

Did you inform PM and Treasury of this when you accepted the job of chancellor?

Does this affect your ability to do your new job as chancellor?

Can you give assurances that you have paid all due UK taxes and obeyed all financial laws and regulations?

Nadhim Zahawi:

There was no such investigation by NCA. I have paid all due taxes and obeyed all financial laws and regulations.

The Independent:

We have spoken to a senior source who was approached by the NCA about it formally in 2019.

Nadhim Zahawi:

I would know if the NCA had investigated me. Right?

The Independent:

Are you adamant that the NCA never told you? Our source has a very clear memory of being approached by them formally and told they were looking at your finances.

Nadhim Zahawi:

One hundred per cent I will take legal action. I can confirm that the NCA never approached me/told me anything ever in my career.

The Independent:

We have spoken to someone who was involved in the matter. There definitely was an NCA inquiry.

We are reliably informed it was the International Corruption Unit of the NCA (and it) started in 2020. SFO also involved. (We understand that) Whitehall figures were informed at the time (and that) Boris Johnson was aware.

Was it raised with you by him or anyone else when he appointed you chancellor? Has it ever been raised with you?

No reply

THE INDEPENDENT 7 JULY 2022

The Independent:

Have you been informed since taking over as chancellor that NCA and HMRC have been investigating your tax affairs?

You said yesterday you did not know about this. Are you certain?

Are you aware that Boris Johnson, Priti Patel and Cab Office were briefed on this in 2020?

How can a chancellor take charge of tax when he has been investigated for possible tax avoidance? We believe the investigation is still live.

Can you respond?

No reply

THE INDEPENDENT 8 JULY 2022

The Independent:

We plan to (publish) a story stating that the NCA SFO and HMRC have all been involved in investigating your finances/taxes since 2020. And that they briefed No 10, Cab Off and Home Off on this. We have had this information confirmed.

Can you reply to the following?

Has the HMRC now informed you of this?

Doesn't it present a conflict of interest?

Will you make your tax declarations public?

Nadhim Zahawi:

I will take legal action.

The Independent:

We have asked you straightforward questions based on reliable information on the grounds of a clear public interest.

Can you respond please?

Nadhim Zahawi:

I have responded to you. I repeat I will take legal action.

The Independent:

It is normal practice to ask a politician for a response to serious questions in the public interest so it can be weighed up prior to publication. It is reasonable to expect a considered reply.

We have also established that HMRC inquiry into your tax affairs was carried out by their tax fraud investigators and that the investigation is unresolved.

No reply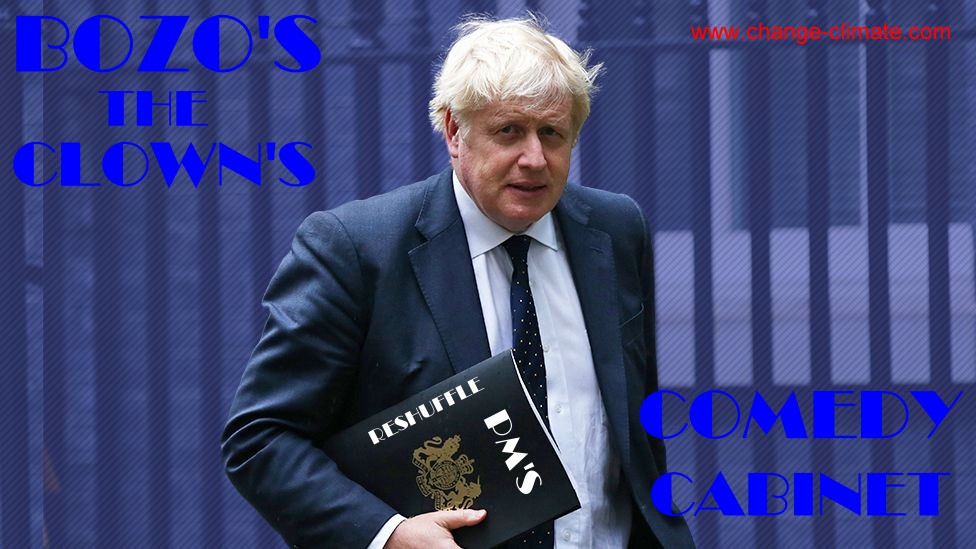 QUESTIONABLE CABINET - The Conservative government hosted FLOP

| | | | |
| --- | --- | --- | --- |
| Boris Johnson | Rishi Sunack | Priti Patel | Liz Truss |
| Stephen Barclay | Ben Wallace | Lord David Frost | Anne-Marie Trevelyan |
| Sajid Javid | Nadhim Zahawi | Nadine Dorries | Kwasi Kwateng |
| Michael Gove | Therese Coffey | Dominic Raab | Grant Shapps |
| George Eustice | Brandon Lewis | Alister Jack | Simon Hart |
| Baroness Evans | Oliver Dowden | Alok Sharma | Nigel Adams |
G20 abusers will say they had no choice. They needed to keep burning coal, gas and oil for their economies - just like the camp guards at the many concentration camps, they were forced into business as usual. In the case of the camp guards, they argued they were just following orders. But that is not true. We all have choices. There are clean alternatives, such as solar and wind power. There is no need to keep building coal fired electricity generating stations, and no need to drive carcinogenic petrol or diesel vehicles that contribute to lung cancer. We have hydrogen fuel cells, electrolyzers and zero emission electric vehicles.
If you are going to increase electricity capacity, it makes sense to invest in renewable energy, unless it is that the fossil fuel giants are lubricating the works with party donations. If that is the case, we say that such contributions should be transparently declared, that the public is informed as to what is guiding policy decisions.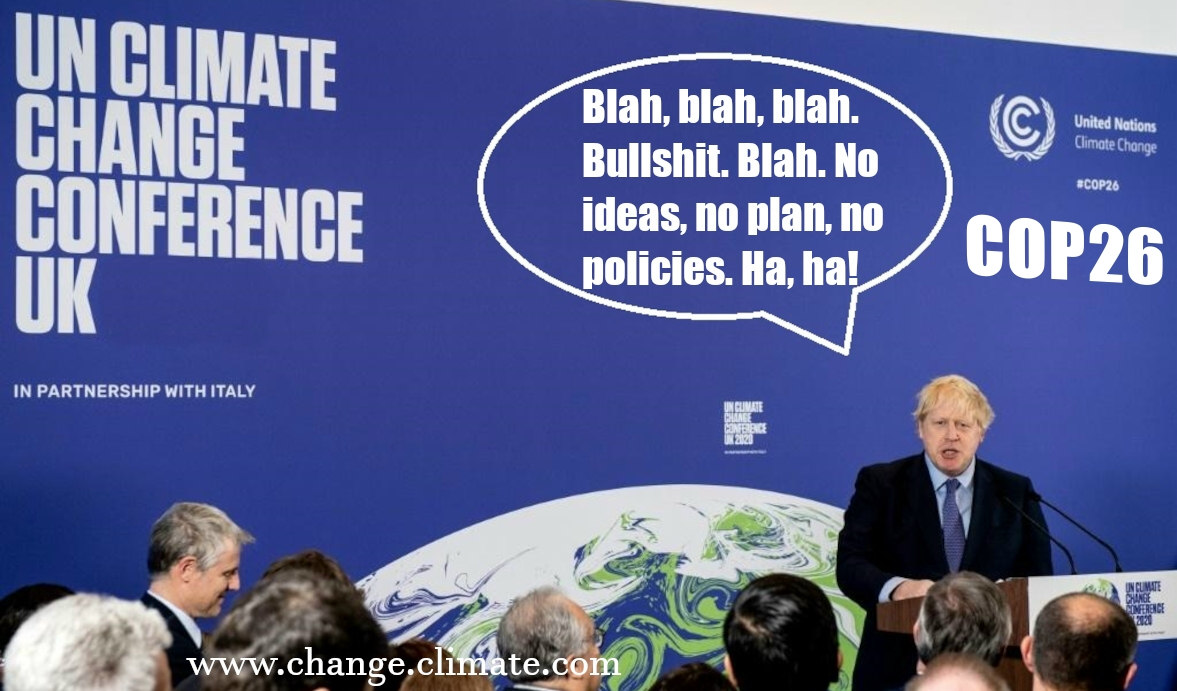 FOSSIL FOOLS - Geriatric politicians with 'climate-senile' policies will find in difficult to break away from their corrupt ways, as part time politicians with two jobs. Their main job being to find paid consultancy work, rather than craft policies and create statute that works to protect our voters from lung cancer, energy shortages and a lack of affordable (sustainable) housing.
The 'zerophobics' are the undertakers of the political world, sending millions of ordinary people to an early grave, while loading us with NHS, hospital and staff costs that would not be needed if we had clean air in our cities.
Basically, the longer you are in politics, the more likely you are to be exposed to bribes, from climate deniers, mostly fossil fuel and energy companies, looking to keep on pumping toxic fumes into the atmosphere, so they can keep making money. The political undertakers are working with them to keep hospitals stocked with cancer victims. They are blood sucking vampires, draining what little you had saved for your retirement.
CABINET MPS -MARCH 2020
Chancellor Exchequer

Priti Patel

Home Secretary

Dominic Raab

Foreign Secretary

Michael Gove

Chancellor D. Lancaster

Ben Wallace

Defence Secretary

Matt Hancock

Health & Social Care

Liz Truss

International Trade

Gavin Williamson

Education

Oliver Dowden

Culture

Alok Sharma

MP Reading West

Robert Jenrick

Housing, Local Gov.

Therese Coffey

Work & Pensions

Robert Buckland

Justice

Anne-Marie Trevelyan

International Dev.

Transport

George Eustice

Environment

Brandon Lewis

Northern Ireland

Alister Jack

Scottish Sec. State

Simon Hart

Welsh Sec. State

Baroness Evans

Leader Lords

Amanda Milling

Party Chairman

Jacob Rees-Mogg

Leader Commons

Mark Spencer

Chief Whip

Suella Braverman

Attorney General

Stephen Barclay

Treasury Sec.
LINKS & REFERENCE
https://www.msn.com/en-gb/news/uknews/nadhim-zahawi-attacks-illegitimate-press-coverage-of-his-tax-affairs/ar-AA16S8fV
https://www.msn.com/en-gb/news/uknews/revealed-nadhim-zahawi-s-legal-threat-to-the-independent-to-stop-tax-revelations/ar-AA16zoBD
https://www.msn.com/en-gb/news/uknews/nadhim-zahawi-attacks-illegitimate-press-coverage-of-his-tax-affairs/ar-AA16S8fV
https://www.msn.com/en-gb/news/uknews/revealed-nadhim-zahawi-s-legal-threat-to-the-independent-to-stop-tax-revelations/ar-AA16zoBD
UN CLIMATE ACTION PORTFOLIOS
1. Finance
2. Energy Transition
3. Industry Transition
4. Nature-Based Solutions
5. Cities and Local Action
6. Resilience and Adaptation
7. Mitigation Strategy
8. Youth Engagement & Public Mobilization
9. Social and Political Drivers