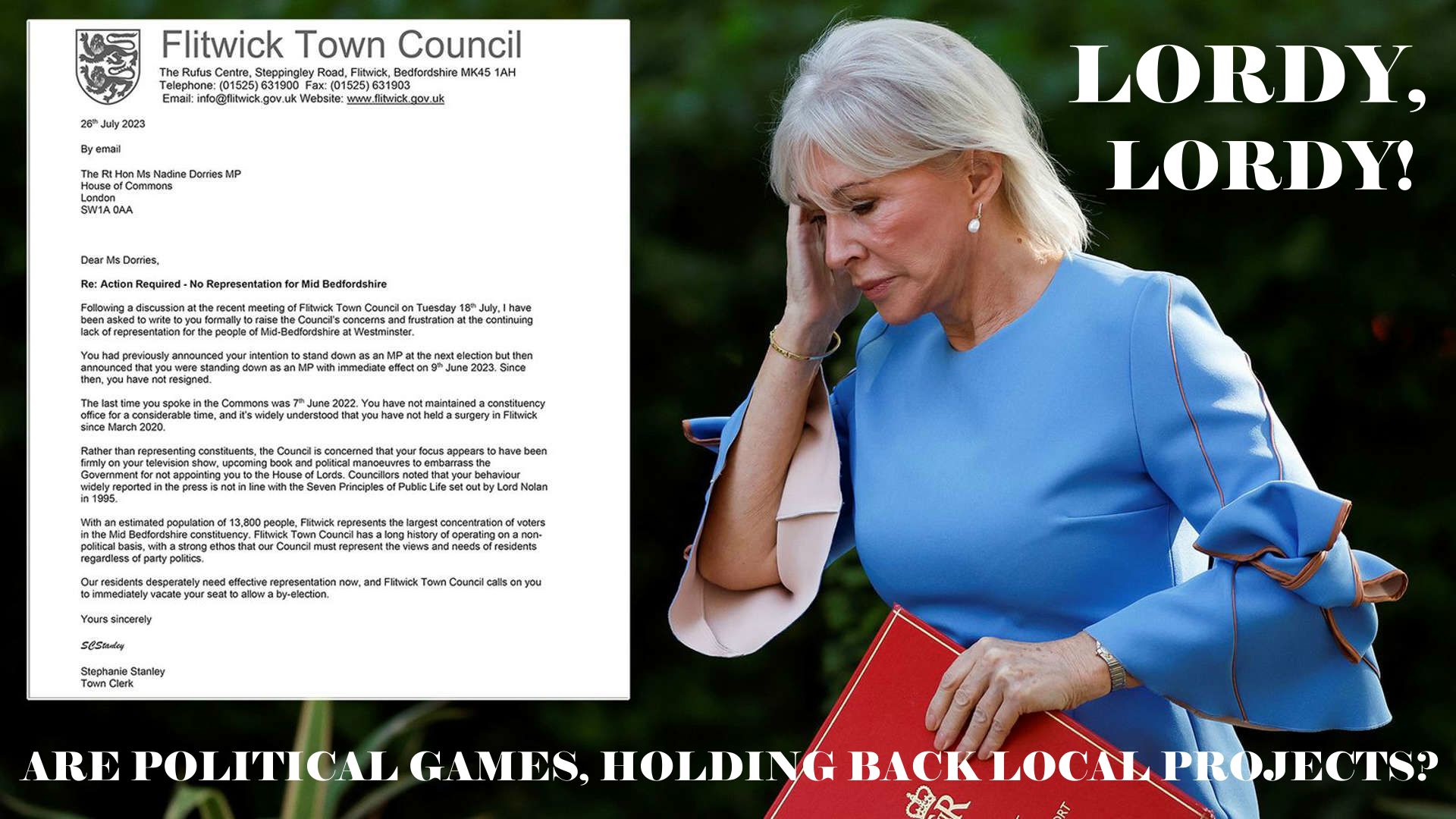 DAILY MIRROR 16 AUGUST 2023 - PETITION DEMANDING 'ABSENTEE' TORY MP NADINE DORRIES FINALLY QUITS HITS OVER 75,000

Over 75,000 people have now signed a petition demanding "absentee" Tory MP Nadine Dorries finally resign or start "representing her constituents' '.

Almost 10 weeks to the day the ex-Culture Secretary announced she was stepping down with "immediate effect", mystery still surrounds when she will formally resign.

Even a town council in the constituency of Mid Bedfordshire has written to the MP urging her to step down, saying residents were "desperately in need of effective representation now". Now over 75,000 have signed a petition - which describes the MP as "missing in action" - on the campaigning website 38Degress calling for Ms Dorries to "shape up or ship out".

It states: "Your constituents, local council, the Prime Minister and now the public have all had enough. Either start representing the people of Mid Bedfordshire or stand down with immediate effect, so they can have the representation they deserve."

Ms Dorries - a close ally of disgraced former Prime Minister Boris Johnson - has not spoken in the Commons for longer than a year. Her last contribution was on July 7 last year, which was the day Mr Johnson announced he would resign as PM. Away from Parliament Ms Dorries hosts a weekly TalkTV chat show and is working on a book on the "political assassination" of Mr Johnson - due to be published days before the Tory conference.

Veronica Hawking, Head of Campaigns at 38 Degrees, said: "The 75,000 signatures on our petition represent a clear message from the British public to Nadine Dorries: we're paying you for this job, and we expect you to do it."

Last week Tory minister John Glen urged Ms Dorries to "get on with it" and resign, describing the delay as "deeply frustrating". He added: "People are bewildered. She made a decision, she said she was going to resign immediately and then she hasn't done. "It's deeply frustrating. I think most people and most of my colleagues would expect her to get on with it now, make good on the pledge that she made in June and we can have a by-election and the people of Mid Bedfordshire can have a new Member of Parliament."

In a scathing letter last month the clerk of Flitwick Town Council in Bedfordshire, wrote: "Our residents desperately need effective representation now. Flitwick Town Council calls on you to immediately vacate your seat to allow a by-election." Ms Dorries has not publicly responded to the letter.
COMMENT - Of course not. If she were to reply to correspondence, she'd just put her foot further into the mire. And of course, that actually means doing some constituency work. What we'd like to know is, what the crossover point is in politics, where politicians stick up two fingers to those who elected them, and fail to provide any kind of representation. This is in relation to fraud, as in obtaining a pecuniary advantage by deception. And, if you are hosting a TV chat show, and writing a book, while you should be working hard for your constituency, would that qualify as proceeds of crime. The same as when prisoners publish a book about their crimes, which is held to be proceeds of crime, and all income from sales of such books, is confiscated by the State. Why should it not be the same for MPs? Okay, she may be pissed at not being appointed a Lord. But if her performance as an MP is anything to go by. The taxpayer would be paying her something like £350 a day, all the while she is thinking about her television appearances, and her next foray into publishing, rather than pressing issues like climate change, and the cost of living crisis. It may be that in standing down as promised, Ms Dorries loses the income she depends on to pay for her privileged Tory lifestyle, presumably, reliant also on becoming a member of the House of Lords, to continue her enjoyment of the taxpayer's money, by way of a guaranteed income. Sure, if that is the case, and time will tell, then, we can understand her deciding to spill the beans in a book. Much the same as Harry, in 'Spare.' Lordy, lordy!


CABINET MPS -MARCH 2020
Chancellor Exchequer

Priti Patel

Home Secretary

Dominic Raab

Foreign Secretary

Michael Gove

Chancellor D. Lancaster

Ben Wallace

Defence Secretary

Matt Hancock

Health & Social Care

Liz Truss

International Trade

Gavin Williamson

Education

Oliver Dowden

Culture

Alok Sharma

MP Reading West

Robert Jenrick

Housing, Local Gov.

Therese Coffey

Work & Pensions

Robert Buckland

Justice

Anne-Marie Trevelyan

International Dev.

Transport

George Eustice

Environment

Brandon Lewis

Northern Ireland

Alister Jack

Scottish Sec. State

Simon Hart

Welsh Sec. State

Baroness Evans

Leader Lords

Amanda Milling

Party Chairman

Jacob Rees-Mogg

Leader Commons

Mark Spencer

Chief Whip

Suella Braverman

Attorney General

Stephen Barclay

Treasury Sec.
LINKS & REFERENCE
https://www.gov.uk/