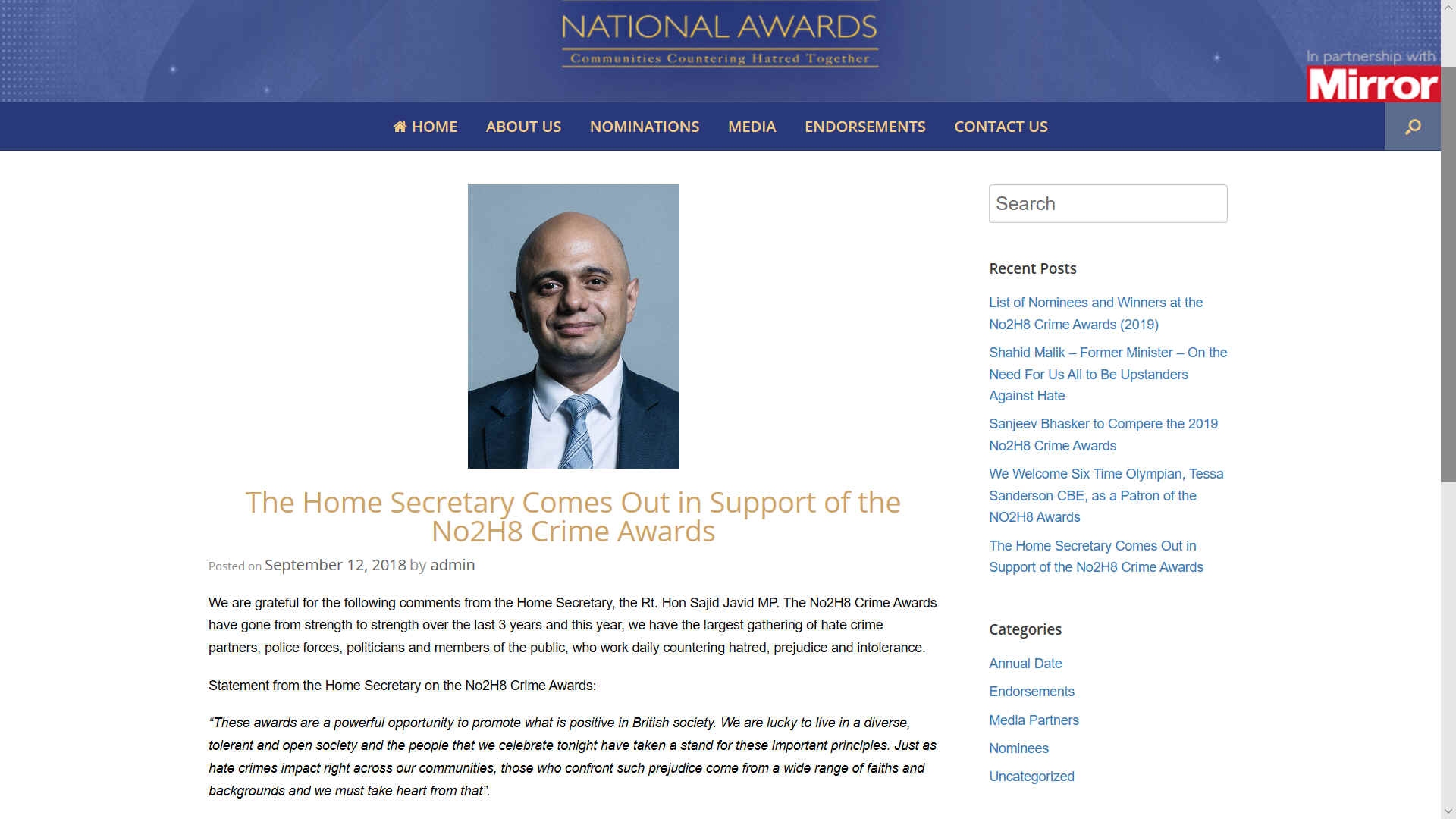 SEPTEMBER 12 2018 - We are grateful for the following comments from the Home Secretary, the Rt. Hon Sajid Javid MP. The No2H8 Crime Awards have gone from strength to strength over the last 3 years and this year, we have the largest gathering of hate crime partners, police forces, politicians and members of the public, who work daily countering hatred, prejudice and intolerance. Statement from the Home Secretary on the No2H8 Crime Awards:
"These awards are a powerful opportunity to promote what is positive in British society. We are lucky to live in a diverse, tolerant and open society and the people that we celebrate tonight have taken a stand for these important principles. Just as hate crimes impact right across our communities, those who confront such prejudice come from a wide range of faiths and backgrounds and we must take heart from that".
A hate crime is when someone commits a crime against you because of your disability, gender identity, race, sexual orientation, religion, or any other perceived difference.
It doesn't always include physical violence. Someone using offensive language towards you or harassing you because of who you are, or who they think you are, is also a crime. The same goes for someone posting abusive or offensive messages about you online.
If it happens to you, you might be tempted to shrug it off. But if you report the hate crime, we can investigate and stop it from getting worse – either for you or someone else.
PARLIAMENTARY UPSTANDER AWARD 2019

John Mann - In 2019 John was appointed as a government advisor on Antisemitism, having campaigned for years bringing to light the Antisemitism issues within the Labour Party. John has been a fearless campaigner against antisemitism and is well respected and much loved for his anti-racism work.

Dame Louise Ellman - served as an MP for 22 years has spoken out in recent months about anti-Semitism within the Labour party, it was due to anti-Semitism that Dame Louise left the party in October and recently announced that she will not be standing for re-election. She has been a tireless campaigner for some of the most marginalised communities in Liverpool and has always spoken up against racism and prejudice.

Kate Green - is co-chair of the APPG on Gypsies and Travellers, and a tireless campaigner for the rights of Gypsies, Roman and Travellers. As shadow equalities minister, Kate successfully gained acceptance to equalise sentencing tariffs for disability hate crime.

Tanmanjeet Dhesi - is the first Sikh MP with a turban in Westminster. He made headlines earlier this year after delivering a passionate condemnation of Boris Johnson's 'racist' comparison of burqa wearing women to bank robbers and letter boxes. He demanded an apology for the comments in a newspaper article that has caused hurt to vulnerable women and resulted in a spike in hate crime. He is a fearless campaigner who stands high in the struggle against hatred, prejudice and extremism.

MOTIVATION

In most crimes it is something the victim has in their possession or control that motivates the offender to commit the crime. With hate crime it is 'who' the victim is, or 'what' the victim appears to be that motivates the offender to commit the crime.
A hate crime is defined as 'Any criminal offence which is perceived by the victim or any other person, to be motivated by hostility or prejudice based on a person's race or perceived race; religion or perceived religion; sexual orientation or perceived sexual orientation; disability or perceived disability and any crime motivated by hostility or prejudice against a person who is transgender or perceived to be transgender.'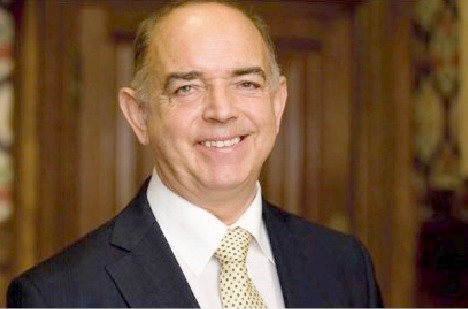 November 24, 2016 - Statement from Lord Bourne of Aberystwyth, Parliamentary Under Secretary of State at the Department for Communities and Local Government

"Nobody in Britain should live in fear because of who they are, what they believe or who they choose to love.
The Government is committed to tackling hate crime and this is why we have published a new Hate Crime Action plan to focus on reducing incidents, increasing reporting and improving support for victims.
However, it is the important work of Tell MAMA and other organisations supporting tonight's event that make this possible in their work tackling prejudice with people from all backgrounds. It is essential that each of us rejects hatred, offering instead empathy and support to victims of hate crime. This evening's launch of the National Hate Crime Awards is an opportunity to honour the remarkable individuals who are leading the fight against hate crime and I am delighted to offer my support. "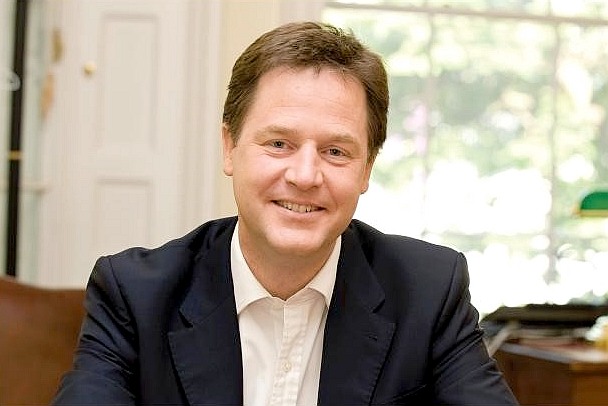 Statement from the Right Honourable Nick Clegg MP - "The National Hate Crime Awards are hugely important to honour the tireless and selfless work that so many do across the country to challenge intolerance. We have recently seen rises in hate crimes across the UK yet the cornerstone of our country is based on protecting the dignity and identities of people so that they are not targeted out of hatred, intolerance and prejudice. I stand by these core values and that is why we must honour those in our communities who stand up against such intolerant behaviour."
TYPES OF HATE CRIME

Hate crime can fall into one of three main types: physical assault, verbal abuse and incitement to hatred

PHYSICAL ASSAULT

Physical assault of any kind is an offence. If you've been a victim of physical assault you should report it. Depending on the level of the violence used, a perpetrator may be charged with common assault, actual bodily harm or grievous bodily harm

VERBAL ABUSE

Verbal abuse, threats or name-calling can be a common and extremely unpleasant experience for minority groups.
Victims of verbal abuse are often unclear whether an offence has been committed or believe there is little they can do. However, there are laws in place to protect you from verbal abuse.
If you've been the victim of verbal abuse, talk to the police or one of our partner organisations about what has happened. You'll find a list of them on our How to report hate crime page

Even if you don't know who verbally abused you, the information could still help us to improve how we police the area where the abuse took place.
INCITEMENT TO HATRED

The offence of incitement to hatred occurs when someone acts in a way that is threatening and intended to stir up hatred. That could be in words, pictures, videos, music, and includes information posted on websites.
Hate content may include:

- messages calling for violence against a specific person or group
- web pages that show pictures, videos or descriptions of violence against anyone due to their perceived differences
- chat forums where people ask other people to commit hate crimes against a specific person or group
SUSSEX POLICE
Sussex Police supposedly investigated the report of a hate crime in 2019, but failed to interview near neighbours or secure their company records, where it was alleged that a roofer had made abusive comments based on information that could not have come from anywhere other than those giving him instructions as to the local estate. A local gardener who witnessed one of the abusive assaults declined to give a statement, But was at least interviewed.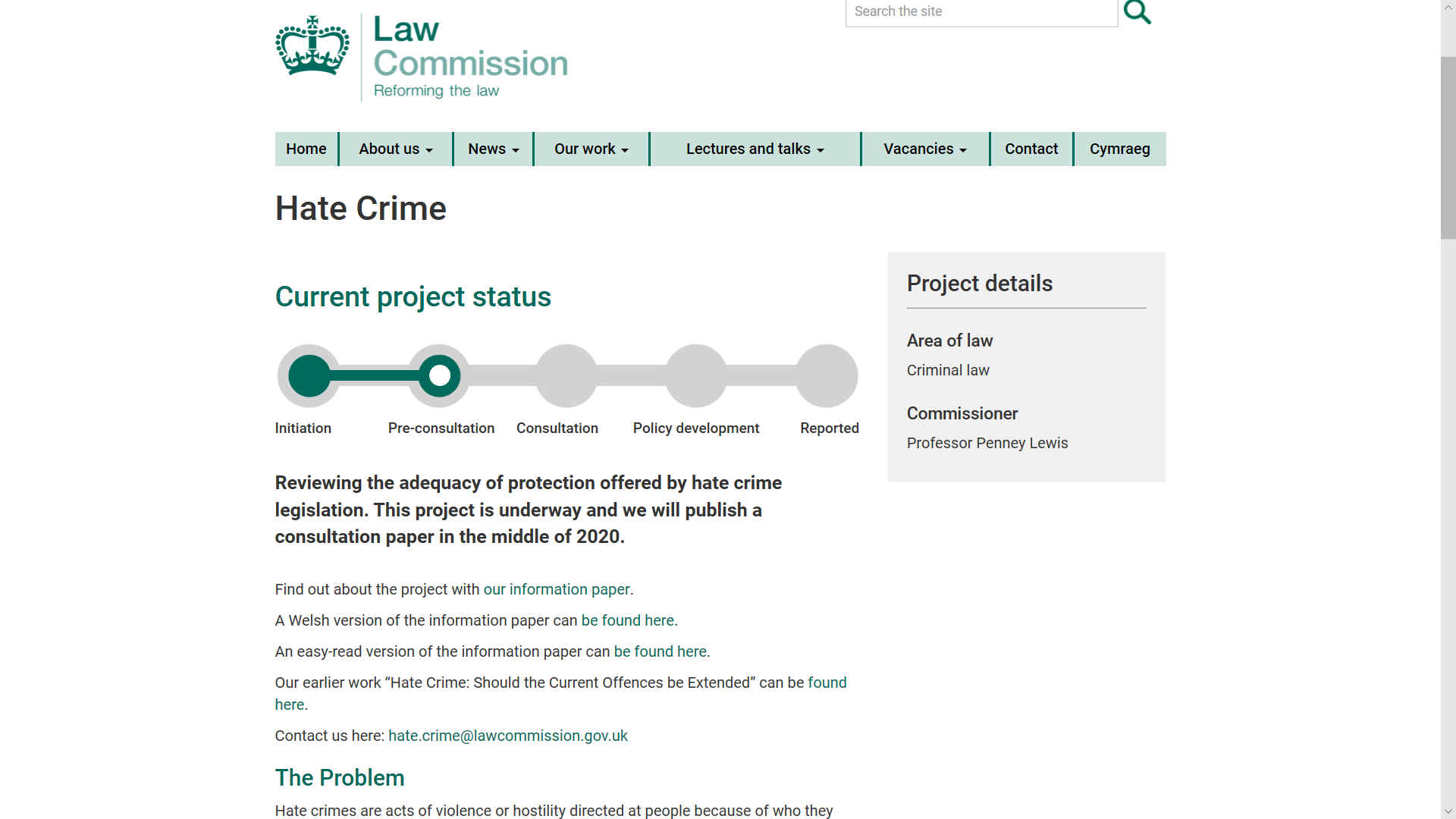 NO STATUTE OF LIMITATIONS - Evidence of criminal malfeasance in common law is mounting against each chief constable in turn as they refuse to investigate crimes against the person. Historic allegations often take a while before the state acts. It matters not if a crime is 20 or even 30 years in the making, it is in the public interest to make an example of the offenders to ward off other similar crimes taking place in other forces and planning departments across Great Britain. We are sure that Her Majesty and successor Kings would want to clean up British local government, such that the UK might hold it's head high when leading the Commonwealth.
DEMONSTRABLE BIAS & HATE CRIMES
You may have heard of bias, and you may wonder what that means. Bias is when the police are so intent on finding a person guilty of a crime that they are only looking for evidence that help them gain a conviction. Any evidence that points the other way is ignored and in some cases buried, but is never disclosed. Where bias is evident one can never be sure that the investigating officers did their job. Indeed, we know they did not in the case in point where they failed to secure key evidence that would have helped the defendant prove his innocence. This is exactly the same cherry picking that Alison Saunders was accused of. Regardess of the fact that it is institutionalised in the police, it is still a crime.
WHAT IS HATE CRIME ?
The term 'hate crime' can be used to describe a range of criminal behaviour where the perpetrator is motivated by hostility or demonstrates hostility towards the victim's disability, race, religion, sexual orientation or transgender identity - or an assumption of any of these, including those accused of liking young children, typically called paedophiles.
These aspects of a person's identity are known as 'protected characteristics'. A hate crime can include verbal abuse, intimidation, threats, harassment, assault and bullying, as well as damage to property. The perpetrator can also be a friend, carer or acquaintance who exploits their relationship with the victim for financial gain or some other criminal purpose.

In England and Wales the monitored strands of hate crime are:
- racially and religiously aggravated;
- homophobic, biphobic and transphobic; and
- disability hate crime.
These strands are covered by legislation (sections 28-32 of the Crime and Disorder Act 1998 and sections 145 and 146 of the Criminal Justice Act 2003) which allows prosecutors to apply for an uplift in sentence for those convicted of a hate crime.
The police and the CPS have agreed the following definition for identifying and flagging hate crimes:
"Any criminal offence which is perceived by the victim or any other person, to be motivated by hostility or prejudice, based on a person's disability or perceived disability; race or perceived race; or religion or perceived religion; or sexual orientation or perceived sexual orientation or transgender identity or perceived transgender identity."
There is no legal definition of hostility so we use the everyday understanding of the word which includes ill-will, spite, contempt, prejudice, unfriendliness, antagonism, resentment and dislike.
HOW THE CPS DEALS WITH HATE CRIME

Once a hate crime has been reported, the police investigate whether a hate crime has been committed. They refer cases to the CPS to decide whether there should be a charge. The CPS are responsible for preparing and presenting hate crime cases at court and applying for an increased sentence. They need enough evidence to convince the court that the crime was motivated by or demonstrated hostility.
In 2016/17, 83% of hate crimes cases the CPS prosecuted led to a conviction or guilty plea. Because of the serious nature of these offences, the CPS can apply to the courts for a 'sentence uplift' which is an increased punishment for the crime. Last year, more than half of these requests led to offenders having their sentence increased because it was motivated by hate.

It should also, where relevant, be read in the context of crimes committed where the suspect has mistakenly identified the victim as belonging to or associating with a type of person, where labels are not always as they seem.

Prosecutors must adopt a proactive approach to seeking further information from the police to help them to decide if a case can be prosecuted.

If the case passes the evidential stage, or was motivated by discrimination against the victim's supposed sexual orientation, it is more likely that a prosecution is required in the public interest: see paragraph 4.12(c) of the Code for Crown Prosecutors.
INCIDENT

- Was there any use of derogatory language that referred to sexual orientation or transgender identity?
- Was it a sustained attack?
- Did it involve excessive violence?
- Was cruelty, humiliation or degradation involved?
PERPETRATORS

Was hostility based on the victim's sexual orientation or transgender identity (or presumed sexual orientation or transgender identity) demonstrated by the perpetrator?
- Have there been any previous incidents involving the offender and hostility or targeted anti-social behaviour?
- If so, what was the nature and location of previous incidents?
- Have the incidents escalated in severity and frequency?
- Has opportunistic offending become systematic and regular targeting?
- What was the role of any bystanders?
- Were there multiple perpetrators condoning and encouraging, taking photos/videos?
- What evidence is there to suggest this is not a hate crime?

If satisfied that there is sufficient evidence to prove that the offence is aggravated by hostility on the grounds of sexual orientation, or supposed sexual orientation, prosecutors should make it clear to the defence, that is their thinking.

The Public Order Act 1986 confirms that "hatred on the grounds of sexual orientation" means hatred against a group of persons defined by reference to sexual orientation (or assumed sexual orientation) whether towards persons of the same sex, the opposite sex or both. This therefore covers hostility towards lesbian, gay, bisexual, heterosexual and persons thought to be paedophiles, but offenders frequently use an incident of one type to mean a preference or increase in appetite for such crimes.
CASE LAW

The following cases on racially and religiously aggravated offences illustrate the approach that the courts have adopted when interpreting the law:
Evidence of words (spoken or written) or actions that show hostility towards the victim will be required. "Demonstrations" of hostility often involve swear words, for example: "black bastard" (R v Woods [2002] EWHC 85) or "African bitch" (R v White [2001] EWCA Crim 216). In RG & LT v DPP [2004] EWHC 183 May LJ said "It may be possible to demonstrate racial hostility by, for instance, holding up a banner with racially offensive language on it".
In R v Rogers (2007) 2 W.L.R. 280, the defendant was involved in an altercation with three Spanish women during the course of which he called them "bloody foreigners" and told them to "go back to your own country". The House of Lords, in upholding the defendant's conviction, held that the definition of a racial group clearly went beyond groups defined by their colour, race, or ethnic origin. It encompassed both nationality (including citizenship) and national origins. The statute intended a broad non-technical approach. Furthermore the victim might be presumed by the offender to be a member of a particular group, even if that was not correct. The House of Lords added that the fact that the offender's hostility was based on other factors in addition to racist hostility or xenophobia was irrelevant. The court also observed that the necessary hostility could be demonstrated by the wearing of swastikas or the singing of certain songs.
The demonstration of hostility need not be based on any malevolence towards the group in question. Disposition at the time is irrelevant: see DPP v Green [2004] EWHC 1225 (Admin.) and R v Woods, in which it was irrelevant that the offender, who used racially abusive language to a doorman after being refused admission, might well have abused anyone standing in the victim's place by reference to any obvious physical characteristic.
The motivation based on hostility need not be the sole or main motivation for the offence; it may also be motivated by other reasons. In DPP v McFarlane [2002] EWHC 485 (Admin), the defendant shouted threatening and racist abuse at the victim after finding the victim parked in a disabled bay in which the defendant was entitled to park. It was immaterial that the defendant may have had an additional reason for uttering the racial words in question.
The victim's reaction to the hostility is not relevant. See R v Woods, in which the victim was called a "black bastard" but said in evidence that he was "not bothered" by such comments. The Administrative Court found that the use of racist abuse during the commission of the basic offence made out the test for racial aggravation.
In R v Fitzgerald [2003] EWCA Crim 2875 the Court of Appeal acknowledged the guidance contained in Kelly and Donnelly but distinguished it by noting there will be cases in which the aggravating feature of the offence is so inherent and integral to the offence itself that it is not possible sensibly to assess the overall criminality involved in such a discrete way. In such cases, the Court must assess the seriousness of the conduct involved and its criminality as a whole

The position was further considered in R v Higgins [2009] EWCA Crim 708. The Court of Appeal reaffirmed the Kelly and Donnelly approach and noted this was now adopted by the Sentencing Guidelines for assault cases.

MULTIPLE OFFENDERS

Prosecutors will need to analyse carefully the facts of a particular case to determine whether a particular offender can be said to have participated in a demonstration of hostility.

In R v Davies and Ely [2004] 2 Cr App R (S) 148 (29), a joint allegation of wounding with intent, the fact that one offender uttered words of racial abuse during the attack did not make all guilty of the aggravated offence, on the facts of the case, and the defendants should not be so sentenced when the evidence did not identify the one who uttered the words.

However, in RG and LT v DPP May LJ said that, "an offender may demonstrate racial hostility by joining in the activities of a group of people where a sufficient number of members of the group are themselves demonstrating racial hostility, and where the defendant's adherence to the group is such as to go beyond mere presence within the group, but so as to associate himself or herself with the demonstration of racial hostility which the group as a whole is displaying".
In the case under investigation, the group is a Limited Company. The fact it is limited liability in terms of financial dealings and business risks, does not protect the directors from criminal liability in terms of hate crime and spreading rumours such as to foster negative feelings in people they employ to act as their agents, in attacks on the intended victim.
HOSTILITY
Hostility is not defined in the Act. Consideration should be given to ordinary dictionary definitions, which include ill-will, ill-feeling, spite, prejudice, unfriendliness, antagonism, resentment, and dislike.
Mere evidence of the commission of the substantive offence against a victim is not sufficient.
DISCLOSURE CONSTITUTES AN OFFENCE - GENDER RECOGNITION ACT 2004 & HATE CRIME

Under section 22 GRA 2004, it is an offence for a person who has acquired "protected information" in an "official capacity" to disclose the information to any other person.

"Official capacity" relates to a person's functions as a civil servant, constable, holder of public office or in connection with the functions of a local or public authority of a voluntary organisation. Such as a council passing information to someone litigating against the vulnerable person, the aim being to cause additional hurt, as Wealden District Council (via their officers or members) did in a trademark case, involving sponsorship for a land speed record project.
It also includes those functions as an employer or prospective employer or in the conduct of business or the supply of professional services.

WITNESS SUMMONS

Section 169 of the Serious Organised Crime and Police Act 2005 allows the court to issue a witness summons if it considers it to be in the interests of justice to do so.
Before taking a decision to issue a summons to require the victim to give evidence, prosecutors must make enquiries to satisfy themselves as far as possible that the safety of the victim will not be endangered by their decision. The safety of the victim is a prime consideration.

If the reason for a victim or witness's withdrawal is based on fear or intimidation, the prosecutor needs to have such evidence brought to their attention. This will allow appropriate decisions to be made about any applications under section 116(2)(e) of the Criminal Justice Act 2003. Such applications are only likely to succeed where there is other evidence to put before the court.
Section 116 applications are often unsuccessful when the victim is the only witness to the offence, because in such cases it is very difficult to satisfy the court that justice is being served when the defence cannot cross-examine the only witness against them.

MANDATORY LIFE SENTENCE
Schedule 21 - Criminal Justice Act 2003 (determination of minimum term in relation to mandatory life sentence)

Schedule 21, paragraph 5(2)(g), provides for a starting point of 30 years (rather than 15 years) for the minimum term for a life sentence for murder aggravated on the grounds of the victim's sexual orientation or transgender identity. S146 uplifts will not apply in such cases. For more information, see the legal guidance on Homicide: Murder and Manslaughter.
FREEDOM OF SPEECH & THOUGHT - ARTICLES 9 & 10 HUMAN RIGHTS
In deciding upon the public interest of charging these offences it is essential that everyone keeps in mind that in a free, democratic and tolerant society people are able to robustly exchange views, even when these may cause offence. However, we have to balance the rights of the individual to freedom of expression against the duty of the state to act proportionately in the interests of public safety, to prevent disorder and crime, and to protect the rights of others.
CASE CRAFTING & NON INVESTIGATION
...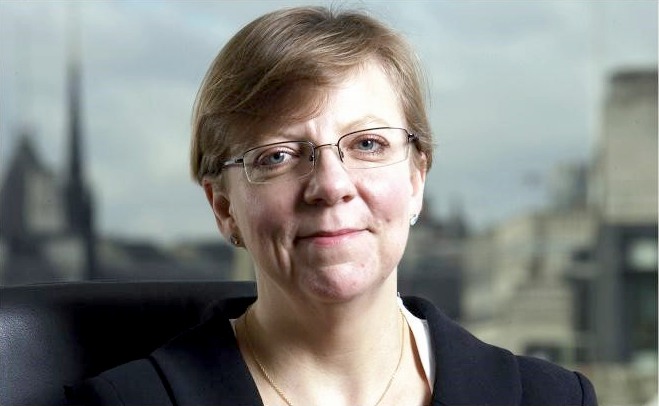 Statement from Alison Saunders CB, Director of Public Prosecutions (DPP) at the Crown Prosecution Service (CPS).

"The CPS is delighted to support the first National Hate Crime Awards. The CPS is committed to doing all it can to improve awareness of hate crime, increase the reporting of these corrosive crimes and raise confidence in the prosecution process. Celebrating the achievements of those at the forefront of effective change, to the benefit of all communities, plays a central role in pursuit of this objective."
THE LAW COMMISSION
We don't think that the current protections are sufficient to protect those accused of crimes, or appellants who may have been convicted of a crime, but where that conviction is later shown to be unsafe.
In such circumstances an innocent person may be targeted by a group with vested interests in, for example, land. Where they might think that in applying pressure to their victim that they might get the target to move, or otherwise the group may benefit financially in the acquisition of a property at an undervalue.
This was and potentially still is, a matter of ongoing concern to a potential appellant, where Wealden District Council and Sussex police are alleged to have colluded in framing an innocent man to clear their books of their own wrongdoing.
Such a situation leaves the person maintaining their innocence in a vulnerable position, where his local force may not be relied on to act impartially, and in fact should not act for the appellant in waiting, as per R v Sussex Justices 1924, where justice must not only be done, but be seen to be done.
The real problem here being that there is no right of appeal in the UK, and that the CCRC are, or at least, have been inept in this case, refusing to countenance virginity issues and evidential discrepancies leading to the Jury being misinformed by the Judge in his Summing Up.
Contact the Law Commission here: hate.crime@lawcommission.gov.uk
...
SUSSEX POLICE A - Z OF OFFICER INVESTIGATIONS

LINKS & REFERENCE
https://www.lawcom.gov.uk/project/hate-crime/
https://www.met.police.uk/advice/advice-and-information/hco/hate-crime/what-is-hate-crime/
https://www.cps.gov.uk/legal-guidance/homophobic-biphobic-and-transphobic-hate-crime-prosecution-guidance
https://www.stophateuk.org/what-is-hate-crime/
https://www.thesun.co.uk/news/10628297/alison-saunders-dame-new-year-honours/
https://www.telegraph.co.uk/news/2018/12/29/alison-saunders-much-criticised-former-cps-chief-becomes-first/
https://no2h8crimeawards.org/2016/11/endorsements-leading-politicians-national-hate-crime-awards/