Councillor Lin Clark
Councillor
Party: Conservative
Ward:
Contact Information

Eastbourne
East Sussex
Phone: 01323
Email:
Committee appointments
Terms of office

09/05/2014 -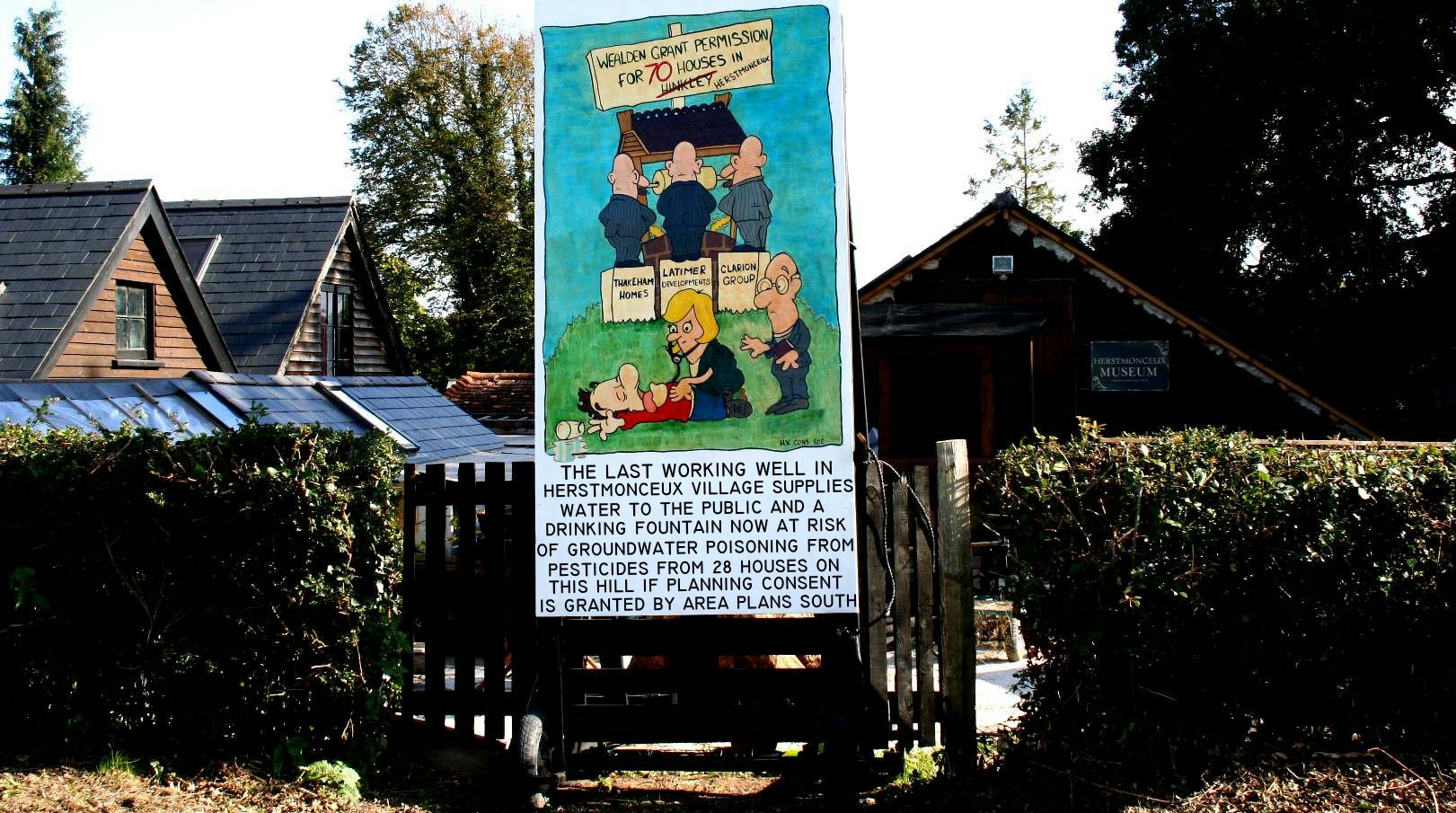 UN SUSTAINABILITY DEVELOPMENT GOAL 6: SANITATION & CLEAN WATER
Clean, accessible water for all is an essential part of the world we want to live in and there is sufficient fresh water on the planet to achieve this. However, due to bad economics or poor infrastructure, millions of people including children die every year from diseases associated with inadequate water supply, sanitation and hygiene.

Water scarcity, poor water quality and inadequate sanitation negatively impact food security, livelihood choices and educational opportunities for poor families across the world. At the current time, more than 2 billion people are living with the risk of reduced access to freshwater resources and by 2050, at least one in four people is likely to live in a country affected by chronic or recurring shortages of fresh water. Drought in specific afflicts some of the world's poorest countries, worsening hunger and malnutrition. Fortunately, there has been great progress made in the past decade regarding drinking sources and sanitation, whereby over 90% of the world's population now has access to improved sources of drinking water.

To improve sanitation and access to drinking water, there needs to be increased investment in management of freshwater ecosystems and sanitation facilities on a local level in several developing countries within Sub-Saharan Africa, Central Asia, Southern Asia, Eastern Asia and South-Eastern Asia.
Closer to home, Wealden District Council failed to properly assess the situation regarding the last surviving well in Herstmonceux that provides drinking water to this location as part of an industrial unit dating from 1909, part of an English Heritage, (now Historic England) monument protection programme. This council also got it wrong when it came to flooding at the other end of a field, flooding that is likely to lead to raw sewage finding its way onto the land and into private ponds that cannot cope with any additional flow. See the picture of the peaceful protest billboard above making reference to Pacific Gas & Electric (PG&E) and Hinkley in California, as portrayed in the Hollywood film: Erin Brockovich.
Then there are the potholed roads that cannot cope safely with additional traffic and a very poor site access that is substandard in terms of visibility splay.
Village over development like this is destroying the English charm that is unique and gives us our sense of national identity. The reason why councils are cutting corners like this is to grab extra rates and community infrastructure levies to boost flagging incomes to counter long term mismanagement.
WEALDEN'S AREA PLANS SOUTH COMMITTEE 2015
Andrew Long - (no email address)
David White - cllr.david.white@wealden.gov.uk
Diane Dear - cllr.dianne.dear@wealden.gov.uk
Charles Peck - cllr.charles.peck@wealden.gov.uk
Chris Hardy - cllr.chris.hardy@wealden.gov.uk
Chris Triandafyllou - cllr.chriss.triandafyllou@wealden.gov.uk
Daniel Shing - daniel.shing@wealden.gov.uk
Dick Angel - cllr.dick.angel@wealden.gov.uk
Barby Dashwood-Morris - cllr.barby.dashwood-morris@wealden.gov.uk
Barry Marlowe - cllr.barry.marlowe@wealden.gov.uk
Bill Bentley - cllr.bill.bentley@eastsussex.gov.uk
John Blake - cllr.john.blake@wealden.gov.uk
Lin Clark - cllr.lin.clark@wealden.gov.uk
Nigel Coltman - cllr.nigel.coltman@wealden.gov.uk
Nigel McKeeman - cllr.nigel.mckeeman@wealden.gov.uk
Raymond Cade - cllr.raymond.cade@wealden.gov.uk
Ron Cussons - cllr.ron.cussons@wealden.gov.uk
Stephen Harms - cllr.steve.harms@wealden.gov.uk
Stephen Shing - cllr.stephen.shing@wealden.gov.uk
Susan Stedman - cllr.susan.stedman@wealden.gov.uk
LOCAL NEWSPAPER CONTACTS
Sussex Express - sussex.express@jpress.co.uk
amie.morrell@jpress.co.uk
Eastbourne Herald - eastbourne.herald@jpress.co.uk
The Argus - lucy.pearce@theargus.co.uk
emily.walker@theargus.co.uk
COUNCILLORS SERVING IN 2017 INTO 2018

Councillor Dick Angel

Heathfield Nth & Cenrl - Cons


Councillor Kevin Balsdon

Pevensey and Westham - Cons


Councillor Jo Bentley

Hailsham South and West - Cons


Councillor Bob Bowdler

Heathfield East - Cons


Councillor Lin Clark

Pevensey and Westham - Cons

Deputy Chairman Standards


Councillor Nicholas Collinson

Hailsham Central & North - Cons

Portfolio Community Leadership Human Resources


Councillor Nigel Coltman

Hailsham Central and North - Cons

Chairman of Licensing


Councillor Dianne Dear

Pevensey and Westham - Cons

Dep Chair of Planning South


Councillor Phil Dixon

Rotherfield - Conservative

Dep Chair of Audit Finance


Councillor Pam Doodes

Ninfield & Hooe with Wartling

Conservative - Vice-Chairman


Councillor Claire Dowling

Uckfield Central - Cons

Dep Ldr Public Health Safety


Councillor Jan Dunk

Heathfield North & Central - Conservative


Councillor Philip Ede

Alfriston - Conservative


Councillor Helen Firth

Uckfield New Town - Cons


Councillor Jonica Fox

Cross-in-Hand/ Five Ashes - Conservative


Councillor Roy Galley

Danehill/ Fletching/ Nutley - Cons

Portfolio Economic Dev & Waste Man


Councillor Richard Grocock

Hailsham South and West - Cons


Councillor Chris Hardy

Hartfield - Cons- Chairman


Councillor Jim Hollins

Crowborough West - Cons


Councillor Peter Holloway

Forest Row - Conservative


Councillor Johanna Howell

Frant/ Withyham - Cons

Ch Planning North


Councillor Toby Illingworth

Buxted & Maresfield - Cons


Councillor Stephen Isted

Crowborough Jarvis Brook - Independent


Councillor Andy Long

Herstmonceux - Cons


Councillor Michael Lunn

Buxted & Maresfield - Cons


Councillor Philip Lunn

Crowborough East - Cons


Councillor Barry Marlowe

Uckfield Ridgewood - Cons

Dep Ch Licensing


Councillor Rowena Moore

Forest Row - Conservative


Councillor Kay Moss

Crowborough St Johns - Cons

Dep Chair Overview & Scrutiny


Councillor Douglas Murray

Willingdon - Conservative


Councillor Ann Newton

Framfield - Cons

Portfolio Planning & Dev


Councillor Amanda O'Rawe

Hailsham East - Conservative


Councillor Mark Pinkney

Hellingly - Conservative


Councillor Dr Brian Redman

Mayfield - Conservative

Chairman of Standards Committee


Councillor Ronald Reed

Crowborough North - Conservative


Councillor Carol Reynolds

Uckfield North - Cons


Councillor Greg Rose

Crowborough East - Cons

Chair Overview & Scrutiny


Councillor Peter Roundell

Danehill/ Fletching/ Nutley - Cons

Chairman Audit Finance


Councillor William Rutherford

Frant/ Withyham - Cons


Councillor Daniel Shing

Polegate South - Ind Democrat


Councillor Oi Lin Shing

Polegate North - Ind Democrat


Councillor Raymond Shing

Willingdon - Independent Democrat


Councillor Stephen Shing

Willingdon - Independent Democrat


Councillor Angela Snell

Polegate North - Conservative


Councillor Robert Standley

Wadhurst - Conservative

Leader of the Council


Councillor Susan Stedman

Horam - Conservative

Chair Planning South


Councillor Roger Thomas

Heathfield North & Central - Cons


Councillor Jeannette Towey

Crowborough West - Cons


Councillor Chriss Triandafyllou

Hailsham South and West - Cons


Councillor Peter Waldock

Uckfield North - Cons


Councillor Neil Waller

Crowborough North - Cons

Dep Chair Planning North


Councillor David Watts

Chiddingly & East Hoathly - Cons


Councillor Graham Wells

Wadhurst - Cons

Portfolio Housing & Benefits


Councillor David White

Hellingly - Independent


Councillor John Wilton

East Dean - Conservative
Dick Angel - Jo Bentley - John Blake - Bob Bowdler - Don Broadbent - Norman Buck - Raymond Cade - John Carvey - Lin Clark
Nicholas Collinson - Nigel Coltman - Ronald Cussons - Barby Dashwood-Morris - Dianne Dear - Phil Dixon - Pam Doodes
Claire Dowling - Jan Dunk - Louise Eastwood - Philip Ede - Helen Firth - Jonica Fox - Roy Galley - Richard Grocock - Chris Hardy
Steve Harms - Jim Hollins - Peter Holloway - Johanna Howell - Stephen Isted - David Larkin - Andy Long - Michael Lunn
Barry Marlowe - Nigel McKeeman - Huw Merriman - Rowena Moore - Kay Moss - Douglas Murray - Ann Newton - Ken Ogden
Amanda O'Rawe - Charles R Peck - Diane Phillips - Mark Pinkney - Major Antony Quin RM - Ronald Reed - Dr. Brian Redman
Carol Reynolds - Greg Rose - Peter Roundell - William Rutherford - Daniel Shing - Oi Lin Shing - Raymond Shing - Stephen Shing
Robert Standley - Susan Stedman - Bill Tooley - Jeanette Towey - Stuart Towner - Chriss Triandafyllou - Peter Waldock
Neil Waller - David Watts - Mark Weaver -Graham Wells - David White - John Wilton
Vicarage Lane, Hailsham, East Sussex, BN27 2AX T: 01323 443322