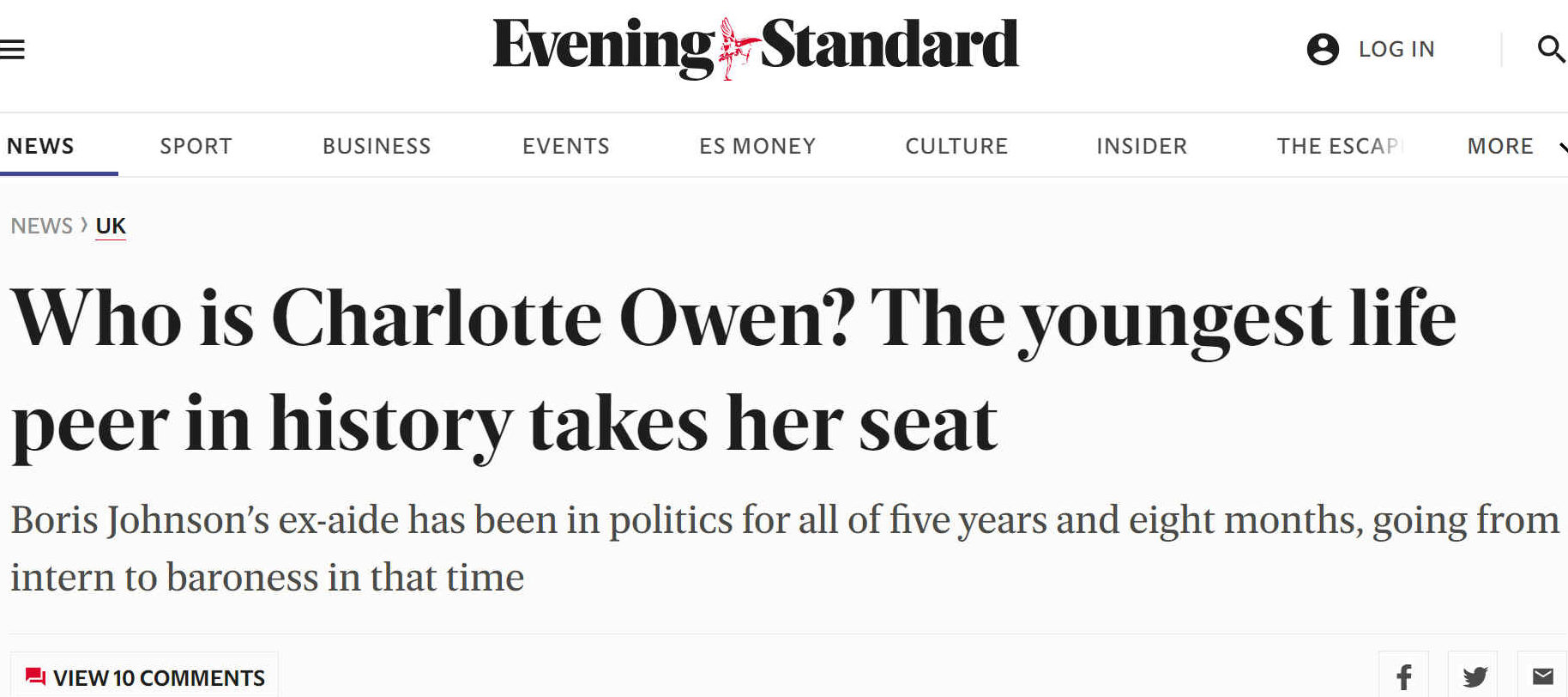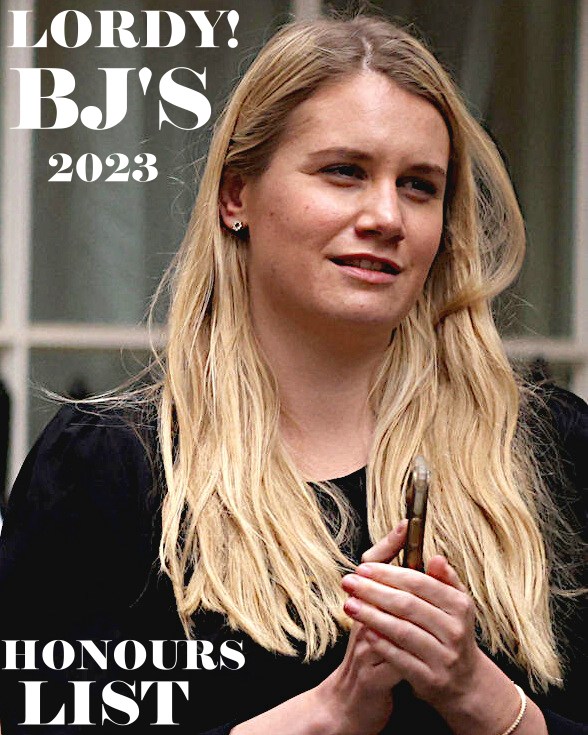 The Baroness of Alderley Edge & BJ's honours list?


WHY THE APPOINTMENT?
The shame of it. First Boris Johnson gets elected by deceiving the public with his Big-Red-Bus, NHS fables. Then he lied to the Queen. After that he lied to Parliament, saying he was not at parties during Covid - when clearly he was. He dragged the UK economy through the dirt, increasing National Debt, by borrowing for PPE, etc., made no tangible or realistic plans to transition to renewables, and failed to get Brexit done - as per his election promises. The list for Bullshit Bojo, goes on, and now his resignation honours list. Is it time to repay those for supporting him during his tussles with legitimacy? Or what?
She may well be that sharpest tool in the shed, and/or the latest thing since sliced bread, intellectually speaking. But how are we to known that?
We do know from catching Johnson out, (and let's not forget his overactive zipper) that Boris cannot be trusted, and that in itself raises eyebrows as to anything he does. In the words of Roman Emperor Marcus Aurelius (121–180 CE), made famous by Ridley Scott's film in 2000: 'Gladiator' "He is not a moral man." For which, we feel sympathy for Lady Charlotte. But then, she was in the mix, and trapped in time, as are all of us. She did not have to accept her Peerage. Apparently for 'services' rendered. Where we do not know exactly what 'services' we are talking about - as the media appear to be questioning. What special service (or services) warrants a Peerage, after just a few years? Granted, that anything involving the disgraced Prime Minister, is suspect before we start. Especially as, he refuses to accept findings, that everyone else agrees with. And with that level of denial, how did he end up working for the Daily Mail. Are their readers of the same ilk, and what kind of message are they sending to the UK by employing him. Given that he'd been sacked before for making up things?
According to an article in the Mirror, 6th June 2022, in 1988, then-journalist Mr Johnson was working at the Times newspaper where he broke a front page news story.

However, it was found that when writing the story in question he had made up quotes, fabricating the words of his godfather, the academic Colin Lucas.

He made up that Edward II would have skipped about in a newly discovered Rose Palace with his lover Piers Gaveston.

However, it was later found that the Palace was built a long time after Gaveston had been murdered.

Mr Johnson, who was 23 at the time, decided not to admit he had lied and instead wrote a second story claiming "the mystery had deepened". [Similar fact evidence of misfeasance, turning to malfeasance in public office]

He has since branded the debacle "my biggest c*ck-up".

In 2013 he said: "I mildly sandpapered something somebody said, and yes it's very embarrassing and I'm very sorry about it."

Sixteen years on, Mr Johnson's dishonourable discharge from the Times certainly hadn't limited his career prospects, and he was elected to parliament as the MP for Henley in 2001.

But by 2004 he was sacked again for lying about an affair.

Aides to then-leader of the opposition Michael Howard decided Mr Johnson had lied about taking part in a four-year fling.

The then PM had denied he had been involved with journalist Petronella Wyatt, saying: "I have not had an affair with Petronella. It is complete balderdash."

However, Petronella ended up having an abortion while her mother even said that an affair had taken place.

In 2013 Johnson still refused to admit it, saying: "I don't propose to go into all that again." Ms Wyatt, meanwhile, admitted the pair had a "tendresse".

Then-party leader Howard added: "My director of communications at the time was convinced Boris had lied to him."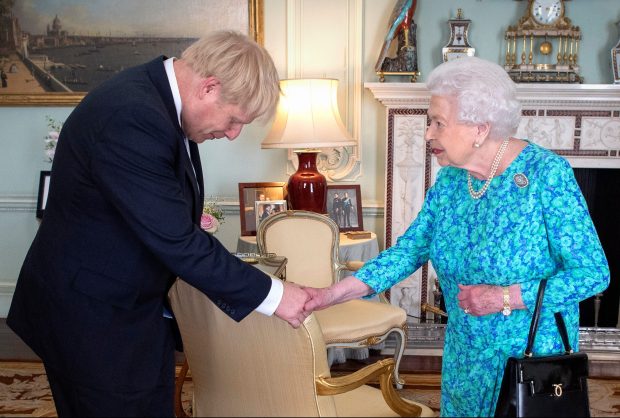 OH SHIT BORIS! - "Yes Maam, got my well used pecker caught in the zipper again. Not quite as big a fiasco as Charles and Meghan's treatment though, or Prince Andrew. "I guess the royals have been rumbled, Boris" "Not to worry, with plenty of media brain washing from the BBC and other media too frightened - or conflicted - to tell it like it is, and we may come through this - and even make a few more bucks, in case we ever need to defend ourselves in a court of law that is actually impartial." "Don't be silly Boris, the courts are bought and paid for, with the honours system, and Masonic influence." "Yes Maam, of course. Foolish of me." "There is no chance you'll be prosecuted, or your MP salary, being counted as proceeds of crime. Or a catalogue of fraudulent misrepresentations." "Of course Maam. That's why I took the job." "And, remember, protect yourself when you resign, with a sprinkling of extra insurances." "Maam."



NATIONALWORLD.COM - 28 JULY 2023 - WHO IS CHARLOTTE OWEN/ WHY DID BORIS JOHNSON MAKE 30-YEAR-OLD THE YOUNGEST PEER IN THE HOUSE OF LORDS?

Lady Charlotte Owen is the most junior person that Boris Johnson nominated as a peer, according to official records.

A former adviser to Boris Johnson has become the youngest peer in the House of Lords, aged just 30.

Charlotte Owen was nominated to the Lords in the former prime minister's controversial resignation honours list released in June. She will be known as Baroness Owen of Alderley Edge and will sit as a Conservative peer.

Lady Owen is the youngest life peer announced that the House of Lords is aware of, with its records of peerages announced stretching back to 1958. But the Lords added its records show examples of hereditary peers who became members at a younger age than Lady Owen.

Senior figures in government have questioned Lady Owen's suitability for a peerage, saying she was a "staggeringly junior" aide and the appointment was "impossible to defend". However, others said the criticism smacked of sexism.

Lady Owen was born in 1993 and grew up in affluent Alderley Edge in Cheshire, just outside Manchester, known as the Knightsbridge of the North. The Manchester Evening News reports that Owen went to school at Alderley Edge School for Girls, which currently charges £5,307 per term in fees.

Lady Owen's biography issued by the House of Lords stated she graduated from the University of York in 2015 with a degree in politics and international relations. Her LinkedIn page does not list the grade she received.

WHAT IS HER POLITICAL CAREER?

According to Lady Owen's LinkedIn page, her political career started in 2011, when, aged 17 or 18, she says she was an intern at George Osborne's constituency office in Tatton, Cheshire, for a month. However this has been disputed.

Tortoise Media reported that a senior source, who worked in Osborne's office, said she didn't work for the former Chancellor or in his constituency office. Lady Owen says she was a intern in the Tatton Conservative Association office for a month in 2012, and also with Jacqueline Foster, the deputy leader of the Tory MEPs in Brussels, for a month in 2015.

In 2017, she interned at William Wragg MP's constituency office before being a Parliamentary intern for Boris Johnson for six months. The House of Lords confirmed she was then a Parliamentary assistant for Conservative MPs Alok Sharma, Johnson and Sir Jake Berry from 2017 until 2021.

Then Lady Owen says on her LinkedIn that she worked as a special adviser at Number 10 Downing Street from February 2021. However, the Cabinet Office releases annual lists of special advisers as part of its transparency records, and Lady Owen is not listed in July 2021.

She is first listed in July 2022, and this specifies that she spent half her time working in Number 10 and half her time working for the Chief Whip Chris Heaton Harris.

Heaton Harris confirmed this, saying: "She was an outstanding special adviser to me in my role as chief whip jointly with the prime minister. Nobody had their finger on the pulse of the parliamentary party like she did. The House of Lords is a place which needs to reflect the whole of society, and I know she will work hard and make an outstanding contribution."

However government sources have disputed Owen's influence in Downing Street, describing her as akin to an executive assistant. A staffer told the Times that they were aware of her, but she had been "very junior".

Others however praised her, saying she knew what made politicians tick and was a good link person between Number 10 and the 2019 intake of MPs. The Times also said she was turned down for a job with the House of Commons Deputy Speaker, Dame Eleanor Laing.

She carried out working at Number 10 under Liz Truss, before leaving when Rishi Sunak became Prime Minister. On her official House of Lords profile, it states there is no "experience" or "focus area" information to show for Lady Owen.

WHY DID BORIS JOHNSON CHOOSE HER FOR THE HOUSE OF LORDS?

Boris Johnson included a number of his former special advisors and Parliamentary assistants on his resignation honours list. It is seen as a reward for political service, although Johnson was criticised for the number of peers he nominated.

A cross-party Lords report last week said Johnson's exit honours had "brought into question" the current appointments system for creating new peers.

A source close to Johnson, told the Guardian: "The former Prime Minister made nominations for peerages and honours in line with precedents. He believes that all those who were nominated were meritorious and will contribute to public service."

Lady Owen was the most junior of all the peers Johnson nominated, and one of the most junior people on the former PM's entire resignation honours list, according to official records of special advisers.

A list of government special advisers - who are political appointees and not civil servants - and their seniority and salaries are listed as part of the Cabinet Office transparency data.

There are four brackets of salaries:

- Junior Special Adviser - £40,500 - £53,000
- Special Adviser - £57,000 - £84,000
- Senior Special Adviser - £73,000 - £102,000
- Special Adviser Leadership - £102,000 - £145,000

Lady Owen - who is only listed in the July 2022 data - was listed in the second bracket "special adviser", with a salary of under £70,000 a year.

Also nominated for peerages, was Dan Rosenfield, Boris Johnson's chief of staff, who has worked in and out of government since 2000. He was listed in the special adviser leadership category.

Ben Gascoigne was also given a peerage, who had worked for Johnson when he was Mayor of London and Foreign Secretary before becoming his Deputy Chief of Staff in Downing Street. He was also listed in the leadership category.

A government source told the Times: "No one who was working in the building at the time can understand why she is on the list. It is completely mad."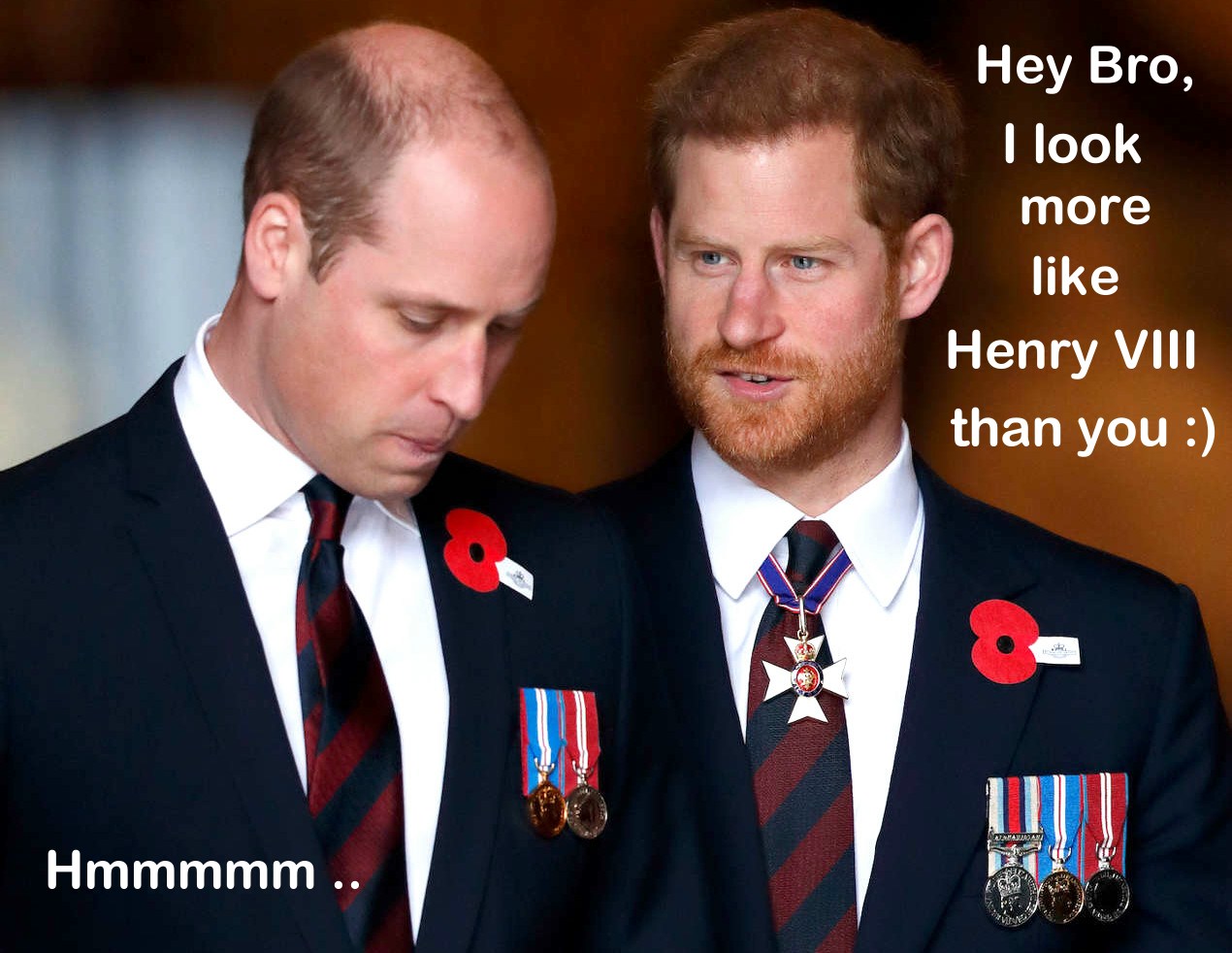 EVENING STANDARD 24 JULY 2023 - WHO IS CHARLOTTE OWEN? THE YOUNGEST LIFE PEER IN HISTORY TAKES HER SEAT

Boris Johnson's ex-aide has been in politics for all of five years and eight months, going from intern to baroness in that time.

Boris Johnson's new peer Lady Owen of Alderley Edge took her seat in the House of Lords on Monday afternoon, becoming the youngest life peer in UK history.

Charlotte Owen was included on the former prime minister's honours list, which Rishi Sunak gave his approval to before Mr Johnson resigned as an MP last month.

The former special adviser was a surprise inclusion on Mr Johnson's resignation honours' list given that she is believed to have only had a series of backroom political jobs in the administrations of the ex-PM and his successor, Liz Truss.

The list contained 38 honours and seven peerages, including former Downing Street chief of staff Dan Rosenfield and Kulveer Singh Ranger who worked with Mr Johnson when he was London mayor.

However, Owen was one of the most discussed names on the list due to her age.

WHO IS CHARLOTTE OWEN?

Charlotte Owen is a 29-year-old former special adviser. In 2015, she received a 2:1 in politics and international relations from the University of York.

Before taking a position as a special adviser to prime ministers Johnson and Liz Truss, she worked as an intern and parliamentary assistant. Owen split her time equally between Chris Heaton-Harris, the chief whip and parliamentary secretary to the Treasury, and Mr Johnson.

Sky News's Liz Bates said: "She's had a few jobs in Parliament. One of those was working for Boris Johnson. She did in the end work for the Number 10 policy unit. And I think at the end of her political career she was working for Liz Truss and the chief whip at the time, not an illustrious political career by any stretch, but she will go to the House of Lords as well."

She has worked in politics for approximately five years and eight months, meaning she has gone from parliamentary intern to baroness in just under six years.

WHO ELSE WAS REWARDED ON THE HONOURS LIST?

Along with Owen, other young peers include Ben Gascoigne and Ross Kempsell.

Jacob Rees-Mogg and Priti Patel, both former Cabinet ministers under Johnson also received recognition, he a knighthood and she a damehood. Former ministers Andrea Jenkyns and Amanda Milling also received damehoods.

Ben Houchen, the mayor of Tees Valley, and Shaun Bailey, a former London mayoral candidate and member of the London Assembly, are two of the new peers.

In order to prevent by-elections for the Conservatives, no serving MPs were given peerages.

Former culture secretary Nadine Dorries and former Cop26 president Sir Alok Sharma were not put forward for the House of Lords. The government reportedly rejected the nominations at the last minute to avert the possibility of two potentially disastrous by-elections.

However, Grant Shapps, the secretary for energy security, claimed that Downing Street had no influence over recommendations for peerages.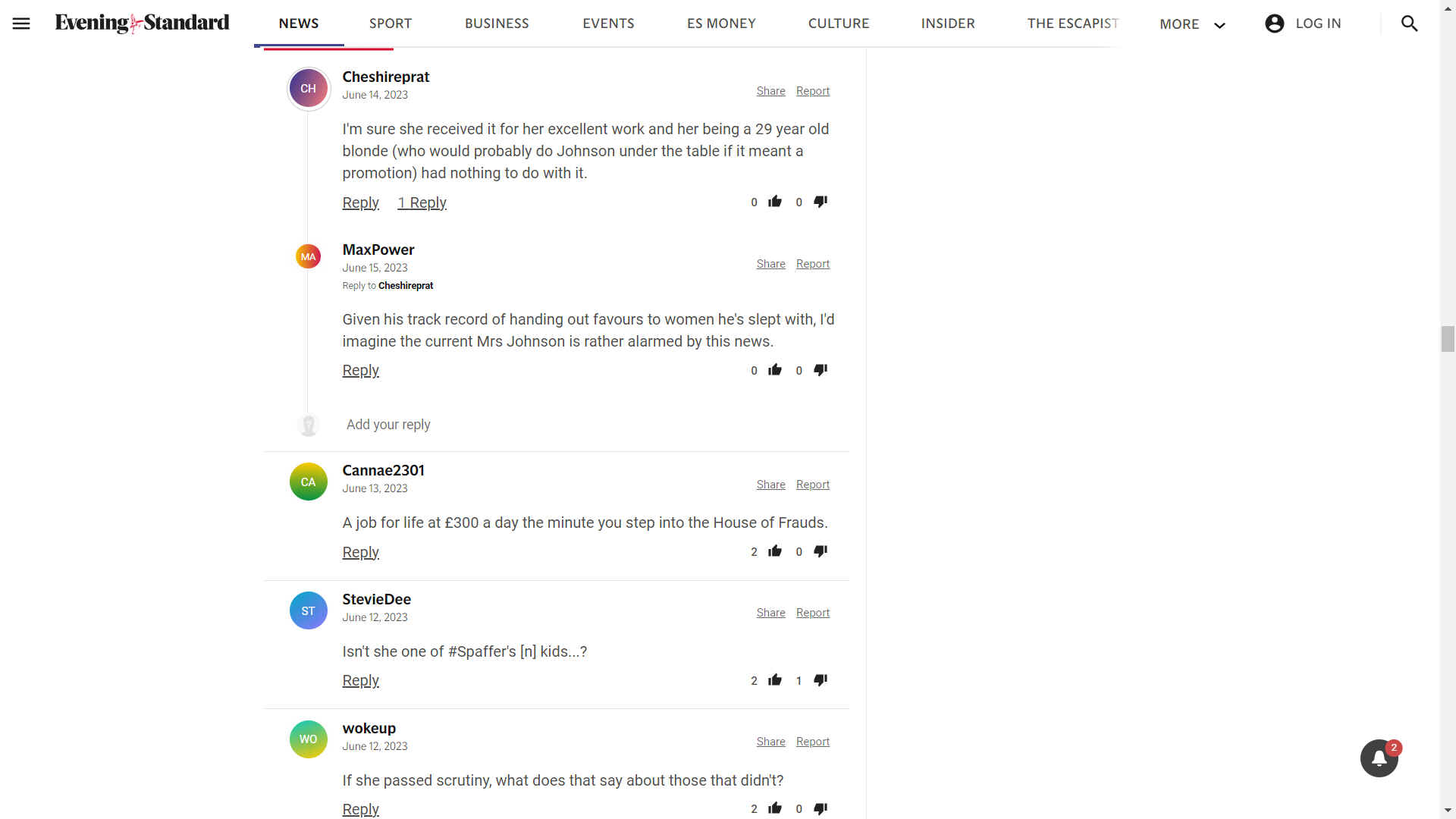 COMMENTS

Cheshireprat - June 14, 2023
I'm sure she received it for her excellent work and her being a 29 year old blonde (who would probably do Johnson under the table if it meant a promotion) had nothing to do with it.

MA - MaxPower - June 15, 2023 Reply to Cheshireprat
Given his track record of handing out favours to women he's slept with, I'd imagine the current Mrs Johnson is rather alarmed by this news.

CA - Cannae2301 - June 13, 2023
A job for life at £300 a day the minute you step into the House of Frauds.

ST - StevieDee - June 12, 2023
Isn't she one of #Spaffer's [n] kids...?

WO - wokeup - June 12, 2023
If she passed scrutiny, what does that say about those that didn't?

WF - WFM - June 12, 2023
I guess she won't tell now?

MA - MaxPower - June 12, 2023
Johnson and his fellow Tories have totally discredited the honours system.

VO - voltaire2016 - June 13, 2023Reply to MaxPower
Not as much as Tony Blair and his cronies...

MA - MaxPower - June 13, 2023Reply to voltaire2016 - view message
The Tories are far worse. You only have to look at the way they've packed the Lords with their cronies in the last 13 years to realise that. Johnson is the worst for it, but Cameron gave him a good run for his money.
WHY CONTACT THE HOUSE OF LORDS

Don't bother us
We like the present system
So there !!!
SWI F#@* O@#
LINKS & REFERENCE
https://www.standard.co.uk/news/uk/who-is-charlotte-owen-youngest-life-peer-boris-johnson-honours-list-b1087197.html
https://www.msn.com/en-gb/news/uknews/who-is-charlotte-owen-why-did-boris-johnson-make-30-year-old-the-youngest-peer-in-house-of-lords/ar-AA1eujAf
https://www.mirror.co.uk/news/politics/every-job-bumbling-boris-johnsons-25925658
https://www.mirror.co.uk/news/politics/every-job-bumbling-boris-johnsons-25925658
https://www.standard.co.uk/news/uk/who-is-charlotte-owen-youngest-life-peer-boris-johnson-honours-list-b1087197.html
https://www.msn.com/en-gb/news/uknews/who-is-charlotte-owen-why-did-boris-johnson-make-30-year-old-the-youngest-peer-in-house-of-lords/ar-AA1eujAf