Prince Andrew, Duke of York (Andrew Albert Christian Edward; born 19 February 1960) is a member of the British Royal Family, the second son of Queen Elizabeth II and Prince Philip, Duke of Edinburgh. He has been titled Duke of York since 1986, and is seventh in line to the succession to the throne of the United Kingdom.
ABOUT ANDREW
Prince Andrew, Duke of York KG, GCVO, CD, ADC (Andrew Albert Christian Edward; born 19 February 1960), is a member of the British royal family. He is the third child and second son of Queen Elizabeth II and Prince Philip, Duke of Edinburgh. He is ninth in the line of succession to the British throne.

Andrew served in the Royal Navy as a helicopter pilot and instructor and as the captain of a warship. During the Falklands War, he flew on multiple missions including anti-surface warfare, Exocet missile decoy, and casualty evacuation. In 1986, he married Sarah Ferguson and was created Duke of York. They have two daughters, Princess Beatrice and Princess Eugenie. Their marriage, separation in 1992, and divorce in 1996 attracted extensive media coverage. He served as the UK's Special Representative for International Trade and Investment for 10 years until July 2011.

Prince Andrew has been accused of child sexual abuse by Virginia Giuffre, who alleges that Andrew initiated a sexual encounter with her while knowing that she was a minor who was sex trafficked by American financier and convicted sex offender Jeffrey Epstein. In November 2019, the Queen permitted Andrew to step down from public duties "for the foreseeable future" following intense negative reaction to a television interview for the BBC's Newsnight programme. The interview was mainly concerned with responding to Giuffre's allegation, as well as Andrew's connections to Epstein. In May 2020, it was announced that Andrew would permanently resign from all public roles over his ties to Epstein. Andrew is a person of interest in the criminal investigation into Epstein's affairs; US authorities have filed a mutual legal assistance request to the UK in order to formally interrogate Andrew. As of September 2021, Andrew is the defendant in a lawsuit over sexual assault filed by Giuffre in New York State. Andrew has categorically denied Giuffre's claims and has stated that he has no recollection of meeting her.

ROYAL NAVY

The Royal Household announced in November 1978 that Andrew would join the Royal Navy the following year. In December, he underwent various sporting tests and examinations at the Aircrew Selection Centre, at RAF Biggin Hill, along with further tests and interviews at HMS Daedalus, and interviews at the Admiralty Interview Board, HMS Sultan. During March and April 1979, he was enrolled at the Royal Naval College Flight, undergoing pilot training, until he was accepted as a trainee helicopter pilot and signed on for 12 years from 11 May 1979. On 1 September of the same year, Andrew was appointed as a midshipman, and entered Britannia Royal Naval College, Dartmouth. During 1979 he also completed the Royal Marines All Arms Commando Course for which he received his Green Beret. He was commissioned as a sub-lieutenant on 1 September 1981 and appointed to the Trained Strength on 22 October.

After passing out from Dartmouth, Andrew went on to elementary flying training with the Royal Air Force at RAF Leeming, and later, basic flying training with the navy at HMS Seahawk, where he learned to fly the Gazelle helicopter. After being awarded his wings, he moved onto more advanced training on the Sea King helicopter, and conducted operational flying training until 1982. He joined carrier-based squadron, 820 Naval Air Squadron, serving aboard the aircraft carrier, HMS Invincible.

FALKLANDS WAR

Argentina invaded the Falkland Islands, a British overseas territory claimed by Argentina, on 2 April 1982, leading to the Falklands War. Invincible was one of the two operational aircraft carriers available at the time, and, as such, was to play a major role in the Royal Navy task force assembled to sail south to retake the islands.

Prince Andrew's place on board and the possibility of the Queen's son being killed in action made the British government apprehensive, and the cabinet desired that Prince Andrew be moved to a desk job for the duration of the conflict. The Queen, though, insisted that her son be allowed to remain with his ship. Prince Andrew remained on board Invincible to serve as a Sea King helicopter co-pilot, flying on missions that included anti-submarine warfare and anti-surface warfare, Exocet missile decoy, casualty evacuation, transport, and search and air rescue. He witnessed the Argentinian attack on the SS Atlantic Conveyor.

At the end of the war, Invincible returned to Portsmouth, where the Queen and Prince Philip joined other families of the crew in welcoming the vessel home. The Argentine military government reportedly planned, but did not attempt, to assassinate the prince on Mustique in July 1982. Though he had brief assignments to HMS Illustrious, RNAS Culdrose, and the Joint Services School of Intelligence, Prince Andrew remained with Invincible until 1983. Commander Nigel Ward's memoir, Sea Harrier Over the Falklands, described Prince Andrew as "an excellent pilot and a very promising officer."

CAREER NAVAL OFFICER

In late 1983, Andrew transferred to RNAS Portland, and was trained to fly the Lynx helicopter. On 1 February 1984 he was promoted to the rank of Lieutenant, whereupon the Queen appointed him as her personal aide-de-camp. Prince Andrew served aboard HMS Brazen as a flight pilot until 1986, including deployment to the Mediterranean Sea as part of Standing NRF Maritime Group 2. He undertook the Lieutenants' Greenwich Staff course. On 23 October 1986, the Duke of York (as he was by then) transferred to the General List, enrolled in a four-month helicopter warfare instructor's course at RNAS Yeovilton, and, upon graduation, served from February 1987 to April 1988 as a helicopter warfare officer in 702 Naval Air Squadron, RNAS Portland. He also served on HMS Edinburgh as an Officer of the Watch and Assistant Navigating Officer until 1989, including a six-month deployment to the Far East as part of exercise Outback 88.

The Duke of York served as flight commander and pilot of the Lynx HAS3 on HMS Campbeltown from 1989 to 1991. He also acted as Force Aviation Officer to Standing NRF Maritime Group 1 while Campbeltown was flagship of the NATO force in the North Atlantic from 1990 to 1991. He passed the squadron command examination on 16 July 1991, attended the Staff College, Camberley the following year, and completed the Army Staff course. He was promoted to Lieutenant-Commander on 1 February and passed the ship command examination on 12 March 1992. From 1993 to 1994, Prince Andrew commanded the Hunt-class minehunter HMS Cottesmore.

From 1995 to 1996, the Duke was posted as Senior Pilot of 815 Naval Air Squadron, then the largest flying unit in the Fleet Air Arm. His main responsibility was to supervise flying standards and to guarantee an effective operational capability. He was promoted to Commander on 27 April 1999, finishing his active naval career at the British Ministry of Defence in 2001, as an officer of the Diplomatic Directorate of the Naval Staff. In July of that year, the Duke of York was retired from the Active List of the Navy. Three years later, he was made an Honorary Captain, rather than the substantive rank of Captain, as would be customary. On 19 February 2010, his 50th birthday, he was promoted to Rear Admiral. Five years later, he was promoted to Vice Admiral.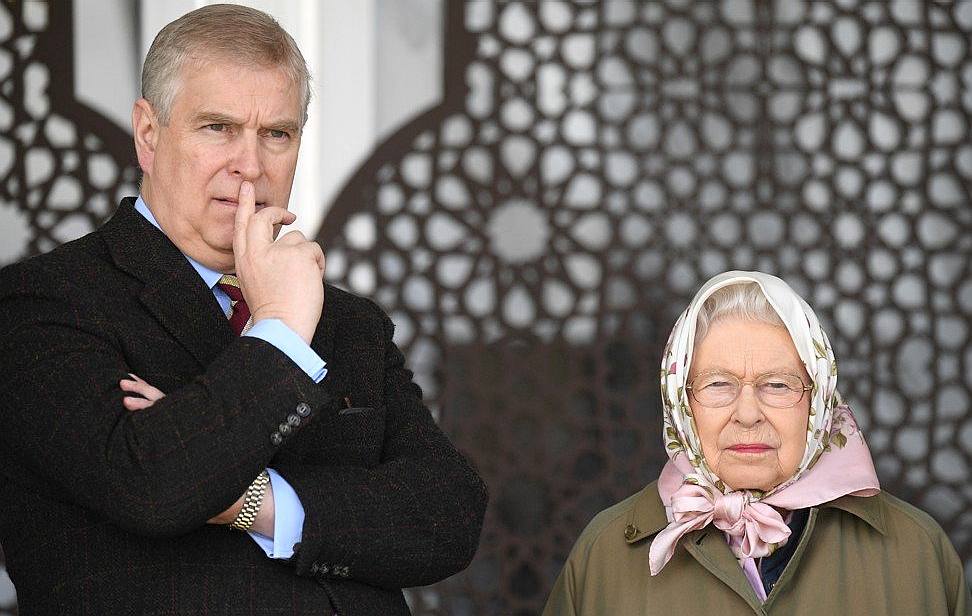 PRINCE ANDREW SCANDAL

Andrew has been dogged by allegations he had sex with one of the then-teenage victims of deceased US sex offender Jeffrey Epstein, involving Ghislaine Maxwell. Both Epstein and Maxwell having stayed at Balmoral.

The prince, often referred to as the queen's "favourite son", attempted to clear his name in a BBC interview in November but it backfired spectacularly.

He looked stiff and unapologetic in a performance that one public relations consultant said was akin to "watching a man in quicksand".

The prince promptly promised to "step back from public duties" a few days later but remains under pressure to cooperate with United States authorities still investigating the Epstein case.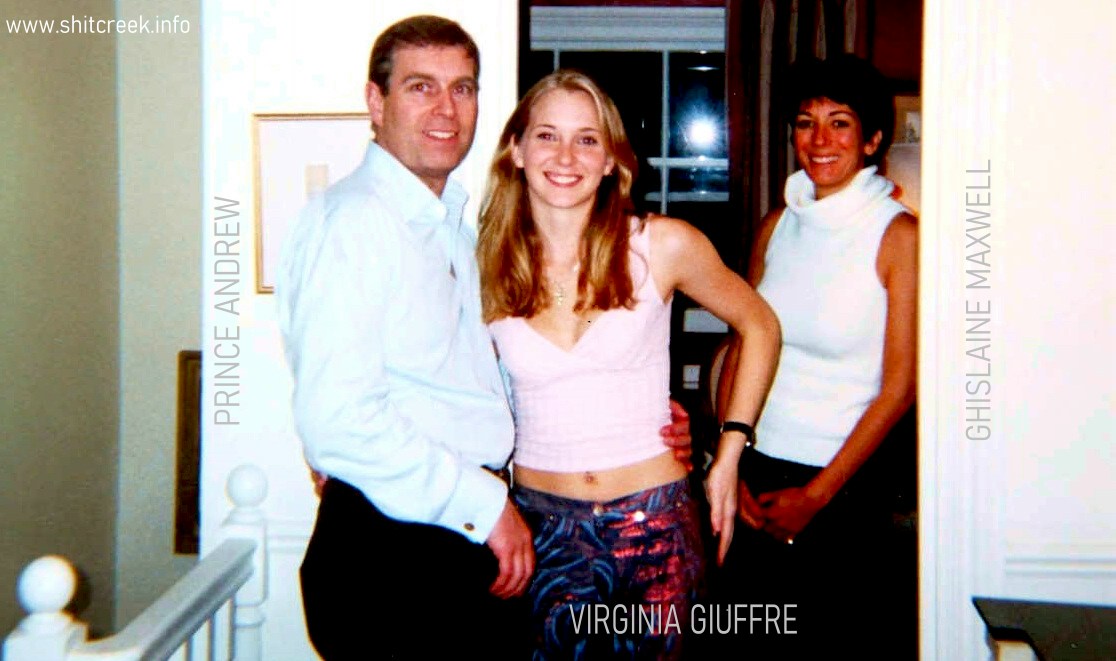 The Prince may not remember the 17 year old Virginia Roberts, but unless this photograph is a fake (doubtful - it must have been checked out) he did meet the young lady at some point - even if only posing at a drinks party, and Ghislaine Maxwell was at this meeting. One question we would ask is how do we know the age of the claimant from this picture? She could easily be 18 or older. Or she may have claimed to be over 18, for Ghislaine to have allowed Virginia to have been photographed with the Duke.
No doubt, testimony from Ms Maxwell will clear that up. And where and when was the picture taken, and by whom? You can imagine that with US State laws varying, and this picture apparently confirming London as the location, where the age of consent is 16, the precise details relating to the taking of this picture are extremely important. It might be worth checking passports, etc. Not that we are saying anything did or did not happen between the Prince and Ms Roberts. For the sake of argument, if something did take place (that the Duke cannot recall) and it was in London, then no crime had been committed.
You can legally marry a girl in Spain and Tahiti at 13 (we think). Hence, any prosecution would need to be very sure of dates and places to begin mounting an investigation. It would not be fair to even interview the Prince, until the facts had been established, for fear of the interviewing officer trying to trick him into something he could not possibly remember. Unfortunately, in sex cases in the UK, a defendants human rights are non-existent after Lord David Blunkett introduced the Sexual Offences Act 2003, designed to increase the conviction rate, at the expense of convicting a number of innocent people.
We know of a case where penetration had been alleged during a police interview, the defendant being led to believe by the interviewing officer that a girl making allegations of rape, had been penetrated. Though, many years later it transpired this was not true. In England there is no right of appeal. The system allows an application to a single judge, who is typically rewarded via the honours system, not to allow sex cases through, without making it extremely difficult, in the case in question, impossible to mount an appeal. Where vital transcripts had been denied the appellant, by the Royals Courts of Justice. Injustice we'd call that.
The evidence in the case under investigation, told only of natural marks and a hymen that could not be opened [even] with labial traction. A so-called child specialist from a local hospital gave evidence at trial, that the 'naturally occurring marks' could only be explained by penetration. That was a lie told to the jury, that virtually guaranteed a conviction. Regardless of innocence.
Legal Aid restrictions prevented the defendant in that case from instructing a specialist. Sussex police allowed the jury to hear misleading evidence, and the man was convicted on naturally occurring marks, found in females of all ages. British justice is such that despite other discrepancies being identified, such as a diary being attributed by the trial judge to the defendant, when it belonged to a psychiatric nurse, an appeal has never made it back to the Courts. In England, cases can only be referred back to the Court of Appeal via an outdated Criminal Cases Review Commission (CCRC). In this case the CCRC refused to countenance the misleading evidence presented to the jury and denied the judge had misdirected the jury as to the diary. Going so far as to refuse transcripts at one point.
The appellant sought a Judicial Review as to the negligence of the CCRC, but three judges denied the application. Leaving the appellant with substantial evidence of a mistrial and proof of virginity, but no way back to an appeal court. In the UK the state must provide an effective remedy, but as you might agree, the situation unfolding is anything but effective. Indeed, it appears the state have refused to include Article 13 in the domestic Human Rights Act 1998. Article 13 being the right to an effective remedy.
Europe sent back a claim after 4 years, suggesting the wrongly convicted man had a domestic remedy. This was on receipt of an independent forensic report that the jury had been misled as to the so-called suspicious marks. The next line of follow up is under the 1689 Bill of Rights, where an aggrieved person might seek audience with the King or Queen.
On considering the above case, you might think it is lucky Prince Andrew is only dealing with a civil claim. Because in the UK, he'd probably not fare that well under the law as it stands at present. At least Prince Andrew has unlimited funds for his legal team in the USA. In the UK the duty to advise a jury to be careful to convict on just the say so of a claimant, has been arborgated. It is not even beyond all reasonable doubt any more. It is just that you have to be sure. The criminal standard has dropped in sex case to the civil standard. I.e. on the balance of probabilities. In the USA they have a written constitution. It's high time the UK adopted a constitution that restores the right of all citizens to an effective remedy.
ABOUT THE ROYAL FAMILY

The King or Queen of England is responsible for appointing a Government that will provide an effective administration for her subjects. You may wonder how effective the Administration is under Boris Johnson, when he lied to the Queen about proroguing parliament.
Running a country is a difficult task as you might imagine with so many factors to take into account, such as climate change and Covid 19, and other vested interests that conflict with what might otherwise be the efficient running of Britain. It is a full time job, where at the moment many MPs are working as paid consultants on the side, taking them away from their duty to the electorate to concentrate on giving the citizen a fair deal, and a circular economy, in line with the United Nation's Sustainability Development Goals.
One of the main problems within the United kingdom is the institutionalised corruption that is widespread in the police and councils as reported on many websites and in the newspapers. The problem is so ingrained that we wonder if Her Majesty and her children simply tolerate the present level of malfeasance, despite the fact that such crimes carry a maximum life sentence.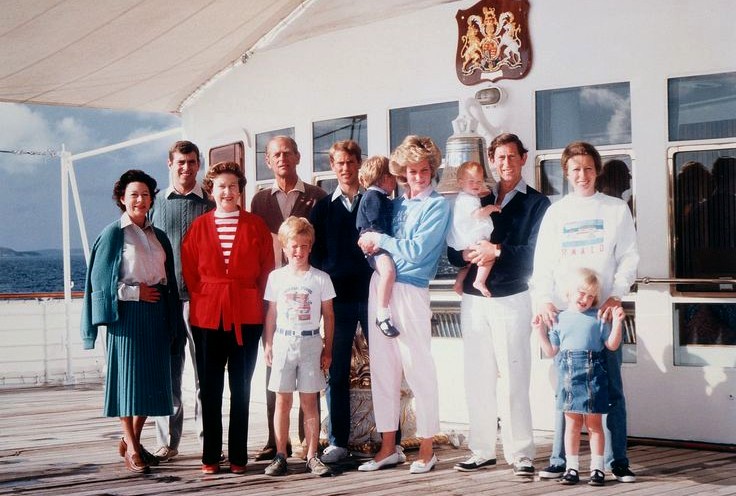 ROYALS GALLERY 2018
Andrew Duke of York

Anne Princess Royal

Autumn Phillips

Beatrice of York

Camilla Duchess Cornwall

Catherine Duchess Cambridge

Charles Prince Wales

Charlotte of Cambridge

Dianna Princess Wales

Edward Earl Essex

Eugenie of York

Elizabeth Majesty Queen

George of Cambridge

Harry Duke Sussex

Isla Phillips

Jack Brooksbank

James Viscount Severn

Lena Tindall

Louis of Cambridge

Louise Lady Windsor

Mark Captain Phillips

Meghan Duchess Sussex

Mia Grace Tindall

Mike Tindall

Peter Phillips

Philip Duke Edinburgh

Sarah Duchess York

MP

Savannah Phillips

Sophie Countess Wessex

Timothy Laurence V. Admiral

William Duke Cambridge

Zara Tindall
A TO Z OF FAMILY MEMBERS
Andrew Duke of York, Prince
Beatrice of York, Princess
Catherine Duchess of Cambridge
Charlotte of Cambridge, Princess
Edward Earl of Wessex, Prince
Elizabeth Queen II Windsor
Eugenie of York, Princess
Charles Prince of Wales
Dianna Princess of Wales
George of Cambridge, Prince
Jack Brooksbank
James Viscount Severn
Louis of Cambridge, Prince
Peter Phillips
Philip Duke of Edinburgh
Sarah Duchess of York
Sophie Countess of Wessex
Timothy Laurence Vice Admiral
William Duke of Cambridge, Prince
SUCCESSION TO THE BRITISH THRONE
Succession to the British throne is determined by descent, sex (for people born before October 2011), legitimacy, and religion. Under common law, the Crown is inherited by a sovereign's children or by a childless sovereign's nearest collateral line. The Bill of Rights 1689 and the Act of Settlement 1701 restrict succession to the throne to the legitimate Protestant descendants of Sophia of Hanover that are in "communion with the Church of England". Spouses of Roman Catholics were disqualified from 1689 until the law was amended in 2015. Protestant descendants of those excluded for being Roman Catholics are eligible.

Queen Elizabeth II is the sovereign, and her heir apparent is her eldest son, Charles, Prince of Wales. Next in line after him is Prince William, Duke of Cambridge, the Prince of Wales's elder son. Third in line is Prince George, the eldest child of the Duke of Cambridge, followed by his sister, Princess Charlotte and younger brother, Prince Louis. Sixth in line is Prince Harry, Duke of Sussex, the younger son of the Prince of Wales. Under the Perth Agreement, which came into effect in 2015, only the first six in line of succession require the sovereign's consent before they marry; without such consent, they and their children would be disqualified from succession.

The first four individuals in the line of succession who are over 21, and the sovereign's consort, may be appointed Counsellors of State. Counsellors of State perform some of the sovereign's duties in the United Kingdom while he or she is out of the country or temporarily incapacitated. Otherwise, individuals in the line of succession need not have specific legal or official roles.

The United Kingdom is one of the 16 Commonwealth realms. Each of those countries has the same person as monarch and the same order of succession. In 2011, the prime ministers of the realms agreed unanimously to adopt a common approach to amending the rules on the succession to their respective Crowns so that absolute primogeniture would apply for persons born after the date of the agreement, instead of male-preference primogeniture, and the ban on marriages to Roman Catholics would be lifted, but the monarch would still need to be in communion with the Church of England. After the necessary legislation had been enacted in accordance with each realm's constitution, the changes took effect on 26 March 2015.
This is a list of members of the royal family as of 2018:
Family members not using a royal style
There are a few immediate family members (a spouse and the children and grandchildren of its current full or deceased members) using no royal style who sometimes appear in listings: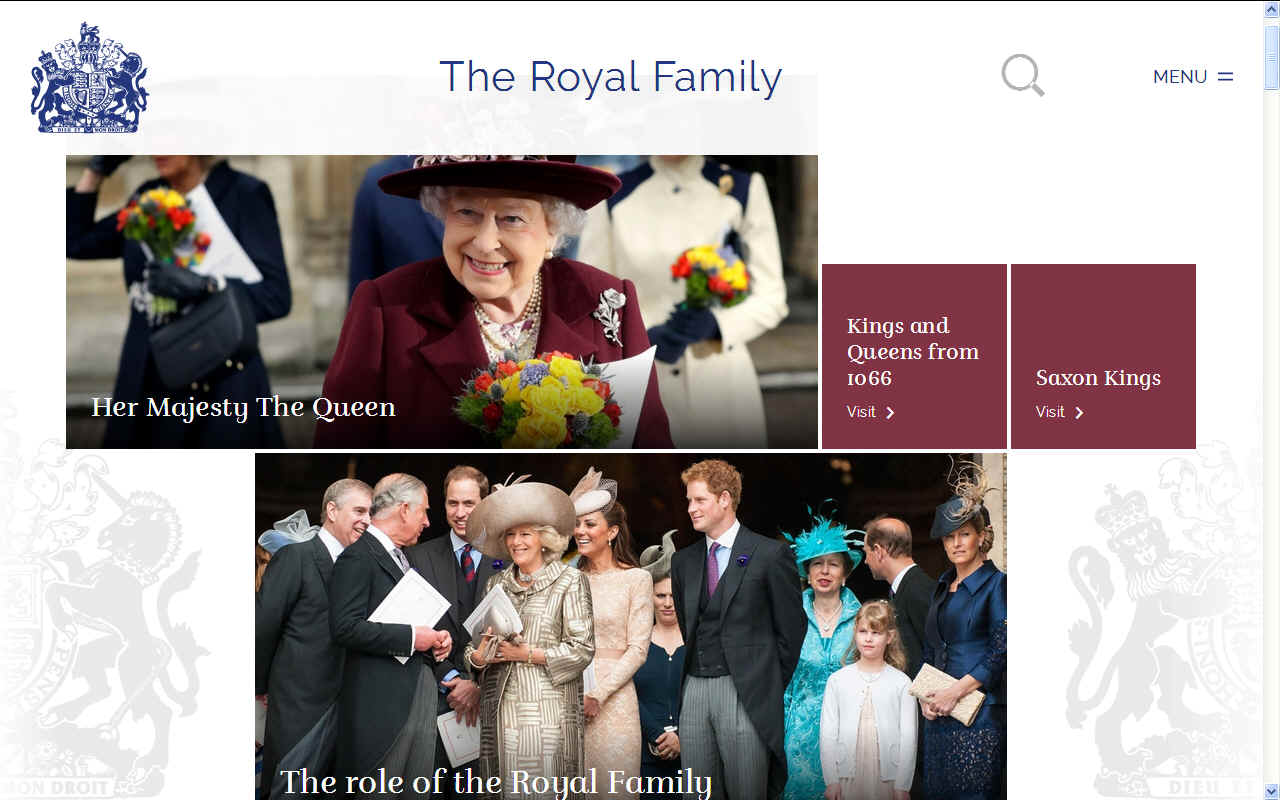 A TO Z OF ROYAL WEDDINGS
A is for ANNOUNCEMENT. A proclamation will be displayed on an easel at the gates of Buckingham Palace, while news of the birth will be tweeted by Kensington Palace and emailed to the press. Gun salutes will also mark the new arrival.

B is for BROTHER. The new royal baby will be 21 months younger than older brother Prince George, who is directly in line to become king one day.

C is for CHRISTENING. The baby will be baptised wearing a replica of a lace and satin gown that has been used since 1841. Tradition dictates the Archbishop of Canterbury Justin Welby, England's highest cleric, will conduct the christening.

D is for DUTY. Once an adult, a lifetime of royal duty on behalf of the sovereign awaits.

E is for EDUCATION. The royal youngster is set to enjoy exclusive schooling. Both William and his brother Prince Harry went to the elite boarding school Eton.

F is for FASHION. The new royal will be a trendsetter before it can walk and talk anything George has been seen wearing has flown off the shelves.

G is for GRANDPARENTS. William's father Prince Charles, the heir to the throne, and his wife Camilla are expected to visit the baby in hospital shortly after the birth, along with Kate's parents Michael and Carole Middleton.

H is for HOME. The new baby will grow up at the Cambridges' apartment in London's Kensington Palace and Anmer Hall, a country house on Queen Elizabeth II's private Sandringham estate in eastern England.

I is for INTEREST. The birth will spark huge interest around the world, with international media camped outside the hospital doors waiting for the first glimpse of the new royal.

J is for JORDAN. The baby will be baptised with water from the River Jordan.

K is for KATE. The 33-year-old duchess suffered acute morning sickness again during her second pregnancy, causing her to miss royal engagements.

L is for LINE OF SUCCESSION. The baby will be born fourth in line to inherit the throne, behind George and directly in front of uncle Harry.

M for MEMORABILIA. The Centre for Retail Research reckons the royal baby will bring retail sales of around £60 million to £70 million ($88-103 million, 84-98 million euros), rather than the £247 million boost attributed to George.

N is for NAMES. Royal babies often get several Christian names, with George getting three. Bookmakers' favourites for a girl are Alice, Elizabeth, Charlotte, Alexandra and Victoria; for a boy, James, Arthur, Henry, Philip and Albert.

O is for OBSTETRICIANS. The medical team will be led by Guy Thorpe-Beeston, the surgeon-gynaecologist to the royal household, who will be assisted by his predecessor Alan Farthing.

P for PRIMOGENITURE. Laws which took effect in March ending male primogeniture mean girls born after October 28, 2011 can no longer be overtaken by younger brothers in the line of succession.

Q is for QUEEN ELIZABETH II. The baby will be the monarch's fifth great-grand-child and her 17th descendant.

R is for ROYAL MINT. They will produce a £5 coin in celebration and gift a special "lucky" silver penny to 2,015 babies born on the same day.

S is for ST MARY'S HOSPITAL. The baby will be born in the private Lindo Wing of the hospital in Paddington, central London. A two-room suite costs £6,750 a night, though consultants' fees can double that.

T is for TITLE. The baby will be known as His/Her Royal Highness Prince/Princess (name) of Cambridge.

U is for UNCLE HARRY. William's fun-loving brother is coming out of the army and so may have more time to babysit. The baby will also have Auntie Pippa and Uncle James on its mother's side.

V is for VICTORIA. The baby will be the great-great-great-great-great-grandchild of 19th-century queen Victoria.

W is for WILLIAM. The 32-year-old duke is training to become an air ambulance pilot. He will take two weeks' paternity leave. He could face a two-hour drive to London when Kate goes into labour.

X is for XX or XY? As with George, the couple do not know the sex of the baby.

Y is for YELLOW. Bookmakers are taking bets on the colour of Kate's dress when she leaves hospital, with a spring-like yellow among the favourites for the first baby pictures that will zip round the world.

Z is for ZZZ William and Kate can expect months of sleepless nights, but their nanny will be on hand to ease the burden.
A TO Z OF ROYAL NAMES
A: ALEXANDER, Defender of the people. The feminine version, Alexandra, is the Queen's middle name. In 2013 William and Kate gave their son George this middle name in tribute to her.

B: BRICE, From the town of Bruis. This is the family name of famed Scottish king Robert, who led the country to independence from England in 1320.

C: CHARLES, Freeman. Strong Prince Charles shares a moniker with Charles II (1630-1685), who came to power when the monarchy was restored in 1660. Also Prince Harry's second name.

D: DAVID, Beloved. In something of a royal tradition, King Edward VIII (later Duke of Windsor) was known informally as David, the last of his seven names. Prince Harry's fourth name.

E: EDWARD, Noble strength. King Edward I's (1239 – 1307) campaign to bring Scotland under English control is the subject of the film Braveheart.

F: FREDERICK, Peaceful ruler. Always a favourite with royals, the name had a surge in popula­rity in the 18th century when the German House of Hanover claimed the throne.

G: GEORGE, Farmer. Prince George shares his name with the Queen's beloved father, George VI, who saw Great Britain through the Second World War.

MORE: The meaning behind Prince Louis Arthur Charles

H: HENRY, Ruler of the estate. He's known to the world as Prince Harry, but the rugged young royal's first name is actually Henry – one of the most-storied royal names.

I: INDULF, Wolf. This unusual moniker is the English version of the medieval Gaelic name "Ildulb." Indulf mac Causantin (d. 962) was king of the Scots

J: JAMES, Supplanting. The 21st-most-popular boy's name in the UK last year, James is also the name of many British kings.

K: KENNETH, Fire. King Kenneth MacAlpin is considered by some to be the founding father of Scotland in the ninth century.

L: LOUIS, Famed warrior. Prince William and Prince George both have this as a middle name. It was likely chosen to honour Prince Philip's uncle, Lord Louis Mountbatten.

M: MICHAEL, Who is like God. The name of the Queen's cousin Prince Michael of Kent.

N: NICHOLAS, Victory of the people. The Duke of Kent's son Lord Nicholas Windsor, now in his 40s, shares a name with the saint who is believed to protect sailors.

O: OCTAVIUS, Eighth. Royal families would give this name to the eighth child (or eighth boy), as with Prince Octavius (1779-1783), eighth son of King George III.

P: PHILIP, Fond of horses Prince Charles paid tribute to his father, Prince Philip, when naming his first-born. Philip is one of Prince William's middle names.

Q: QUINCY, Estate of the fifth son. Derived from the Latin word "quintus," this was the name of rebel leader Saer de Quincy, 1st Earl of Winchester (1155-1219).

R: RICHARD, Brave power. King Richard III (1452-1485) may have gotten a bad rap from Shakespeare, but this name has never gone out of style.

S: STEPHEN, Crown. A fitting choice for a royal, Stephen wasn't always a proper name; it was used as a noun in Homer's ancient Greek epic The Illiad.

T: THOMAS, Twin. Thomas Becket (1120-1170), the Archbishop of Canterbury, had disputes with King Henry II and was killed by his men.

U: UNREADY, Bad counsel. Ethelred the Unready (968-1016) was just seven years old when he took the throne, hence he became known as the "unready" ruler.

V: VICTOR, Champion. Despite its martial meaning, this name is more famous for its association with saints and religious figures than warriors.

W: WILLIAM, Determined protector. After his brother Prince William, who will one day become King.

Prince William, whose full name is William Arthur Philip Louis, and his son Prince George, whose full name is George Alexander Louis

X: XAVIER, New house. St. Francis Xavier (1506-1552) was one of the first Jesuit missionaries and devoted his life to taking Roman Catholicism to Asia

Y: YOUNG. King Henry II's successor was known as Henry the Young King to differentiate between father and son. He lived from 1155-1183.

Z: ZEID, To grow. Perfect for a born leader, the name represents a person who encourages progression in himself and others.
ALICE, Of a noble kind. Prince Philip's mother, Princess Alice (1885-1969), lives up to the meaning of her moniker: she was Queen Victoria's great-granddaughter.

BEATRICE, Bringer of joy. This traditional name has had resurgence in popularity thanks to Harry's cousin Princess Beatrice, who shares her name with Queen Victoria's youngest daughter.

CHARLOTTE, Free, strong. A feminine spin on Charles, this has been the name of numerous nobles, including glamorous Princess Charlotte (1796-1817) and the youngest Windsor, Princess Charlotte of Cambridge

DIANA, Goddess of the moon, divine. The mother of princes William and Harry, later called the "People's Princess," wasn't the first Lady Diana Spencer. The artist daughter of the Duke of Marlborough (1734-1808) shared the name.

FIONA, White, fair. Like Shrek's modern princess bride, the name Fiona is an updated version of the original Scottish and Irish eponyms Finola and Finnuala.

GABRIELLA, God is my strength. Prince and Princess Michael of Kent gave this name to their daughter. Lady Gabriella, now a journalist, is 40th in line to the throne and is called Ella.

HELENA, Light. Commonly used as a tribute to Roman empress St. Helena, its variants are Helen and Ellen. It was the name of Queen Victoria's third daughter.

ISABELLA, God's promise. The Spanish form of Elizabeth, this name has been given to more than 20 international queens and other royal women.

JANE, Gracious. Lady Jane Grey (1536-1554) is called the nine-day queen – the length of her reign before being supplanted by Queen Mary.

KATE, Pure. There are no "Kates" in royal history, but five Catherines have been queen, including Catherine of Aragon, whose marriage with Henry VIII sparked the Protestant Reformation.

LOYCE, Renowned warrior. There are no "Loyces" in royal history but it's Meghan's mum Doria's second name. According to sheknows.com People with this name have a deep inner desire to inspire others in a higher cause, and to share their own strongly held views on spiritual matters.

MARY, Strong waters. Her Majesty's grandmother Mary of Teck was engaged to Prince Albert. After he died of the flu, she wed his younger brother, the future George V.

NOOR, Light. The Jordan beauty Queen Noor comes to mind when we think of this name; however, Noor, which is of Arabic origin, is actually a unisex title.

OLGA, Holy. Derived from the Scandinavian "Helga," Olga is a popular name in Russian aristocracy.

PHILIPPA, Lover of horses. The feminine form of Philip, this Greek name – derived from Alexander the Great's father.

QUINN, Wise, queen. Perfect for a born ruler, Quinn, which means fifth-born, would also be ideal for a family's fifth infant.

ROSE, Rose. Princess Margaret's lovely middle name was at the insistence of George V. His wife had wanted to call her "Ann Margaret".

SAVANNAH, Treeless plain. The Queen's eldest grandchild, Peter Phillips, and his Canadian wife, Autumn, gave their first daughter this name, which has native American origins.

THYRA, Thor's struggle. Two Danish princesses had this name, pronounced "Tara." The elder Thyra's sister, Alexandra, married Queen Victoria's eldest son, Edward VII.

URSULA, Little female bear. St. Ursula, a Roman-British Christian saint, was, legend has it, the daughter of a king, who was martyred after she refused to marry.

VICTORIA, Victory. Many princesses in the past several generations have been named in honour the stalwart queen.

WANDA, Slender, young tree. The story of Polish Queen Wanda – who drowned herself to avoid marrying an enemy – is a legend in Poland.

XENIA, Hospitality. Grand Duchess Xenia Alexandrovna of Russia was a muse to Danish composer Valdemar Vater. He wrote the "Xenia Polka Mazurka" for her.

YASMIN, Jasmine flower. Hollywood royalty meets the real thing in Princess Yasmin Aga Khan, the daughter of Rita Hayworth and Prince Aly Khan.

ZARA, Bright as the dawn. It's thanks to her uncle, Prince Charles, that the Queen's granddaughter got her name. "She made a sudden and positive arrival and my brother thought it was an appropriate name," says Princess Anne.
LINKS & REFERENCE
https://www.msn.com/en-gb/news/courts/epstein-accuser-takes-legal-action-against-duke-of-york-over-alleged-assault/ar-AAN7T69
https://www.msn.com/en-gb/news/courts/andrew-s-legal-team-stonewalling-lawyers-of-his-accuser/ar-AAN9XYk
https://www.msn.com/en-gb/news/courts/prince-andrew-s-legal-team-accused-of-being-totally-uncooperative-over-sexual-assault-allegations/ar-AANalqM
https://www.msn.com/en-gb/news/uknews/sorry-prince-andrew-but-you-can-t-stay-in-balmoral-forever/ar-AANbRpM
https://www.msn.com/en-gb/news/uknews/met-police-to-review-jeffrey-epstein-allegations-amid-prince-andrew-lawsuit/ar-AANeqs9
https://www.msn.com/en-gb/news/uknews/prince-andrew-s-1-5m-loan-paid-off-by-firms-linked-to-tory-donor-report/ar-AAQMCd7
https://en.wikipedia.org/wiki/Prince_Andrew,_Duke_of_York
https://en.wikipedia.org/wiki/British_royal_family
https://www.bbc.co.uk/news/uk-23272491
https://www.royal.uk/royal-family