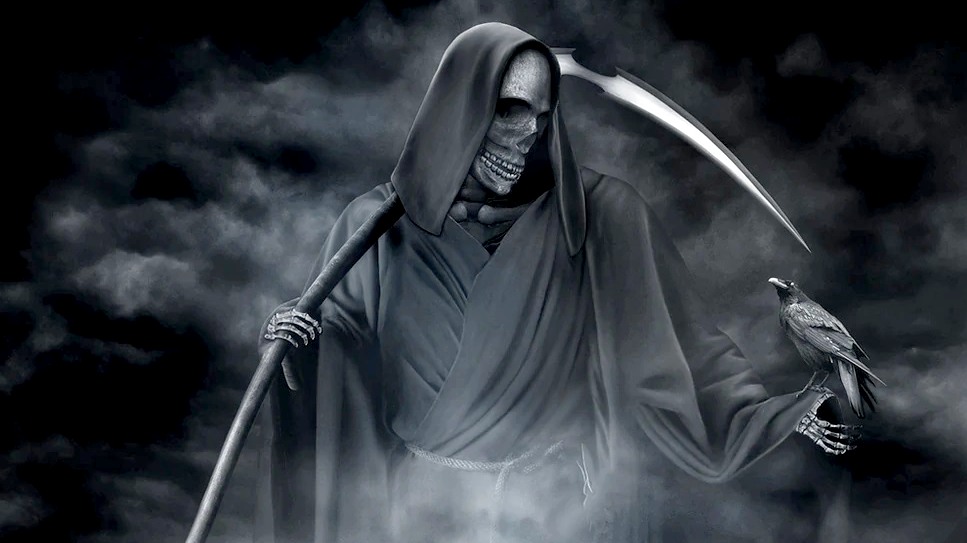 DEATH AWAITS - As ye sow, so shall ye reap. Or as Maximus Decimus Meridius might say: "What you do in life echoes in eternity." Politicians who promote fossil fuel policies, or fail to create blue growth policies, corporation executives and their investors, who fund exploitative rapes of the land, will be recorded in history for their crimes.
THE DIRTY DOZEN - PROMOTE INSANE FOSSIL FOOL POLICIES THAT DAMAGE OUR ECOLOGY WITH IMPUNITY
Chinese President

Xi Jinping

US President

Joe Biden

EU President

Ursula von der Leyen

Indian PM

Narendra Modi

Vladimir Putin

Russian PM

Japanese PM

Fumio Kishida

Kim Boo-kuym

South Korean PM

Mohammed bin Salman

Saudi Arabian Ruler

Justin Trudeau

Canadian PM

Jair Bolsonaro

Brazilian PM

Joko Widodo

Indonesian PM

Scott Morrison

Australian PM
INTEGRITY - We need a new generation of politicians who are not in it for the money and to push the interests of their cronies. Old school politics is about who lies the most convincingly. New age politics is about who gets the votes by telling the truth. It does not matter if you make an honest mistake, so long as you admit to them right away. It does matter if you plan to nurse lies for the sake of attaining a position of power and staying there to milk the system, despite your very existence being a sham.
We encourage the young with an interest in fair play and conservation of the planet, to get into politics, and displace the fossil fools. Help us to ban Blah, blah, blah.
ECOCIDE - ECO CRIMINALS - PROPOSAL TO AMEND THE ROME STATUTE
Ecocide is proposed environmental law by way of an amendment to the Rome Statute. This would be in relation to any destruction of the earth's natural resources, attacks on flora or fauna, including pollution as it affects our land, rivers and oceans - and - the health of humans. Offenders would be environmental (eco) criminals, as opposed to climate criminals.
In view of the worsening situation and continued and continuous over zealous exploitation of the planet, in the full knowledge that such actions contribute to Global Warming and damage the planet's ecology, to create deserts of arable land and Raise Sea Levels (by way of examples), by nations and corporations acting out of a desire for economic gain, rather than sustainable growth - and where such rape of the earth is damaging to our precious ecosystems - the (Cleaner Ocean Foundation, a not for profit organization with charitable objects) consider and would like to add support to the notion, or freshly propose that it is time that the crime of Ecocide was recognised and admitted as an internationally punishable offence, by way of amendment to the Rome Statute, sealed in Rome on the 17th day of July 1998.
Typically, rape of the land, of habitats, that leave scars on the planet as visibly physical alterations, or as invisible effects such as alteration of ocean chemistry, air pollution or temperature or changes to weather patterns, are because they are trying to extract fuels or minerals, or grow cash crops in deference to ancient woodlands - without paying the price of restoration. The aim being to report profits to shareholders. That had those shareholders known what the environmental cost would have been to generations to come, and animals trying to survive in the natural world, would not have invested in those companies.
Geographical genocide, is the carrying on an activity, business or practice, that causes a group of people to cease being able to live where they have lived for a significant number of years. Examples of geographical genocide include causing or contributing to global warming, where global warming is the cause of rising sea levels and desertification. Both of which have caused groups of people to have to relocate, where their native land has become uninhabitable. This includes islanders and those living in areas that are no longer capable of supporting agriculture, so creating a man-made famine.
ROME STATUTE 1998 OF THE INTERNATIONAL CRIMINAL COURT
The International Criminal Court in The Hague, Netherlands, may try any person who is guilty of causing harm to another human being, such as, by continuing to use, or ramping up use of a fuel that is known to hurt humans in any geographical location (geographical genocide), or failing to introduce conditions or policies to reduce the use of internal combustion engines that cause lung cancer and other respiratory conditions leading to the agonizing deaths for millions of people each year.
The law created in July of 1998, was designed to prevent the most horrific crimes against humanity, including genocide.
WHAT IS A CLIMATE CRIMINAL ?
A Climate Criminal is any politician who says that they care about Climate Change, but fails to put into practice whatever bullshit speak they used to get themselves elected. They love their high carbon lifestyle. It seems that they could not give a fig about global warming so long as they do not have to change their ways. How else could a person get elected. They get elected pandering to the greed that is in us all to some extent. In the UK we are no different, hence Brexit. But once the electorate have been fooled, that is that. Or will we ever learn from our mistakes!