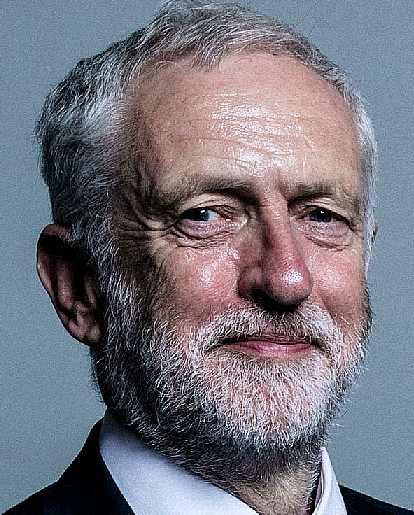 JEREMY CORBYN
BBC NEWS MAY 1 2019 - Jeremy Corbyn: UK must declare a climate emergency

Labour leader Jeremy Corbyn has opened a parliamentary debate, calling on MPs to declare a national climate emergency on climate change.

Shadow business secretary Rebecca Long Bailey said this is "the first step towards taking more radical action".

Labour is also calling on the government to commit to achieving net zero emissions before 2050.

The UK is currently committed to reducing carbon emissions by 80% compared to 1990 levels by 2050.

The debate in Parliament comes after a series of protests by the environmental activists Extinction Rebellion.

The group described a meeting with Environment Secretary Michael Gove on Tuesday as "very disappointing" because he refused to declare a climate emergency.

Mr Gove said he "shared their high ideals" to tackle climate change but added that "we should show that we're making a difference rather than simply telling everyone how important it is to change".

The Welsh and Scottish governments have both declared a climate emergency, along with dozens of towns and cities, including Manchester and London.

Speaking on BBC Radio 4's Today programme Ms Long Bailey said Labour wanted the government to establish a target for net zero emissions "well before" 2050.

She also called for "a green industrial revolution" to "harness the huge economic potential that low carbon and renewable technology will bring" such as onshore and offshore wind and tidal technology.

"This isn't just about tackling climate change it is a huge economic opportunity to rebuild Britain," she said.

Dozens of towns and cities across the UK have already declared "a climate emergency".

There is no single definition of what that means but many local areas say they want to be carbon-neutral by 2030.

Some councils have promised to introduce electric car hubs or build sustainable homes to try to achieve that goal.

It's a much more ambitious target than the UK government's, which is to reduce carbon emissions by 80% (compared to 1990 levels) by 2050.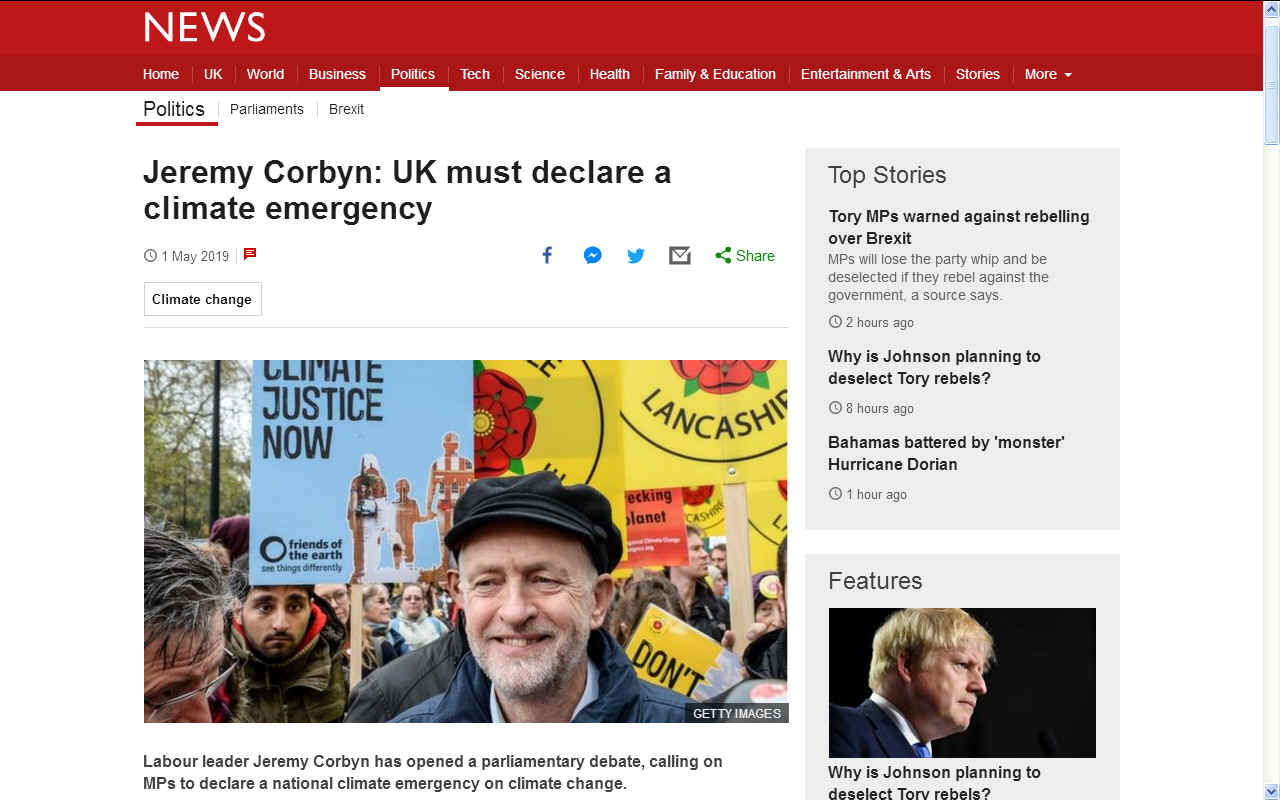 PUTTING CLIMATE 'CENTRE STAGE' OF POLICY?

What would it mean to acknowledge a climate emergency or climate crisis? Well, it would put the climate at centre stage of government policy.

For years politicians have devised fine policies on the environment, only to see them fail as other issues jostled to the political fore.

The UK for instance is legally committed to long-term climate change targets - but it's already slipping away from its medium-term goals.

Transport and agriculture are especially culpable.

Environmentalists say it's inconceivable that any government caring about the climate thinks expanding Heathrow is compatible with cutting emissions.

In terms of how the government is run under an emergency scenario - it would have to move towards the equivalent of a war footing.

This sounds melodramatic, but it would mean that cutting greenhouse gas emissions becomes a central goal of the UK's economic policy, with all governments taking responsibility - not just the Business Department and Defra.

This, according to Professor Jim Watson from the UK Energy Research Centre, means a central role for the Treasury.

It would monitoring emissions as closely as we monitor GDP growth and employment, and ensure that all government decisions are compatible with a net zero pathway.

Declaring an emergency or a climate crisis could have psychological advantages too: If we keep repeating a phrase it tends to become reality in our minds. That would help keep the climate at the forefront of decision-making.

There are problem with the emergency definition, though.

First, is the slow relentless nature of climate change itself. Can we see climate change as an emergency in the way we accept that, say a flu pandemic is an emergency?

Then there's the timescale.

From 1939-1945, a state of emergency won the war. But that was six years of toil and sweat… not 32 years as we struggle towards our 2050 date for eliminating emissions. By Roger Harrabin, Environment Analyst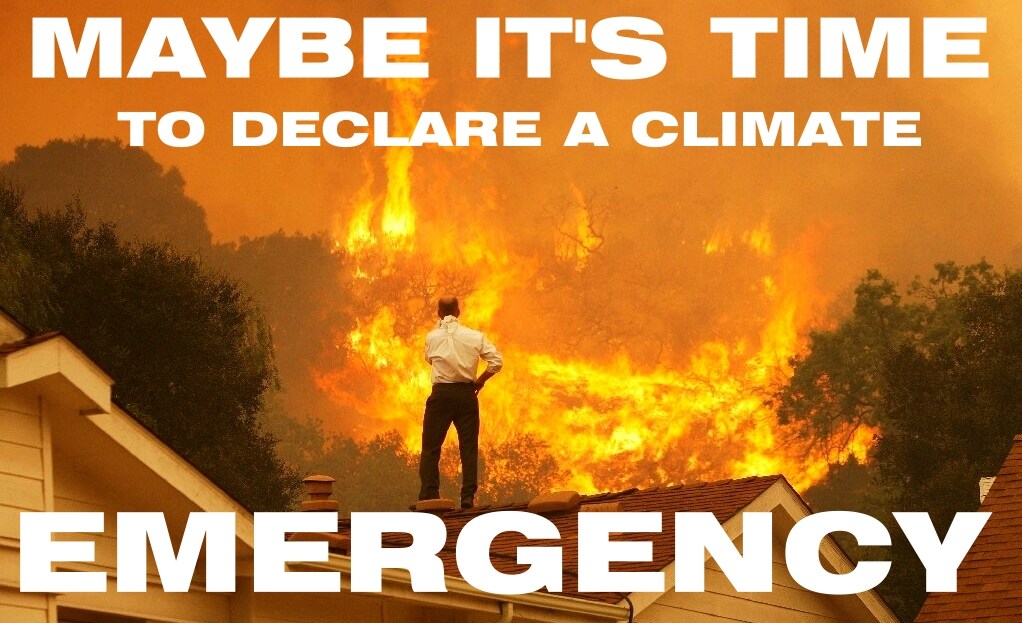 The Labour party is a political group that has had its share of Prime Ministers in the United Kingdom, but even with that balance of the power sharing seesaw, this party has been unable to curb climate change, provide affordable housing or bring down our National Debt to sensible levels. The policies of Conservative and Labour parties - and even for a brief time a coalition with the Liberal Democrats have done nothing to alleviate the poverty trap for millions of British citizens who are effectively, financial slaves.
The United Kingdom has many political parties, some of which are represented in the House of Commons and the House of Lords. Below are links to the websites of the political parties that were represented in the House of Commons after the 2015 General Election:
SOCIAL DEMOCRATIC AND LABOUR PARTY
LABOUR SHADOW GOVERNMENT 2017-2018
Jeremy Corbyn

MP

Tom Watson

MP

Emily Thornberry

MP

John McDonnell

MP

Dianne Abbott

MP

Nia Griffith

MP

Richard Burgon

MP

Kier Starmer

MP

Barry Gardiner

MP

Jon Ashworth

MP

Angela Rayner

MP

Rebecca Long-Bailey

MP

Debbie Abrahams

MP

Andy McDonald

MP

Andrew Gwynne

MP

John Healey

MP

Valerie Vaz

MP

(Angela) Baroness Smith Basildon

MP

John Trickett

MP

Lesley Laird

MP

.

Christina Rees

MP

Owen Smith

MP

Sue Hayman

MP

Kate Osamor

MP

Ian Lavery

MP

Dawn Butler

MP

Peter Dowd

MP

MP

(Shami) Baroness Chakrabarti

MP

Nick Brown

MP

(Steven) Lord Bassam Brighton

MP

Barbara Keeley

MP

Cat Smith

MP

Kerry McCarthy

MP

Mary Creagh

MP

Thangam Debbonaire

MP

.

.

Harold Wilson

Former Prime Minister

Lord David Blunkett

Former MP

Gordon Brown

Former Prime Minister

Tony Blair

Former Prime Minister
Baroness Sharmi Chakrabarti CBE
Baroness Angela Smith of Basildon
Keir Starmer KCB QC
Kerry McCarty
Lesley Laird
Lord Steven Bassam of Brighton
Mary Creagh
Thangham Debbonaire
Tom Watson
We are concerned with how the make up of the above parties and (reasonably) popular policies affects the Wealden district of Sussex, because we are all brothers on two islands in the Atlantic Ocean and what we do or fail to do is likely to rebound on ourselves and our fellow man in other nations around the world. How we act today influences policies in other countries in our global community. It is not just about us and our patch even with Brexit putting the brakes on.
East Sussex has five District and Borough Councils, each with a border on the coast. From west to east they are:
There is also East Sussex County Council as the provider of services to the 5 East Sussex districts.
As near neighbours and with councils now sharing facilities and working together, these area of Sussex are included in our remit and an area where climate change and affordable housing are issues that need urgent attention. Where the coastline is a feature in every Council, Blue Growth is a food security issue, especially where this side of of our local economy is under-exploited.