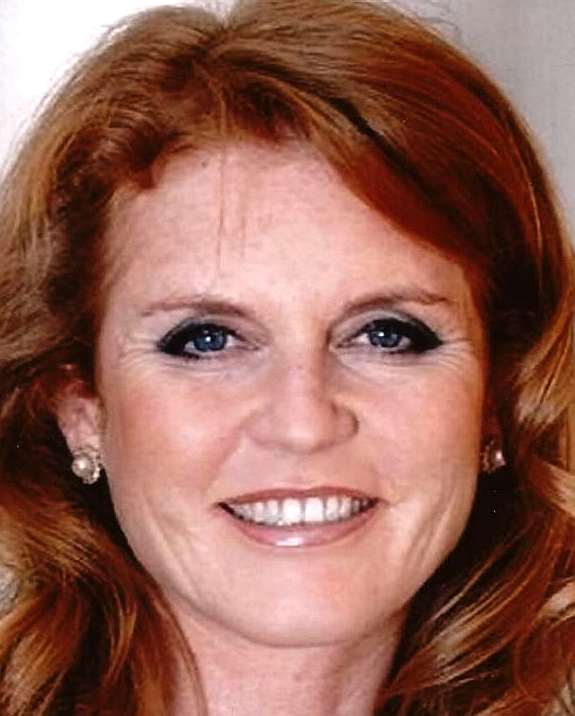 Sarah, Duchess of York (born Sarah Margaret Ferguson; 15 October 1959), also known by the nickname Fergie, is a British writer, charity patron, film producer, and television personality. She is the former wife of Prince Andrew, Duke of York, the second son of Queen Elizabeth II and Prince Philip, Duke of Edinburgh. Sarah is the younger daughter of Major Ronald Ferguson and Susan Barrantes (née Wright). She has two daughters, Princesses Beatrice and Eugenie, who are respectively eighth and ninth in the line of succession to the British throne.
SEX SCANDAL
Though a remote possibility, in 2022, the Duchess of York and/or her daughters, Beatrice and Eugenie, may be called to give evidence in the case of the alleged claims against her former husband by Virginia Guiffre, should the hearing in New York proceed without a deal being done to settle the claims - regardless of innocence or guilt. The Duchess has had her fair share of problems. (see below)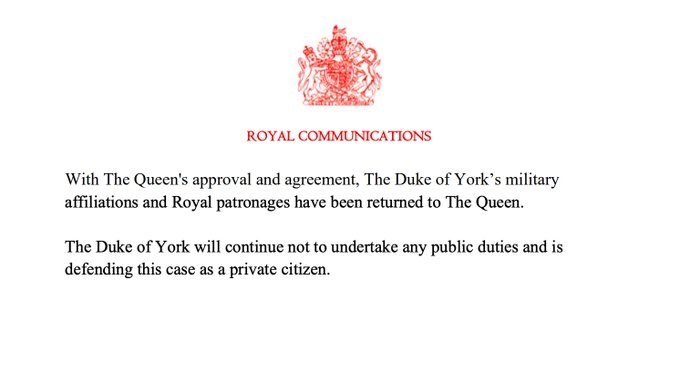 TITLES

On 21 August 1996, letters patent declared that former wives of British princes, other than widows who did not remarry, were not entitled to the style of Her Royal Highness. Meanwhile, divorced peeresses (such as duchesses) "cannot claim the privileges or status of Peeresses which they derived from their husbands". While a divorced former wife of a duke is no longer a duchess, she may still use the title, styled with her forename prefixed to the title (without the definite article, the). Her forename is used primarily to differentiate her from any new wife of her former husband.
However, should the former husband remain unmarried, the former wife may continue to use the title without her forename attached. Should a former wife of a peer remarry, she would lose the style of a divorced peeress and take on a style relating to her new husband. The Royal Household refers to Sarah as Sarah, Duchess of York, but on at least two occasions (the announcements of the engagements of her daughters), she has been referred to together with her former husband as The Duke and Duchess of York.
DAILY MAIL 14 JANUARY 2022

EXCLUSIVE: Prince Andrew's ex-wife Sarah Ferguson will REMAIN a duchess despite calls for Duke of York to relinquish title after agreeing not to use HRH.

EXCLUSIVE: Friends insist Sarah Ferguson will remain the Duchess of York. Princesses Beatrice and Eugenie will also retain Royal Highness monikers, while Prince Andrew was dramatically cast out of the Royal Family on Thursday 13th January 2022. The Duke was stripped of his HRH titles and ceremonial military honours.

Prince Andrew may have been stripped of his Royal Highness title, but his ex-wife, Sarah Ferguson, will remain a duchess.

Friends made clear last night that she will continue to be known as Sarah, Duchess of York despite her former husband being cast out of the Royal Family.

'That has been her title since their divorce and that is how it will stay,' one of her associates told the Daily Mail.

'Andrew is still the Duke of York, so it is not an issue.'

Andrew became Duke of York, a title traditionally granted to the monarch's second son, on his marriage to Fergie in 1986.

It is a title of particular significance as it was held by both the Queen's father, George VI, and her grandfather, George V.

The duchess, 62, is allowed to continue styling herself as Sarah, Duchess of York until she marries someone else, at which point she would lose her title.

The couple's daughters, Her Royal Highness Princess Beatrice and HRH Princess Eugenie, will keep their Princess and Royal Highness titles.

Although they tend to be known as Beatrice and Eugenie York in their professional lives, their royal titles are always used in official bulletins such as the Court Circular.

Sarah Ferguson's Twitter identity is SarahTheDuchess and she has often used her title on the cover of books she's written.

She has also frequently been styled Sarah, Duchess of York while promoting her books and other products around the world.

Another of her friends said: 'Sarah has absolutely no intention of shrinking away from the limelight. Why should she?

'She and her daughters have done nothing wrong and they believe Andrew 100 per cent that he has done nothing wrong either.'

Despite divorcing in 1996, Sarah and Andrew are so close that they share Royal Lodge, the Queen Mother's former home, on the Windsor estate, and regularly visit the Queen together at Windsor Castle.

In 2014, they spent about £13 million on a chalet in the upmarket Swiss ski resort of Verbier with both of their names on the deeds.

Andrew faces growing calls for him to lose or relinquish his Duke of York title from those in the city.

York Central MP Rachael Maskell said it was 'untenable' for him 'to cling on' to his duke title and his association with the city. 'This association with York must end.'

Andrew gave up several patronages in York and Yorkshire after 'stepping back' from royal duties in 2019.

A spokesman for the duchess declined to comment.

The Queen was 'saddened' at having to force Prince Andrew out of the Royal Family but backed Prince Charles in saying he had 'run out of road', insiders have revealed.

Explaining why the monarch forced her son to stop using his HRH title in order to face his sex case in the US civil courts as a 'private citizen', a well-placed source said the decision had been 'difficult' but the Queen knew that she had no choice but to act.

Up until now, they said, the hesitation to strip the Duke of York of his remaining military and charitable affiliations – and quash any hope of returning to public life – had been down to a determination not to be seen to 'pass judgment' on the claims against him. Andrew has constantly denied the allegations.

But his recent failed attempt to have the lawsuit brought by Virginia Roberts thrown out of court on technical grounds, leaving him facing a jury trial in the autumn, meant that action had to be taken sooner rather than later.

The source said: 'The hesitation up until now at Buckingham Palace has resulted from their determination not to be seen to pass judgment [on the allegations]. That is not their role and there are court proceedings to determine that.

'But what has happened this week is that he [Andrew] is now in a world in which his name will never be cleared – whether he wins or loses.

'Having a member of the Royal Family using their title as they go to court to defend themselves against those kind of allegations is obviously unacceptable.'

They added: 'This week's judgment meant that Andrew simply ran out of road.'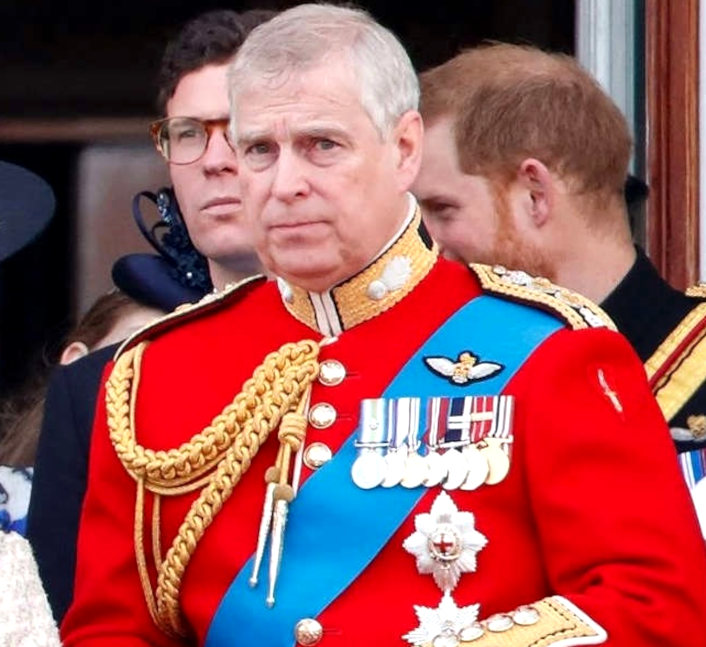 DEBT PROBLEMS

In the mid 1990s, Sarah reportedly had a £4.2 million deficit in her bank account which she paid off by going on "a four-year earning spree" in the United States.

In 2006, Sarah used the money she had earned from her career as a film producer and writer to found Hartmoor LLC in the US. A lifestyle company, it was set to help with her "career in publishing, media and public speaking". The company collapsed in 2009, leaving Sarah with a debt of £630,000. Later in the same year, it was revealed that she was in a financial dispute with three firms and in September she was summoned "to court in the UK for unpaid bills". It was reported in August 2010 that Sarah might declare voluntary bankruptcy with debts of £5 million, though other sources had suggested she owed about £2 million.

In March 2011, it was reported that Jeffrey Epstein had helped Sarah avoid bankruptcy by paying off some of her debts. The payments were reportedly made after intervention from the Duke of York. She later admitted getting money from Epstein and called it a "gigantic error". In the summer of 2011, Finding Sarah aired on the OWN network. One episode of the U.S.-filmed reality series depicted Sarah meeting with Suze Orman, the internationally known financial advisor, receiving from Orman a strict lecture and practical advice on how to resolve her financial issues.

In May 2020, it was reported that Andrew and Sarah were in a legal dispute over their Swiss chalet as they were unable to pay their £5m debt. Despite claims that the Queen would help with paying the debt, a spokesperson for the Duke of York confirmed that she "will not be stepping in to settle the debt". The Times reported in September 2021 that Sarah and Andrew had reached a legal agreement with the property's previous owner and would sell the house to pay back their debt.

CASH FOR ACCESS

In May 2010, Sarah was filmed by the News of the World offering Mazher Mahmood, an undercover reporter posing as an Indian businessman, access to Prince Andrew for £500,000. On the video made as a documentary source for the story, which is publicly available, Sarah is heard to say, "£500,000 when you can, to me, open doors". She is seen taking away a briefcase containing £40,000 in cash. Exposure surrounding the incident increased Sarah's public profile and notoriety.

Sterling Publishers substantially increased the print run of Ashley Learns About Strangers, Sarah's latest book for children; however, the notoriety did not translate into additional book sales. In an interview with Oprah Winfrey, Sarah explained her behaviour by saying that she had been drinking prior to soliciting the cash, and was "in the gutter at that moment". She also claimed that her intention was initially to help a friend who "needed $38,000 (£28,000) urgently" but she ultimately asked for more money due to her own financial problems.

In November 2016, it was reported that Sarah intended to sue News Group Newspapers (parent company of the News of the World) and its owner Rupert Murdoch for £25 million in damages citing her "loss in earnings" as well as the subsequent "distress" that the media sting brought to her as the main reasons. In January 2018, it was reported that the actual amount Sarah was seeking was £45 million.
CRIMINAL CHARGES & INTERNATIONAL ARREST WARRANT

On 13 January 2012, the Ministry of Justice of Turkey issued an international arrest warrant for Sarah. She had travelled to Turkey in 2008, and covertly filmed a Turkish state orphanage. The Turkish authorities alleged that Sarah made a false declaration when entering the country (in relation to her motives for visiting Turkey), trespassed into a Turkish Government institution and also invaded the privacy of children. These charges carry sentences of up to 22 years imprisonment. Turkey and Britain have an extradition treaty; however, Home Office officials have stated,

"Under UK extradition law a judge must order the discharge of [an extradition request] if it is not an offence under UK law and in the country requesting extradition. In this case there is no offence in UK law so there will be no extradition."

Turkey maintains that Sarah distorted information about the orphanage and used an isolated incident in a smear campaign against the Republic of Turkey. Turkey invited international human rights organisations to inspect any orphanage of its choosing to show its transparency in relation to the issue.

On 5 May 2012, the trial began into the charges brought by the Ankara State Prosecutor's office. Cansu Şahin, representing Ferguson, who was not present, told the Ankara court that her client has apologised and would like to plea-bargain with the prosecution.


ROYALS GALLERY 2018
Andrew Duke of York

Anne Princess Royal

Autumn Phillips

Beatrice of York

Camilla Duchess Cornwall

Catherine Duchess Cambridge

Charles Prince Wales

Charlotte of Cambridge

Dianna Princess Wales

Edward Earl Essex

Eugenie of York

Elizabeth Majesty Queen

George of Cambridge

Harry Duke Sussex

Isla Phillips

Jack Brooksbank

James Viscount Severn

Lena Tindall

Louis of Cambridge

Louise Lady Windsor

Mark Captain Phillips

Meghan Duchess Sussex

Mia Grace Tindall

Mike Tindall

Peter Phillips

Philip Duke Edinburgh

Sarah Duchess York

MP

Savannah Phillips

Sophie Countess Wessex

Timothy Laurence V. Admiral

William Duke Cambridge

Zara Tindall
A TO Z OF ROYAL FAMILY MEMBERS
Andrew Duke of York, Prince
Beatrice of York, Princess
Catherine Duchess of Cambridge
Charlotte of Cambridge, Princess
Edward Earl of Wessex, Prince
Elizabeth Queen II Windsor
Eugenie of York, Princess
Charles Prince of Wales
Dianna Princess of Wales
George of Cambridge, Prince
Jack Brooksbank
James Viscount Severn
Louis of Cambridge, Prince
Peter Phillips
Philip Duke of Edinburgh
Sarah Duchess of York
Sophie Countess of Wessex
Timothy Laurence Vice Admiral
William Duke of Cambridge, Prince
SUCCESSION TO THE BRITISH THRONE
Succession to the British throne is determined by descent, sex (for people born before October 2011), legitimacy, and religion. Under common law, the Crown is inherited by a sovereign's children or by a childless sovereign's nearest collateral line. The Bill of Rights 1689 and the Act of Settlement 1701 restrict succession to the throne to the legitimate Protestant descendants of Sophia of Hanover that are in "communion with the Church of England". Spouses of Roman Catholics were disqualified from 1689 until the law was amended in 2015. Protestant descendants of those excluded for being Roman Catholics are eligible.

Queen Elizabeth II is the sovereign, and her heir apparent is her eldest son, Charles, Prince of Wales. Next in line after him is Prince William, Duke of Cambridge, the Prince of Wales's elder son. Third in line is Prince George, the eldest child of the Duke of Cambridge, followed by his sister, Princess Charlotte and younger brother, Prince Louis. Sixth in line is Prince Harry, Duke of Sussex, the younger son of the Prince of Wales. Under the Perth Agreement, which came into effect in 2015, only the first six in line of succession require the sovereign's consent before they marry; without such consent, they and their children would be disqualified from succession.

The first four individuals in the line of succession who are over 21, and the sovereign's consort, may be appointed Counsellors of State. Counsellors of State perform some of the sovereign's duties in the United Kingdom while he or she is out of the country or temporarily incapacitated. Otherwise, individuals in the line of succession need not have specific legal or official roles.
The United Kingdom is one of the 16 Commonwealth realms. Each of those countries has the same person as monarch and the same order of succession. In 2011, the prime ministers of the realms agreed unanimously to adopt a common approach to amending the rules on the succession to their respective Crowns so that absolute primogeniture would apply for persons born after the date of the agreement, instead of male-preference primogeniture, and the ban on marriages to Roman Catholics would be lifted, but the monarch would still need to be in communion with the Church of England. After the necessary legislation had been enacted in accordance with each realm's constitution, the changes took effect on 26 March 2015.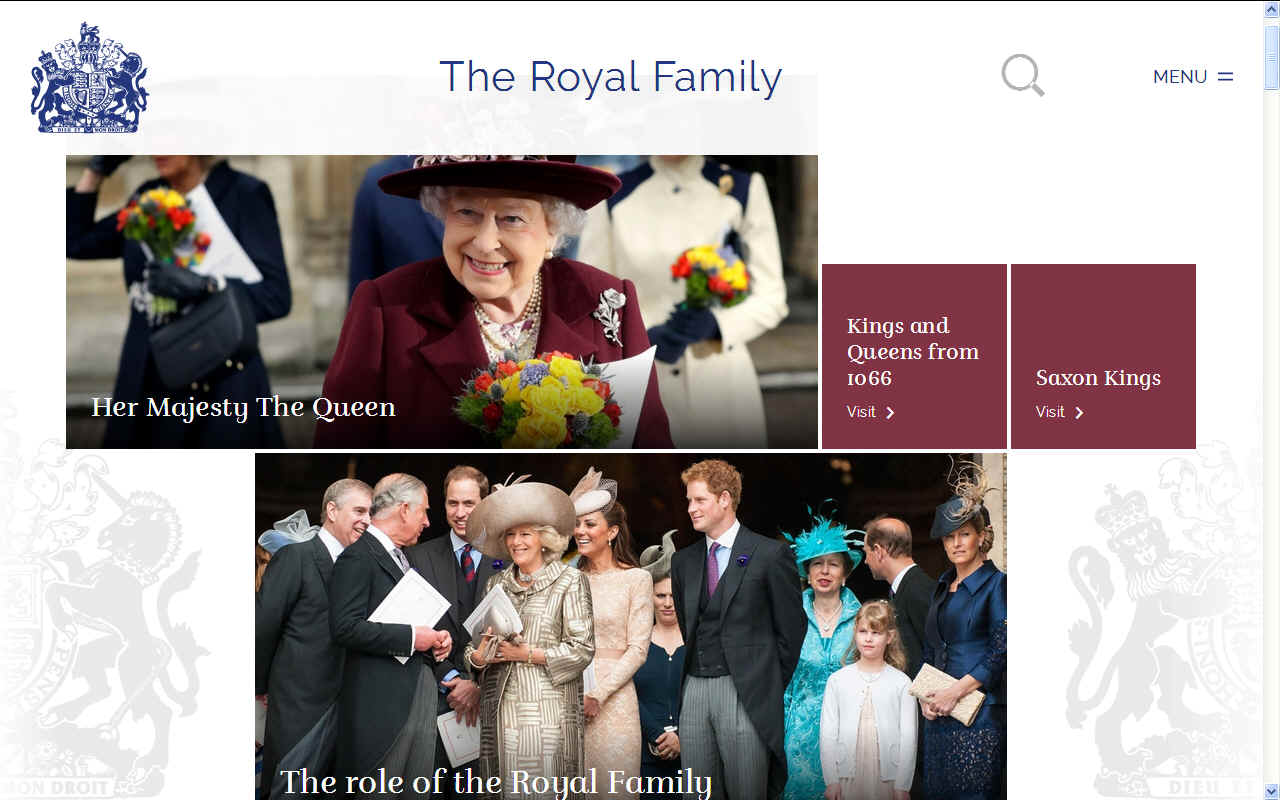 LINKS & REFERENCE
https://www.dailymail.co.uk/news/article-10404381/Sarah-Ferguson-Duchess-York-title-despite-Prince-Andrew-cast-Royal-Family.html
https://www.dailymail.co.uk/news/article-10404381/Sarah-Ferguson-Duchess-York-title-despite-Prince-Andrew-cast-Royal-Family.html
https://www.britroyals.com/
https://en.wikipedia.org/wiki/British_royal_family
https://www.bbc.co.uk/news/uk-23272491
https://www.royal.uk/royal-family