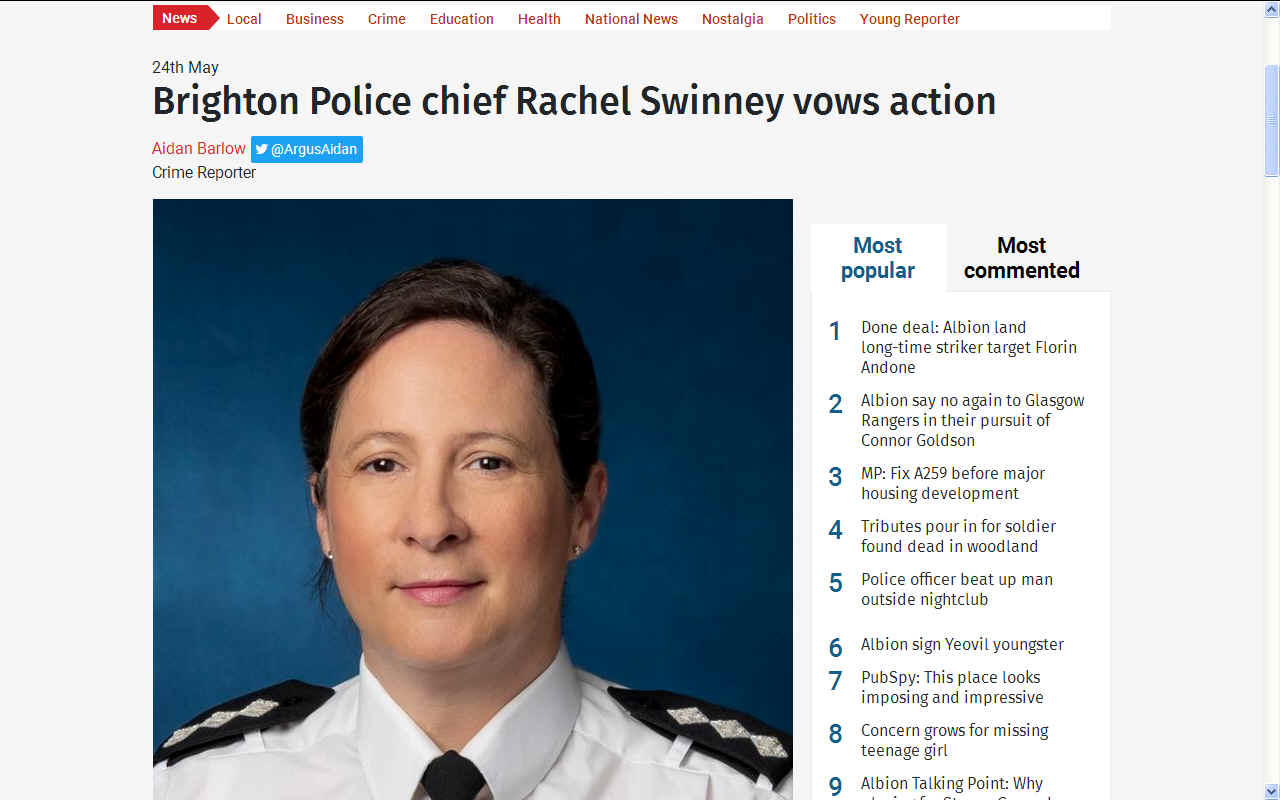 RACHEL SWINNEY - Vows to chase drug dealers and aggressive beggars, but what about passive beggars? It seems that if you pester for money nicely you may get away with it. As for drug dealers, it has been alleged that police personnel, or ex police officers, have been involved in growing drugs in Britain. We hope that there will be no more shooting unarmed men in the early hours of the morning, as with James Ashley - and that if the police do make mistakes - that they are honest enough to own up to it, rather than embark on a prolonged period of cover up.
THE ARGUS 24 MAY 2018 - BRIGHTON POLICE CHIEF RACHEL SWINNEY VOWS ACTION

A POLICE chief has pledged to get her officers on the streets to tackle crime after criticisms by traders and residents.

Chief Inspector Rachel Swinney has recently taken on the role of district commander for Brighton at the police station in John Street.

Her arrival last month comes as residents in St James's Street raised concerns with Sussex Police and Crime Commissioner Katy Bourne that the area has become "lawless" with open drug dealing and aggressive begging.

Earlier this week The Argus reported on traders' concerns about a lack of police presence, and residents who have found needles dumped in the street.

But Chief Insp Swinney says she has listened to residents concerns, and says she will be taking action.

She said: "I think if the public are telling us they are unhappy, we have a duty to listen, to find out more and to understand why they are feeling like that.

"I'm absolutely committed to working with people in the St James's Street area, to look at their concerns and find solutions.

"I'm aware of the concerns about police visibility. There will be a series of dates where my team and I will be in the area, available to sit down so that we can really get a grip of the issues affecting people in their everyday life.

"Our local prevention teams have been active in this area with focused patrols.

"I am making there is dedicated team of officers who specifically have the responsibility of working with residents and are available to listen their concerns."

Chief Insp Swinney previously led the force's integrated offender management unit, which looked at how to deal with persistent and problematic criminals, so she believes this experience will help in her role.

There will also be a key focus on working in partnership with charity groups and with Brighton and Hove City Council to launch a combined approach.

She said: "We need to look for long term solutions. If we arrest everybody in the area, they can be displaced. We need a combined approach rather than quick fixes.

Chief Insp Swinney said that she started her career as an officer in Brighton and Hove 26 years ago, and said solving the problem is "really important" for her, and said officers will be taking effective action to curb criminals.

She added: "I will be taking a robust approach to criminality. Aggressive begging and open drug dealing will not be tolerated."

By Aidan Barlow (Crime Reporter)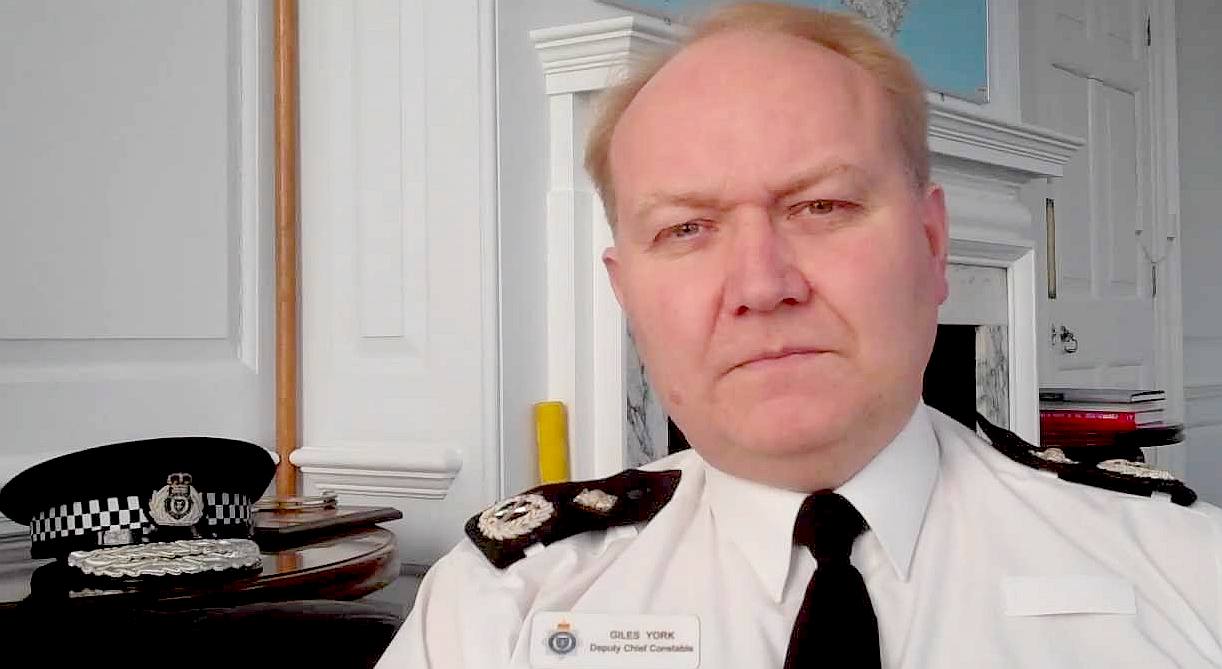 TRAFFIC COP - Speeding is no longer a problem for bobby's on the beat because of the potholes the size of craters that will smash the suspension of an ordinary car. Drivers on British roads now have to zig-zag their way to and from work and hope that their zags do not coincide with the zags of other drivers on a zig stroke - or else their will be an accident. What has happened to all of our road fund license money. Is this another fraud investigation that the police will turn a blind eye to. Who is stealing the money we pay to maintain and build new roads? There's no point asking Sussex police to investigate, they are sure to do nothing and then give nothing to the CPS, who will then say there is a lack of evidence. Failing to investigate crime is a crime. What is the point of paying huge sums for police officers when they are allowed to pick and choose what to investigate. Masons in the police and CPS and even Judges and barristers, need to be flushed out of the system if there is to be any chance of justice for the ordinary man in the street. Sussex police were asked for a list of their masonic brothers, but refused to provide such information, saying it was a matter for a Freedom of Information request.
Sussex Police has been governed by their Chief Constable, Giles York, since 2014, for which he, like his predecessors earned a Queens Police Medal. It Mr York's job to put in place an effective administration to be able to police Sussex. In turn he reports to the Crime Commissioner, who is at this point in time Katy Bourne, though crime commissioners and their advisory body the Association of PCCs may be coming to a sticky end for multiple failures according to Wikipedia.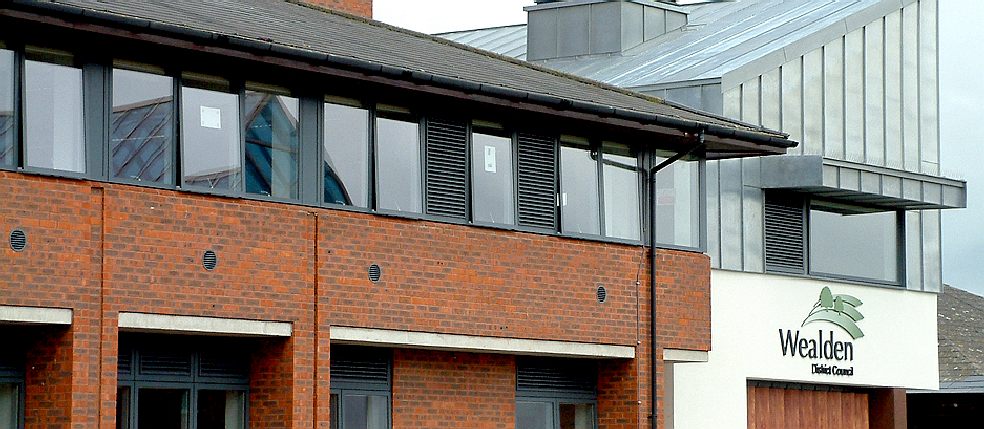 CORRUPT COUNCIL OFFICERS - The police need to stop working to protect corrupt council officers and go after the fraudsters who profit from manipulating the planning system. There is also the matter of using their authority to do favours for well to do citizens, against the less well off. Again, manipulating the system for the gain of the influential.
LINKS & REFERENCE
http://www.theargus.co.uk/news/16248352.Police_chief_vows_to___39_get_a_grip__39__on_crime/