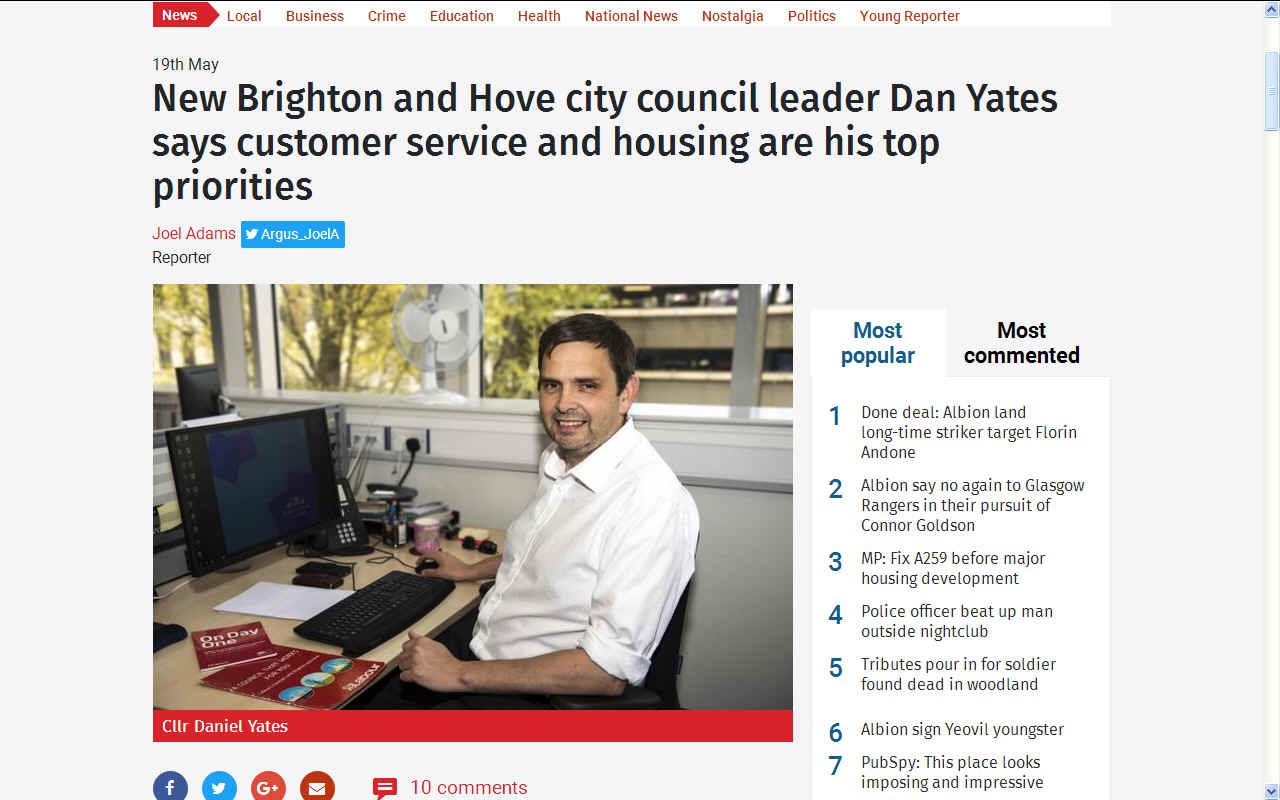 THE ARGUS 19 MAY 2018 - NEW BRIGHTON & HOVE CITY COUNCIL LEADER

THE new leader of Brighton and Hove City Council has promised to make customer service his number one priority.

Councillor Dan Yates, who officially took over from Cllr Warren Morgan at Thursdayís Annual Council, told The Argus his new role was the most exciting job he could imagine.

The 45-year-old, who represents the Moulescoomb and Bevendean ward, said he remains as enamoured of Brighton and Hove as he was when he moved to the city more than a decade ago.

After growing up in Essex Cllr Yates moved to Worthing for work. He is a physiotherapist and senior manager in the NHS and then to Brighton and Hove in 2006. He said: ďWhat attracted me to Brighton and Hove is the same thing that attracts everyone else. Itís a really nice place.

ďI moved from Lancing where I lived, where I was leader of the Labour opposition on the council in the late Nineties and early Noughties. Since then Iíve lived in Patcham, Southern Cross in Portslade, then Hangleton, Saltdean, and then Moulescoomb.

ďSo Iíve been around the city. Some people have said that I donít understand Hove but Iíve lived in Hove.

ďAnd I genuinely can say whatever community Iíve lived in in the city itís been absolutely brilliant.

ďThey are all welcoming. Thatís the impression I got when I first moved down here and itís accurate across the whole city. We have low crime levels. We even have a low crime city centre considering the number of people and the scale of our night time economy.

ďWe should be really proud of the fact weíre able to be welcoming to a wide range of visitors coming with a wide range of needs and desires, and at the same time still have low crime and still be recognised as one of the most diverse and tolerant cities in the world.Ē

He promised his administration would be more responsive and transparent, saying one of the most important things to do was provide good customer service if and when things do go wrong. He added: ďOur customers are the council taxpayers of this city.

ďWhether thatís schools or roads or adult social care or education or bin collection or a leisure centre, itís reasonable they have an expectation that theyíve paid for it, theyíd like to see it,Ē he said.

Is this the best job you could have?

I think itís the most exciting job I could possibly imagine, although Iím not a career politician.

Youíve been a councillor for quite a long time

I donít see being a councillor as a career. That would be an awful thing, because youíre entirely at the whim not of how well you do, but of how the electorate feels on one particular day every four years. Itís not a sustainable long term career in my mind.

What it is is a fantastic opportunity to do stuff and to change stuff and deliver stuff. And I do think thereís a lot that needs to be done.

Whatís your day job?

Iím a physiotherapist in the NHS. I work at Worthing hospitals, Iím lead therapist for planning and change. I donít touch people for a living any more, Iím a manager now, for about 350 or 400 therapists in West Sussex.

Will you keep that job?

Yes. Iíll have to go more part time, down to 22 hours a week.

And of course Iíll still be a ward councillor and take ward surgeries - my first responsibility is to the people who elected me, I canít let go of Moulscoomb and Bevendean.

Whatís top of the To Do list?

Housing. If you talk to anybody they have an issue that relates to either the cost of accommodation, the lack of accommodation, the problems we have with rough sleeping because of a lack of accommodation, the problems we have in the private rented sector about quality of some pieces of accommodation; we need to be able to deal with that.

Thereís a lot of problems. What is something you are going to do to tackle one?

We have to be working smarter.

There are pockets of land within this city that may be developed, empty pockets that are waiting to be developed in maybe ten years.

Iíd like the council to be more reactive and to be working with partners and saying, Ďokay letís have an interim solution in thereí.

If that piece of land isnít being used letís make sure that for five years we can lease that land and put properties on that land - modular housing that we can move to the next site waiting to be developed.

By Joel Adams
CHIEF EXECUTIVE
Brighton and Hove's chief executive, Geoff Raw works with the Executive Leadership Team (ELT). The team meets weekly and works with councillors, partners and stakeholders to identify the needs and priorities of our customers and the city Ė turning them into key strategies for the organisation.

ELT is responsible for setting our direction, risk management, and providing high performance leadership. In addition, other colleagues are invited to provide expertise in their role as head of profession.

The Corporate Management Team (CMT) is the next level of senior officers across all departments. CMT meet monthly and are responsible for collaboration across services and implementing corporate priorities.
Brighton and Hove City Council is the local authority of the city of Brighton and Hove. It is a unitary authority, having the powers of a non-metropolitan county and district council combined. It provides a full range of local government services including Council Tax billing, libraries, social services, processing planning applications, waste collection and disposal, and it is a local education authority.
The leader is appointed by the Annual Council Meeting held each May. The leader is the most senior member of the council and oversees that it runs effectively. Together with the Chairs of policy and regulatory committees, the leader makes sure decisions are made quickly and effectively.
The leader of the council is currently Councillor Daniel Yates. Daniel was elected leader at the Annual Council Meeting on 17 May 2018. Daniel was first elected to be a Councillor representing the Moulsecoomb & Bevendean​ Ward in 2015.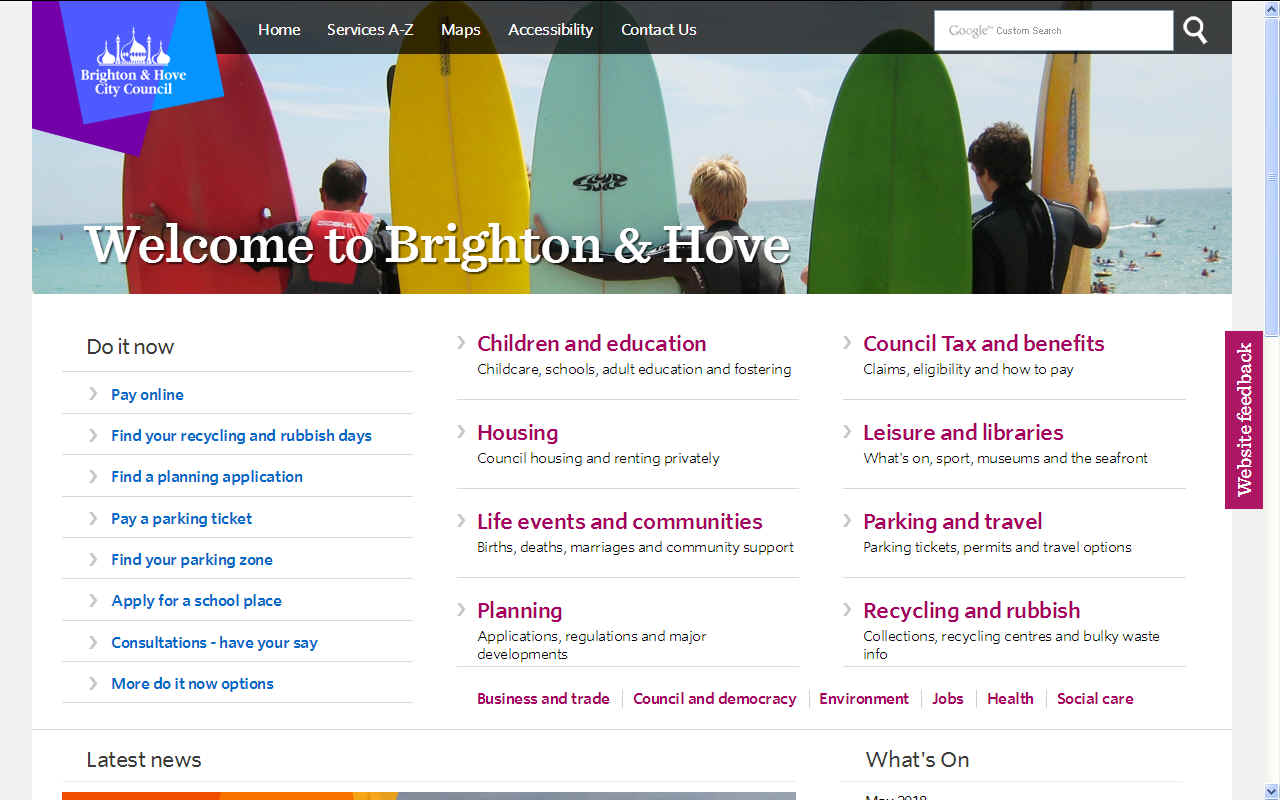 BRIGHTON & HOVE CITY COUNCIL'S WEBSITE
East Sussex has five District and Borough Councils, each with a border on the coast. From west to east they are:
There is also East Sussex County Council as the provider of services to the 5 East Sussex districts.
As near neighbours and with councils now sharing facilities and working together, these area of Sussex are included in our remit and an area where climate change and affordable housing are issues that need urgent attention. Where the coastline is a feature in every Council, Blue Growth is a food security issue, especially where this side of of our local economy is under-exploited.