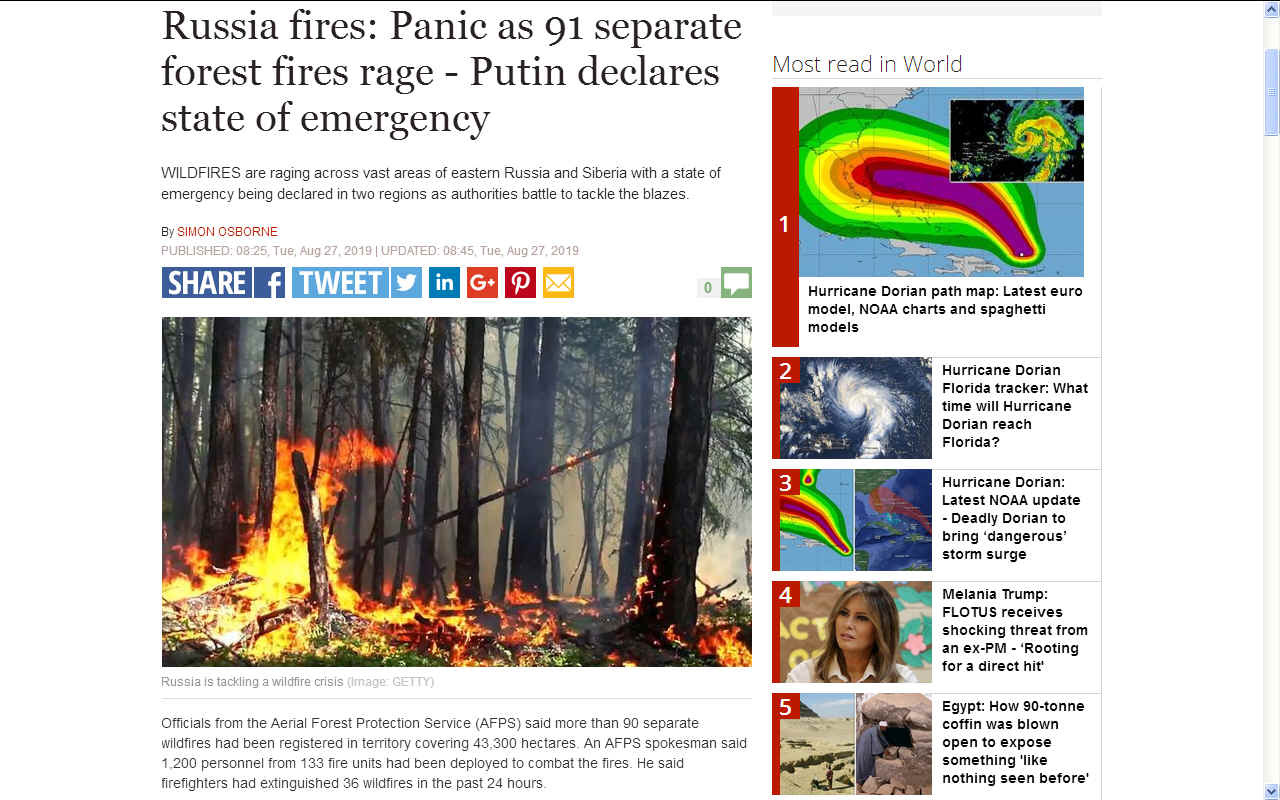 PLANET EARTH IS ON FIRE - If Russia is on fire from what looks like a lot of deliberate forest fires, what will it take to stop them. Are we heading for a Third World War?
THE EXPRESS AUGUST 27 2019 - Russia fires: Panic as 91 separate forest fires rage - Putin declares state of emergency
WILDFIRES are raging across vast areas of eastern Russia and Siberia with a state of emergency being declared in two regions as authorities battle to tackle the blazes.

Officials from the Aerial Forest Protection Service (AFPS) said more than 90 separate wildfires had been registered in territory covering 43,300 hectares. An AFPS spokesman said 1,200 personnel from 133 fire units had been deployed to combat the fires. He said firefighters had extinguished 36 wildfires in the past 24 hours.

The spokesman said: "As of 12am Moscow time on 27 August 2019, 91 wildfires were registered on the territory of 43,335 hectares in Russia, with active firefighting efforts underway."

Most wildfires are raging in heavily forested region of Krasnoyask, Kamchatka and Chukotka regions.

Forest fires have also been reported in Irkutsk, Amur, Magadan, Yakutia and Zabaikalye regions.

Eastern Russia and Siberia has struggled with massive forest fires all summer.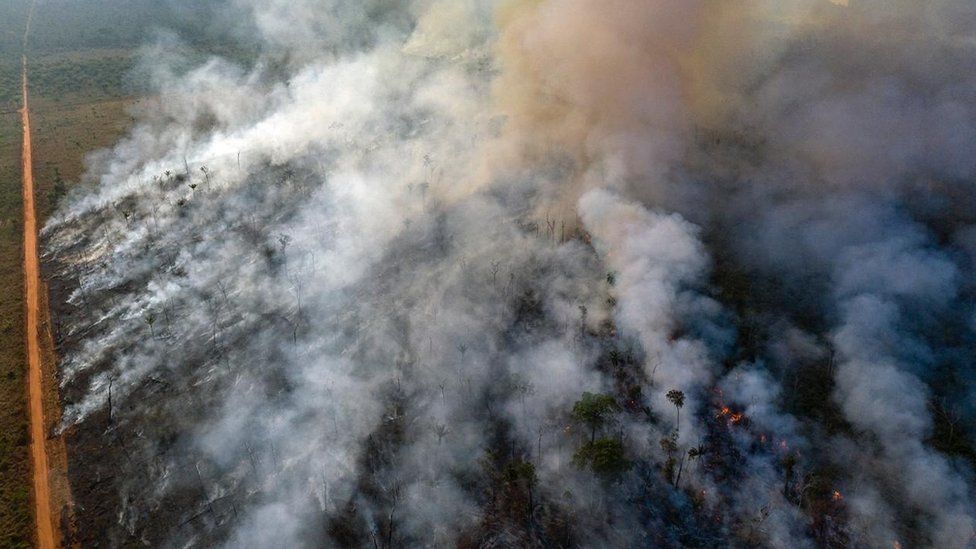 Acting Head of the Federal Forestry Agency Mikhail Klinov said the damage from the blazes has reached £87m since the beginning of the year.

The environmental cost of the wildfires is also high with experts estimating more than 130 megatons of carbon dioxide - the equivalent to the exhaust fumes from 36 million cars - have been released into the atmosphere.

More than 13.1 million hectares have burned, including 4.3 million hectares of forest in Siberia.

Meanwhile, scientists are warning of the devastation caused by wildfires in the Amazon rainforests of Brazil.

Startling images created using data from NASA's Atmospheric Infrared Sounder (AIRS) instrument aboard the Aqua satellite show a giant carbon monoxide plume gathering over Brazil.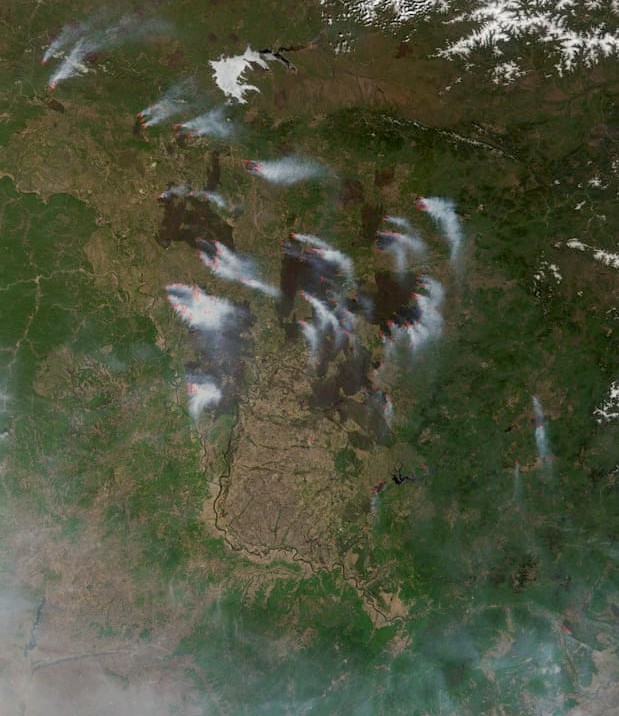 A NASA spokesman said: "Carbon monoxide is a pollutant that can be transported large distances and persist in the atmosphere for about one month.

"At the high altitude mapped in these images, the gas has little effect on the air we breathe; however, strong winds can carry it downward to where it can significantly impact air quality.

"Carbon monoxide plays a role in both air pollution and climate change."

Brazilian authorities are struggling to control the fires raging in the Amazon rainforest.

On Friday, the country's President Jair Bolsonaro announced 44,000 soldiers would be sent to help battle the fires, which are scattered across a region 10 times the size of Texas.

Brazil's satellite monitoring agency has recorded more than 41,000 fires in the Amazon region so far this year - with more than half of those coming this month alone.

Experts say most of the fires are set by farmers or ranchers clearing existing farmland.

The Amazon is several months into its dry season, during which these fires can more easily spread out of control.

Environmentalists say that those setting the fires have been emboldened because they hear President Jair Bolsonaro calling for more development of the Amazon and think they will not be punished.

Deforestation has risen 67 percent year-on-year in the first seven months of 2019 and more than tripled in July alone.

By Simon Osborne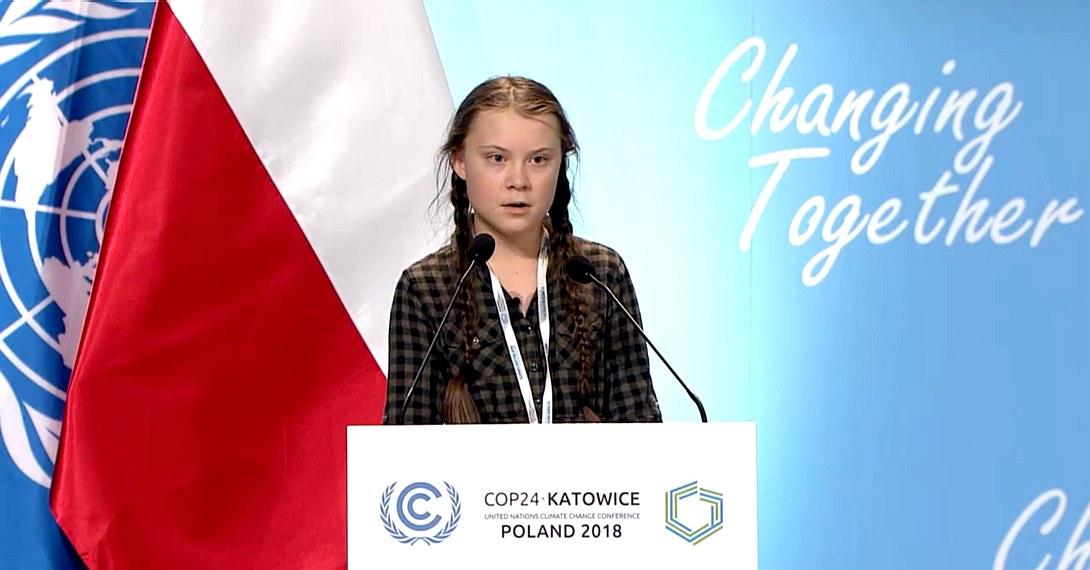 GRETA THUNBERG - She's Swedish, 16 years old and autistic, meaning she only speaks when it is really important to say something. What a rebel! Not only has she the guts to tell the UN members off for what they are not doing, but her delivery is amazing. We'd like to see Miss Thunberg at the United Nations directing progress. Greta started her school strikes when she was 15.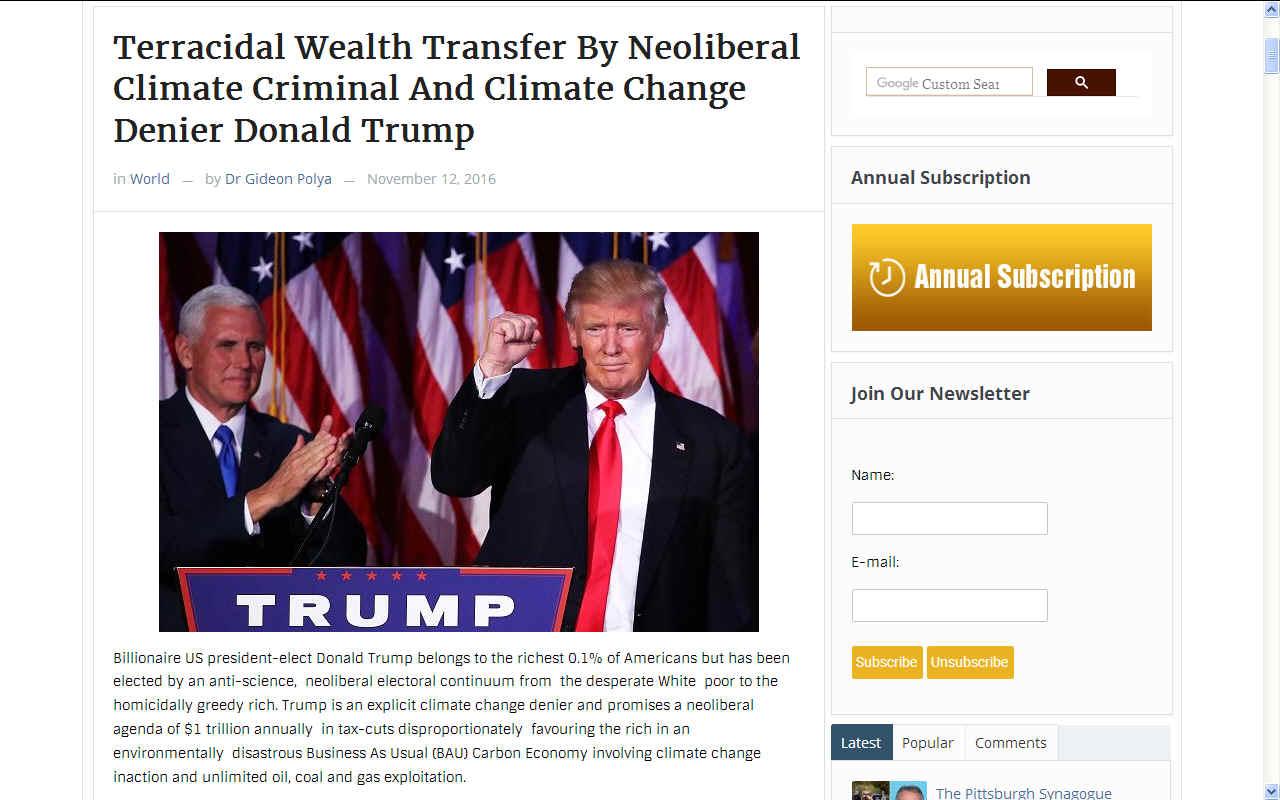 COUNTER CURRENTS NOVEMBER 2016 - Billionaire US president-elect Donald Trump belongs to the richest 0.1% of Americans but has been elected by an anti-science, neoliberal electoral continuum from the desperate White poor to the homicidally greedy rich. Trump is an explicit climate change denier and promises a neoliberal agenda of $1 trillion annually in tax-cuts disproportionately favouring the rich in an environmentally disastrous Business As Usual (BAU) Carbon Economy involving climate change inaction and unlimited oil, coal and gas exploitation.
DONALD TRUMP = BUSINESS AS USUAL (BAS)
The world is facing a worsening climate emergency. The Paris Agreement target of no more than a 1.5-2.0C temperature rise to avoid catastrophic global warming is now essentially unavoidable. The plus 1.5C target may be exceeded in as few as 4 years. The present plus 1.25C global average temperature rise is already catastrophic for Island Nations being presently ravaged by sea level rise and storm surges from high energy storms. Already an estimated 0.4 million people die from climate change annually but this may be a considerable under-estimate because climate change evidently impacts the 17 million people who die avoidably from deprivation each year in the tropical and sub-tropical Developing World. Further, the World Health Organization (WHO) estimates that 7 million people die annually from air pollution that is largely derived from carbon fuel burning .
DESERTIFICATION COP HISTORY
| | |
| --- | --- |
| COP 1: Rome, Italy, 29 Sept to 10 Oct 1997 | COP 9: Buenos Aires, Argentina, 21 Sept to 2 Oct 2009 |
| COP 2: Dakar, Senegal, 30 Nov to 11 Dec 1998 | COP 10: Changwon, South Korea, 10 to 20 Oct 2011 |
| COP 3: Recife, Brazil, 15 to 26 Nov 1999 | COP 11: Windhoek, Namibia, 16 to 27 Sept 2013 |
| COP 4: Bonn, Germany, 11 to 22 Dec 2000 | COP 12: Ankara, Turkey, 12 to 23 Oct 2015 |
| COP 5: Geneva, Switzerland, 1 to 12 Oct 2001 | COP 13: Ordos City, China, 6 to 16 Sept 2017 |
| COP 6: Havana, Cuba, 25 August to 5 Sept 2003 | COP 14: New Delhi, India, 2 to 13 Sept 2019 |
| COP 7: Nairobi, Kenya, 17 to 28 Oct 2005 | COP 15: 2020 |
| COP 8: Madrid, Spain, 3 to 14 Sept 2007 | COP 16: 2021 |
CLIMATE CHANGE COP HISTORY
1995 COP 1, BERLIN, GERMANY
1996 COP 2, GENEVA, SWITZERLAND
1997 COP 3, KYOTO, JAPAN
1998 COP 4, BUENOS AIRES, ARGENTINA
1999 COP 5, BONN, GERMANY
2000:COP 6, THE HAGUE, NETHERLANDS
2001 COP 7, MARRAKECH, MOROCCO
2002 COP 8, NEW DELHI, INDIA
2003 COP 9, MILAN, ITALY
2004 COP 10, BUENOS AIRES, ARGENTINA
2005 COP 11/CMP 1, MONTREAL, CANADA
2006 COP 12/CMP 2, NAIROBI, KENYA
2007 COP 13/CMP 3, BALI, INDONESIA

2008 COP 14/CMP 4, POZNAN, POLAND
2009 COP 15/CMP 5, COPENHAGEN, DENMARK
2010 COP 16/CMP 6, CANCUN, MEXICO
2011 COP 17/CMP 7, DURBAN, SOUTH AFRICA
2012 COP 18/CMP 8, DOHA, QATAR
2013 COP 19/CMP 9, WARSAW, POLAND
2014 COP 20/CMP 10, LIMA, PERU
2015 COP 21/CMP 11, Paris, France
2016 COP 22/CMP 12/CMA 1, Marrakech, Morocco
2017 COP 23/CMP 13/CMA 2, Bonn, Germany
2018 COP 24/CMP 14/CMA 3, Katowice, Poland
2019 COP 25/CMP 15/CMA 4, Santiago, Chile

2020 COP 26/CMP 16/CMA 5, to be announced
BIODIVERSITY COP HISTORY
| | |
| --- | --- |
| COP 1: 1994 Nassau, Bahamas, Nov & Dec | COP 8: 2006 Curitiba, Brazil, 8 Mar |
| COP 2: 1995 Jakarta, Indonesia, Nov | COP 9: 2008 Bonn, Germany, May |
| COP 3: 1996 Buenos Aires, Argentina, Nov | COP 10: 2010 Nagoya, Japan, Oct |
| COP 4: 1998 Bratislava, Slovakia, May | COP 11: 2012 Hyderabad, India |
| EXCOP: 1999 Cartagena, Colombia, Feb | COP 12: 2014 Pyeongchang, Republic of Korea, Oct |
| COP 5: 2000 Nairobi, Kenya, May | COP 13: 2016 Cancun, Mexico, 2 to 17 Dec |
| COP 6: 2002 The Hague, Netherlands, April | COP 14: 2018 Sharm El-Sheikh, Egypt, 17 to 29 Nov |
| COP 7: 2004 Kuala Lumpur, Malaysia, Feb | COP 15: 2020 Kunming, Yunnan, China |
LINKS & REFERENCE
https://www.express.co.uk/news/world/1170467/russia-fires-siberia-forest-fires-state-of-emergency-amazon-fires-amazon-rainforest-fires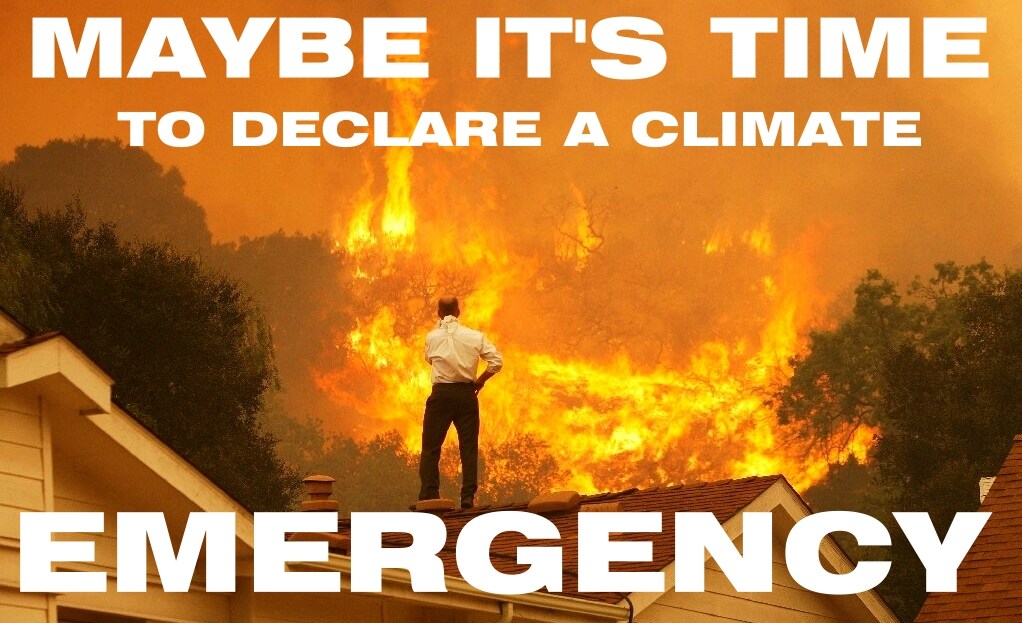 FOREST FIRES - If you have to wait until this, you are in big trouble. But now what? It is worse than you can possibly imagine. Subsistence farmers all over the world have been indulging in "slash & burn" practices, other clearing forest for beef cattle and other clearing forests to grow palm oil. The net effect of which is to raise global temperatures when we should be going the other way. We need to plant a whole lot more trees, many times more than we harvest for timber production.
EXTINCTION REBELLION - In the UK this group of climate activists have been demonstrating and making a difference. The UK declared a climate emergency in 2019, following protests in London. Former Prime Minister Theresa May also increased greenhouse gas reduction in revisions to the Climate Change Act 2008.