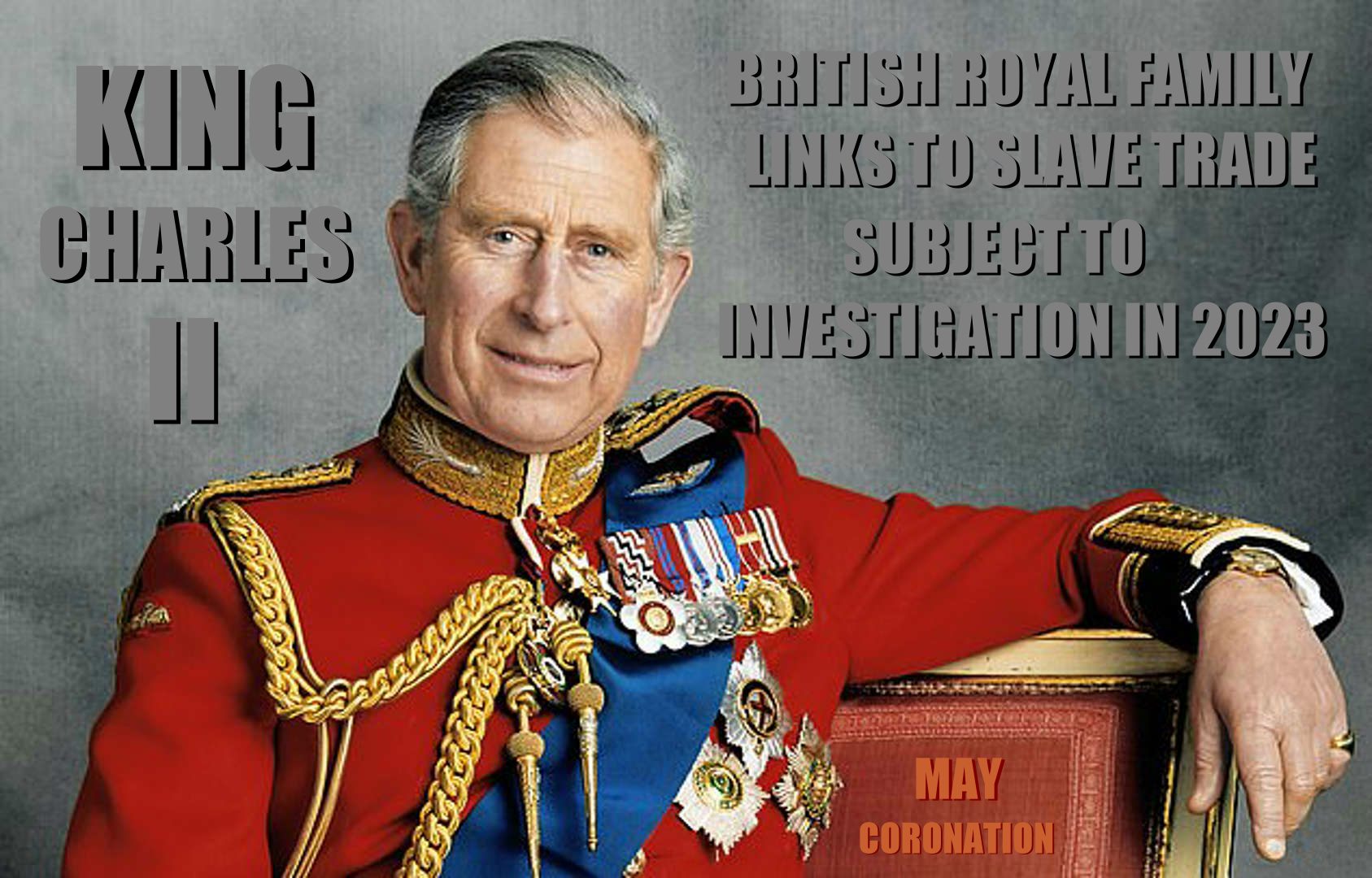 WE'RE ALRIGHT JACK - This uniform represents a monarchy that many believe is unfit for purpose. In 2023 we have protestors calling for the abolition of Heads of State who fail to properly care for their subjects. The electorate are calling for a Republic with a Written Constitution, to replace gongs and knighthoods, secret handshakes and rough justice. Remember when Queen Elizabeth was lied to by Boris Johnson, and did nothing about it. Remember when Bojo lied to you in his election campaign about NHS savings if we left Europe. And now the NHS is far worse. Remember when Boris mislead Parliament over parties at No 10? All of those issue should have triggered the sacking of that haystack of buffoonery.
Today, a modern King should perhaps reflect on the deeds of King Charles II, James II and King George I - all slave traders, with the African Royal Trading Company, and South Sea Bubble, desperately seeking to reduce the then national debt. Nothing of course compared to the £2.7 trillion under the not at all conservative, Conservatives. Talk about misleading advertising. They should be called the Spendthrift Upper Class Twits Party, Monty Python had it right. We need genuine reform, and fresh policies: perhaps something like the Reform Party.
Let's not forget the ladies: Queen Anne (Good Queen Bess) and Elizabeth I, who also condoned slavery and piracy on the high seas. Stealing gold from the Spanish, who had in turn stolen that gold from the Aztecs and Incans.
It will only get worse. We need new local and national politicians, who can think for themselves, and not just tow the party line, as they aim for a gong - and a curtsey. Sheep, bowing to what, for them to rape the working class, like the royals of old murdered native Africans, as they transported them as slaves to toil on cash crop plantations.
This is about the very core policies that our children will have to live with, if we don't deal with the issues on our plate today. The evidence is plain for all to see. Our society is crumbling before our eyes. Easy to see, with gaping chasms in our roads, demonstrating that monies have been misappropriated. We've paid, and they've not performed.
Then there is the NHS. What NHS you might ask. And once again, we've paid, and the State has not performed. The NHS is as potholed as our roads.
And what about sewage treatment. The water companies cannot cope with the extra houses, dumping more waste, that gets pumped into the sea. Untreated. Why then allow the building of all those houses? When there is no money to pay for the infrastructure? It is because an inept Conservative government has no idea how to balance the books. Other than, tighten the thumbscrews.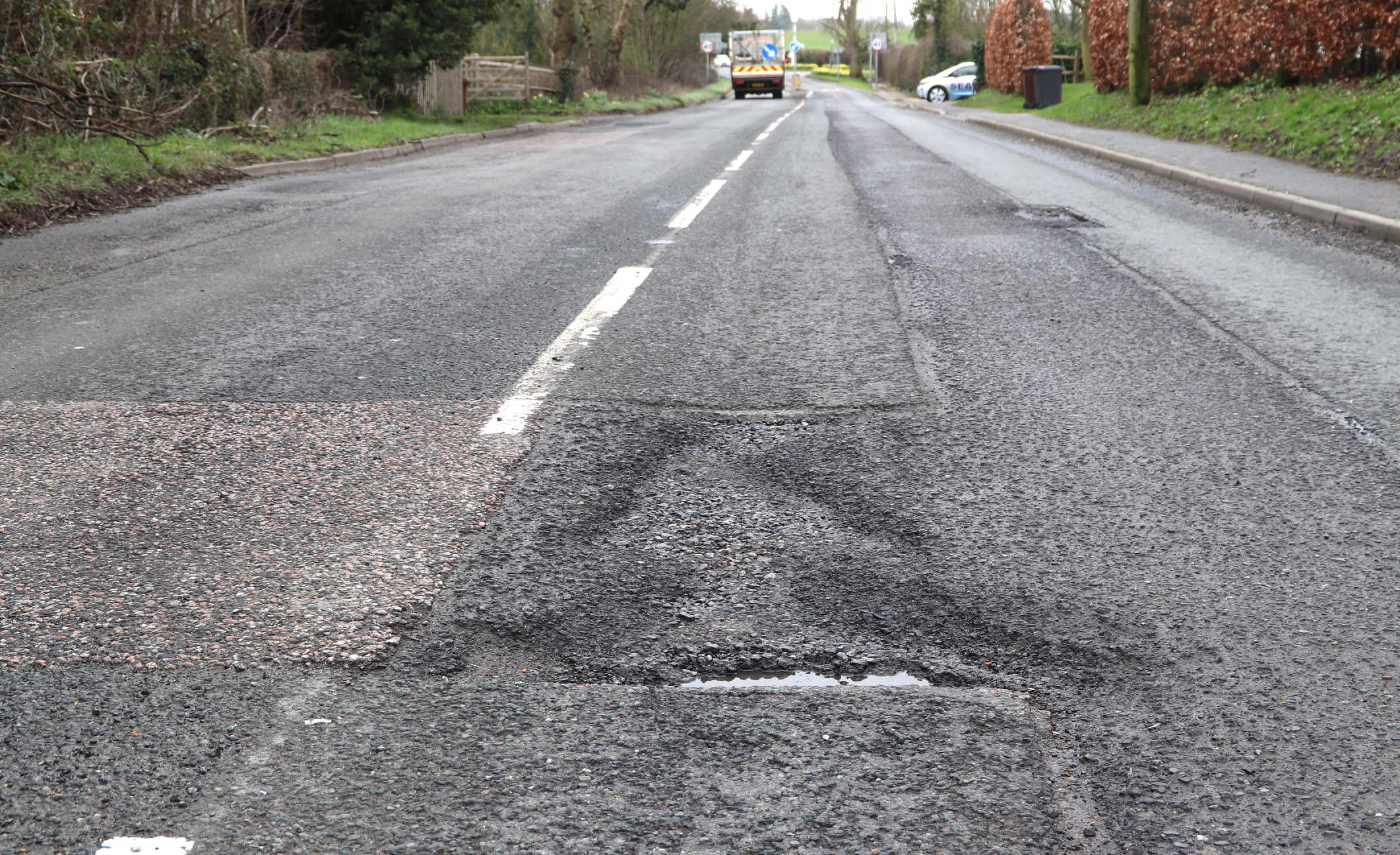 Our roads are not up to the massive building boom orchestrated by the Conservative party as an act of desperation, which is now going to come back and bite them on their rear ends.
So, what are you going to do about it? Are you going to vote for the same old parties. The same old candidates. The ones with the same old policies that got us into this mess. How about standing for election yourself?
Do we need a monarchy that supports those who lie to us with promises they have no chance of fulfilling? Are they a layer of obfuscation too far? As Heads of State, if the royals are ineffective, are they part of the problem? It's a no brainer for many people having two jobs to make ends meet, still remaining financial slaves to wealthy landlords. Others with vested interests, are sure to think otherwise, such as the rich landlords, living off what many might see as immoral earnings.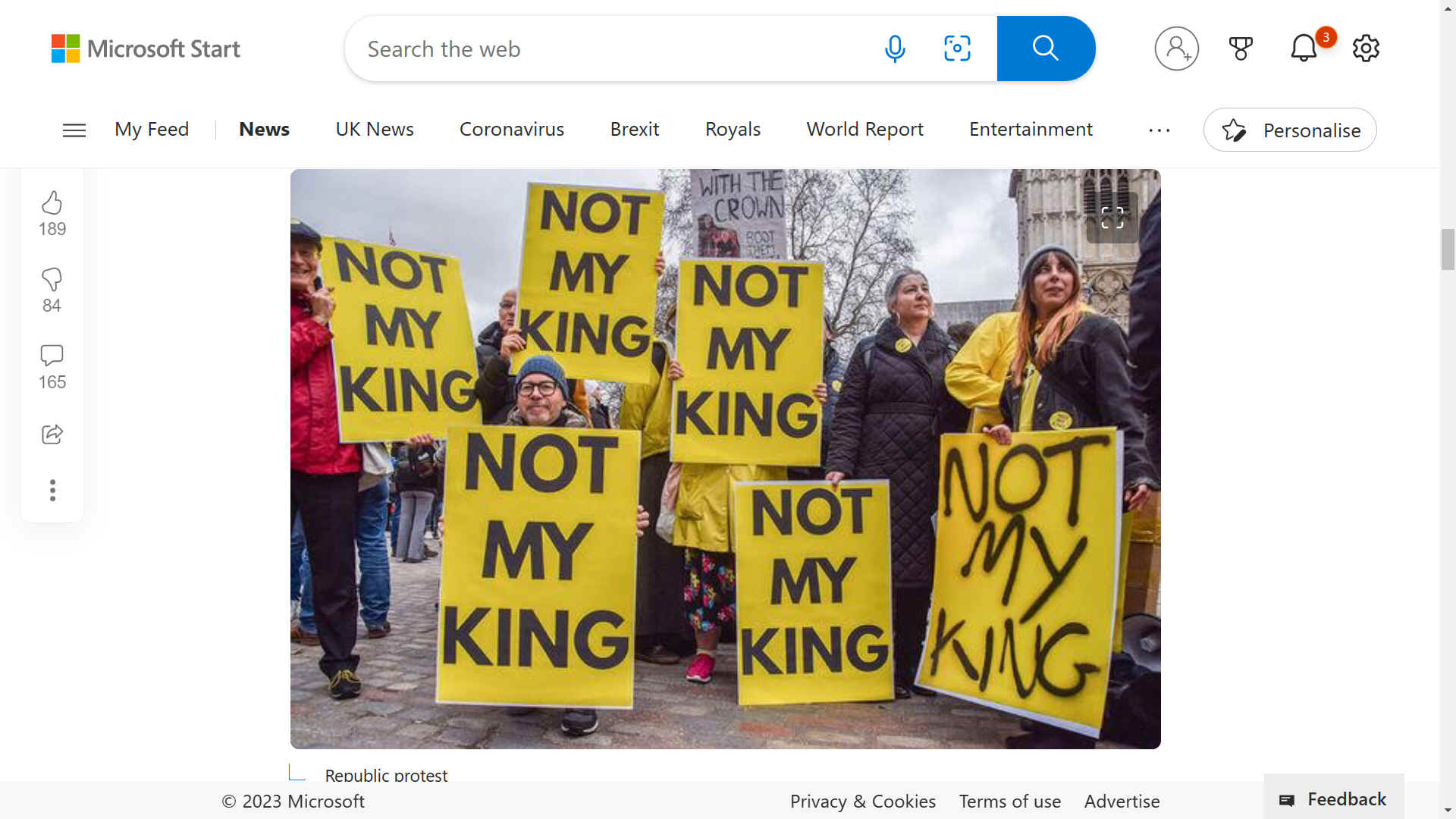 DAILY EXPRESS - 16 APRIL 2023 - ANTI-MONARCHY PROTESTORS URGED NOT TO SPOIL CORONATION FOR COUNTRY [OR IS THAT: THE CORONATION OF ANOTHER KING WILL SPOIL THE COUNTRY?]

Anti-monarchy campaign group Republic has staged several demonstrations against the Royal Family in recent months, with more expected to take place at King Charles III's Coronation on May 6. A new Express.co.uk poll has found widespread support for such protesters to be banned from the celebrations.

Republic CEO Graham Smith said the group were preparing to protest in Central London during the Coronation. He told Express.co.uk: "We're hoping that our protests will serve to embolden people following the arrests last year which might have had a chilling effect on protest."

He added: "I think the ground is more fertile than ever for us to campaign and for more people to get behind the idea of a republic."

Protests have been organised against the Firm at royal visits to Colchester and Milton Keynes, as well as outside Westminster Abbey for the Commonwealth Day service and the annual Maundy Thursday service. Last month royal commentator Richard Fitzwilliams told Express.co.uk: "Republic have, of course, a right to peaceful protest but I hope they don't do this regularly. They are unlikely to do themselves much good!"

In a poll that ran from 8am on Saturday, April 8, to 1.30pm on Wednesday, April 12, Express.co.uk asked readers: "Should anti-monarchy protests be banned at Coronation?"

Overall, 8,654 votes were cast, with the vast majority, 78 percent (6,778 people), answering, "yes", they should be banned, compared to 21 percent (1,792 people) who said, "no". A further one percent (84 people) said they did not know either way.

Hundreds of comments were left below the accompanying article as readers debated the impact of protesters being at the Coronation celebrations.

Many readers noted the importance of the Coronation and encouraged anti-monarchy protesters not to spoil them. Username welsh forever said: "Yes! They should have some respect for our country as a whole! This is a moment in history that some will never get to see again!"

Likewise, username discontented2 said: "They have their views and are entitled to them but they should show some respect to the Royal Family and the general public on such an important day of history we are getting a new King and everyone is entitled to have a day of peace on such an occasion."

And username Suzie1950 added: "Why should the protesters spoil it for everyone else who wants to see the proceedings, this is a historic event and the world will be watching. Free speech is one thing but to try and ruin this is just beyond comprehension."

However, other readers argued that the right to freedom of speech should not be restricted. Username Henry Spencer said: "In my view, they have the right to protest. So long as they do it in a civilised manner."

While username paulj22 remarked: "People have the right to protest. Setting restrictions on where and when they can do so, sets a dangerous precedent."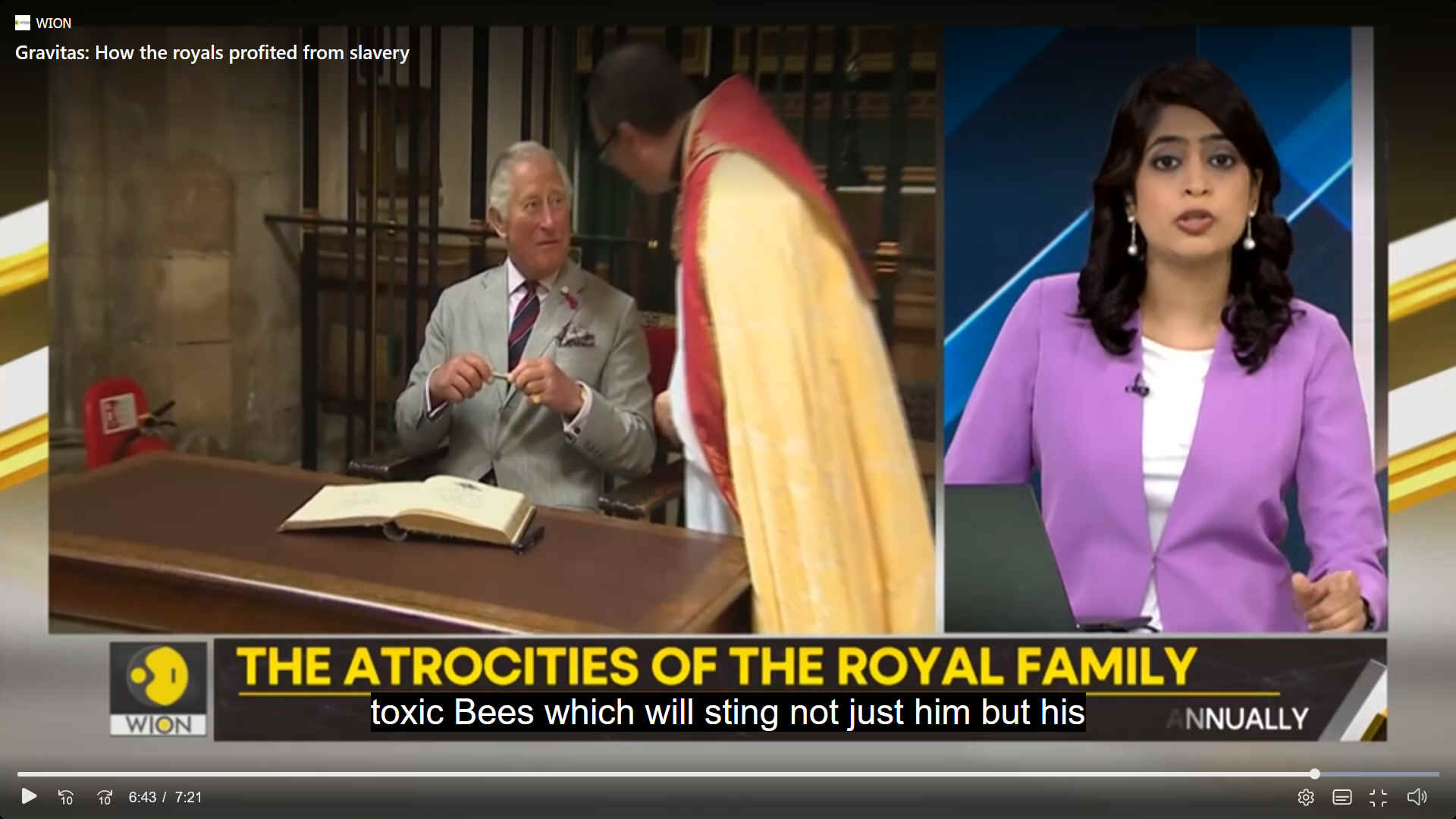 15 APRIL 2023 - THE GUARDIAN - LAURA TREVELYAN URGES KING CHARLES TO APOLOGISE FOR HISTORICAL LINKS TO SLAVE TRADE

The former BBC journalist Laura Trevelyan has called for King Charles and the British government to apologise for historical links to the slave trade.

The former BBC journalist Laura Trevelyan has called for King Charles and the British government to apologise for historical links to the slave trade.

In February, Trevelyan went to Grenada and read out a formal apology on behalf of her family to islanders who had descended from enslaved people and announced a £100,000 educational fund drawn from her own savings. Members of her family tree had owned at least a thousand enslaved people on the Caribbean island.

Earlier this month, King Charles announced he will cooperate with a study of the British monarchy's historical links with transatlantic slavery after the emergence of a document showing a predecessor's stake in a slave-trading company.

Buckingham Palace released the statement after it was contacted by the Guardian about the extensive history of successive British monarchs' involvement and investment in the enslavement of African people.

The Guardian published a previously unseen document showing the 1689 transfer of £1,000 of shares in the slave-trading Royal African Company to King William III, from Edward Colston, the company's deputy governor.

Later this month the Trevelyan family and other British families will form a group to exert more pressure.

The former BBC journalist Laura Trevelyan has called for King Charles and the British government to apologise for historical links to the slave trade.

In February, Trevelyan went to Grenada and read out a formal apology on behalf of her family to islanders who had descended from enslaved people and announced a £100,000 educational fund drawn from her own savings. Members of her family tree had owned at least a thousand enslaved people on the Caribbean island.

Earlier this month, King Charles announced he will cooperate with a study of the British monarchy's historical links with transatlantic slavery after the emergence of a document showing a predecessor's stake in a slave-trading company.

Buckingham Palace released the statement after it was contacted by the Guardian about the extensive history of successive British monarchs' involvement and investment in the enslavement of African people.

The Guardian published a previously unseen document showing the 1689 transfer of £1,000 of shares in the slave-trading Royal African Company to King William III, from Edward Colston, the company's deputy governor.

Later this month the Trevelyan family and other British families will form a group to exert more pressure.

Trevelyan, the former political and America correspondent for the BBC, told the Times: "We've apologised, why can't the King? Reckoning is coming."

The 54-year-old, who grew up in Camden, north London, and now lives in New York, added: "It's important to acknowledge that Britain was a leading slave trader. Britain's economic prosperity, and particularly the Industrial Revolution, was to some degree built on wealth accumulated through slavery.

"Rishi Sunak himself is a child of empire with roots in the Punjab. Maybe a son of empire can move to repair the damage and heal the hurt – not just in the Caribbean, but in Britain too – which is felt by descendants of the enslaved.

"Apology is the first step, which is why it's so significant that the British government and royal family haven't apologised. Regret is expressed. I think it's necessary to go further."

Trevelyan first travelled to Grenada last year to make a documentary for the BBC about the slavery issue and handled whips and neck braces, as well as metal manacles specially ordered by the British enslavers for small children.

When asked if she felt guilt, she said: "Actually, I didn't. Guilt is not the word I would use because it wasn't me. I would say that I was shocked, and ashamed."

LINKS
https://www.msn.com/en-gb/news/uknews/laura-trevelyan-urges-king-charles-to-apologise-for-historical-links-to-slave-trade/ar-AA19UfxW
https://www.msn.com/en-gb/news/other/anti-monarchy-protesters-urged-not-to-spoil-coronation-for-country/ar-AA19UNtN
Please use our A-Z INDEX to navigate this site or return HOME